Strawberry Basil Popsicles
I put my mini pop mold to use again this weekend with another attempt at popsicles, and once again they were delicious. Sticking with my theme of "herbs where they don't belong," I decided to try strawberry and basil this time. Such a good idea. I actually stole the idea from a jam recipe. I plan to make the jam eventually, so stay tuned for that, but in the mean time, here is how to make the popsicles.
I started by slicing up a few strawberries and a couple basil leaves and added about a tablespoon of sugar and a squirt of lemon juice. I let that sit for a few minutes until the strawberries softened, then I mashed it up with a potato masher.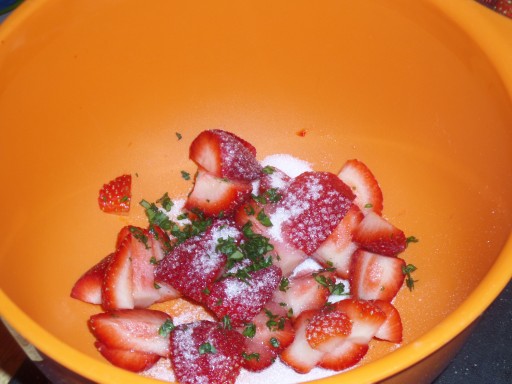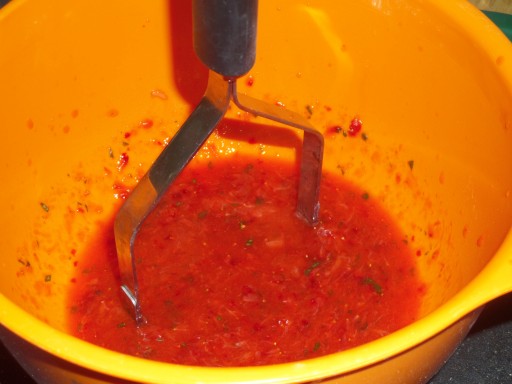 If I was making full sized pops I would probably have stopped at this point, because I like the chunks for fruit. But in my tiny mini molds, there just isn't room for big pieces of berry, so I pureed the mixture in the blender. I needed 1 cup of fruit to fill my molds and I was just a bit shy and was far to lazy to puree more strawberries. So I added a healthy splash of ginger ale. I figured it tastes good in Ryan's Basil Cocktail, it should be good here too. And I think it was a good addition, it added just a bit of ginger flavor and a little extra sweetness to the popsicles. If you have enough strawberries, you could totally skip the ginger ale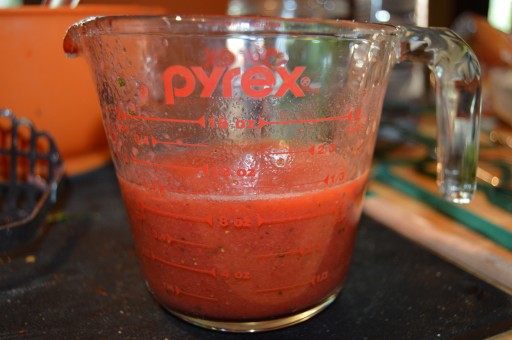 Then all that was left was to fill the molds and put them in the freezer.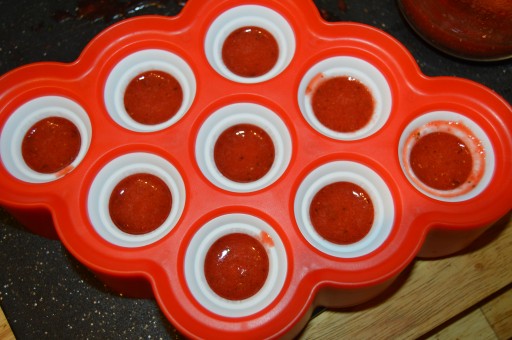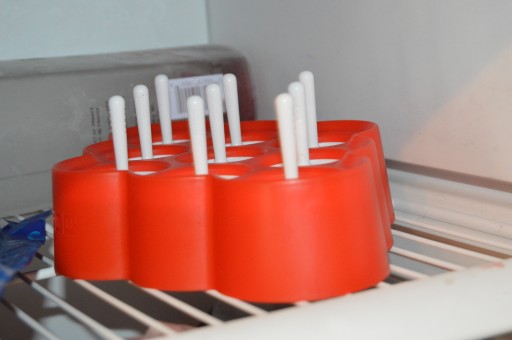 These probably need to freeze for about 4 hours, if you are making full size pops, overnight is best. I didn't get around to eating these the next day anyway.
They are super fabulous. Lots of fresh, strawberry flavor, not overly sweet, but not tart. The basil gives them a wonderful complexity, but it is not overwhelmingly herby. I asked Ryan if he liked these or the Rasberry Lime Mint pops better, and all he could say is "they are both really good". He's been trained well. At least I'm sure Liam liked them. He kept saying "Num num" and asking for more.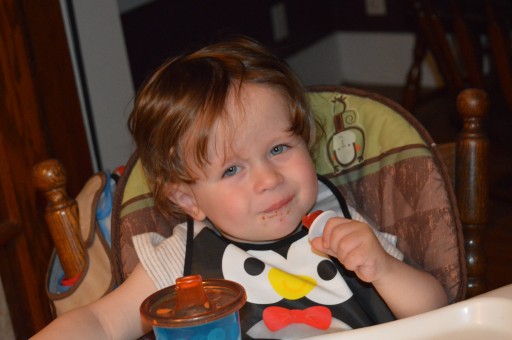 Strawberry Basil Popsicles
2014-07-17 23:28:48
Ingredients
1 1/2 cup hulled and quartered strawberries
1 tablespoon chopped basil, about 5-7 leaves
1 tablespoon sugar
1/2 tsp lemon juice
2 oz ginger ale (optional)
Instructions
Puree strawberries, basil, lemon juice and sugar in a blender. Add ginger ale if using and stir to combine. Fill popsicle molds and freeze at least 6 hours or overnight until solid.
Notes
Makes just over 1 cup puree, or enough for 9 once ounce mini pops.
Crafty Cori Strikes Again http://craftycori.com/