Ryan's No Name Basil Vodka Cocktail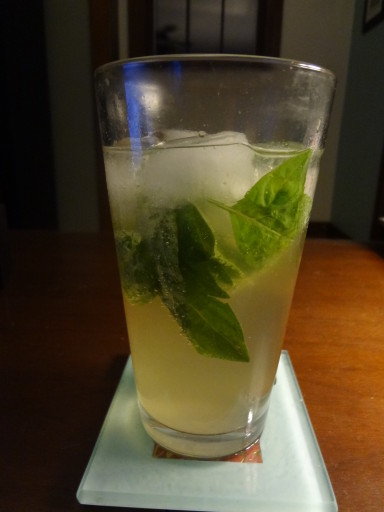 I have too much basil. I planted 3 plants this spring and now they are the size of a small hedge. More basil than I could possibly use before the first frost, which should be any day now seeing as it is mid October. Normally I turn basil into pesto and use it to make this Creamy Pesto Veggie Dip, but this year I decided to drink my basil instead.
Since I am complete rubbish at mixing drinks, I enlisted Ryan for this task. He has perfected the recipe over the summer. The key was St. Germain. I bought a bottle in an effort to replicate a drink I had a restaurant this fall with cilantro and jalapeno. My concoction was pretty much undrinkable, but when Ryan decided to give the St. Germain a go in his basil drink, well, it was delicious. The cocktail vaguely resembles a mojito, only with basil instead of mint and vodka instead of rum, so nothing like a mojito at all. When I asked him what he called it so I could title this post, he couldn't come up with a name, so if you have a good idea, drop a note in the comments below. I'll have Ryan pick the winner.
Start by gathering the ingredients. Vodka, St. Germain, basil, lime, ginger ale, and ice.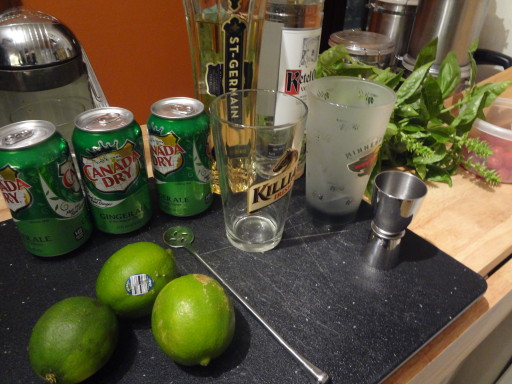 Next, juice the limes. One drink takes the juice of half a lime, so you'll have to have two drinks. Can't let the lime juice go to waste, now can we?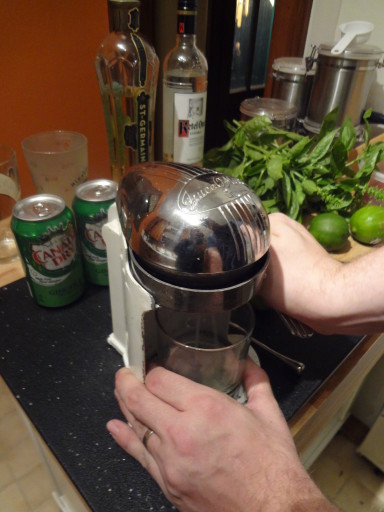 Now add the lime juice, 1 once vodka and 1 once St. Germain to a pint glass.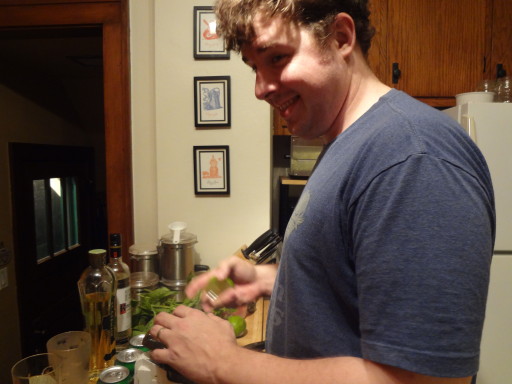 Then take a small handful of fresh basil leaves, place them in the glass, then muddle them with the liquor. If you want to spice it up a bit, you can also add a slice of jalapeno.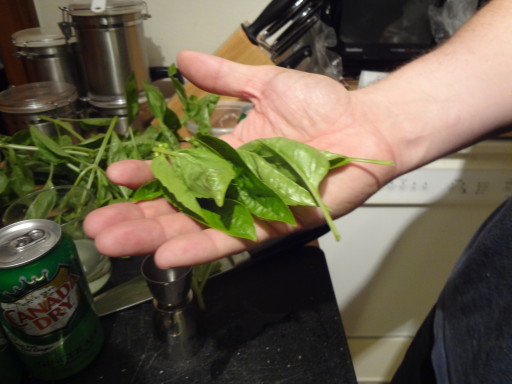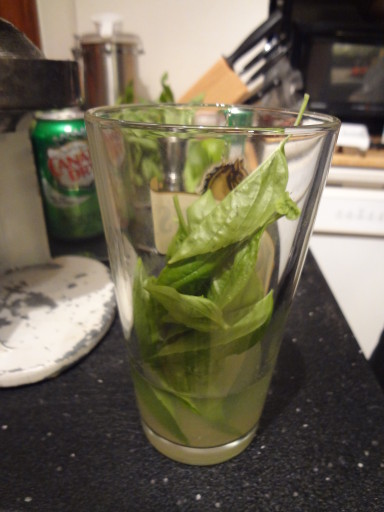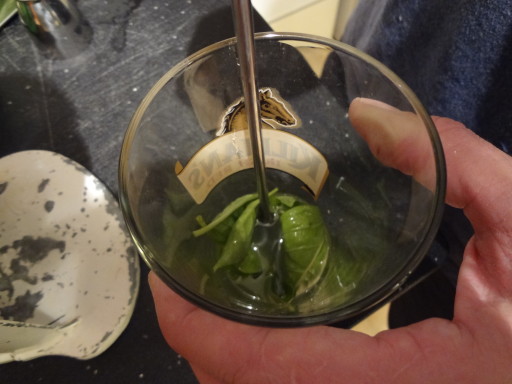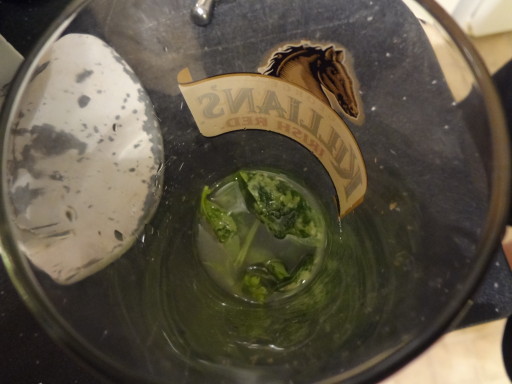 Now add 5 ice cubes and enough ginger ale to fill the glass. Be sure to stir it before you drink it.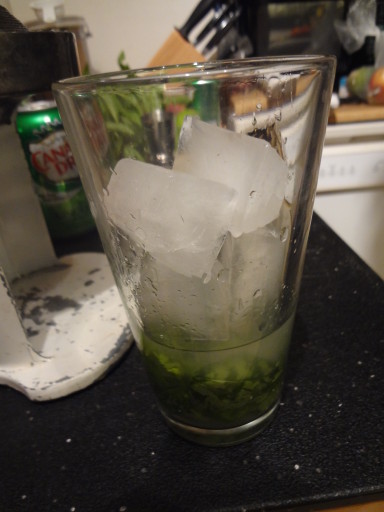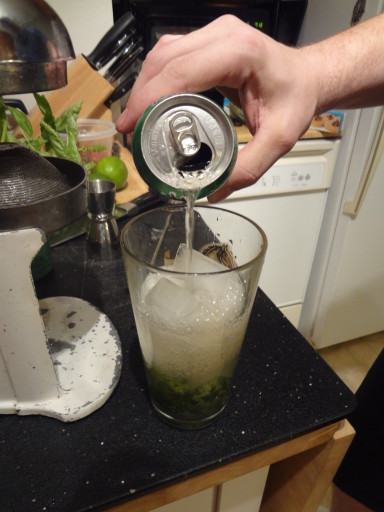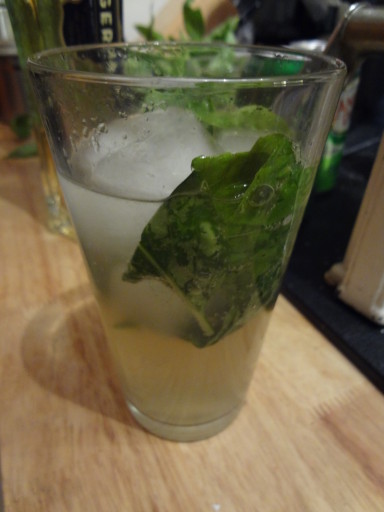 Trust me, it's delicious. I'm on my 3rd glass since I started writing this. They just keep getting better. You'll also have to forgive me for any typos…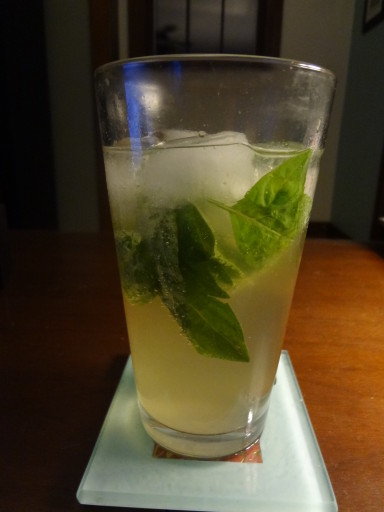 Ryan's No Name Basil Vodka Cocktail
2013-10-12 23:37:32
Like a mojito, only nothing like a mojito.
Ingredients
1 once fresh squeezed lime juice
1 once vodka
1 once St. Germain
6-8 fresh basil leaves
1 slice jalapeno (optional)
5 ice cubes
6 ounces ginger ale
Instructions
Muddle lime juice, vodka, St. Germain, basil, and jalapeno (if using) in the bottom of a pint glass.
Add ice and ginger ale.
Stir.
Crafty Cori Strikes Again http://craftycori.com/