Buffalo Chicken Monkey Bread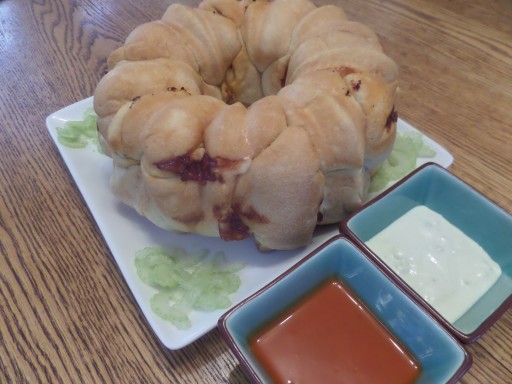 I think I may have finally done it! I have been searching for a make at home replacement for Old Chicago's Buffalo Chicken Rolls since they took them off their menu a couple years ago. They were back on the menu this winter, but that doesn't mean I still don't want them at home. The nearest Old Chicago is nearly an hour away from me, not that I let that stop me from getting my buffalo roll fix when I need it. When I first discovered these, Ryan and I had several botched attempts trying to actually make the rolls at home. Then we decided the shape didn't matter as much as the mix of ingredients, and we came up with the Buffalo Chicken Crescent Rolls, which were pretty good, but they didn't quite hit the spot. This time, I've modified the Pepperoni Pizza Monkey Bread recipe, and I think we have a winner.
I followed the pizza monkey bread exactly, except for the filling. I started with 2 loaves of Rhodes frozen pizza dough, thawed it out, then rolled each loaf into a 10 x 6 inch rectangle, then let it rise for 15 minutes.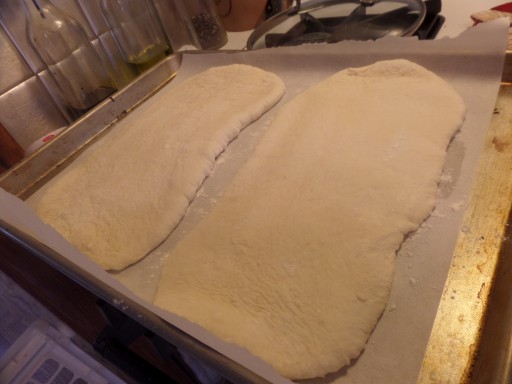 While the dough was rising, I prepared my chicken. I used boneless skinless chicken thighs because I think they have more flavor, but you could easily do this with chicken breasts as well. I boiled the chicken until it was cooked through, then shredded it with two forks. In the future I might cube the chicken instead of shred it. I think it would have better texture in the finished bread.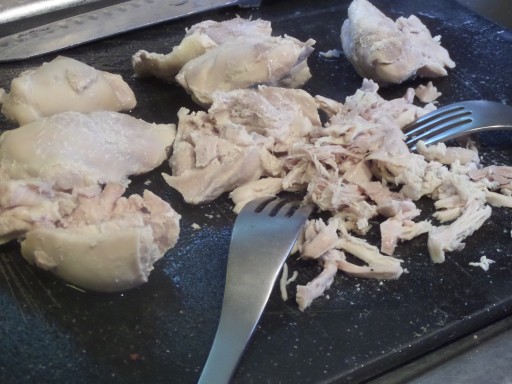 Then I seasoned the chicken with a little salt and pepper and tossed it a bit of wing sauce. I used just enough wing sauce to give it flavor, but not too much because I didn't want to make the monkey bread soggy. Franks is preferred brand of wing sauce.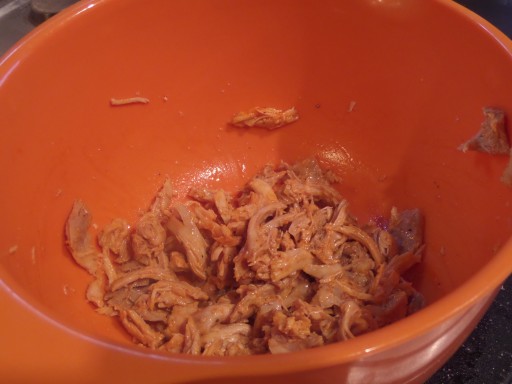 Also at this point I used the slicing blade on my food processor to slice up celery, and I crumbled my blue cheese. To be honest, this took way longer than the 15 minutes my dough was supposed to rise. In the future, I will prepare the chicken ahead of time.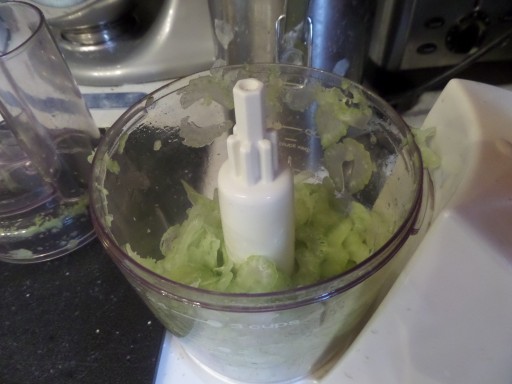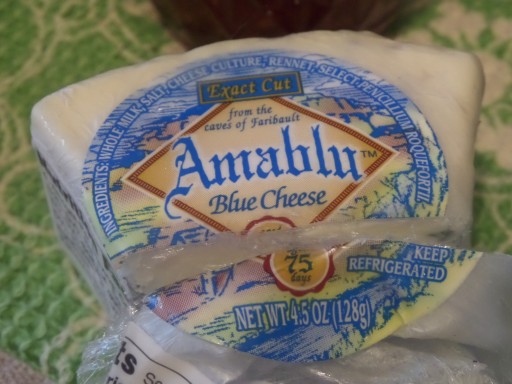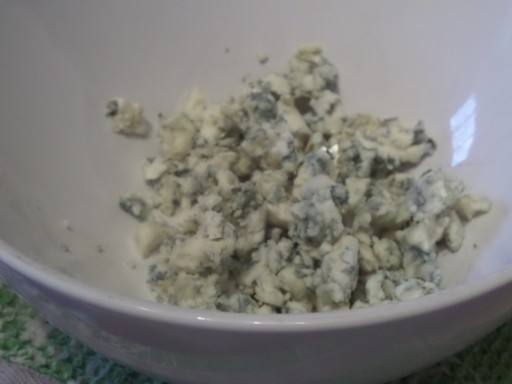 Now, back to that dough. Take one rectangle, and this time roll it into two 18 x 9 inch rectangle. Then I placed the filling about 2 inches in from the long side. First I spread half the chicken in a row. Then I placed mozzarella string cheese sticks right along the side of the chicken. And then topped it with half the blue cheese crumbles and a healthy amount of celery.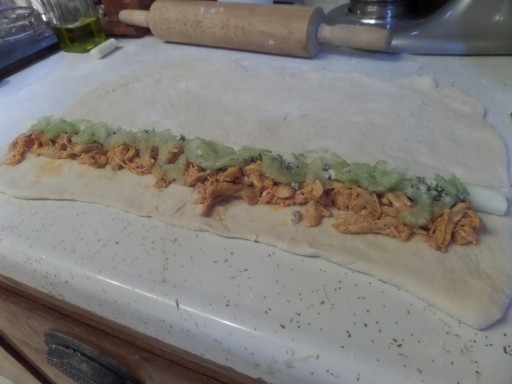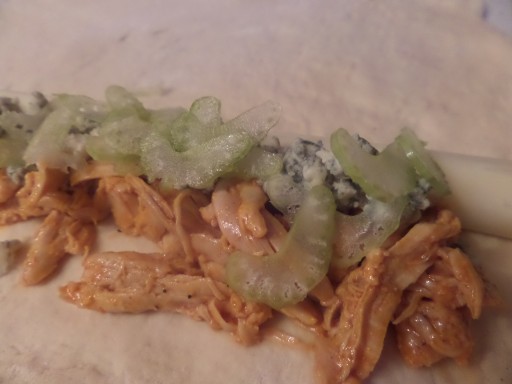 Now it's time to roll it up. Pull the bottom up over the filling and then tightly roll it the rest of the way. Pinch the ends and the seam closed. Repeat the rolling, filling, rolling up process on the 2nd dough rectangle, so you have two filled logs.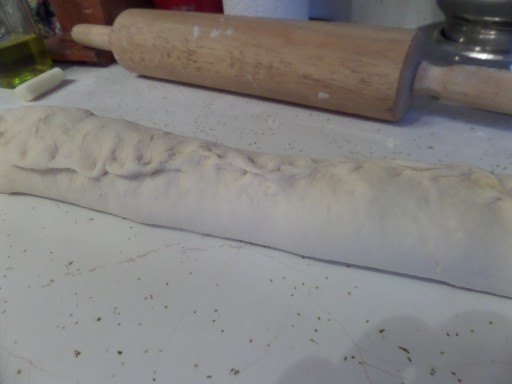 Next we need to cut the rolls into the pull part balls of dough. Starting with one log, cut it in half, pinching the open ends closed. Then cut the halves in half again, then each quarter into thirds, making to pinch the ends closed as you go. So one log should result in twelve balls. Repeat with the second log to get a total of 24 logs.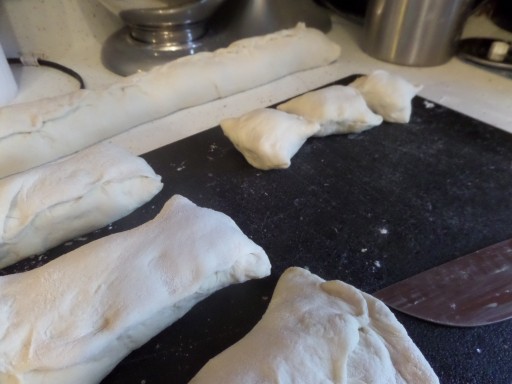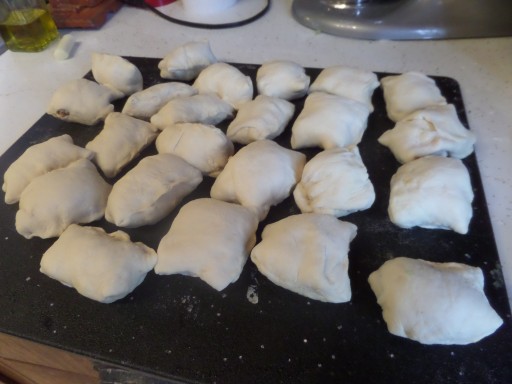 In a Bundt pan brushed with olive oil, start stacking the dough balls. I started with a layer of 6 balls, then brushed all of them with oil and did another layer of 6. Continue until you've used up all the dough balls, making sure to brush them on all sides with oil as you go. Then let them rest for about 15 minutes until they puff up a little.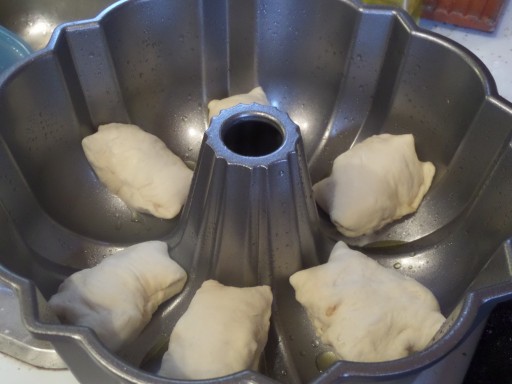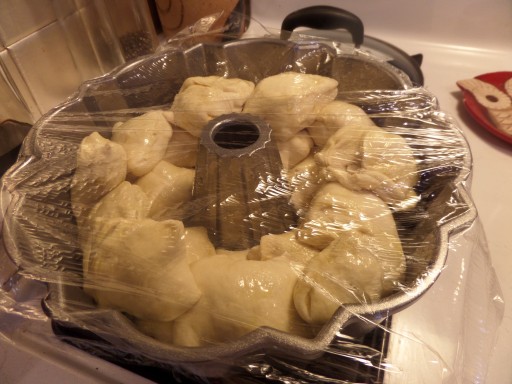 Now they are ready for the oven. Bake at 400 for 40 minutes or until the bread is nice and brown. I didn't leave mine in quite long enough. I would have preferred them to be a bit crustier than they were. The bottom, (or top… the part in the pan) doesn't get as dark as fast. I am just too afraid of burning things. I need to get over it.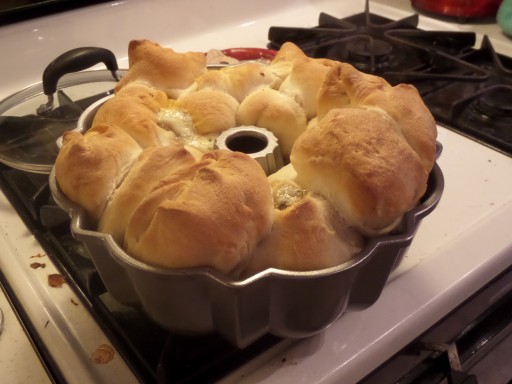 These will be blazing hot. So let it cool for about 10 minutes before flipping it over on to a plate. Then wait 10 more minutes before you try to pull it part. Seriously after 20 minutes it is still steaming on the inside. Serve with blue cheese dressing and additional wing sauce for dipping.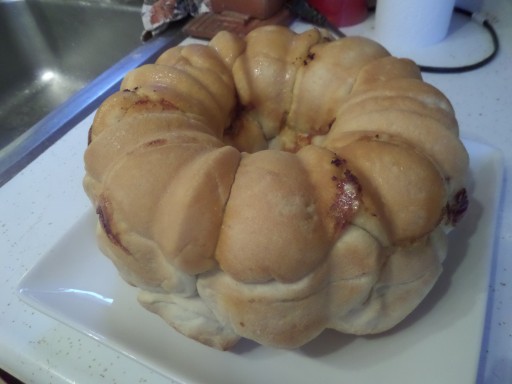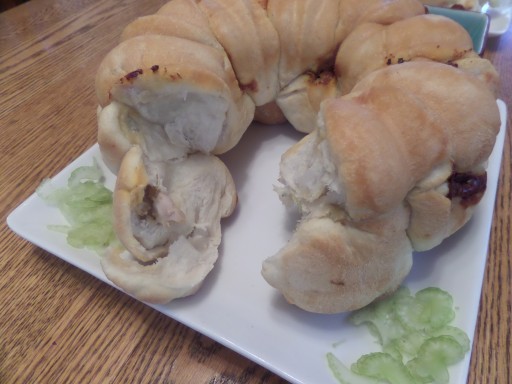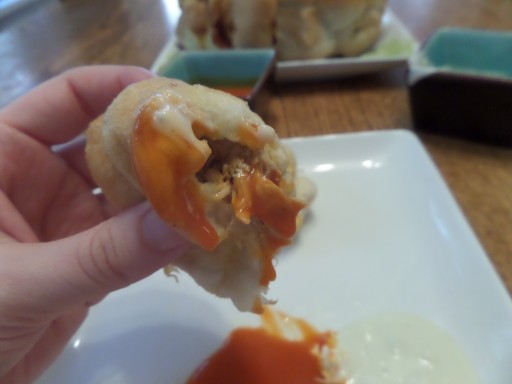 These are chewy and gooey with crusty outsides and delicious buffalo chicken goodness on the inside. Spectacular really, for a first go. As I mentioned I would make just a few adjustments next time, but there will definitely be a next time, because these are mighty tasty. They will certainly do when I get a buffalo chicken roll craving and a trip to Old Chicago just isn't in the cards.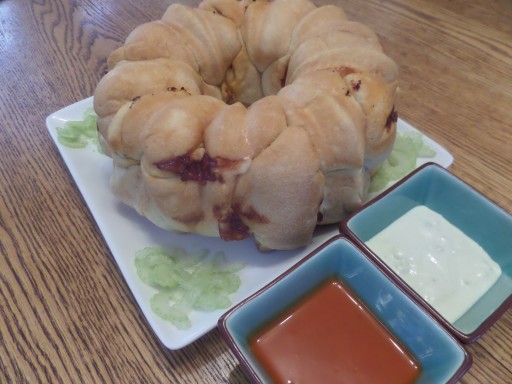 Buffalo Chicken Monkey Bread
2014-05-28 16:44:23
Pull apart knobs of pizza dough stuffed with cheesy buffalo chicken goodness.
Ingredients
2 (1 lb) balls pizza dough
1 lb chicken, cooked and shredded or cubed
2 1/2 tablespoons Buffalo Wing Sauce
salt and pepper
8 sticks of mozzarella string cheese
2 oz blue cheese, crumbled
1stalk celery, finely sliced
Instructions
Line a baking sheet with parchment paper and lightly dust with flour. Roll each dough ball into a 10 x 6 inch rectangle on a lightly floured counter. Transfer to prepared baking sheet and cover with plastic wrap and let sit for 15 minutes.
Season shredded chicken with salt and pepper. In a bowl, toss chicken with buffalo sauce until coated. Set aside.
Working with 1 dough rectangle at a time, return to lightly floured counter and roll into an 18 x 9 inch rectangle. Starting 2 inches from long edge of dough, spread half of chicken mixture in a long row. Lay 4 mozzarella sticks end to end on top of the chicken. Sprinkle with half of the blue cheese crumbles and half of the celery.
Fold 2-inch section of dough over the filling and roll tightly toward the opposite edge. Pinch the seam and ends to seal. Repeat with remaining dough and filling. Cut each log in half and pinch open ends to seal. Cut each log in half again, pinching open ends to seal, cut each quarter log into thirds, pinching ends as you go.
Brush a bundt pan with olive oil. Place a single layer of 6 dough balls evenly spaced around bottom of pan and brush the tops and sides with oild. Layer remaining dough balls in pan, brushing with oil between layers. Cover pan with plastic wrap and let rise until slightly puffed, about 30 minutes.
Adjust oven rack to lower middle position and preheat oven to 400 degrees.
Once bread has risen, bake until well browned, about 40 minutes, rotating pan halfway through baking. Transfer pan to wire rack and let cool for 10 minutes. Place serving platter on top of ban and invert. Let cook for an additional 10 minutes. Serve monkey bread with blue cheese dressing and buffalo wing sauce for dipping.
Adapted from from Cook's Country Pepperoni Monkey Bread
Adapted from from Cook's Country Pepperoni Monkey Bread
Crafty Cori Strikes Again http://craftycori.com/