Pepperoni Pizza Monkey Bread
Apparently this monkey bread has been all the rage on the blogosphere and I was completely unaware. I saw it on the cover of an issue of Cook's Country and bought the magazine. How old fashioned of me. However, they did all the hard work developing the perfect recipe that has the right balance of chewing pizza dough, gooey mozzarella and spicy pepperoni. And they figured out how to keep all the filling from oozing out or having it be soggy or greasy, which were apparently issues with the recipes they gathered off the web.
Now, I am going to honest right up front. I normally follow a recipe to the letter the first time through. Nothing bothers me more than reading recipe reviews where the reviewer substituted all the ingredients, and then gives the recipe a low rating because it tasted like garbage. Of course it did, you took out all the sugar and fat! Why would you expect that to taste good? And why is it this recipe's fault, you didn't follow it! Okay, enough ranting. I made two small changes to this recipe. One was the cheese. It calls for string cheese sticks, and when I went to pick them up I saw they had jalapeno cheese sticks and decided that a little extra spice might be nice. And it didn't taste bad, but I think the pepper distracted from the pepperoni. I'll use plain string cheese next time.
My other modification was the pan. The recipe calls for a non-stick Bundt pan, and in my 32 years I have not yet managed to acquire one. I went to look at them, and a decent pan was $25 at Target and I just couldn't do it for a recipe that I may only make once. I decided to take a risk and use my existing, not non-stick angel food cake pan. And it worked just fine, but my monkey bread is not as pretty as the pictures in the magazine, the round shape of the Bundt pan looks nicer than my square corners. Also my bread didn't get as brown as I would have liked, but the top was definitely done. I think the darker, non-stick pan would have done a better job of browning. But since I consider this recipe to be a huge success, and I total plan on making it again in the future , the Bundt pan will be mine.
Okay, back to the recipe. It starts with two balls of pizza dough. I'm sure you could make your own dough, but I decided to save that adventure for another day. So I purchased Rhodes Frozen Pizza Dough and it worked beautifully. I took it out of the freezer 4 hours before I planned to get started and it was completely thawed and ready to go. It is sticky though, so I sprayed the plate and the plastic wrap with a little Pam beforehand.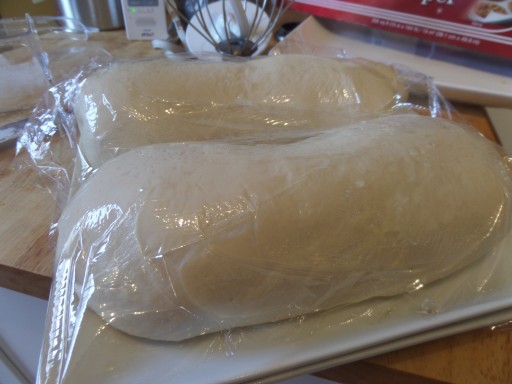 To start, roll each dough ball into a 10 x 6 inch rectangle. Cover with plastic wrap and let sit for 15 minutes. I moved the resting dough to a parchment lined baking sheet so I had enough counter space to keep working. My kitchen is tiny.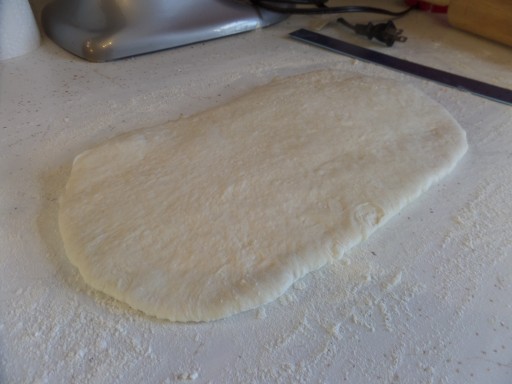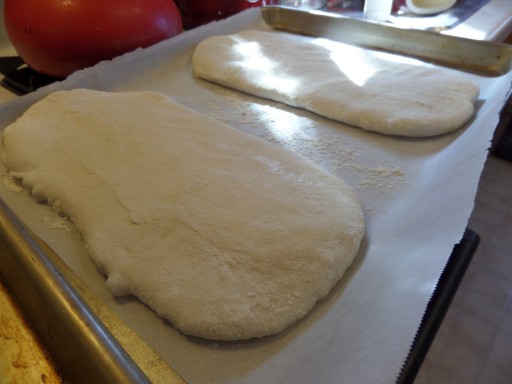 While the dough is resting, microwave your pepperoni in a bowl for about 90 seconds. This renders the fat so the finished bread isn't greasy. Move the pepperoni to a paper towel lined plate (use tongs, it's hot), and pat the pepperoni dry. Don't discard that grease, we're going to use it. How can anything taste bad when it is brushed with pepperoni grease? Add 3 tablespoons of olive oil to the grease, then use 2 teaspoons of the mixture to grease your Bundt pan. Set the rest aside. Also combine your Parmesan cheese and oregano in a bowl and set aside.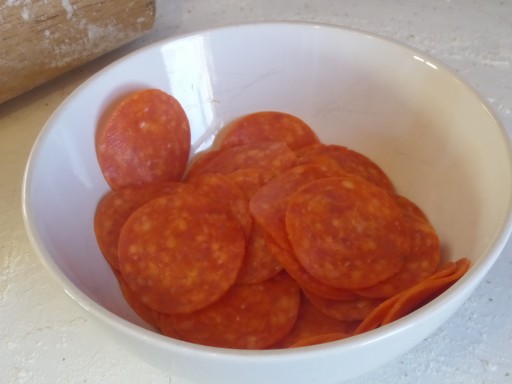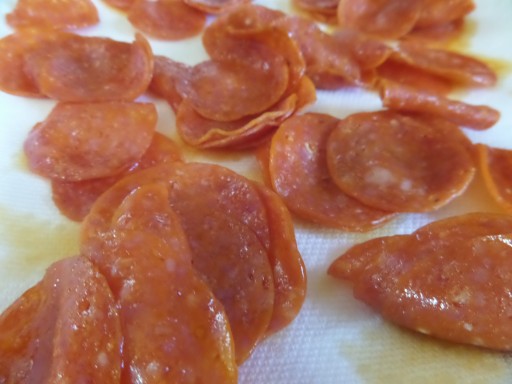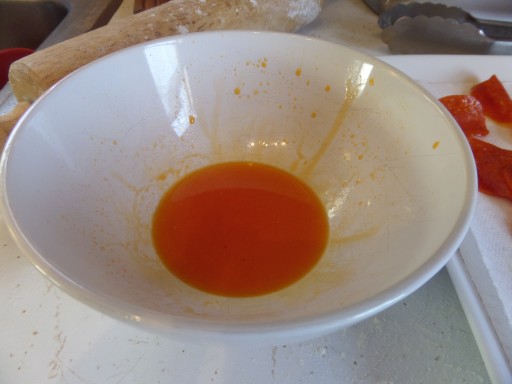 By now your dough should have rested long enough, it will have puffed up just a little. Working with one rectangle at a time, roll it into an 18 x 9 inch rectangle. Try to keep it as close to rectangular as possible, stretching the corners if you need to. I ran into trouble here, my first slab of dough would not get any wider than 7 inches. It just kept bouncing back no matter how much I rolled it. I put it in the fridge while I rolled out the second rectangle and then came back to it. It was much more cooperative once it had chilled out for a few minutes.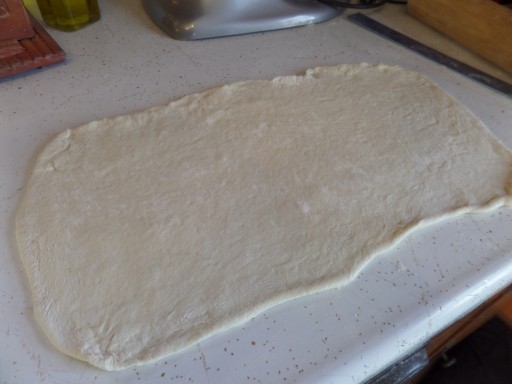 Starting 2 inches from the long edge of the dough, layer half of your pepperoni. Lay your cheese sticks in a row over your pepperoni, trim the end if 4 sticks is too long. Then sprinkle half of the Parmesan/oregano mixture next to the cheese sticks.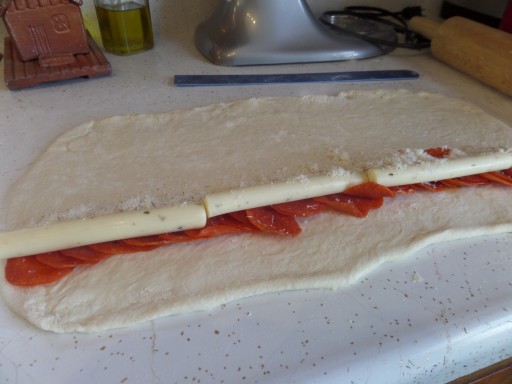 Now roll it up into a tight roll, just like you would cinnamon rolls. Pinch the ends and the seams closed.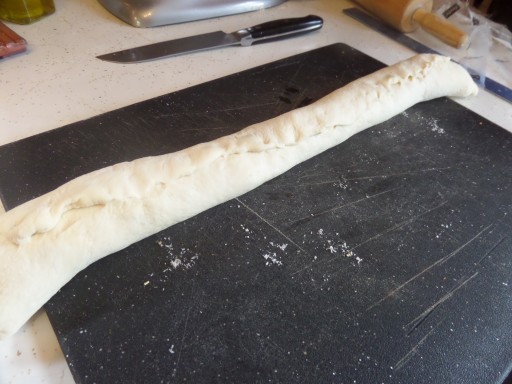 Repeat the same process with the other rectangle of dough and the remaining pepperoni and cheeses.
Now we need to cut the roll into "balls". Start by cutting the roll in half, pinching both ends created by the cut closed. Then cut each half in half again, pinching closed as you go, and then cut each quarter into thirds, once again pinching all the ends. This gives you 12 balls per roll. Repeat with the other roll.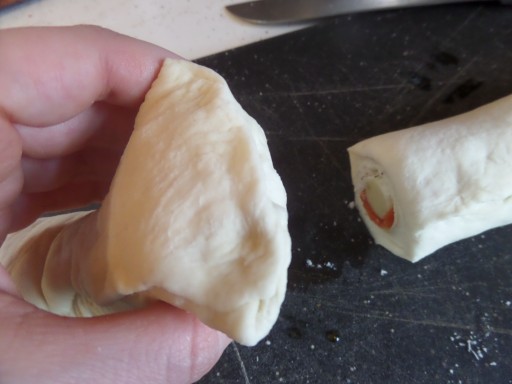 Start by layering 6 dough balls in the bottom of your pan. Brush the top and sides of the balls with your reserved grease mixture, then do another layer. Keep layering the balls and brushing them with grease until you have all 24 dough balls in the pan. Cover with plastic wrap and wait 30 minutes.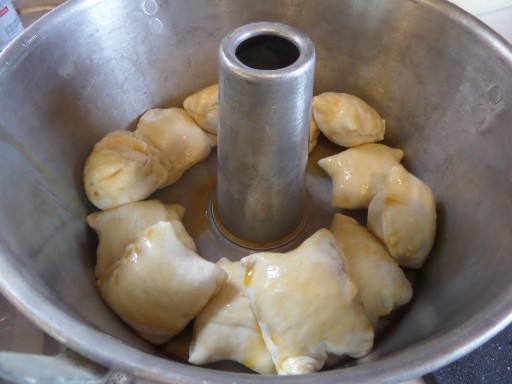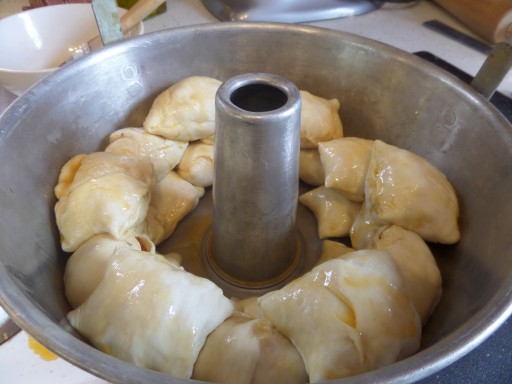 While you are waiting the the dough to rise, it is the perfect time to whip up some easy tomato sauce to serve with the Monkey Bread. According to Cook's, putting the sauce in the bread made it soggy, so it is best left for dipping. I am sure you could use any marinara sauce, but the homemade sauce is so easy, you are waiting for the dough to rise anyway, and it tastes really light and fresh, so I recommend putting in the extra effort.
In a saucepan, heat 2 tablespoons of oil until it shimmers, then add 4 cloves of minced garlic and cook until the garlic starts to brown.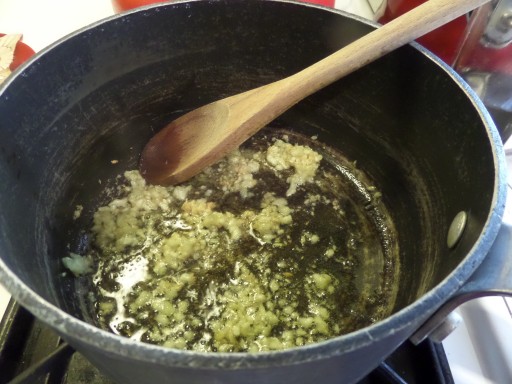 Add a can of crushed tomatoes, 1/2 teaspoon oregano, 1/2 teaspoon salt, and 1/2 teaspoon pepper. Bring it to a boil, then reduce the heat and let it simmer for 10 minutes so it thickens up a bit. That is it. When it is done, set it aside. We'll heat it up after the Monkey Bread is done.
By this point your Monkey Bread should have puffed up a bit and be ready to put in the oven. I noticed that some of my seams had come unsealed and started frantically starting to pinch them back closed, but because of all the pepperoni grease, they wouldn't stick together. Don't worry about it. I finally gave up and cooked it as is. It turned out just fine and very little filling leaked. That is why they used string cheese instead of shredded mozzarella. They really are geniuses over there at Cook's.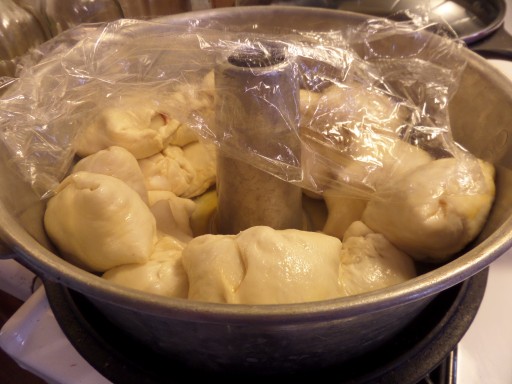 So pop that baby in the oven and bake at 400 degrees for 40 minutes or so, until the top is deep brown. I probably should have left mine in for a couple more minutes, but I know that now for next time. Even though my dough wasn't as brown as I would have liked it, it was still cooked all the way through and crispy on the edges.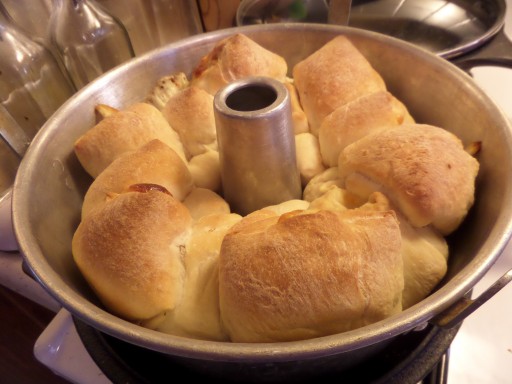 Let the bread cool for 10 minutes, then invert onto a plate and cool another 10 minutes. It will still be steaming hot when you go to pull it apart. While you are waiting, heat the sauce back up and transfer to a serving dish.
Then dig in. It is so fabulously delicious. Cheesy, pepperoni-y, chewy soft dough on the inside and crisper, pepperoni greased infused dough on the outside. It really was a slam dunk. I know it is intended to be an appetizer, but Ryan and I just ate it for dinner. We could only get through half of it, the rest was delicious reheated the next day.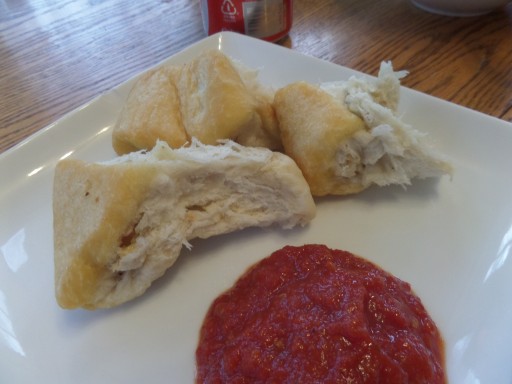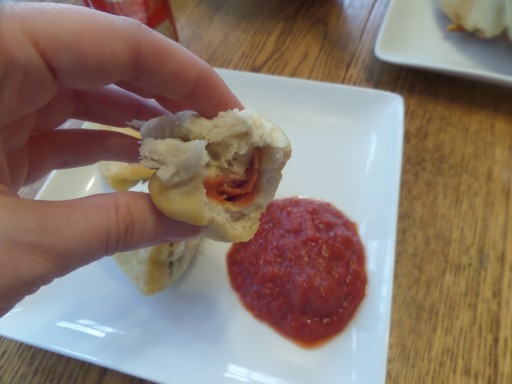 This recipe is not hard to make, but it is a little more time consuming that I would like for a week night meal. But as a bonus, you can make it a head of time. Works great if you want to bring it to a pot luck as an appetizer as well. Just cover with plastic wrap and refrigerate. Take it out of the fridge 20 minutes before you put it in the oven, and cook it an extra 10 minutes or so. It also made way more sauce than we needed, so we froze the rest of it for next time. And I'm already getting ideas for the future. I am still searching for the perfect make-at-home version of Old Chicago's Buffalo Chicken Rolls (which are back on the menu, by the way!) I think I could modify this recipe to make buffalo chicken monkey bread. How fabulous does that sound? I'm going to give a try in the next couple weeks and of course I'll let you know how it turns out.
Pepperoni Pizza Monkey Bread
2014-05-06 14:47:36
Pull apart knobs of pizza dough stuffed with mozzarella and pepperoni. Served with tomato sauce for dipping.
For the Monkey Bread
2 (1 lb) balls pizza dough
4 oz sliced pepperoni
3 tablespoons olive oil
3/4 cup grated Parmesan cheese
1/2 teaspoon dried oregano
8 sticks of mozzarella string cheese
For the Tomato Sauce
2 tablespoons olive oil
4 cloves garlic (minced)
1 (28oz) can crushed tomatoes
1/2 teaspoon dried oregano
1/2 teaspoon salt
1/2 teaspoon pepper
For Monkey Bread
Line a baking sheet with parchment paper and lightly dust with flour. Roll each dough ball into a 10 x 6 inch rectangle on a lightly floured counter. Transfer to prepared baking sheet and cover with plastic wrap and let sit for 15 minutes.
Microwave pepperoni in bowl until fat is rendered, 60 to 90 secs, stirring halfway through microwaving. Transfer pepperoni on to a plate lined with paper towels, reserving pepperoni oil in a bowl. Pat pepperoni dry with paper towels. Add olive oil to pepperoni oil. Brush 12 cup nonstick Bundt pan with 2 teaspoons of oil mixture. Combine Parmesan and oregano in separate bowl.
Working with 1 dough rectangle at a time, return to lightly floured counter and roll into 18 x 9 inch rectangle with long edge parallel to counter edge, stretching corners as needed to make neat rectangle. Starting 2 inches from long edge of dough nearest you, shingle half of pepperoni parallel to long edge.
Lay 4 mozzarella sticks end to end on top of pepperoni. Sprinkle half of Parmesan mixture alongside mozzarella. Fold bottom 2-inch section of dough over filling and roll tightly towards opposite edge. Pinch seam and ends to seal. Repeat with remaining dough rectangle, remaining pepperoni, mozzarella sticks and Parmesan mixture.
Cut each log in half and pinch open ends to seal. Cut each log in half again, pinching open ends to seal. Cut each log into thirds, pinching opens ends closed as you go. Place a single layer of stuffed dough balls 1/2″ apart in prepared pan and brush with tops and sides with remaining oil mixture as you go. Layer remaining dough balls in pan, brushing with oil. Cover pan with plastic and let rise at room temp until slightly puffed, about 30 mins.
Adjust oven rack to lower middle position and heat oven to 400 degrees.
For Tomato Sauce
Heat oil in small saucepan over med heat until shimmering. Add garlic and cook until beginning to brown. Add tomatoes, oregano, salt and pepper and bring to boil. Reduce heat to med- low and simmer until slightly thickened. Remove from heat and cover, and set aside.
Back to the Bread
Bake until well browned, about 40 mins, rotating pan halfway through baking. Transfer pan to wire rack and let coo1 for 10 mins. Place serving platter on top of pan and invert. Let cool 10 min longer. Reheat sauce and transfer to serving bowl. Serve monkey bread with sauce for dipping.
Notes
If the dough is hard to work with, refrigerate for 10 minutes and try again.
Monkey bread can be made ahead of time. Prepare bread and refrigerate for up to 24 hours. Remove from fridge 20 minutes before baking and bake for an extra 5 - 10 minutes.
Adapted from Cook's Country February/March 2014
Adapted from Cook's Country February/March 2014
Crafty Cori Strikes Again http://craftycori.com/