One thing I really hate is when a restaurant changes their menu and eliminates your favorite item. This happened to me with Old Chicago this spring. They used to have these buffalo chicken pizza rolls as appetizers. They were so good. I would crave them. We live a hour from the nearest Old Chicago yet somehow I was managed to eat these at least every two weeks. They were the perfect combination of chicken, spicy buffalo sauce, creamy cool blue cheese, and chewy warm pizza dough. To say I loved them would be an understatement. Then, the menu changed. The buffalo rolls are no more and I have been trying to find a suitable substitute for many months. This is tonight's attempt.
I saw a recipe for buffalo chicken bites on pinterest a few weeks back that reignited my desire for buffalo chicken rolls. They looked delicious, but complicated and time consuming. They involved making your dough even. Considering my complete lack of cooking skills, they were beyond me. So the husband and I brain stormed on how we could make something similar, but without needing a stand mixer with dough hooks. Our solution – crescent rolls.
We mixed up a mixture of chicken, celery, buffalo sauce and cheese. Everything necessary for buffalo chicken goodness. Then we dropped a spoonful on some crescent roll dough, rolled them up and baked them until golden brown. Served with a side of blue cheese dressing, they were fantastic. The crescent roll was flaky and buttery. The filling was gooey cheesy and buffalo chickeny. They were like mini calzones. Definitely something we'll be making again.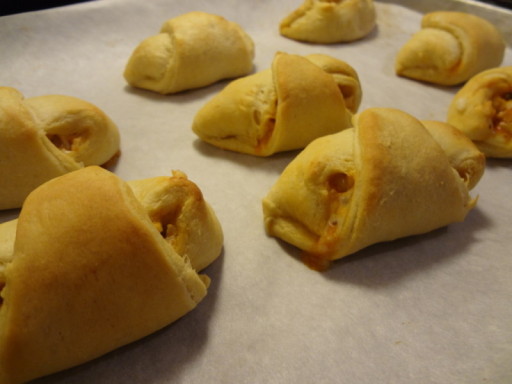 Buffalo Chicken Crescent Rolls
2013-09-23 21:21:03
Ingredients
2 boneless skinless chicken breasts, cooked and cubed.
2 cups mozzarella cheese, shredded
1/2 cup blue cheese crumbles
1 stalk celery, chopped
1/4 cup buffalo wing sauce
2 rolls of Pillsbury (or similar) Crescent rolls
blue cheese dressing and/or additional wing sauce for dipping
Instructions
Prepare filling by mixing chicken, mozzarella, blue cheese, celery and wing sauce.
Unroll packages of crescent rolls. Place a spoonful of filling at the bottom of each roll. Fold up edge to make a pocket. Roll up filling in crescent roll so it resembles an envelope.
Place rolls on a parchment lined baking sheets. Bake at 400 degrees for 12 minutes or until golden brown.
Let cool. Serve with blue cheese dressing and wing sauce for dipping.
Crafty Cori Strikes Again http://craftycori.com/