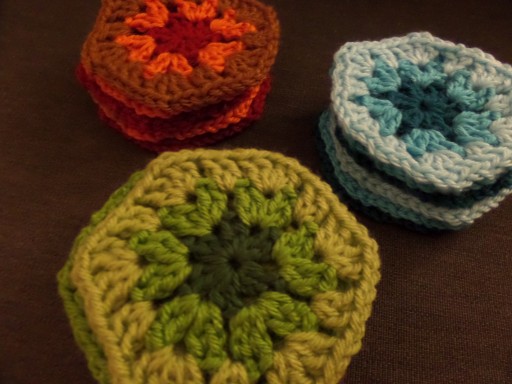 I fell in love with this pattern for a Granny Hex blanket from Petals to Picots months ago, but I was too wrapped up in Christmas projects to do anything about it. Now that the holidays are done, it is time to fix that. I haven't done a motif style afghan before, actually the only blankets I've ever made are giant granny squares, and even then only baby blanket sized, so this will be an adventure for me.
I think what really drew me to the pattern is the colors. You may have noticed, but everything I've done recently somehow becomes a variation of blue, green and orange. From the colors I painted the walls to the teething ring I made my niece for Christmas. It just keeps happening without being planned. So naturally I picked similar colors for my own blanket. It'll match my living room perfectly.
So far I've made 18 hexagons. There are 6 possible patterns within each color, so I've made one of each. Seemed like a good start. I actually started joining them, and that process is going really well, but I haven't managed pictures yet. Of course, this will take me quite awhile to complete a full sized blanket, so I'll keep everyone updates with my progress each Wednesday.