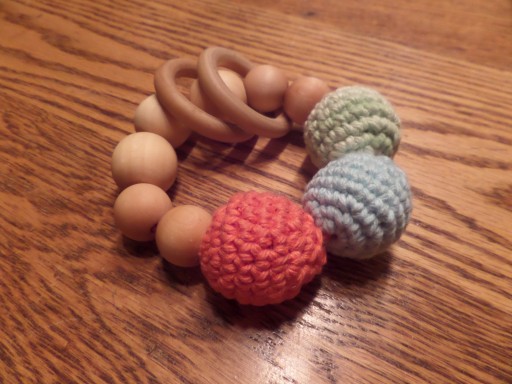 I was racking my brain trying to find something to crochet as a Christmas gift for my 4 month old niece. I had gone a little overboard before she was born so she already has all of my usual handmade baby gifts. Then I saw these teething rings on Etsy and I knew I'd found my answer. I was sure I could handle crocheting around a couple wooden beads, right?
I found everything necessary to make this teether at Michaels. The wood beads were in the wood craft/doll making section and the rings are cabone rings that I found in knitting/crochet supply section. I used two different sized beads, 3/4 inch and 1/2 inch in diameter, and the rings are 2 inches. I also bought 100% cotton yarn to cover the beads. I wanted something that could hold up to chewing and would be easy to clean and dry. Plus who would want to put acrylic yarn in their mouth? My tongue gets all fuzzy feeling just thinking about it.
My first step was to seal the beads and rings with a homemade, baby safe wood polish made from beeswax and olive oil. I have the recipe here. This shined up the wood a bit, and will hopefully protect it from all the slobber a teething baby can throw at it. It is also all natural, so you won't need to worry about baby ingesting any nasty chemicals.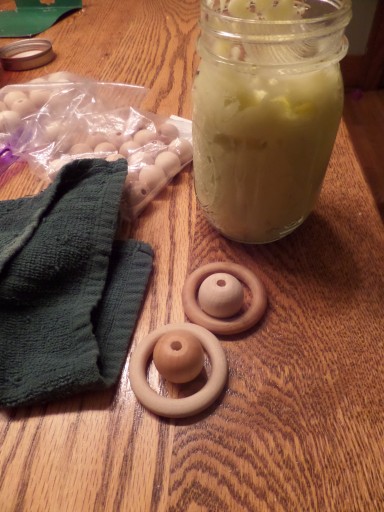 Next I had to crochet around the beads. I decided to cover 3 of the larger beads. It took a little trial and error, but this is what I came up with. You may need to adjust the hook size or number of rounds based on your tension. Basically whatever you need to do to cover the bead without it becoming too big.
Worked in unjoined rounds using a C/2 hook.
Rnd 1: 6 sc in a magic ring. Do not pull the ring all the way closed, leave an opening the size of the whole in the bead. (6 sc)
Rnd 2: 2 sc in each st around. (12 sc)
Rnd 3: Sc in next st, 2 sc in next st. Repeat around (18 sc)
Rnds 4 – 7: Sc in each st around. (18 sc)
At this point, I put the bead in the crocheted cover and stuck a 2nd crochet hook through the hole in the bead to make sure everything was lining up right. You can see how snug the bead fits. I continued crocheting around the bead, leaving the extra hook in place.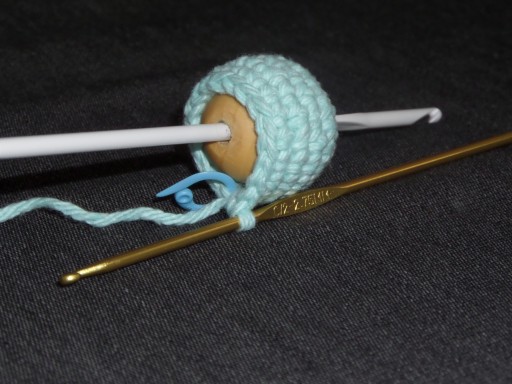 Rnd 8: Sc in next st, sc dec. Repeat around. (12 sc)
Rnd 9: Sc dec around. (6 sc).
Fasten off and weave in ends.
And there you have it, a crochet covered bead. Repeat on the other 2 beads.
So now all that is left is stringing the beads together. I just used a piece of the yarn to string the beads, but I double stringed them, that way if one string breaks, the beads won't immediately become choking hazards.
I strung the 3 crocheted beads, then 2 of the smaller beads, then 3 uncovered larger beads, then 2 more small beads, so my ring has 10 beads total and ends up about 4 inches across. Then I added the wood rings, and tied my string in a secure double knot, pulling the string tightly so there is no slack between beads. I cut the yarn leaving about 2 inch tails that I strung back through the neighboring beads. Then I ran a 2nd piece of string through the whole thing and knotted it at a different point so the knots didn't end up on top of each other.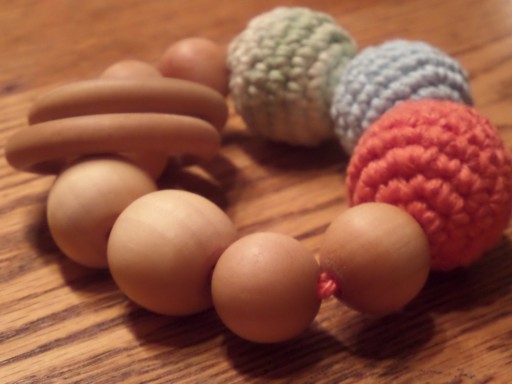 That's it, now you have fun textural teething ring to give to the little one in your life. You can keep it clean by washing it with a mild soap, rinsing thoroughly and allowing it to dry. I bet you could even get it a little damp and put it in the fridge or freezer for extra cooling relief on those sore gums. If the wood start showing wear, you can polish it up with more beeswax polish.