I do not have much of a green thumb, but I plant a small veggie garden each year. I usually get a handful of decent tomatoes and a couple of zucchini, but this year one of my two zucchini plants is out of control happy. I am getting 2-3 giant squash every few days. The other one didn't produce a single fruit. It was getting close, but this weekend the damn dog dug it up. But that is okay, because I already have more zukes than I can eat. I've started conveniently forgetting them when I visit family members. "Sure I can bring a zucchini to grill with dinner? Oh, you don't think we'll need all three for the four of us, that's okay. I'll bring the rest home with me. Oops… they completely slipped my mind, must have been that one whole beer I drank. You know I can't hold my liquor since the baby… Anyway, you can keep them." You get the idea.
So if you've found yourself with some mystery zucchinis you don't remember asking for, here is a perfect recipe to use them up. This started as a zucchini bread recipe, and you can certainly use it to make bread (2 loaves, bake for 45 minutes), but I think muffin's are easier and more convenient. I grab one on my way out the door each morning, perfect breakfast. And if you have giant zukes like I do and you end up with extra shredded zucchini, do not fear, I keep it in a tupperware in the fridge, it will last a couple weeks before it gets too soggy to use. And the muffins are so good you'll want to make another batch. I promise. Plus they freeze well. Muffins all winter!
These muffins are super easy. The hardest part is shredding the zucchini. I used to shred it by hand on a cheese grater, and that works just fine. But it is tiring if you are doing a giant zucchini like the one below, so if you have a food processor I recommend using it. Much easier. I don't bother peeling the zucchini, the skin is soft enough in the muffins that you don't notice it. I don't drain the shredded zucchini either, the extra moisture makes really soft moist muffins. Yummy.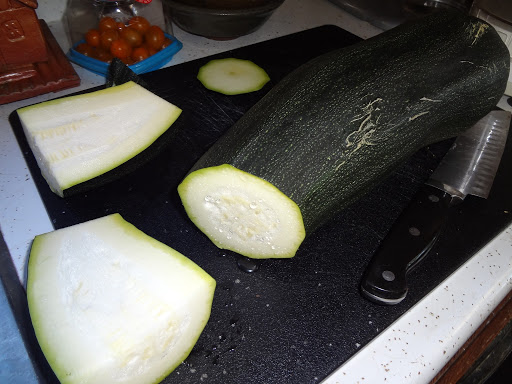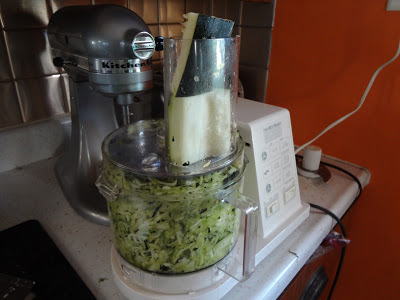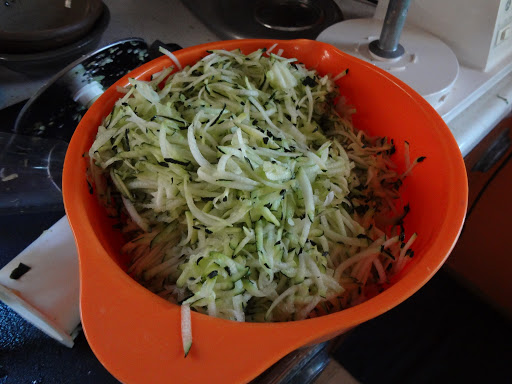 Now its time to start mixing ingredients. I do this all in one bowl. In the pictures I'm using a mixer, but honestly it is just as easy to do by hand. I just like excuses to use my pretty Kitchenaid Mixer. Start with the eggs, oil, sugar and vanilla. Beat until well mixed.
Then add the flour, salt, baking powder, baking soda and cinnamon. Technically this should probably be mixed in a separate bowl first, but I haven't had any issues with just adding the dry right to the wet and it saves me from dirtying another bowl and whisk. Mix until dry ingredients are completely incorporated.
Then add the zucchini, nuts, raisins and craisins. Of course if you don't like nuts or raisins these could be left out, but they make the muffins so delicious. I've also made with chocolate chips instead. Also delicious, but then I have a harder time convincing myself that the muffins are healthy breakfast food. But really, they are still vegetables, right? Be sure to mix this part by hand. It is next to impossible to get zucchini strands off of the mixer paddle. Trust me.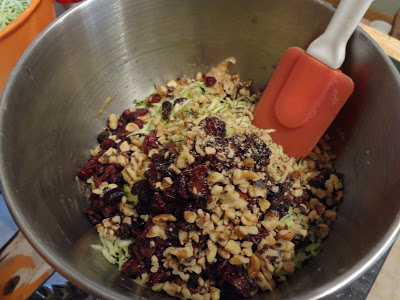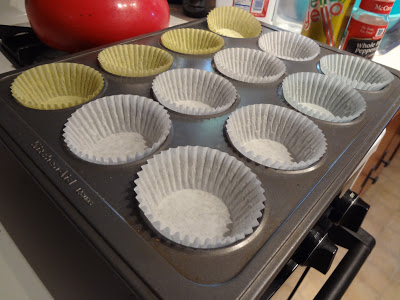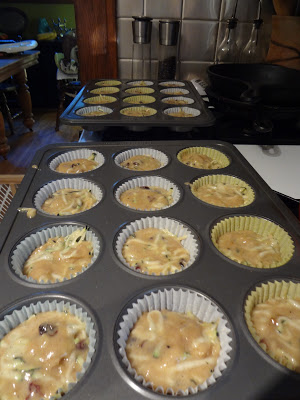 Then bake at 325 degrees for 25-30 minutes. Make sure the tops of the muffins are set. If they are underdone the tops get gooey after they sit. If overdone, the muffins can get dry (but still tasty).