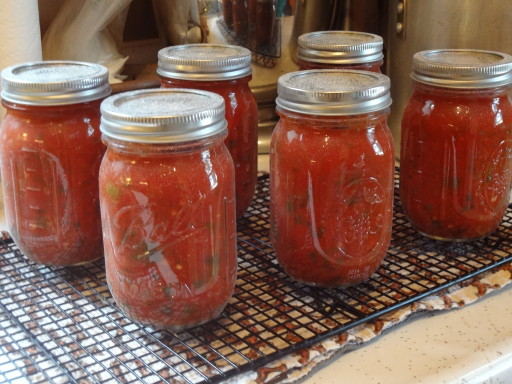 As I've mentioned, I do a little gardening, and the most I usually get is a couple of zucchinis and a handful of tomatoes. I don't know what I did right this year, but not only did I get more zukes than I could make into muffins, but I've also got an insane number of maters. Insane. I have two cherry tomato plants and two better boys, and I have more tomatoes that I knew what to do with. I say knew, because now I know how to can salsa.
I had looked into canning salsa a couple years ago, but quickly decided against it when I saw all the warnings about botulism. I don't want to kill anyone with my homemade goods, so I decided to steer clear of canning all together. This time, I desperately needed to use up a mass amount of tomatoes, so I decide to do a little more research.
As it turns out, the key to safe salsa is keeping the ph low enough. Botulism can't live if the food is too acidic. Most fruits are naturally acidic enough, so it isn't a problem, but tomatoes are borderline. And since salsa is a combination of tomatoes and peppers and onions, which are not very acidic, you need to make sure you follow an approved recipe that has been tested so you are sure to have enough acid. Don't change the ratio of tomatoes to peppers and onions, and do not use less vinegar, lemon juice or lime juice then the recipe calls for. You can substitute types of peppers, mild for hot or vise versa, you can change the spices like cumin or oregano, and you can substitute lime or lemon juice for vinegar, but not the other way around. The juice are actually more acidic than vinegar.
So now that it wasn't so scary, I decided to give it a go. First I needed to figure out how to can. The Nation Center for Home Food Preservation has all the information you could possible need, in a nice series of PDF brochures. Once I new how to can, my next step was to find an approved recipe. The one I found is called Annie's Original Salsa. I would love to give Annie the credit she is due, but I never did find her, just lots of posts referring to her recipe. But I did find that it was tested by the University of Michigan Extension Service and is approved. The consensus on /r/canning is that Annie's is the best, and when has an anonymous internet community ever let you down.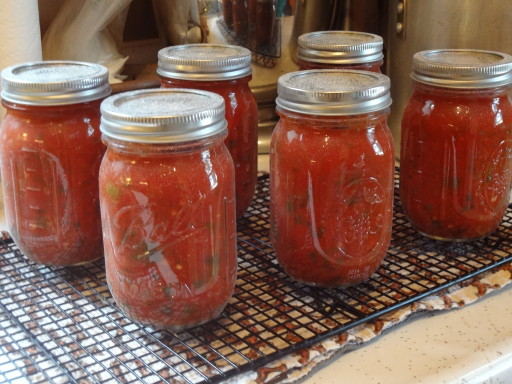 Annie's Original Salsa
2013-09-27 15:22:07
Ingredients
8 cups tomatoes, peeled, chopped and drained
2 1/2 cups chopped onion
1 1/2 cup chopped green pepper
3-5 chopped jalapenos
6 cloves minced garlic
2 tsp cumin
2 tsp pepper
1/8 cup canning salt
1/4 cup chopped fresh cilantro
1/4 cup sugar (can be left out entirely if you want)
1 cup vinegar (apple cider or white), lemon, or lime juice
16 oz. tomato sauce
8 oz tomato paste
Instructions
Mix all ingredients, bring to a boil, boil 10 minutes.
Pour into hot jars, process at 15 minutes for pints.
Notes
Makes 6 pints.
Crafty Cori Strikes Again http://craftycori.com/
Armed with instructions and a recipe, I needed supplies. I found my canner at Target which came with all the needed tools for $40. Seemed like a good deal to me. I can tell you that there are nicer tools out there, but for a beginner, these were just fine. I bought 12 pint jars at Menards for $8.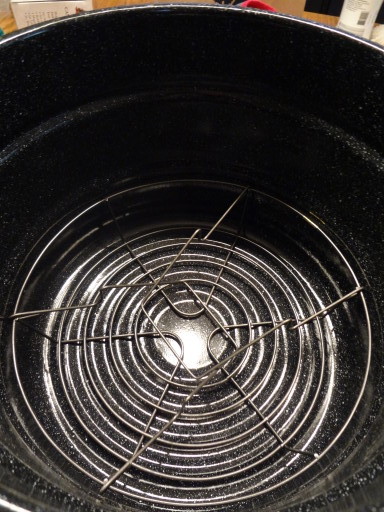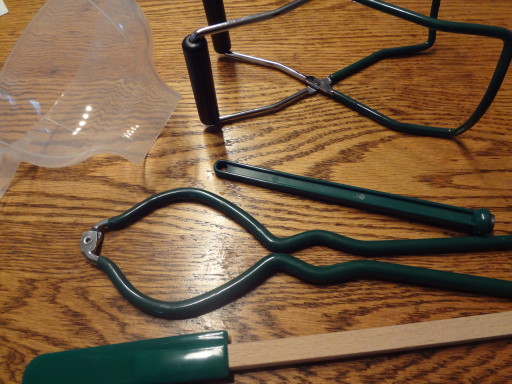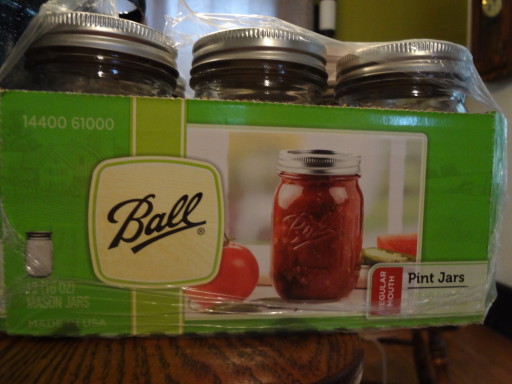 Now it was time to get cooking. I assembled my required ingredients.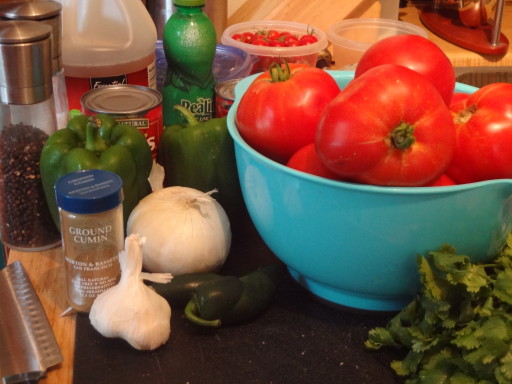 Step 1 is to blanch the tomatoes. This makes it easy to get the skin off of them. Get water boiling in a stock pot, add the tomatoes and boil for about 30 seconds. Then dunk the tomatoes into an ice bath to stop them from cooking. The skins will split and just peel right off. It's kinda fun.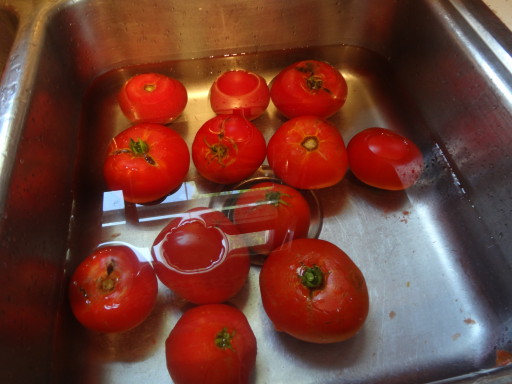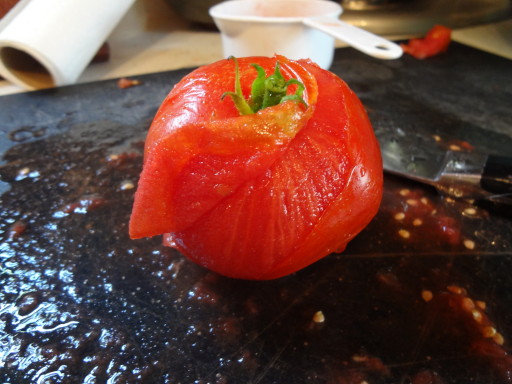 Now, core and chop those tomatoes. This takes forever and is not fun. I had 12 good sized tomatoes to get my 8 cups for the salsa recipe. I swear this took an hour. I don't even know why it takes so long, but it does. Once chopped, put the tomatoes into a colander to drain.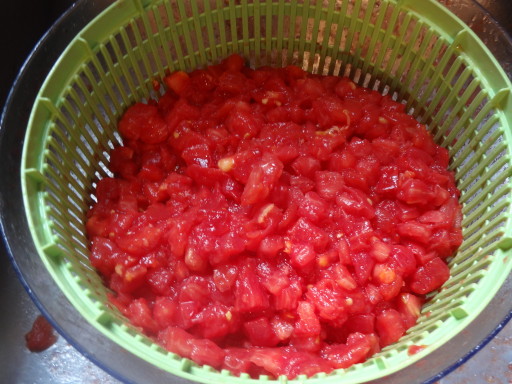 Now that the most time consuming part is out of the way, it's a good time to prepare your tools for canning. Fill your canner about two-thirds full of water and put it on the stove. It will take forever for this much water to start boiling, that's why start it early. If it starts boiling before you are ready to can the salsa, just turn it down to a simmer. Keep a kettle of boiling water ready in case you need to add more to cover the jars once you get that far.
Also at this point I prepare the jars. I load them in the dishwasher and put them through an extra hot water wash to sterilize them. Leave them in the dishwasher with the door closed until you are ready to fill them. Putting hot salsa into hot jars helps make sure the jars don't break when they get submersed in the hot water bath.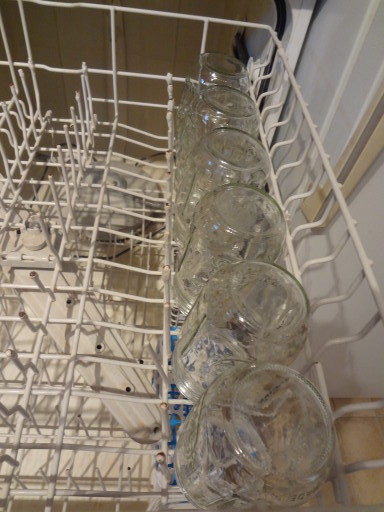 Now prepare the rest of your ingredients. Chop peppers, onions, and cilantro, mince garlic.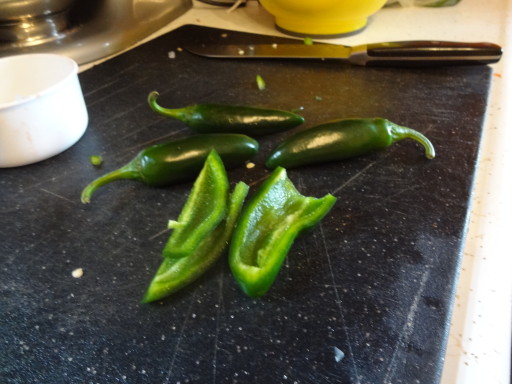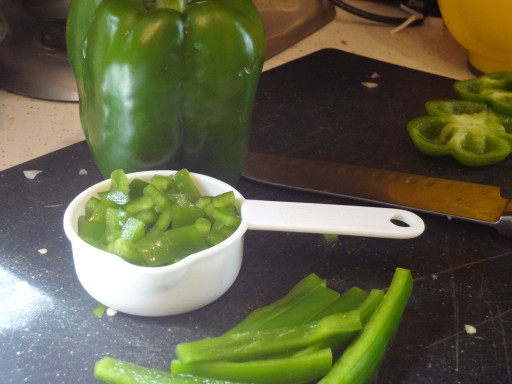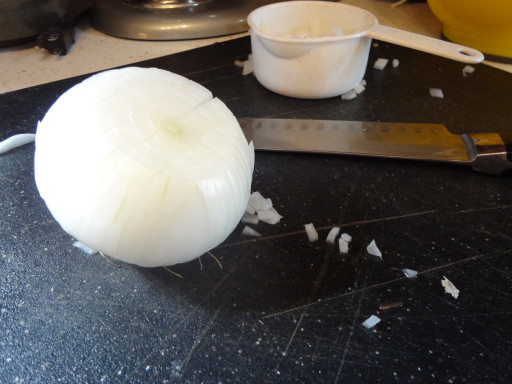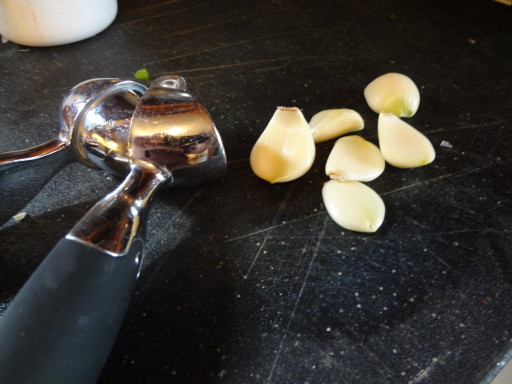 Now put all the chopped ingredients into a stock pot. Add the spices, vinegar, sugar, tomato paste and sauce. Bring the mixture up to a boil and boil for 10 minutes. At this point I also put the lids for the jars into a small pot and let them simmer until needed.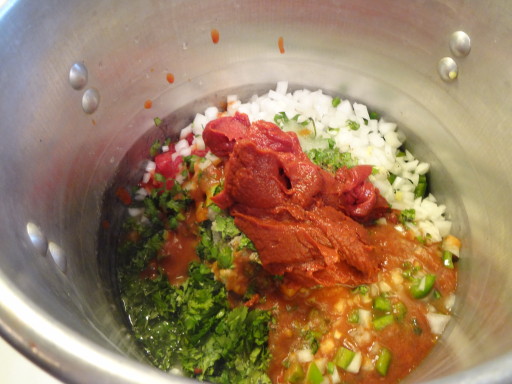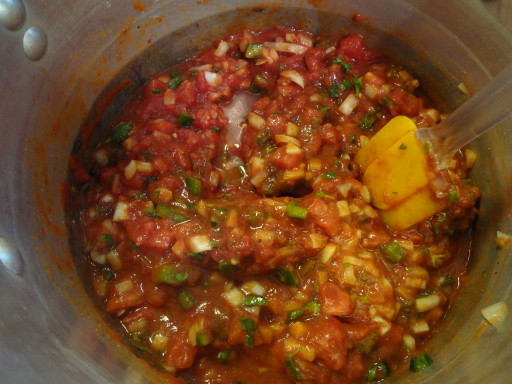 Now the fun part, filling the jars. Using a funnel, ladle salsa into the jar until just about up to the next. Use a rubber scraper around the inside of the jar to release any air bubbles. Measure 1 inch of head space, add or remove salsa as needed. Wipe the lip of the jar clean with a paper towel. Then using the magnetic lid lifter, pick a lid out of the simmering water and place on top of the jar. Screw on the jar ring until just tight with your fingers, do not make it super tight, as air has to escape. Then load the jars onto the canner rack.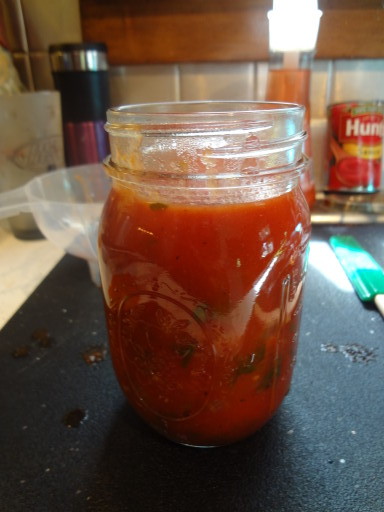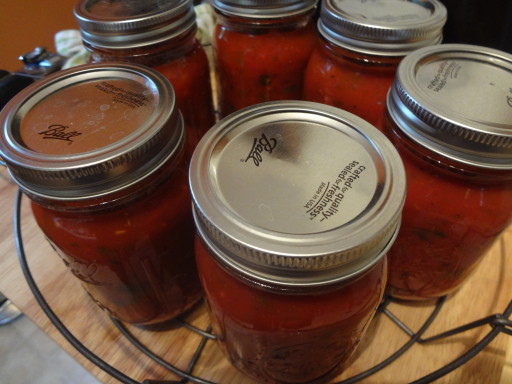 At this point the water in your canner should be at simmer. Lower the rack of jars into the water, making sure the lids are covered by 1-2 inches. Add more boiling water as needed. Bring the water up to a rapid boil. Then boil with the lid on for 15 minutes.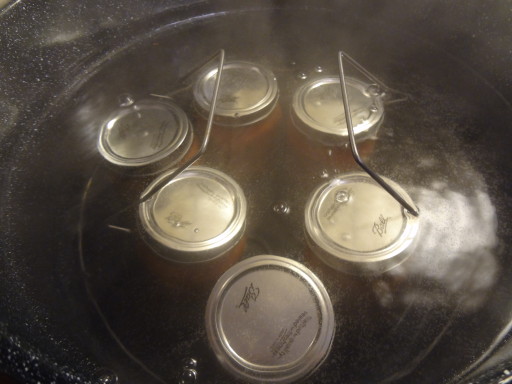 After 15 minutes, turn the stove off but leave the jars in the canner for another 5 minutes. They need to temper a bit so the glass doesn't freak out and crack when you remove them from the water. After the 5 minutes, remove from the water using your jar tongs. Place on a towel or cooling rack to cool, out of any cold drafts. Once again, we don't want the glass to crack. Don't move the jars until they are completely cool, 12-24 hours. Test to make sure they are sealed, the lids should not pop up when you press in the center. Remove the rings so they don't rust and store in a cool dry place until ready to eat, for up to 1 year.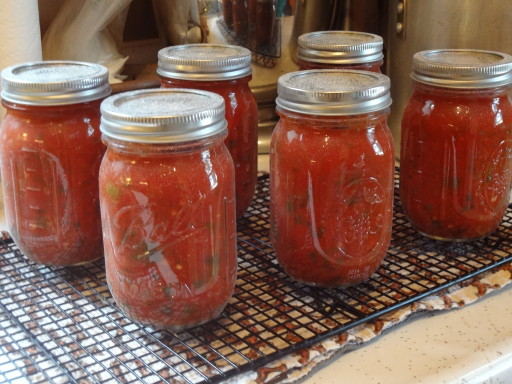 If any jars don't seal, you can reprocess them, or just put them in the fridge to eat in the next week.
For my first attempt at this, I didn't want to make salsa that was too hot to eat, I figured erroring on the side of mild was best. I used 5 jalapenos, removing all the seeds and ribs. I also cut the sugar in half and used half cider vinegar, half lime juice as was recommended on /r/gardening. The salsa had great flavor, but wasn't spicy at all. I wanted more heat. And Ryan found it too sweet.
I made another batch when I got more tomatoes again. A double batch, which took way to long to cut the tomatoes, I won't do that again. 6 jars at a time is all I have in me. This time I made it with 5 jalapenos and 1 serrano pepper. I removed the seeds from the jalapenos, but left the serrano seeds in. This had much better heat, a spicy medium I would say. I also completely cut the sugar at Ryan's request. The resulting salsa is a bit too limey. I either need to add some sugar back in, or change the lime/vinegar ratio. I'll fiddle with that next time and let you know how it turns out.