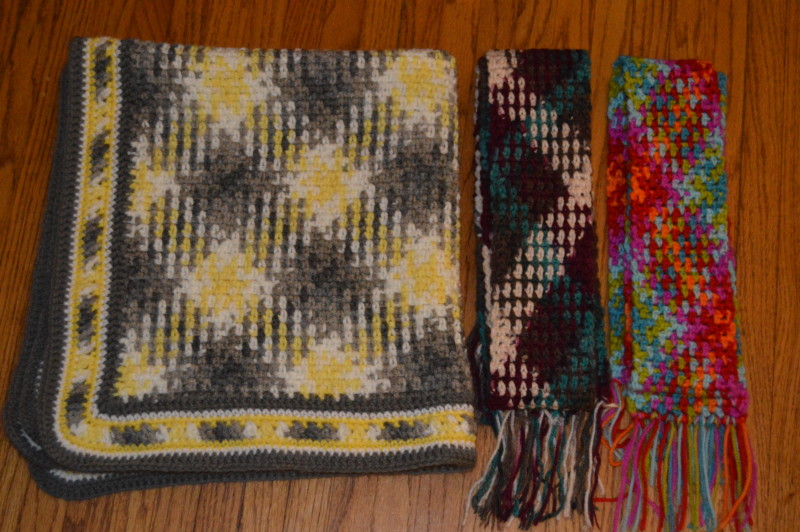 Have you tried planned pooling yet? For those not in the know, planned pooling is using variated yarn and planning how the colors line up to create a pattern. On purpose. Having the colors pool according to a plan. Planned pooling. You get the idea. Before Christmas this technique suddenly was everywhere on the internet. The most common pattern resulted in an argyle or plaid pattern. This is all done without changing yarn, no color changes, no weaving in ends, just a bit of math and a lot of patience and the yarn does this by itself. I had to give this magic a try.
My first attempt was this lovely teal and burgandy scarf I made for myself. I still have grand plans to make a matching hat and mitt set, but alas, the winter is only so long and there are so many projects.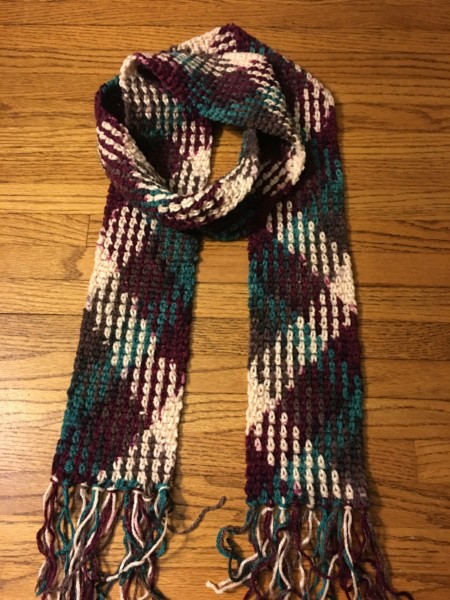 This scarf was made using Red Heart Super Saver in Antique. I used a I hook and started with a chain of 21. Then I did the moss stitch (1 sc + 1 ch, sk 1 st) across, with a turning chain of two. The key to making an argyle pattern is to make sure that on every other row, the color moves over 1 stitch from the row below it. Figuring out how many stitches that will take is the secret to unlocking the magic. And no one can really write a pattern for this, because everyone's tension is a bit different. So the stitch and hook combination that works for me, may not work for you. It's like a puzzle. A fun, math, crochet puzzle. Right up my alley.
There are several different ways people go about finding their magic number, but my personal favorite method is to use a planned pooling calculator. To use the calculator, you'll need to know how many stitches of each color you get in your yarn using your chosen stitch and hook. So chain through all the color changes, then stitch back through your chain until you've gone through each color at least once. Then count how many stitches you get of each color. You can add colors and customize them to match your yarn. Then use the 1 stitch longer or shorter buttons to see what pattern you can create depending on the number to stitches. I was looking for agyle, so this is what my calculator looked like.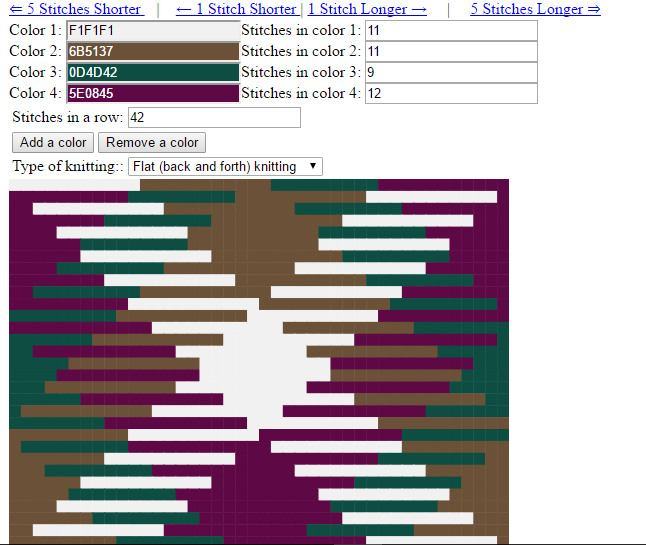 This tells me I need 42 stitches to make an argyle pattern, but that was too wide for a scarf, so I halved it to get the zig zag plaid I ended up with. You could double or quadruple the number of stitches to create a larger pattern too, like the grey and yellow baby blanket I made. More on that later.
So, to get 21 stitches and a turning chain of 2, I started with 23 stitches and worked my moss stitch across. You can tell by row 3 if this is working. On row 3 the color changes should be one stitch off from row 1. Row 4 should be shifted one stitch over from row 2, and so on. At this point my stitches weren't shifting, they were stacking. Which creates an interesting pattern on its own, but not what I was going for. So I frogged it back and removed two stitches from my chain and started again. No matter which method you choose to find your magic number, I find it takes a little bit of trial an error to get started.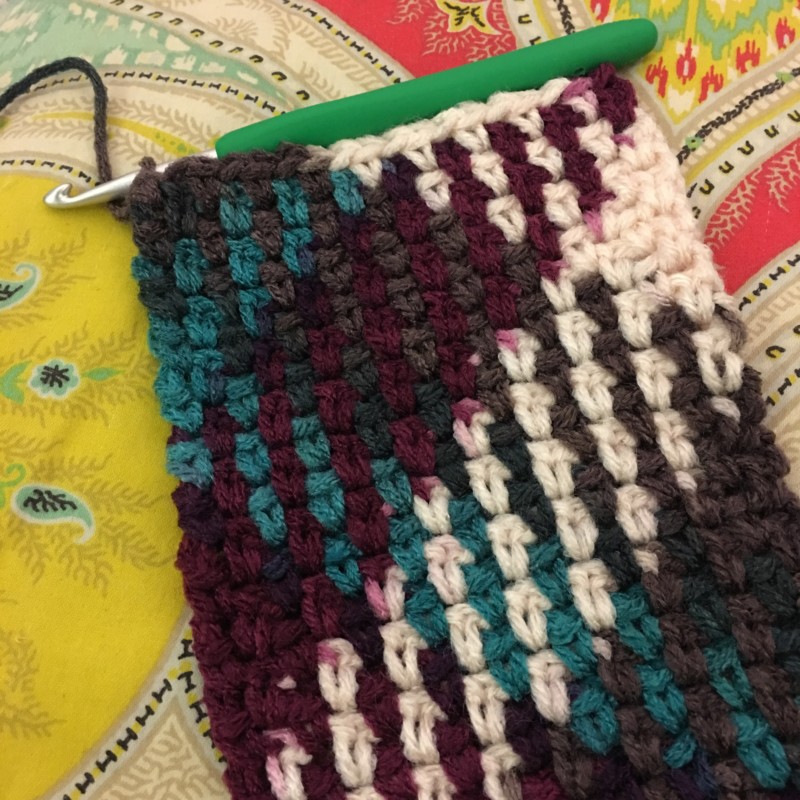 Once you get that magic number of stitches, and it really does feel like magic when the pattern starts to emerge, you still might need to do some fudging to keep the stitches lining up. Unfortunately the brands of yarn that come in the most fun varigated colors tend to be less expensive yarn that aren't exactly the most consistent. I found that sometimes a color would run a whole stitch long for a couple repeats, then suddenly be a stitch short. Some people switch to bigger or smaller hooks to keep the stitches lining up correctly. I found it easier just to adjust my tension as I went, crocheting tighter when I needed more stitches and looser when I had extra of a color. I often would have to frog to the last color change and redo the stitches. This can be tedious, and some yarns are easier than other. Heck, some skeins of the same yarn are easier than others. But the good news is that the inconsistent tension was completely unnoticeable once I washed my finished scarf.
I should mention that you don't have to use the moss stitch, people have had luck with everything from single crochet to shell stitches, depending on how long the color changes in their yarn are. And not all variagated yarn will pool into an argyle pattern, The color changes need to be in a regular repeating pattern and it helps if the color changes are long enough to get a couple stitches in each color.
Once I finished my scarf, my kiddo wanted one of his own. So I took him to Michaels so he could pick out his own yarn. He picked Craft Smart in fiesta because he liked the rainbow colors.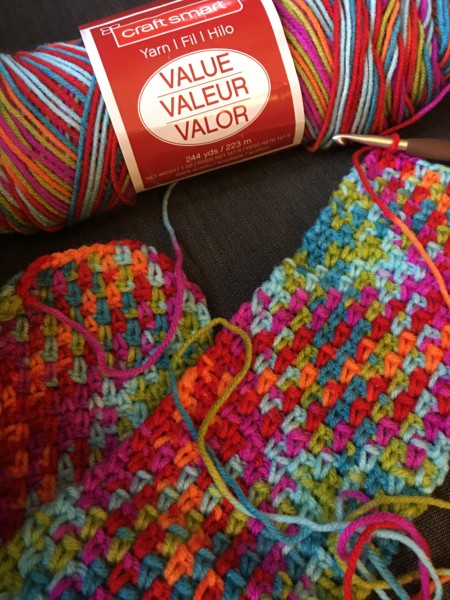 This yarn is even scratchier than Super Saver, but it cooperated nice and had a fun pattern. The variety of colors and short color changes made it tricky to get started, but I didn't have to fiddle with it much once I got going.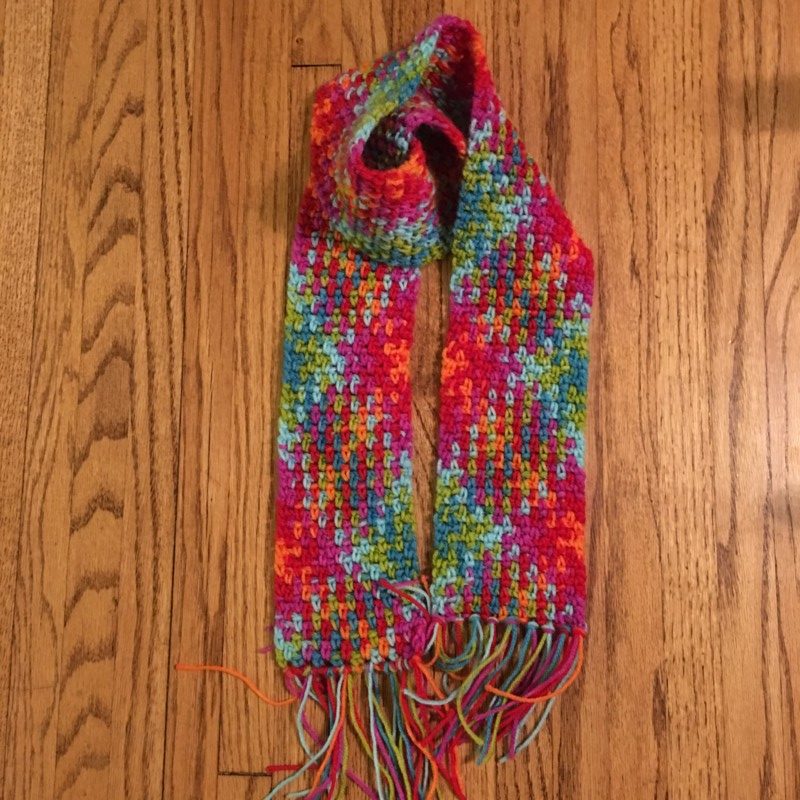 And after a run through the washer and dryer it was reasonably soft enough. The kiddo loved it and looked pretty handsome, in my humble opinion.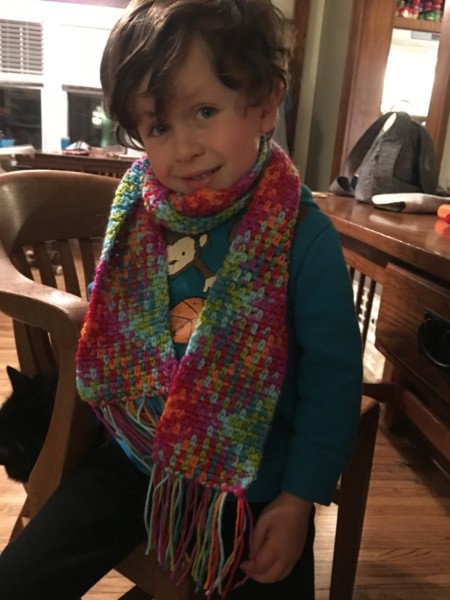 With two, relatively quick, narrow, planned pooling projects down, I was ready to tackle something bigger. My husband's very good friend from college was expecting a baby boy in February, and when I saw this Red Heart with Love in lemon drop on the shelf, I knew it was meant to be. Every baby needs a blanket.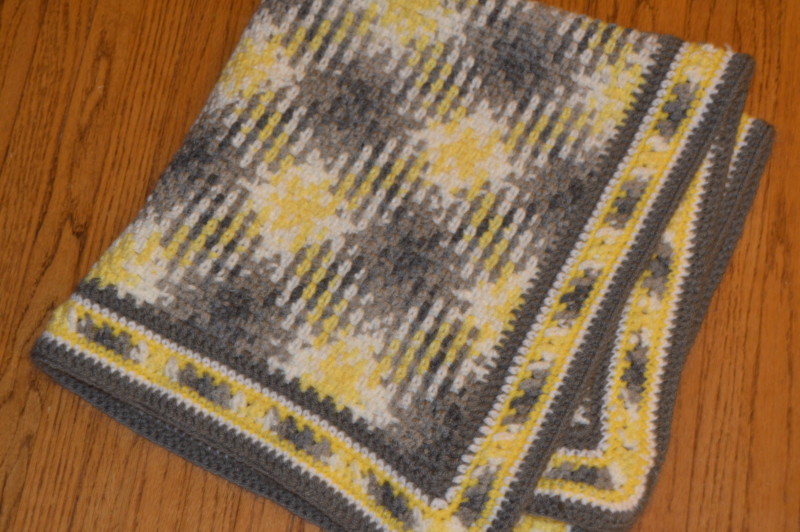 This blanket is 3 and a half argyle patterns across. I want to say my starting chain was 115, but I don't remember for certain and I failed to write it down before I gave the blanket away. Sorry. But once again, my magic number won't be the same as yours because everyone has a different tension. The calculator was my friend again for this one.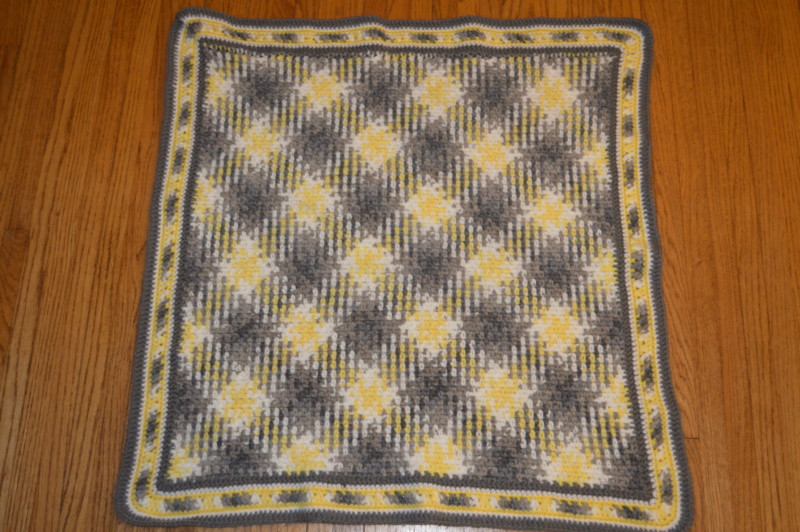 This took 4 skeins of lemon drop and less than 1 skein of yellow, grey, and white yarn that I already had in my stash. They are all Red Heart with Love which has a soft, chenille type texture. It is thicker than most worsted weight yarn and it made for a very cuddly baby blanket. The plaid section of the blanket was about 28 inches, so it was closer to 34 inches square after I added the border. Right in the 30-36 inch range I like to keep baby blankets.
This was the hardest of the 3 yarns I've used to keep the pattern right. Every other row felt like it needed to be super loose or super tight to get the right number of stitches. I don't know if it was because it was wider, so it was easier for it to get off or what. If you look closely you can tell it isn't perfect, I've got an extra half stitch of a color here and there. Shhh… don't tell anyone. In the end, I don't think it was a big deal. And once again, after washing, the differences in tension weren't noticeable.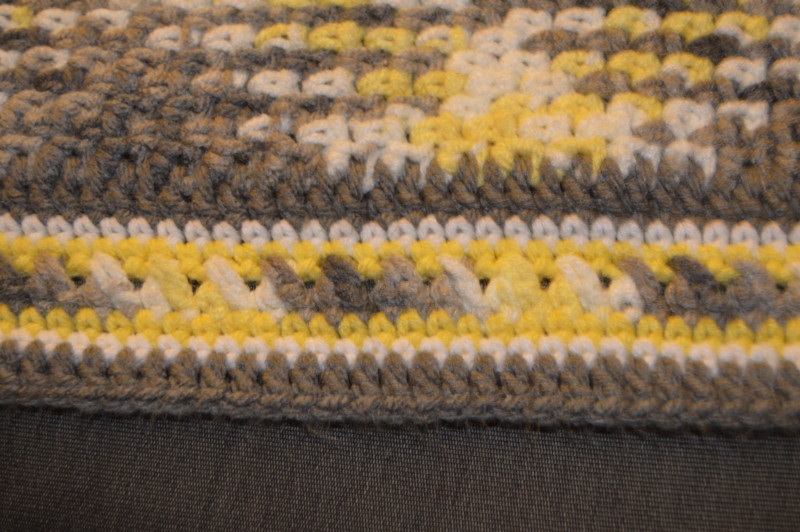 For the border I did a round in grey, then white, then yellow, then I used the varigated yarn and did crossing double crochet. I thought it would look like the cross pattern in the plaid. Not sure it really came across, but I liked it anyway. Then did the yellow again, then white, then finaly a round of double crochet in grey.
And then, because I just can't help myself, I used the extra yarn to whip up an owl hat to match.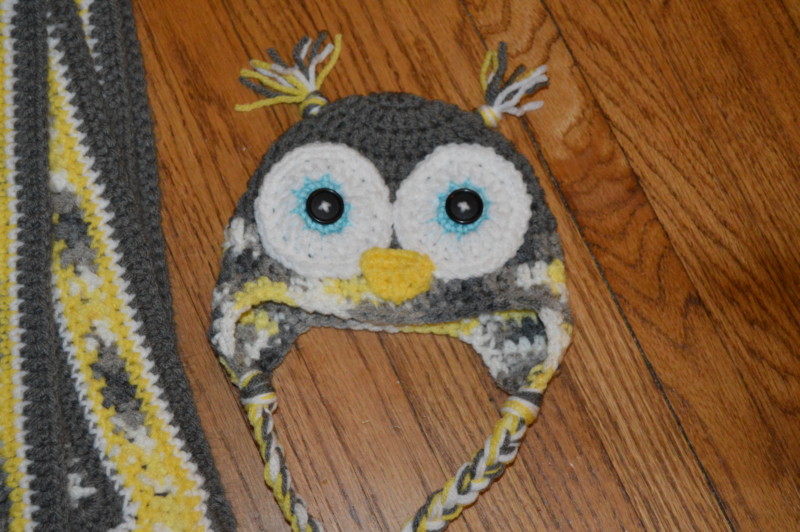 I realize this isn't really a pattern, or even a tutorial, just an informational post, but if you are looking to try planned pooling and have any questions, I would be happy to help. I encourage you to google "planned pooling crochet" and see all the amazing projects talent folks have done. And to think prior to this, I was only using varigated yarn to make ugly dish cloths!