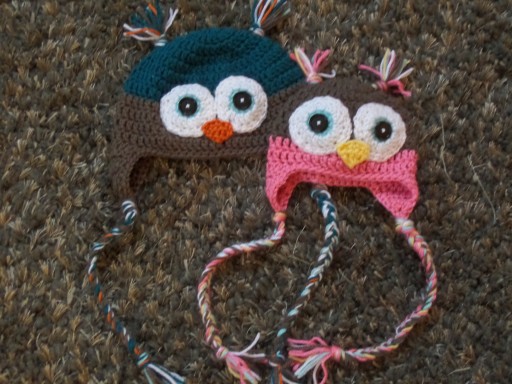 When Ryan told me one of his best friends and his wife just had a new baby girl, I immediately knew that she needed an owlie hat. And so did her big brother. I think everyone needs an owlie hat. Liam had one last year. (This year I made him the fox hat, maybe another owl next year?) My nieces each have one. I even made adult sized owl hats for Ryan and myself, and I get almost as many compliments as I get as funny looks when I wear it.
And now you can make your very own owlie hat, too. Or maybe just one for that special little one in your life. I wish I could take credit for the pattern, but I can't, I'm not really that creative on my own. The pattern comes from Sara at Repeat Crafter Me, and not only is it adorable, it is really easy to follow. She has pictures, tips for where to start rounds, and sizes from newborn to large adult. So please, visit her blog and show her some love.
The two hats shown above are the newborn and toddler sizes. I made a couple small adjustments to the pattern. I always use a light blue for the center of the eyes, regardless of what color I make the hat. Ryan wanted a red one and I made it per the pattern, but I always feel his looks a bit evil with the red eyes. After that I tried blue eyes and I liked it so I stuck with it. I also sew on the buttons with white embroidery floss, I like the way it looks like a glint in the eye. Lastly, I make a slightly different beak which I borrowed from a pattern for an owl blanket. I made both for my niece and wanted them to match, and then I decided liked the slightly rounder beak better so I kept using it. The beak I use is as follows:
Chain 6.
Sc in first Ch from hook and in each ch after. Turn, ch 1. (5 sc)
Sc dec, sc, sc dec. Turn, Ch. (3 sc)
Sc 3 together, fasten off leaving long tail for sewing (1 sc)
So there you have it. Now you can make your own owlie hats in all sorts of sizes and colors. The whole family can be decked out in owlie goodness.