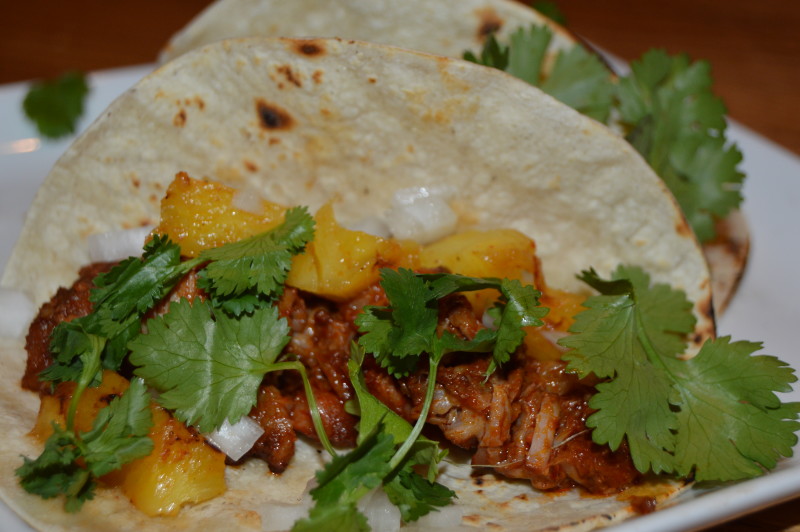 Yes, another taco recipe. Eventually we'll run out of types of tacos to make. Maybe. Until then, I present you Tacos al Pastor, a yummy spicy pork taco. We were first introduced to tacos al pastor when were in Cancun 4 years ago. Ryan fell in love and has been trying to find a reasonable facsimile in Minnesota ever since, without much luck. This year, for our Valentine's Day tradition of cooking a new meal, we decided to try it out at home.
Pork al Pastor is native to central Mexico. Al Pastor literally means "shepherd style" and it is thought to be a derivative of shawarma, spit-grilled lamb used for gyros. Traditional pork al pastor is cooked all day on a spit, and the juice from the pineapple helps tenderize the meat. We don't have an outdoor spit to slow cook meat on, especially in the middle of winter. This recipe from America's Test Kitchen uses a dutch oven to braise the meat, finishes it on the grill and serves it along side grilled pineapple. It isn't a quick recipe, but none of the parts are difficult (unless you are Ryan and you break the blender, more on that later). The result is fabulously tender and flavorful meat that was the nearest we've had to authentic since we left Cancun.
I apologize for the lack of step by step photos for this post. As is our Valentine's Day tradition, Ryan cooks the main course and I handle dessert. I can't convince Ryan to interrupt his cooking mojo to photograph his work.
The recipe starts by toasting dried guajillo chiles in a dutch oven. This was the only ingredient we weren't sure we'd be able to find easily, but we picked them up at Cub Foods in the ethnic food section. Turns out they had about 5 different types of dried chiles. I had no idea. When we suddenly needed more (I'll explain later) none of the grocery stores in Red Wing carried dried chiles, but Ryan found them at a Mexican store. Once the chiles are roasted you simmer them in the dutch oven with tomatoes, garlic, and other spices to make the sauce.
Once the sauce simmers for 20 minutes, you transfer it to a blender and blend it until smooth. This is where it all went wrong. We do this meal thing every Valentines Day. We get up early, go shopping for ingredients, come home, and cook the rest of day. Inevitably we end up eating dinner at 11 pm because shopping, prepping, cooking, something ends up taking longer than expected. This year we were doing pretty good. We found the ingredients without having to venture all over the Twin Cities. I had dessert in the oven and Ryan was prepping tomatoes for the sauce by 3 pm. We were ahead of schedule for a 7pm dinner. Then came the blender. Ryan somehow managed to push the top of the blender, you know the plastic part that comes out so you can add liquid while blending, into the blender while it was running, chopping bits of plastic into our delicious chile sauce. He tried to strain the plastic out, but wasn't convinced he got it all, so he started over, with shopping for ingredients, when he was already 2 hours into cooking. We were having 11 pm dinner again.
Anyway, after you blend the sauce smooth, you return it to the pot, add the meat (3 pounds of pork butt roast, trimmed and cut into 1/2 slabs) and braise the meat in the sauce for an hour and a half. This makes for very flavorful, melt in your mouth tender, pieces of pork.
After the pork is cooked, but before it is falling apart, you move it to the grill to brown it. This adds the spit flavor to the meat, but you didn't need to cook it on the grill all day. You also grill up the pineapple at the same time. Ryan, bless him, was grilling pork on a charcoal grill, outside in Minnesota, in February. at 10 pm. It was something like -7 degrees outside. That is dedication.
Once the meat is done, and the pineapple is grilled, you bring it inside and assemble the tacos. America's Test Kitchen recommended serving them on corn tortillas with the pineapple, onion, cilantro, and a squeeze of lime. The meat was stupendous, but the taco toppings weren't quite right. When we ate the left overs we added feta cheese crumbles, that helped. I think they might need tomatoes, even though there is so much tomato in the sauce. I'll have to keep experimenting. The fish tacos I love were only so-so at first until I discovered Thai Chili Sauce. When I discover the thing that makes these pop, I'll be sure to update everyone. But the meat is fantastic and totally worth eating. We will for sure be making this again.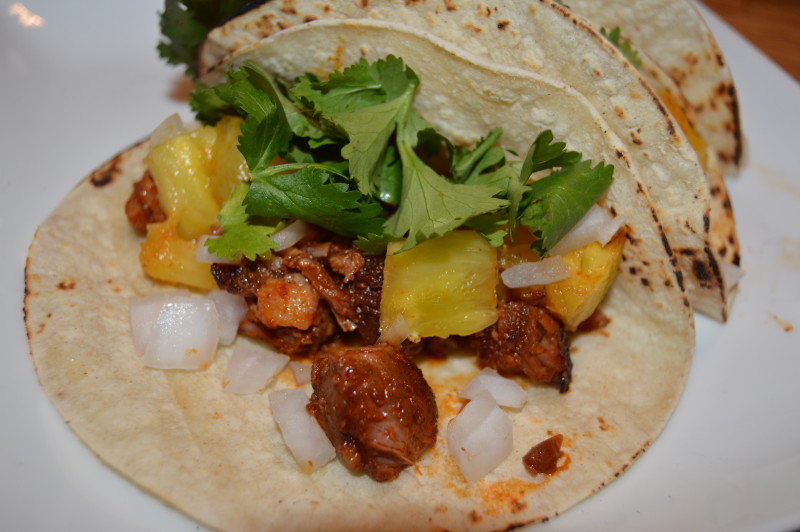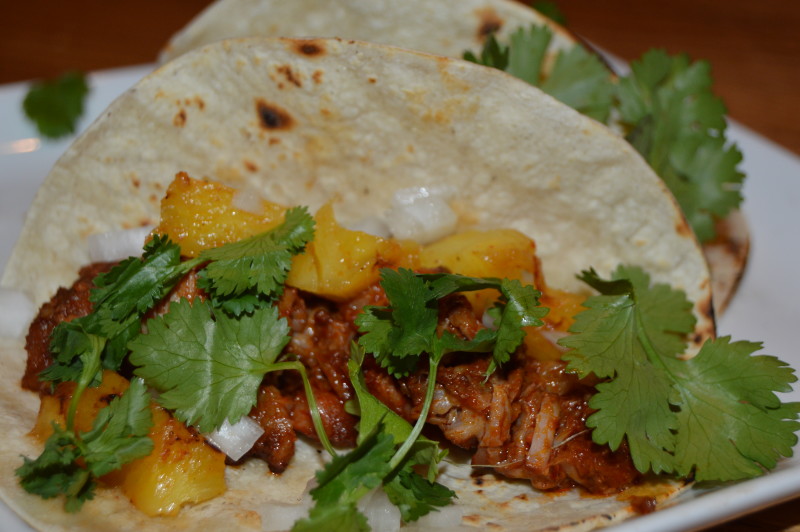 Tacos al Pastor
2015-03-14 14:50:37
Authentic Mexican Pork Tacos with Chile and Pineapple
Ingredients
10 large dried guajillo chiles, wiped clean
1 1/2 cups water
1 1/4 pounds plum tomatoes, cored and quartered
8 garlic cloves, peeled
4 bay leaves
Salt and pepper
3/4 teaspoon sugar
1/2 teaspoon ground cumin
1/8 teaspoon ground cloves
3 pounds boneless pork butt roast
1 lime, cut into 8 wedges
1/2 pineapple, peeled, cored, and cut into 1/2-inch-thick rings
Vegetable oil
18 (6-inch) corn tortillas, warmed
1 small onion, chopped fine
1/2 cup coarsely chopped fresh cilantro
Instructions
Toast guajillos in large Dutch oven over medium-high heat until softened and fragrant, 2 to 4 minutes. Transfer to large plate and, when cool enough to handle, remove stems.
Bring toasted guajillos, water, tomatoes, garlic, bay leaves, 2 teaspoons salt, ½ teaspoon pepper, sugar, cumin, and cloves to simmer in now-empty Dutch oven over medium-high heat. Cover, reduce heat, and simmer, stirring occasionally, until guajillos are softened and tomatoes mash easily, about 20 minutes.
While sauce simmers, trim excess fat from exterior of pork, leaving ¼-inch-thick fat cap. Slice pork against grain into 1/2-inch-thick slabs.
Transfer guajillo-tomato mixture to blender and process until smooth, about 1 minute. Strain puree through fine-mesh strainer, pressing on solids to extract as much liquid as possible. Return puree to pot, submerge pork slices in liquid, and bring to simmer over medium heat. Partially cover, reduce heat, and gently simmer until pork is tender but still holds together, 90 to 105 minutes, flipping and rearranging pork halfway through cooking. (Pork can be left in sauce, cooled to room temperature, and refrigerated, covered, for up to 2 days.)
Transfer pork to large plate, season both sides with salt, and cover tightly with aluminum foil. Whisk sauce to combine. Transfer 1/2 cup to bowl for grilling; pour off all but 1/2 cup remaining sauce from pot and reserve for another use. Squeeze 2 lime wedges into sauce in pot and add spent wedges; season with salt to taste.
A. FOR A CHARCOAL GRILL: Open bottom vent halfway. Light large chimney starter filled with charcoal briquettes (6 quarts). When top coals are partially covered with ash, pour evenly over grill. Set cooking grate in place, cover, and open lid vent halfway. Heat grill until hot, about 5 minutes.
B. FOR A GAS GRILL: Turn all burners to high, cover, and heat grill until hot, about 15 minutes. Turn all burners to medium.
Clean and oil cooking grate. Brush 1 side of pork with ¼ cup reserved sauce. Place pork on 1 side of grill, sauce side down, and cook until well browned and crisp, 5 to 7 minutes. Brush pork with remaining ¼ cup reserved sauce, flip, and continue to cook until second side is well browned and crisp, 5 to 7 minutes longer. Transfer to cutting board. Meanwhile, brush both sides of pineapple rings with vegetable oil and season with salt to taste. Place on other half of grill and cook until pineapple is softened and caramelized, 5 to 7 minutes per side; transfer pineapple to cutting board.
Coarsely chop grilled pineapple and transfer to serving bowl. Using tongs or carving fork to steady hot pork, slice each piece crosswise into 1/8-inch pieces. Bring remaining 1/2 cup sauce in pot to simmer, add sliced pork, remove pot from heat, and toss to coat pork well. Season with salt to taste.
Spoon small amount of pork into each warm tortilla and serve, passing chopped pineapple, remaining 6 lime wedges, onion, and cilantro separately.
Notes
Boneless pork butt is often labeled Boston butt. If you can't find guajillo chiles, New Mexican chiles may be substituted, although the dish may be spicier. To warm tortillas, place them on a plate, cover with a damp kitchen towel, and microwave for 60 to 90 seconds. Keep tortillas covered and serve immediately
Adapted from America's Test Kitchen
Adapted from America's Test Kitchen
Crafty Cori Strikes Again http://craftycori.com/