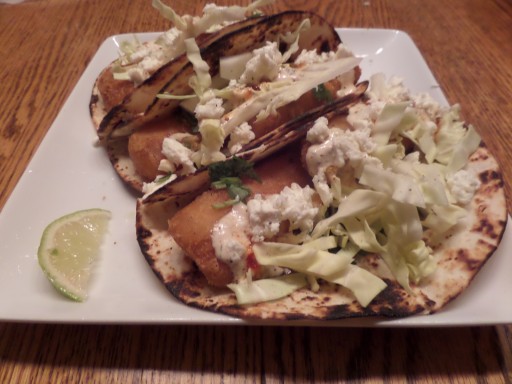 Ryan loves fish tacos. If they are on the menu at a restaurant, he will order them. Pretty much guaranteed. So it didn't take us long to figure out we needed a home version that was as good or better than we could find out. It took a couple of tries, but we have succeeded. Now he forces fish tacos on anyone that comes over for dinner. Even if they claim to not like fish… or tacos for that matter. Everyone loves these.
As it turns out, the fish is not nearly as important in fish tacos as the toppings. We were originally beer battering and deep frying our own cod fillets, and they were delicious, but time consuming and messy to batter. We got lazy one night and decided to pick up some frozen, battered fish tenders. Like fish sticks, only bigger and better quality. They were equally as delicious so much easier, its hard to justify going back to battering our own fish. We still deep fry them, but if you are a little more health conscious, I'm sure you could bake them instead. But they probably won't be as good as deep fried. Nothing is as good as deep fry, really. Our deep fryer gets lots of love.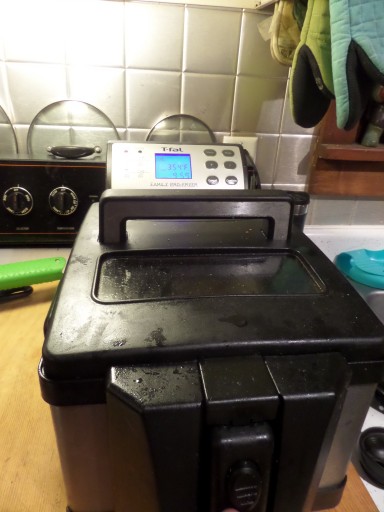 Ok, back to tacos. Like I said, it's the toppings that really make the taco. We tried various toppings we'd seen at restaurants and they were good, but not quite mind blowing. There is the standard cabbage, cilantro, and lime. I found a recipe for a delicious creamy and spicy white sauce that is awesome, but something was missing. The epiphany came in the form of Thai Chili Sauce. It is sweet and spicy and works perfectly with all the other ingredients. It makes the tacos go from, "this is pretty good" to "oh my god, where have you been my whole life." Seriously, they are that good.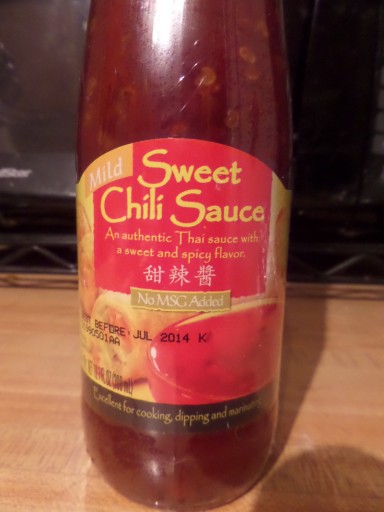 You can find Thai Chili Sauce (or sweet chili sauce) in the Asian food section of the grocery store. I don't think we've actual bought the same brand more than once, but it doesn't matter. They all taste the same, and they are all delicious.
Now, go and make some fish tacos, so you too can understand and appreciate the deliciousness. The only problem is now when we order fish tacos as a restaurant, they rarely live up to what we can make at home.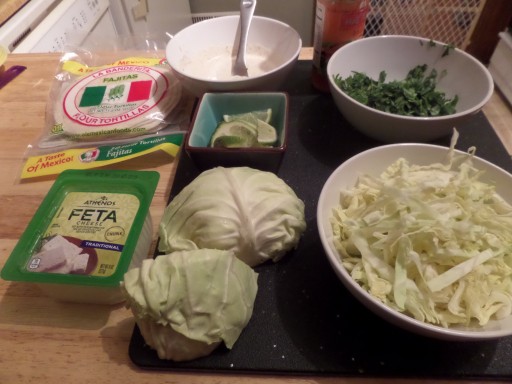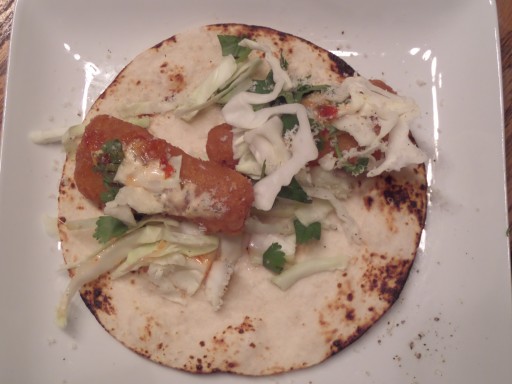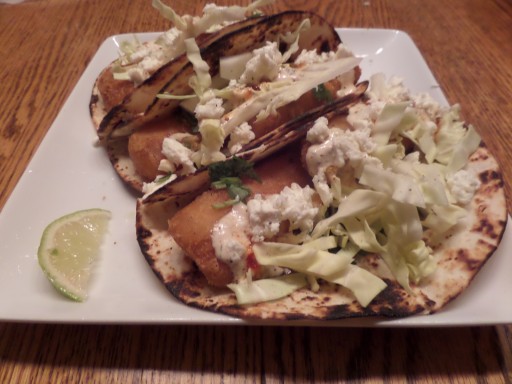 Fish Tacos
2013-12-30 16:44:02
For White Sauce
1/2 cup plain greek yogurt or sour cream. Get the stuff with fat in it.
1/2 cup mayonnaise
1 lime, juiced
1 jalapeno pepper, minced
1 teaspoon minced capers
1/2 teaspoon dried oregano
1/2 teaspoon ground cumin
1/2 teaspoon dried dill weed
1 teaspoon ground cayenne pepper
For Fish
Frozen beer battered fish tenders. Plan on 1-2 per taco, depending on size.
Oil for frying.
For Tacos
Flour tortillas
1 head cabbage, shredded
1 bunch fresh cilantro, chopped
Crumbled Cotija cheese (or Feta is Cotija is unavailable)
Thai Chili Sauce
Salt
Pepper
Lime Wedges
For the White Sauce
In a medium bowl, mix together yogurt and mayonnaise. Gradually stir in fresh lime juice until consistency is slightly runny. Season with jalapeno, capers, oregano, cumin, dill, and cayenne.
Refrigerate while you prepare fish.
For Fish
Heat oil to 375 degrees.
Deep Fry until fish is golden brown.
To assemble Tacos
Grill tortilla on stove burner until edges just start to char. (optional)
Place fish on tortilla. Top with white sauce, cabbage, cilantro, cheese, and thai chili sauce.
Salt and pepper to taste and finish with a squeeze of lime.
Crafty Cori Strikes Again http://craftycori.com/