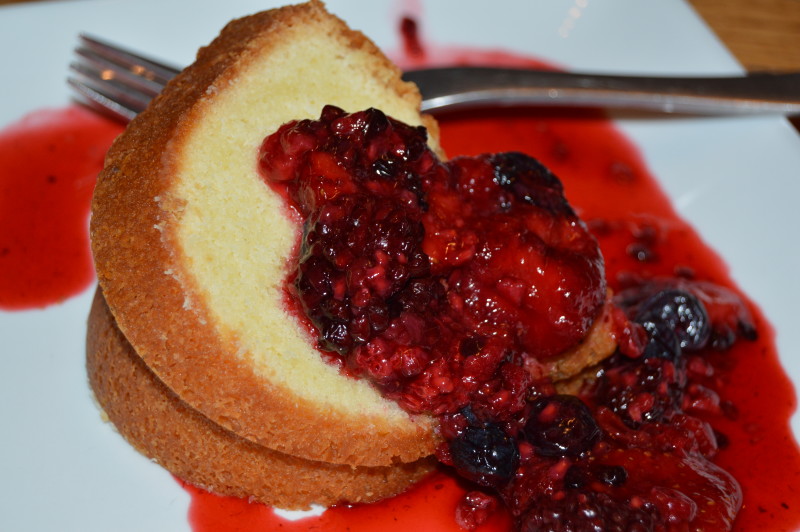 To go along with our Valentine's Day dinner of Tacos al Pastor, I was in charge of making a new dessert. Now I can't say that the first thing I think of pairing with Mexican food is pound cake, but I really wanted to make this recipe. Technically, it was the 2nd time I'd made it, but the first time I got sick before I got to eat any, so I decided that didn't count. I paired the cake with a berry sauce and decided it was festive for Valentine's Day. And it tasted so good, that it didn't really matter if it went well with tacos or not.
This is another recipe from Cook's, this time from Cook's Country. Their recipes tend to be a little more down to earth than some of things out of Cook's Illustrated or America's Test Kitchen, and this Cream Cheese Pound Cake is really no exception. It might be the easiest cake I've ever baked, even counting box cake mix. And I assure you, it is a hundred times better than anything out of a box. It is most, sweet, and a little tangy from the cream cheese. The berries I decided to top it with were the perfect foil, a little tart, with lots of juice for the cake to sop up. This could be my new favorite food. No joke.
You start by spraying the heck out of a Bundt pan with Pam baking spray. And I mean spraying the heck out of it. I was coughing from the fumes in my kitchen, but I didn't want the cake to stick. On the plus side, now I have a 2nd use for my Bundt Pan.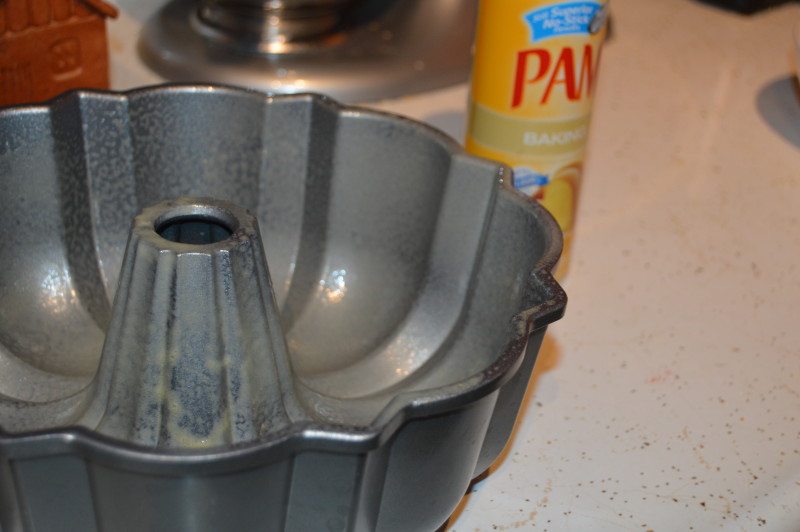 Next, you whisk together the dry ingredients and set aside. Then mix the sugar, butter, and cream cheese in a stand mixer until light and fluffy. This is the hardest part of the whole recipe and a machine does it. But in order for it to work, you need to make sure your ingredients are room temperature, no cold butter here, and you have to just let the mixer mix for 3 minutes or more, until it is noticeably much lighter in color. There are no leaveners, baking soda or baking powder, at all. All the air comes from beating the sugar and butter mixture until it is super fluffy.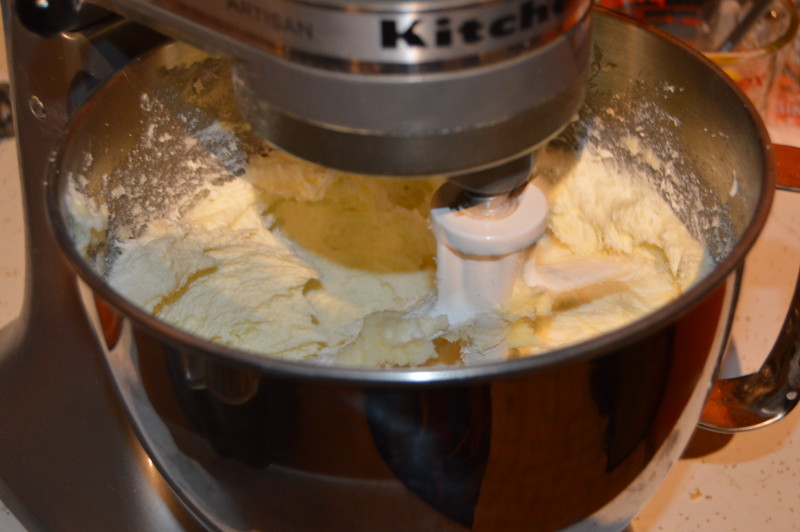 Then add the eggs and milk until incorporated. At this point the batter might look curdled, and that is okay.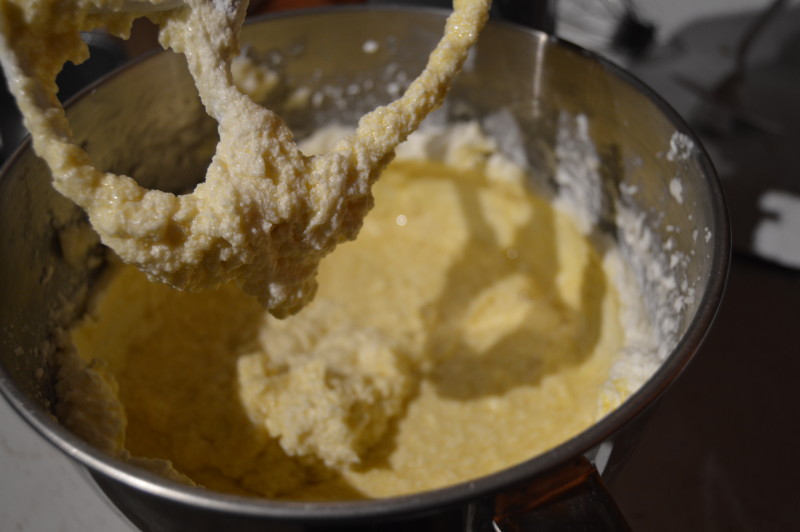 Then add the dry ingredients. That's it. Pour the batter into the prepared pan. Put the pan in the oven, and bake it at 300 degrees for an hour and a half. The low and slow baking gives you a nice brown crust, that is almost cookie like, on the outside of the cake, while the center cooks through, but stays moist. It's super.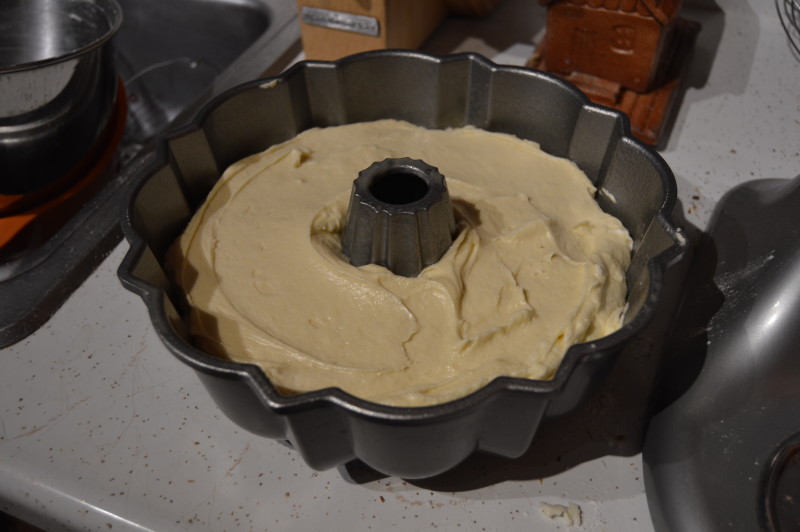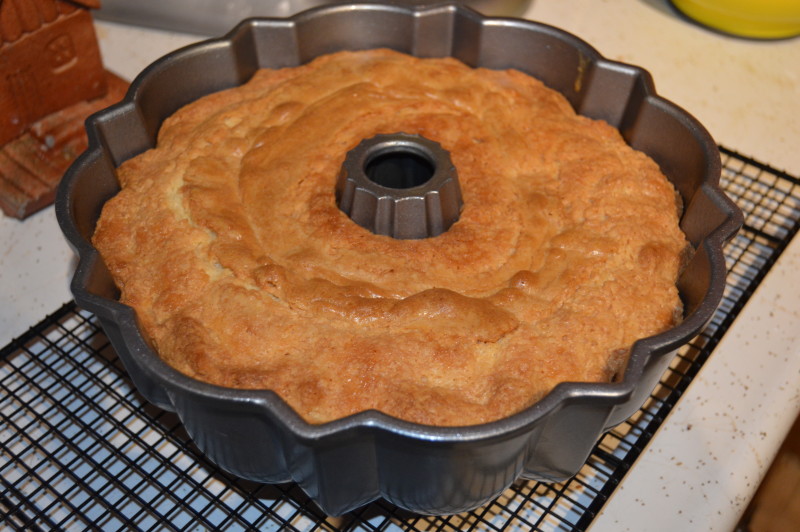 After the cake has cooled in the pan long enough to be handled, 20 minutes or so, turn it over onto a cooling rack and let it cool completely before you eat it. If you sprayed the pan well enough, it should slip right out. There is no shortage of butter in the cake either.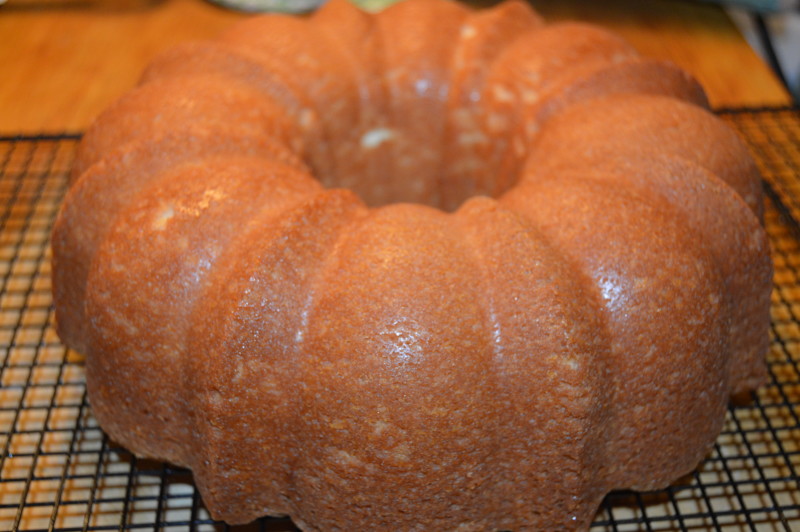 Isn't it pretty? Pretty enough to eat. The cake is delicious on its own, but I served it up with a berry sauce. I simply thawed some frozen mixed berries, added just enough sugar so it wasn't too tart, and mashed it up a bit with a potato masher. Nothing fancy at all. Cook's served it with a rhubarb compote which I'm sure was also divine, but they didn't make the recipe available for free. Regardless of how you choose to top it, this cake really can't be beat.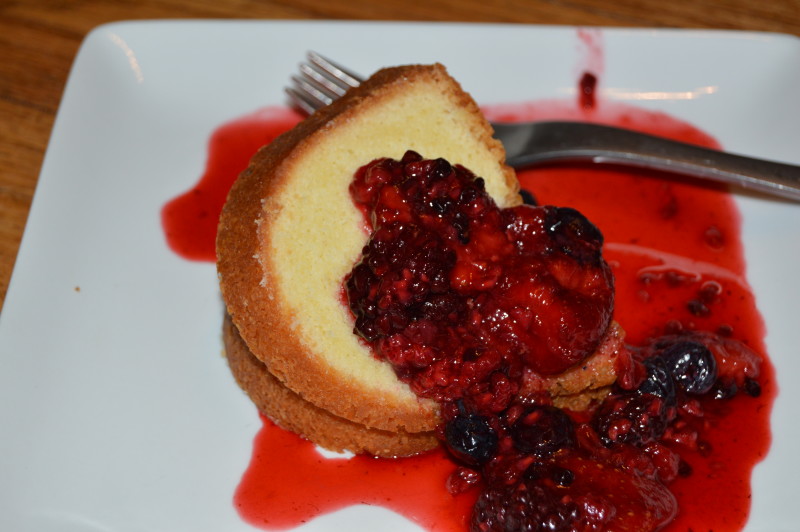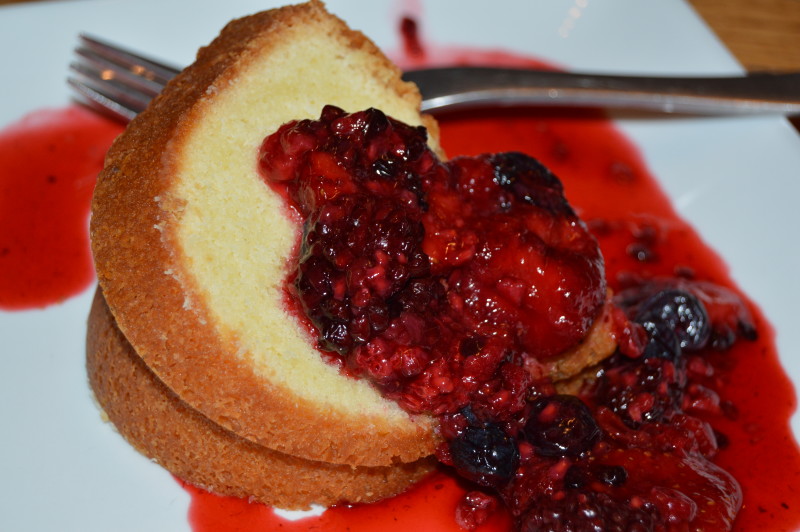 Cream Cheese Pound Cake
2015-03-14 15:27:22
A fabulously rich, buttery, tangy pound cake that is super easy to make.
Ingredients
3 cups (12 ounces) cake flour
1 teaspoon salt
4 large eggsplus 2 large yolks, room temperature
1/4 cup milk
2 teaspoons vanilla extract
3 cups (21 ounces) sugar
24 tablespoons (3 sticks) unsalted butter, softened
6 ounces cream cheese, softened
1 bag frozen berry mix, thawed. Additional sugar to sweeten if desired.
Instructions
Adjust oven rack to middle position and heat oven to 300 degrees. Grease and flour 12-cup nonstick Bundt pan. Combine flour and salt in bowl. Whisk eggs and yolks, milk, and vanilla together in 2-cup liquid measuring cup.
Using stand mixer fitted with paddle, beat sugar, butter, and cream cheese on medium-high speed until pale and fluffy, about 3 minutes. Reduce speed to low and very slowly add egg mixture until incorporated (batter may look slightly curdled). Add flour mixture in 3 additions, scraping down bowl as needed. Give batter final stir by hand.
Scrape batter into prepared pan and gently tap pan on counter to release air bubbles. Bake until toothpick inserted in center comes out clean, 80 to 90 minutes, rotating pan halfway through baking. Cool cake in pan on wire rack for 15 minutes. Remove cake from pan and cool completely, about 2 hours. Serve with berry topping. (Cake can be wrapped in plastic wrap and held at room temperature for 3 days.)
Adapted from Cook's Country
Adapted from Cook's Country
Crafty Cori Strikes Again http://craftycori.com/