Flank Steak Tacos with Grilled Corn Salsa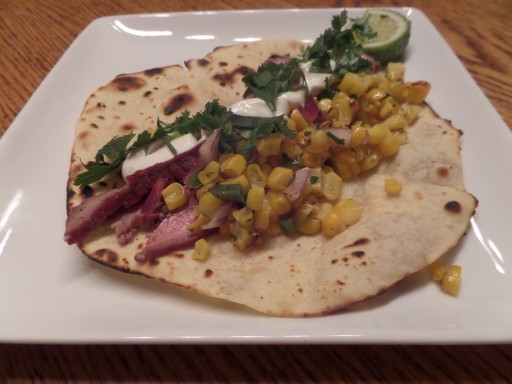 When Ryan told me he wanted to grill steak for tacos in Minnesota in February, I thought he was a bit nuts. When I found out the recipe included grilled corn on the cob, I was sure of it. Where on earth do you find corn on the cob in the middle of winter? Turns out they sell frozen corn on the cob. I had no idea. And it is a good thing my hubby is a bit insane, because the grilled corn salsa on these tacos is to die for. I could (and did) eat it with a spoon. I think we'll need to make it all summer long to have on tacos, with chips, with everything.
The corn salsa is made by microwaving the ears of corn until they are tender, then grilling over a hot fire until they are just starting to char. Then the corn is cut from the cob and mixed with jalapenos, onions, cilantro, and lime juice. So fabulous. The nice thing about frozen corn cobs is that we didn't need to shuck the corn. Bonus.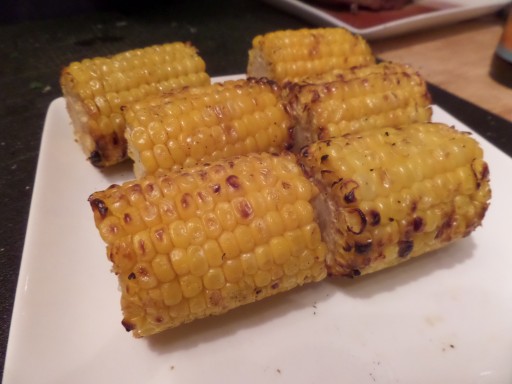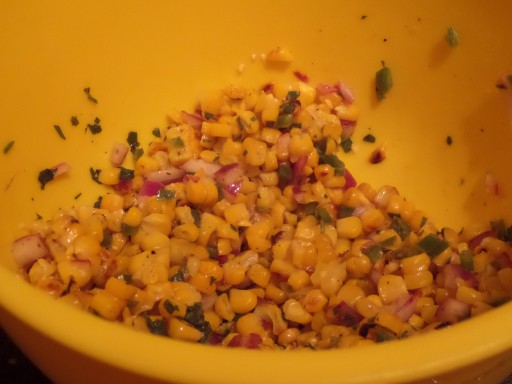 We make steak tacos out of flank steak fairly often, so grilling the steak wasn't a huge departure from our normal method. The recipe did call for seasoning the steak with some cumin along with salt and pepper which did give the meat a bit of traditional "taco" flavor. Kudos to Ryan for managing a perfect medium rare on a charcoal grill when it was like 20 degrees outside.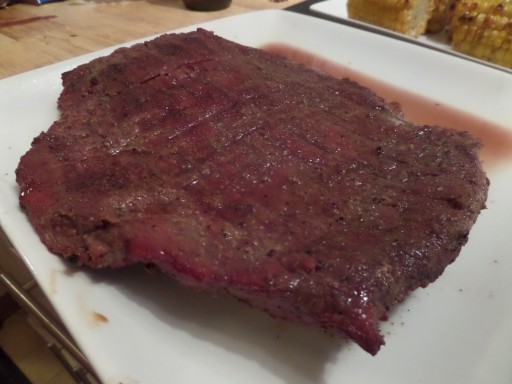 The steak is served in a tortilla with the corn salsa and a sour cream and lime mixture. The recipe originally called for corn tortillas, but I made homemade flour tortillas, and they were lovely. I love cilantro so I added some more to my taco. When I went back for seconds, I added just a bit of tomato salsa because I thought it was missing something and guessed tomato. I thought it was nice addition. We usually serve steak tacos with white onion, tomato, and cilantro. In the future I think we'll do the same, but add this corn salsa. Seriously the corn salsa is divine.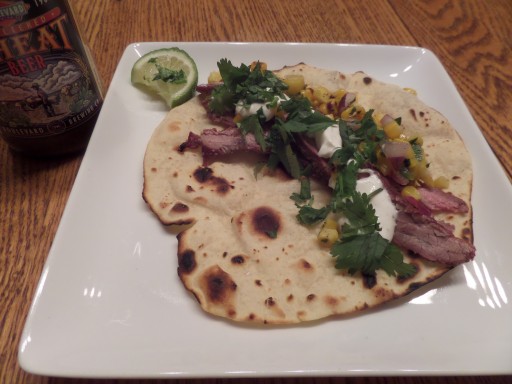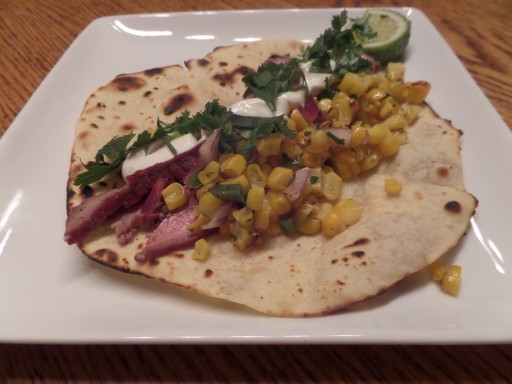 Flank Steak Tacos with Grilled Corn Salsa
2014-02-17 19:48:38
Delicious steak tacos with a grilled corn salsa that would be tasty on anything
Ingredients
2 ears corn, husks and silk removed
¼ cup finely chopped red onion
1 jalapeno chile, stemmed, seeded, and minced
¼ cup lime juice (2 limes)
1 tbsp minced fresh cilantro
salt and pepper
1 tsp ground cumin
1 (1 ½ -to 2- pound) flank steak, trimmed
12 (6-inch) corn tortillas
½ cup sour cream
Instructions
Place corn in a large bowl and microwave, covered, until nearly tender, 3 to 5 minutes. Stir onion jalapeno, 2 tablespoons lime juice, cilantro, ½ teaspoon salt, and ¼ teaspoon pepper together in bowl; set aside.
Combine 1 teaspoon cumin, ¾ teaspoon salt, and ½ teaspoon pepper in a bowl. Pat steak dry with paper towels and rub with cumin mixture. Grill corn over hot fire, turning often, until charred and tender, about 10 minutes. Grill steak over hot fire until well browned and registers 120 to 125 degrees, 5 to 7 minutes per side. Transfer steak and corn to carving board and tent loosely with foil. Grill tortillas until lightly charred, 1 to 2 minutes per side. Transfer to plate and tent loosely with foil.
Combine sour cream and remaining 2 tablespoons lime juice in bowl. Season with salt and pepper to taste. Cut kernels from cob and add to reserved onion mixture. Slice steak thinly against grain. Serve with corn salsa, tortillas, and sour cream mixture.
Adapted from Cook's Country
Adapted from Cook's Country
Crafty Cori Strikes Again http://craftycori.com/