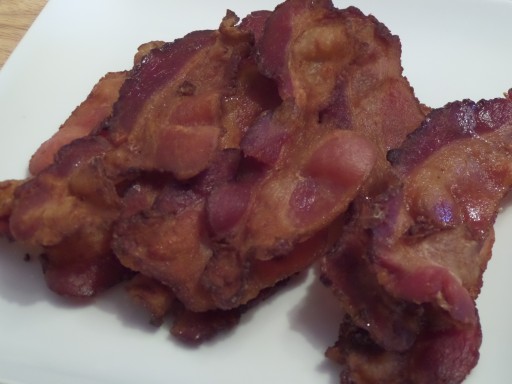 Bacon makes everything better. Seriously, what isn't better with a slice of bacon on top? Burgers, better with bacon. Salad, better with bacon. My husband even puts bacon on peanut butter and jelly. I love bacon, but I hate frying it. I hate standing over the pan, flipping the bacon, while grease spatters everywhere. It's a pain. So I thought I'd share my easy method of cooking bacon, in the oven. No grease spatter, and perfectly cooked, crispy bacon. Use it to make a breakfast sandwich on a homemade English muffin. Trust me.
Start by lining a rimmed baking sheet with aluminum foil. This works best if you have a extra wide roll of heavy duty foil, like the stuff we got at Costco, That way you can cover the whole pan with one continuous sheet. But if you just have standard foil, it will work, just make sure there is a wide overlap between the pieces, so that you minimize grease seeping between and onto the pan. The whole point of the foil is easy clean up.
Once you have the pan lined, lay the bacon in a single layer. I can never get a whole package of bacon to fit, so I do overlap the last couple of pieces. Once it cooks a bit, the bacon shrinks up and you can rearrange it into a single layer.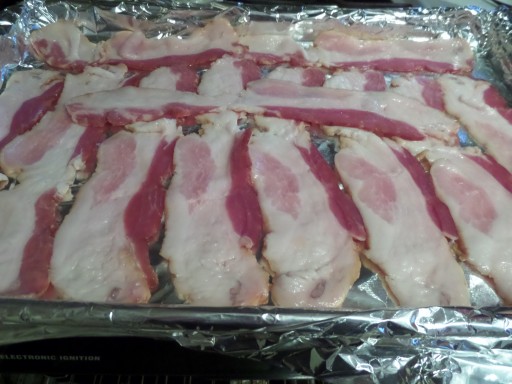 Bake it at 425 for 20 minutes. After 20 minutes, I turn the bacon over and rearrange if necessary.This particular bacon shrunk up quite a bit, so there was plenty of room.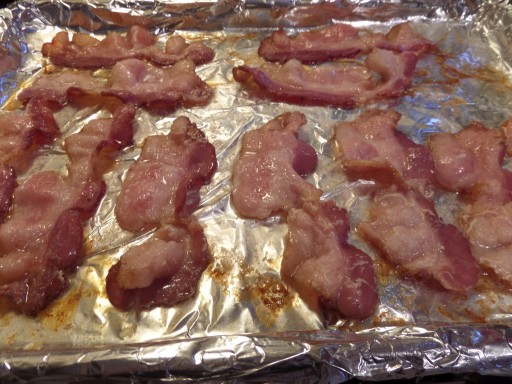 Then put it back in the oven and continue to bake until it is your desired crispness. I usually check it again in 15 minutes, and every 5 minutes after that. Take it out just slightly before its done, because it will continue to cook after you remove it from the oven.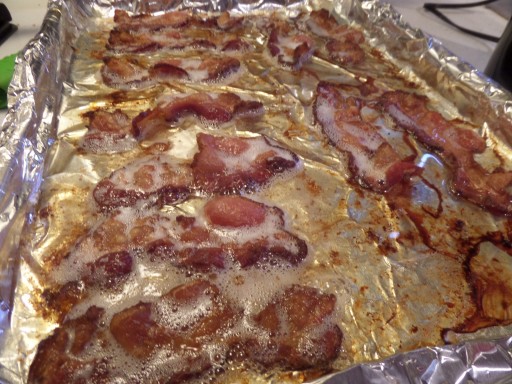 Then move the bacon to a plate lined with paper towels to drain. Wait to eat it until it cool enough to not burn your mouth. Put it on everything. Delicious.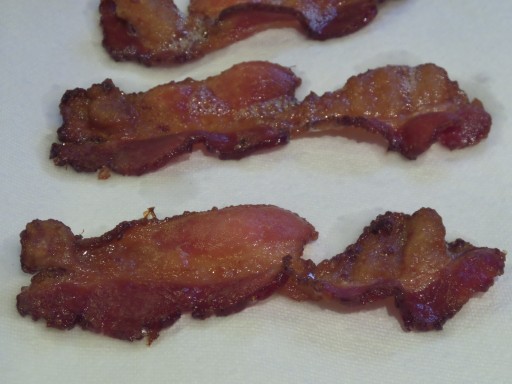 And the best part is the clean up. If you save bacon grease to cook with, you can pour the grease into a jar. If you don't, just let it cool until it solidifies, then fold up the foil and toss it out. Easy peasy. Perfectly cooked bacon you barely have to tend to. No grease spattered all over your stove top, and as long as your foil didn't tear, your baking sheet is probably still clean.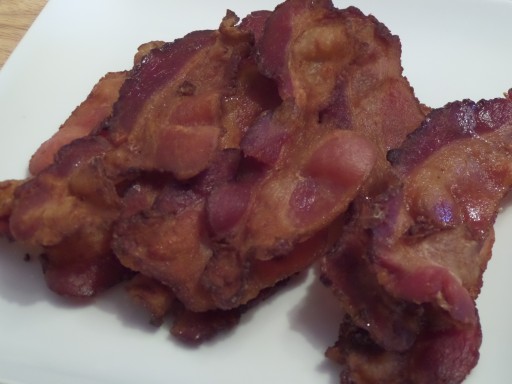 Easy Oven-Fried Bacon
2014-01-29 12:58:35
The best way to fry bacon - in the oven. Perfectly cooked bacon, no grease spatter.
Instructions
Preheat oven to 425 degrees, Line a rimmed baking sheet with aluminum foil.Arrange bacon in a single layer on baking sheet.
Bake for 30-40 minutes depending on desired crispness, flipping bacon half-way through. Transfer cooked bacon to a plate lined with paper towels to remove excess grease.
Enjoy.
Crafty Cori Strikes Again http://craftycori.com/