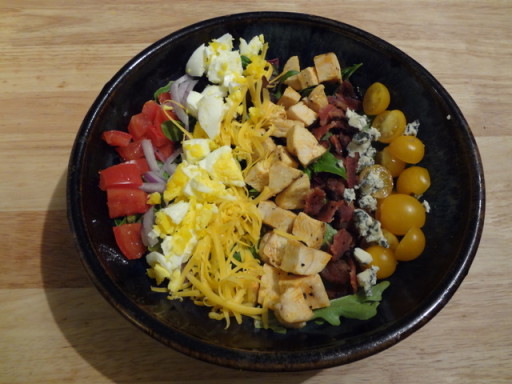 I like to bake, and I am not bad at it if I do say so myself, but I can't cook. I've made eggs that were simultaneously burnt and runny. The way I see it, baking is a science and cooking is more of an art. Anyway, Ryan is sick of always having to cook. I try to point out that it is only because no one wants to eat anything I make, but that doesn't really fly with him. So in an effort to relieve him of having to make dinner every night, I've decided to feed myself a couple times a week. I won't force anyone else to eat it. And maybe, just maybe I'll get better at cooking.
Now most nights this means I'm making myself a sandwich, but today I decided to branch out and try a salad. I know, this still barely counts as cooking, but I did boil an egg. That should count for something, right?
So this beautiful Buffalo Chicken Cobb salad was born. Mostly because I had some veggies that were starting to get a bit iffy and some leftover bacon and chicken that needed to get eaten. Plus wing sauce and blue cheese makes everything better.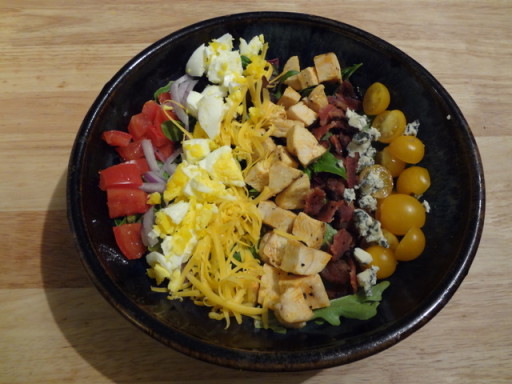 Buffalo Chicken Cobb Salad
2013-09-23 19:07:27
Ingredients
2 cups spring mix salad
1 chicken breast, cooked and diced
2 strips of bacon, cooked and crumbled
1 egg, hard boiled and crumbled
8 cherry tomatoes, halved
1/2 tomato, diced
1 slice red onion, diced
cheddar cheese, shredded
blue cheese crumbles
blue cheese dressing
wing sauce
Instructions
Toss chicken in wing sauce.
Fill a large bowl with lettuce. Top with chicken, bacon, eggs, veggies, and cheeses.
Serve with blue cheese dressing. Enjoy.
Crafty Cori Strikes Again http://craftycori.com/