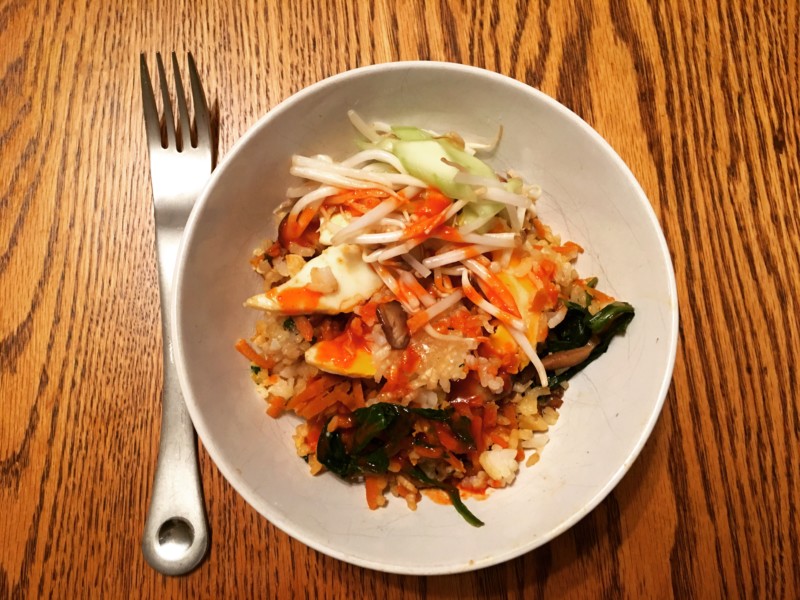 It's time for another edition of Cori cooks ethnic food she's never tasted before. This week's recipe is Dolsot Bibimbap, which is a Korean rice bowl. It's got veggies, eggs, pickles, crunchy fried rice bits and hot sauce. How could it possibly be bad? My probably completely inauthentic recipe comes from America's Test Kitchen (big surprise, I know). They featured it on a recent episode but I actually saw it on their Facebook feed first. It has a runny fried egg on top of it, as soon as I saw it I knew I was going to make it, I just needed to hunt down some gochujang. How hard could that be?
So bibimbap means mixed rice and dolsot is a hot stone pot. My understanding is that is usually prepared in individual stone pots where the egg cooks and the rice fries and gets crunchy. America's Test Kitchen attempted to simplify this for American kitchens by cooking several servings in a dutch oven. The recipe isn't complicated, but I don't think simple describes it. It has lots of steps and towards the end the timing gets… complicated…
The first thing I did was to prep an insane number of veggies. Cucumbers, bean sprouts, carrots, mushrooms, garlic, scallions, spinach. Everything else works better when the veg is already prepared to go before you start.
Step 1 – Prepare homemade pickles. Cucumbers and bean sprouts and soaked in a vinegar sugar mixture and left to marinate in the fridge while you make everything else.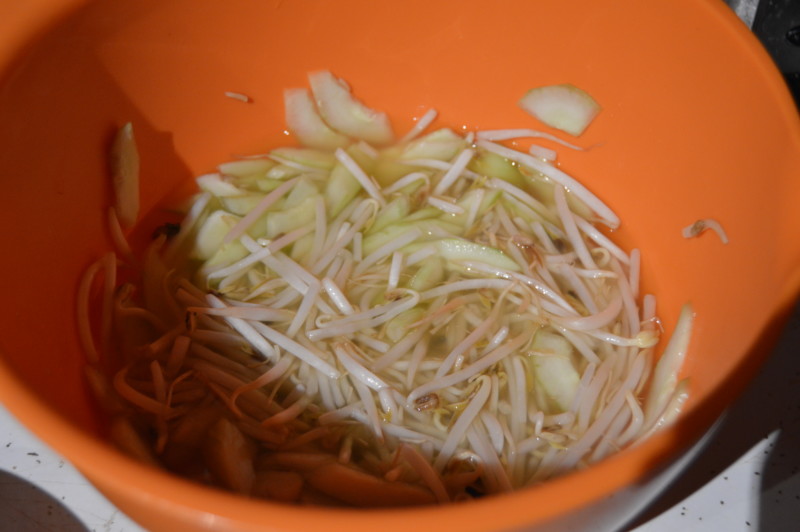 Step 2 – Chili sauce. Gochujang, toasted sesame oil, water and sugar are mixed together and set aside while you make everything else. Gochujang is a fermented chili paste which is apparently a common condiment in Korea. I had no idea where I was going to find some in Minnesota, but I happened by it complete by accident at the little Econofoods just down the street from my house. I figured I'd have to go to a bigger grocery store, but I actually couldn't find it when I looked at Cub Foods.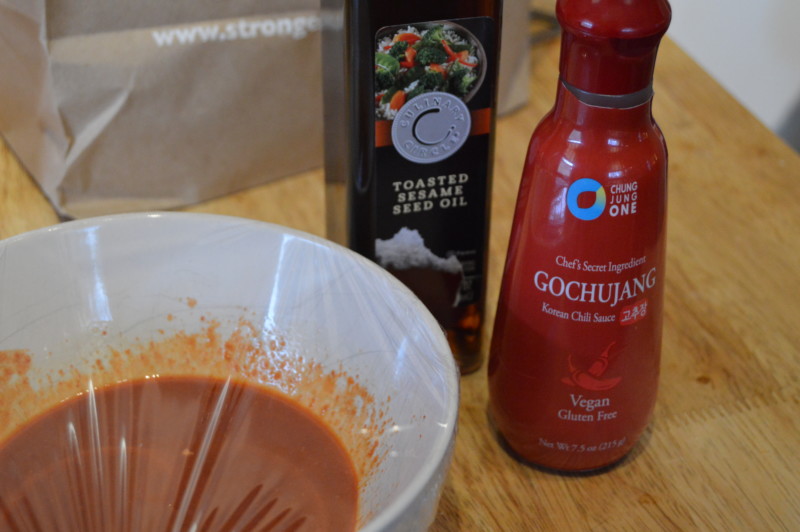 Step 3 – Rice. Start the rice by bringing the rice and water to a bowl. Reduce temp to low and cook for 7 minutes, then remove from heat and let sit covered for 15 minutes. While the rice cooks, keep track of the time and move on to the Veggies.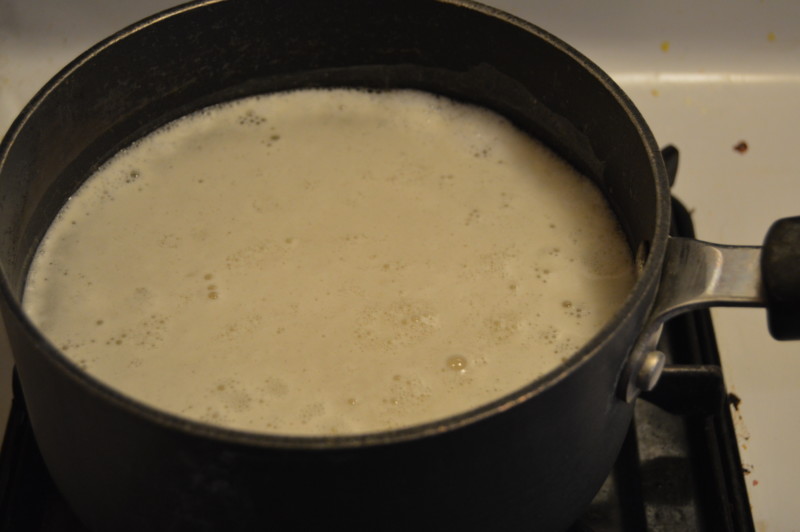 Step 4 – Veggies. Start by mixing water, sugar, soy sauce, scallions and garlic in a liquid measuring cup. The veggies are cooked in batches and a bit of this magic flavor liquid goes in each batch.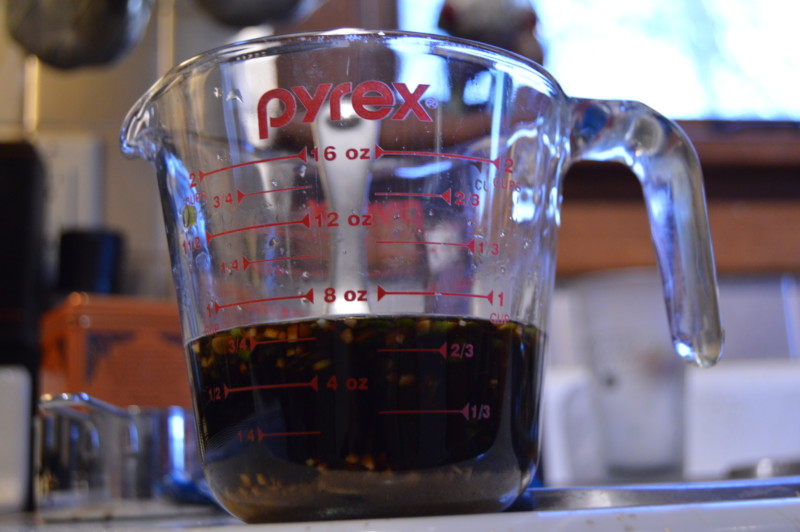 Get a bit of oil shimmering in the pot. Throw in the shredded carrots and a third of the soy sauce mixture. Cook until the carrots soften and the liquid dries up, 2 minutes or so.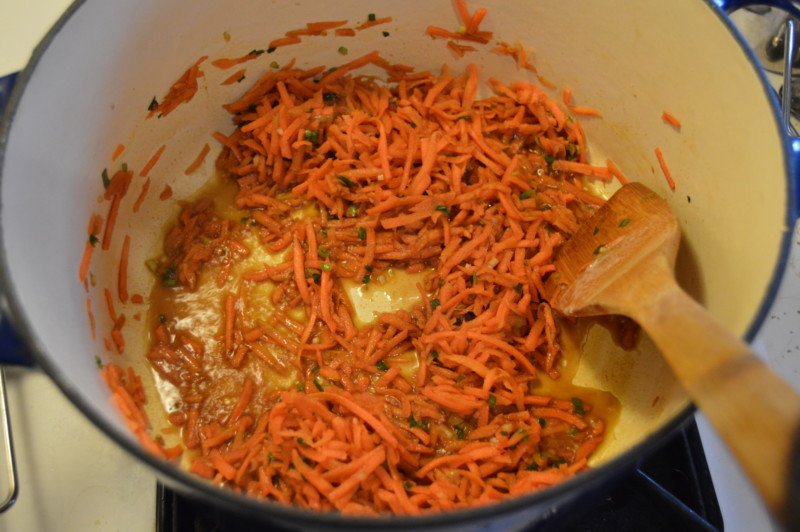 Empty the carrots into a bowl and cook the mushrooms with 1/3 of the soy sauce mixture until the mushrooms are tender the the liquid has evaporated. 4 minutes or so.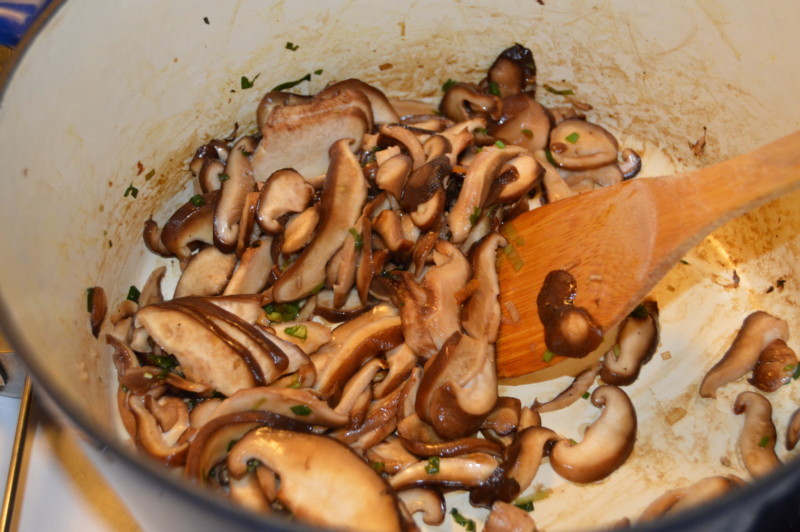 Move the mushrooms to a bowl and repeat again with the spinach and the remainder of the soy sauce. Cook until the spinach is completely wilted but still bright green. Another 2 minutes or so. When it's done move it to a bowl and wipe the pot clean.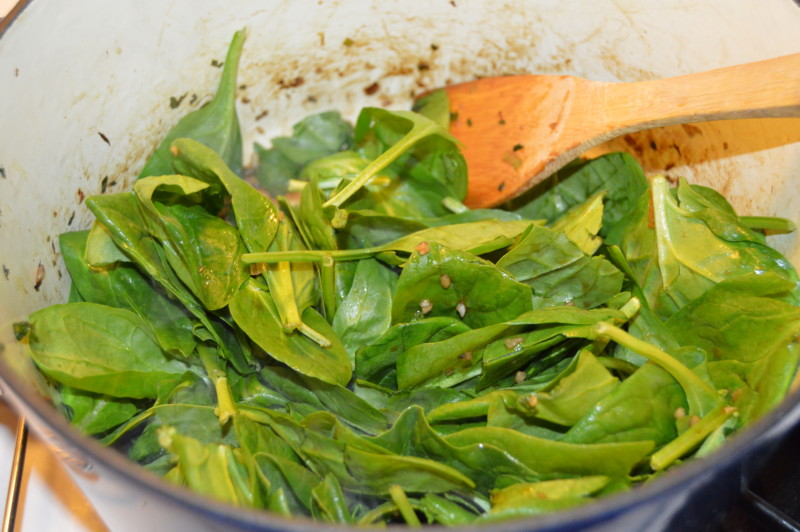 Step 5 – Bibimbap. Now is when the timing gets tricky. Hopefully your 15 minutes are up on the rice and it is ready to go. Heat up some more oil in the pot and press the rice into the bottom. Cook for about 2 minutes so the rice starts to form a crust.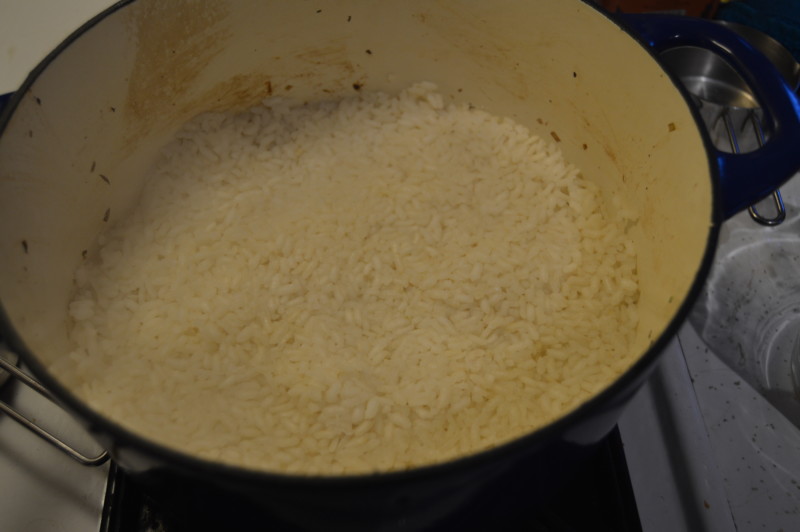 Then pile the cooked veggies on top of the rice, being careful not to disturb the rice crust you are working on. Reduce the heat to low.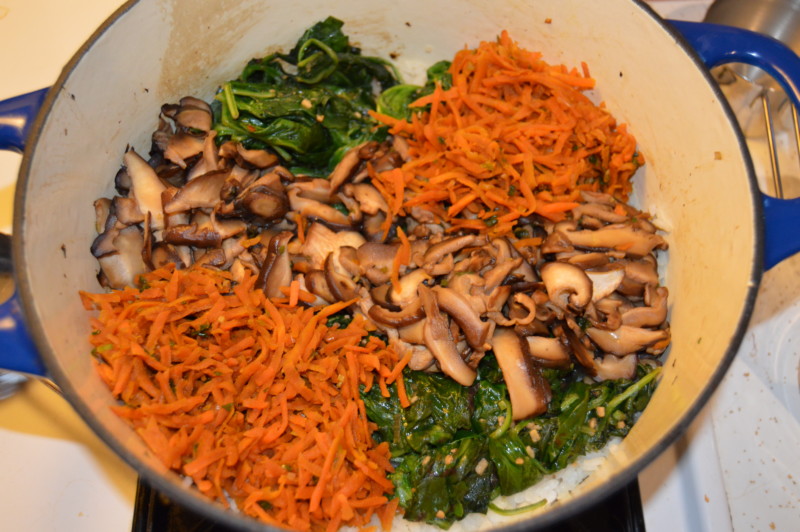 While the rice crust continues to develop, cook your eggs. Heat oil in a nonstick skillet for 5 minutes. While the pan heats up, crack the eggs into a bowl and when the pan is ready, pour the eggs in. Cover and cook until your desired doneness, about 2 minutes for runny yolks. Mine took about 3 times that long and the yolks were still runnier than I wanted. I don't think my stove is as hot as it should be, so my pan should have heated up longer before I added the eggs. Luckily that also meant that my rice wasn't crusting as fast as it should have been either.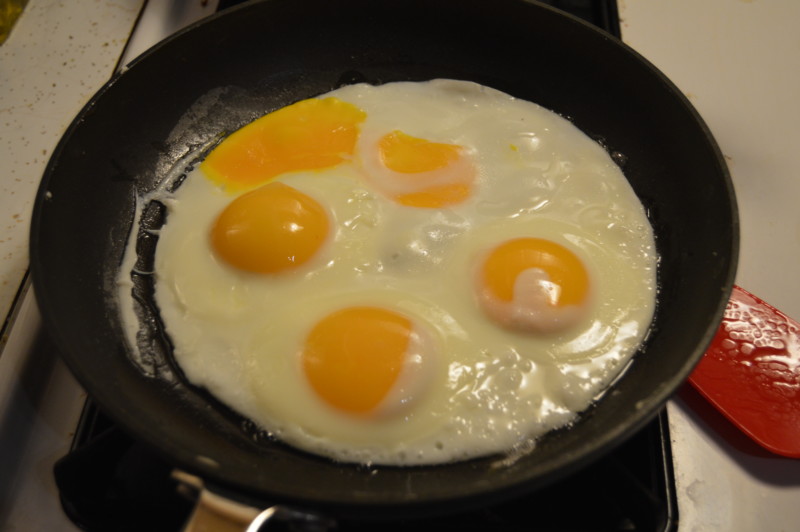 Then slide the eggs out of the pan and on top your veggies. Drizzle with 2 tablespoons of the chili sauce.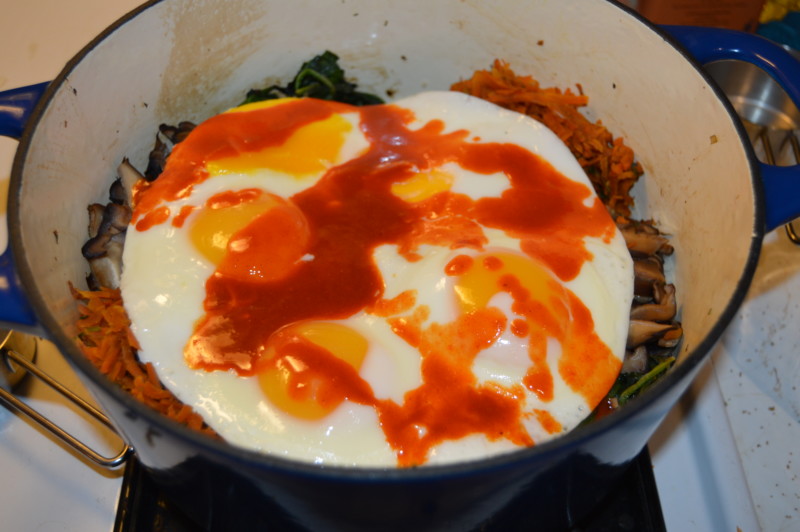 Doesn't that look delicious? Now mix the eggs into the veggies being careful to not disturb the rice crust. Right before you serve it, mix in big pieces of the crusty rice.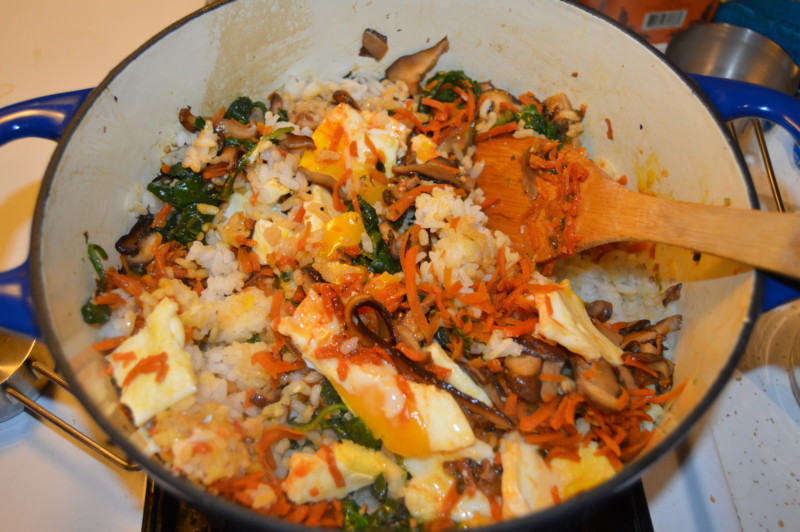 Serve in individual bowls. Top with the pickles and extra chili sauce.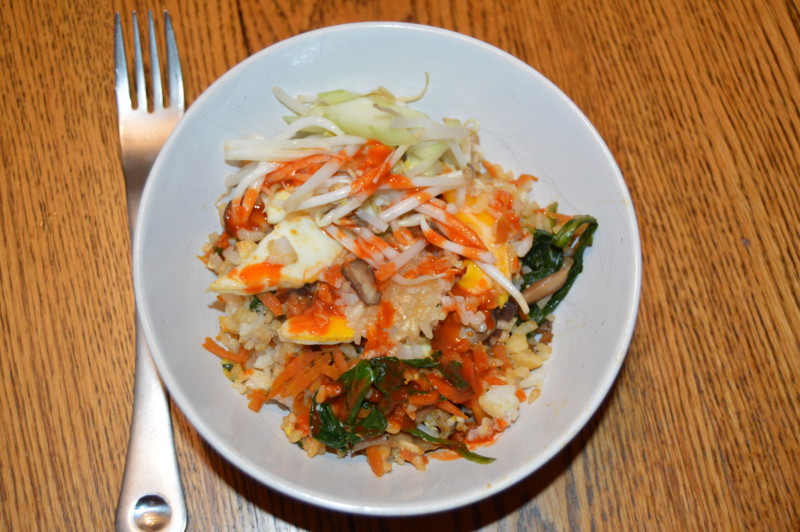 So much yum. The combination of flavors and textures is fabulous. The rich creaminess of the eggs, the savory veggies, the crunchy vinegary pickles, the chili sauce that has a nice slow burn without being too hot. The chili sauce is great. The gochujang and sesame oil. I could put that sh*t on everything.
The recipe makes very generous servings. Ryan, the kids and I all ate it for dinner, and then I had 4 servings to eat as leftovers. The rice reheated well, but it lost it's crunchy crust piece. I fried up a new egg to add to the top of the leftover rice. I happily ate it all week.
So if you are up to trying something new, I recommend giving this a try. Ryan didn't love it, but I'm going to make him eat it again anyway. I thought it was delicious.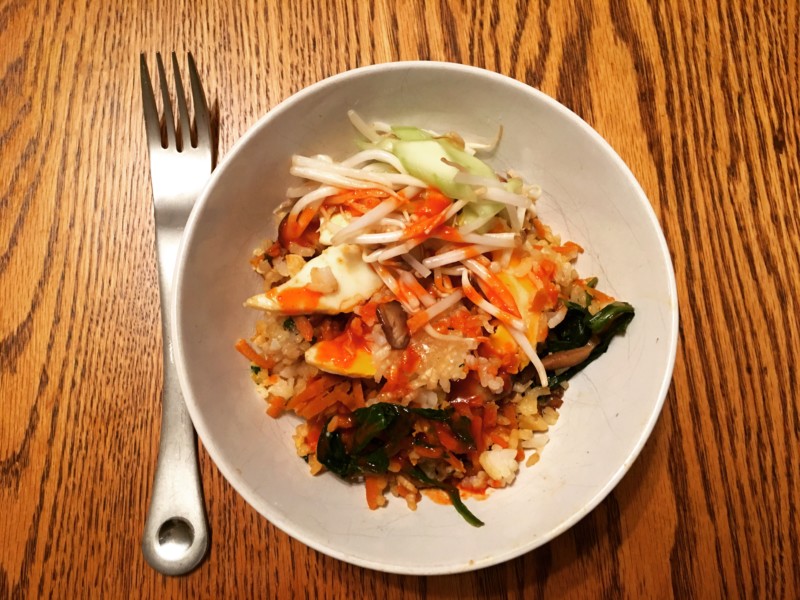 Korean Rice Bowl
2017-04-13 23:52:03
A make at home version of Dolsot Bibimbap.
Pickles
1 cup cider vinegar
2 tablespoons sugar
1 ½ teaspoons salt
1 cucumber, peeled, quartered lengthwise, seeded, and sliced thin on bias
4 ounces (2 cups) bean sprouts
Chile Sauce
¼ cup gochujang
3 tablespoons water
2 tablespoons toasted sesame oil
1 teaspoon sugar
Rice
2 ½ cups short-grain white rice
2 ½ cups water
¾ teaspoon salt
Vegetables
½ cup water
3 scallions, minced
3 tablespoons soy sauce
3 garlic cloves, minced
1 tablespoon sugar
1 tablespoon vegetable oil
3 carrots, peeled and shredded (2 cups)
8 ounces shiitake mushrooms, stemmed, caps sliced thin
1 (10-ounce) bag curly-leaf spinach, stemmed and chopped coarse
Bibimbap
2 tablespoons plus 2 teaspoons vegetable oil
1 tablespoon toasted sesame oil
4 large eggs
Instructions
1. FOR THE PICKLES: Whisk vinegar, sugar, and salt together in medium bowl. Add cucumber and bean sprouts and toss to combine. Gently press on vegetables to submerge. Cover and refrigerate for at least 30 minutes or up to 24 hours.
2. FOR THE CHILE SAUCE: Whisk gochujang, water, oil, and sugar together in small bowl. Cover and set aside.
3. FOR THE RICE: Bring rice, water, and salt to boil in medium saucepan over high heat. Cover, reduce heat to low, and cook for 7 minutes. Remove rice from heat and let sit, covered, until tender, about 15 minutes.
4. FOR THE VEGETABLES: While rice cooks, stir together water, scallions, soy sauce, garlic, and sugar. Heat 1 teaspoon oil in Dutch oven over high heat until shimmering. Add carrots and stir until coated. Add 1/3 cup scallion mixture and cook, stirring frequently, until carrots are slightly softened and moisture has evaporated, 1 to 2 minutes. Using slotted spoon, transfer carrots to small bowl.
5. Heat 1 teaspoon oil in now-empty pot until shimmering. Add mushrooms and stir until coated with oil. Add 1/3 cup scallion mixture and cook, stirring frequently, until mushrooms are tender and moisture has evaporated, 3 to 4 minutes. Using slotted spoon, transfer mushrooms to second small bowl.
6. Heat remaining 1 teaspoon oil in now-empty pot until shimmering. Add spinach and remaining 1/3 cup scallion mixture and stir to coat spinach. Cook, stirring frequently, until spinach is completely wilted but still bright green, 1 to 2 minutes. Using slotted spoon, transfer spinach to third small bowl. Discard any remaining liquid and wipe out pot with paper towel.
7. FOR THE BIBIMBAP: Heat 2 tablespoons vegetable oil and sesame oil in now-empty pot over high heat until shimmering. Carefully add cooked rice and gently press into even layer. Cook, without stirring, until rice begins to form crust on bottom of pot, about 2 minutes. Using slotted spoon, transfer carrots, spinach, and mushrooms to pot and arrange in piles that cover surface of rice. Reduce heat to low.
8. While crust forms, heat remaining 2 teaspoons vegetable oil in 10-inch nonstick skillet over low heat for 5 minutes. Crack eggs into small bowl. Pour eggs into skillet; cover and cook (about 2 minutes for runny yolks, 2½ minutes for soft but set yolks, and 3 minutes for firmly set yolks). Slide eggs onto vegetables in pot.
9. Drizzle 2 tablespoons chile sauce over eggs. Without disturbing crust, use wooden spoon to stir rice, vegetables, and eggs until combined. Just before serving, scrape large pieces of crust from bottom of pot and stir into rice. Serve in individual bowls, passing pickles and extra chile sauce separately.
Notes
For a quick dinner, prepare the pickles, chile sauce, and vegetables a day ahead (warm the vegetables to room temperature in the microwave before adding them to the rice). You can also substitute storebought kimchi for the pickles to save time. The Korean chile paste gochujang is sold in Asian markets and some supermarkets. If you can't find it, an equal amount of Sriracha can be substituted. But because Sriracha is more watery than gochujang, omit the water from the chile sauce and stir just 1 tablespoon of sauce into the rice in step 9. For a true bibimbap experience, bring the pot to the table before stirring the vegetables into the rice in step 9.
Adapted from America's Test Kitchen
Crafty Cori Strikes Again http://craftycori.com/