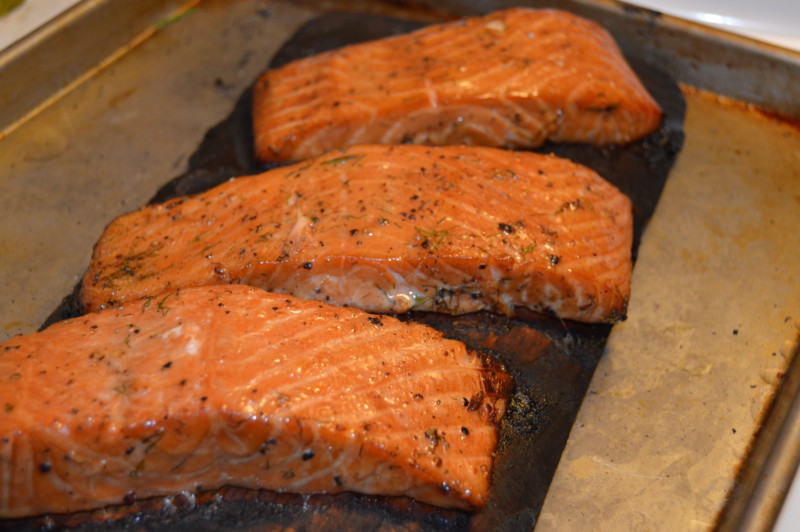 This is hands down the best salmon I've ever had. And I've eaten a lot of salmon. Grilled salmon, smoked salmon, poached salmon, salmon burgers, salmon salad, salmon sashimi… it doesn't matter, I eat it all. Salmon is one of my favorite foods. I order it almost any time we go out to a "fancy" restaurant. But too often it is over done and dry. After this recipe, I am done ordering salmon when we go out. There is no way it will ever be as good as this. I swear, I'm not exaggerating. It's that good!
To the surprise of no one, this recipe comes from the good folks at Cook's, this time by way of Cook's Country. And it is dead simple. I mean, I don't actually make it, because the grill is totally Ryan's domain, but it looks simple, and he has yet to mess it up. We've made it 3 times, and each time I swear it is the best salmon ever.
The recipe calls for a 2 pound center cut salmon cut into 4 equal pieces. We bought a bag of frozen, individually vacuum packed salmon fillets from Costco. Each one is a half pound and they work perfectly, not to mention cheaper and readily available.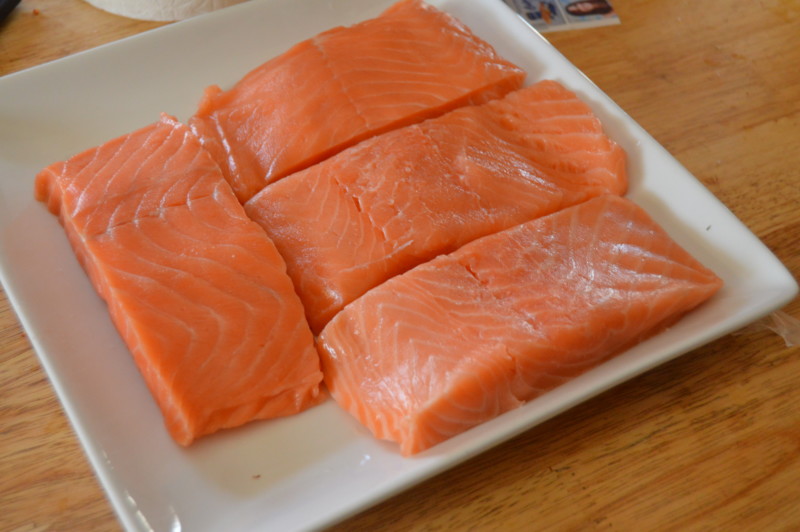 At least an hour before grilling, the fish is rubbed with a mixture of brown sugar, dill, salt and pepper.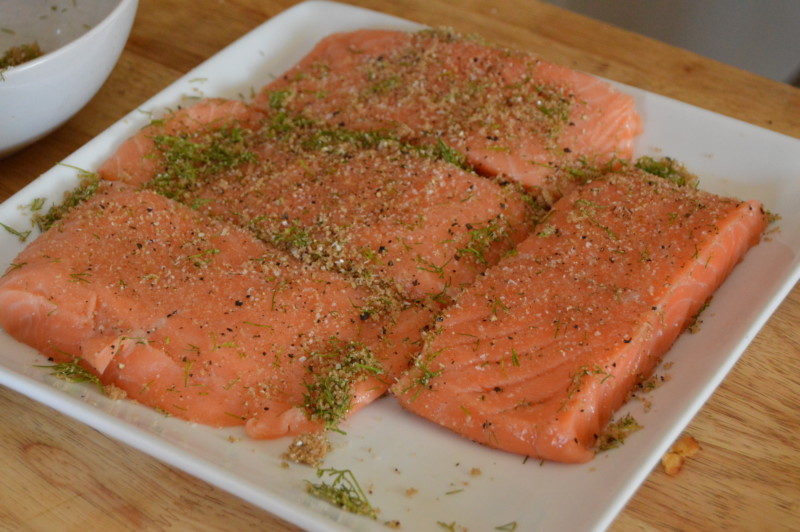 While the salmon "cures," soak your cedar plank in water so that it doesn't catch fire on the grill. We have found cedar planks at both Menard's and Costco that are specifically designed for grilling. The ones at Costco are larger and it is easier to fit all the salmon on one plank.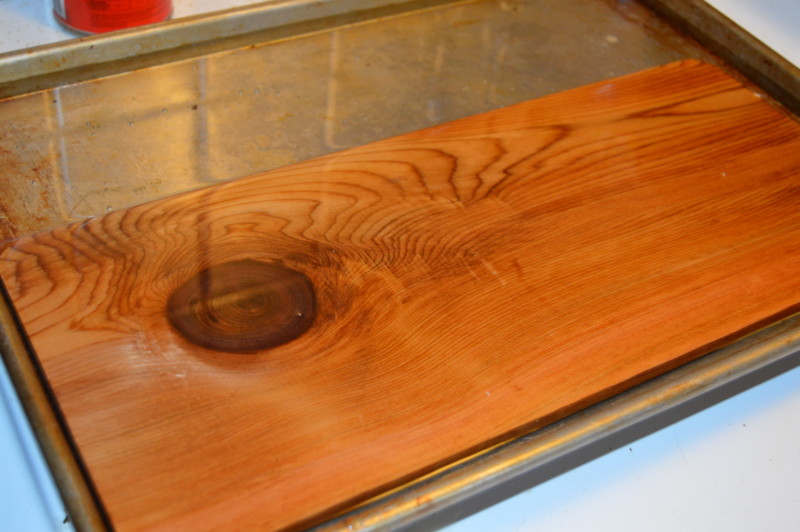 We grill over charcoal, but you can use a gas grill too. Once the grill is hot, put the plank on and let it "cook" for 5 minutes to get smoky. Then brush the salmon with oil and place it on the plank . Grill the salmon until it reaches 125 degrees, about 15 minutes. Our salmon fillets were slightly thinner than what was called for in the recipe, so ours we done a bit quicker.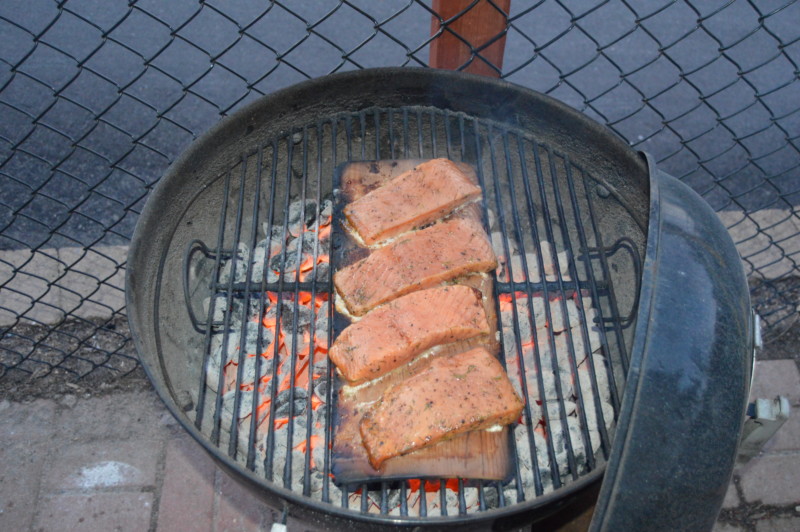 And that's in, when there done, take them off the grill and tent them with foil for 5 minutes. Then tuck in. They recommend serving with lemon wedges, but I don't find it necessary. If cooked correctly, the salmon is moist, almost silky. And the cedar flavor really comes through without being over powering. The sugar, dill, salt and pepper leave it just slightly seasoned. It is majestic in its perfectness. Glorious. Simply divine. If you can't tell, I really like it.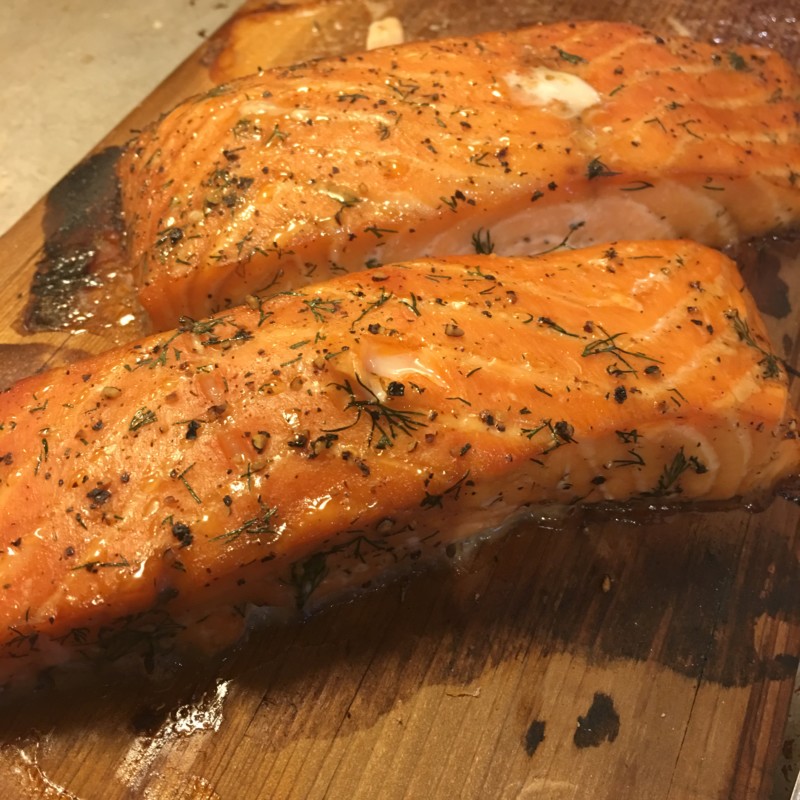 We serve this with asparagus and roasted red potatoes, but this meal is all about the fish.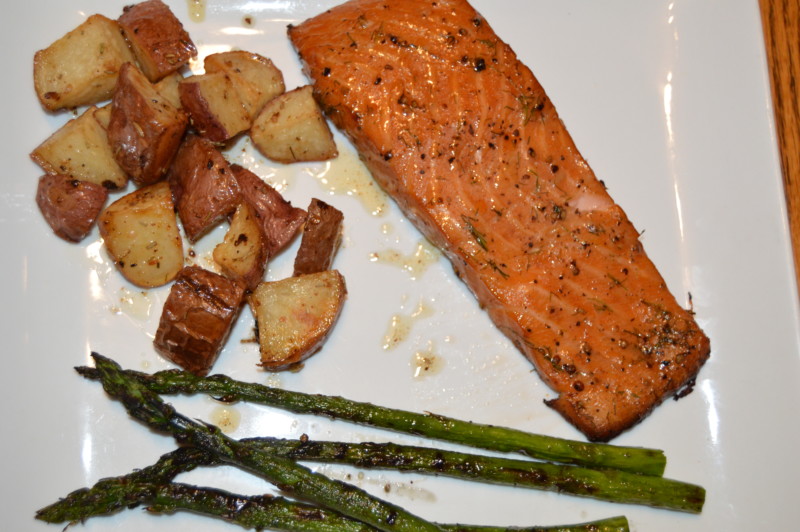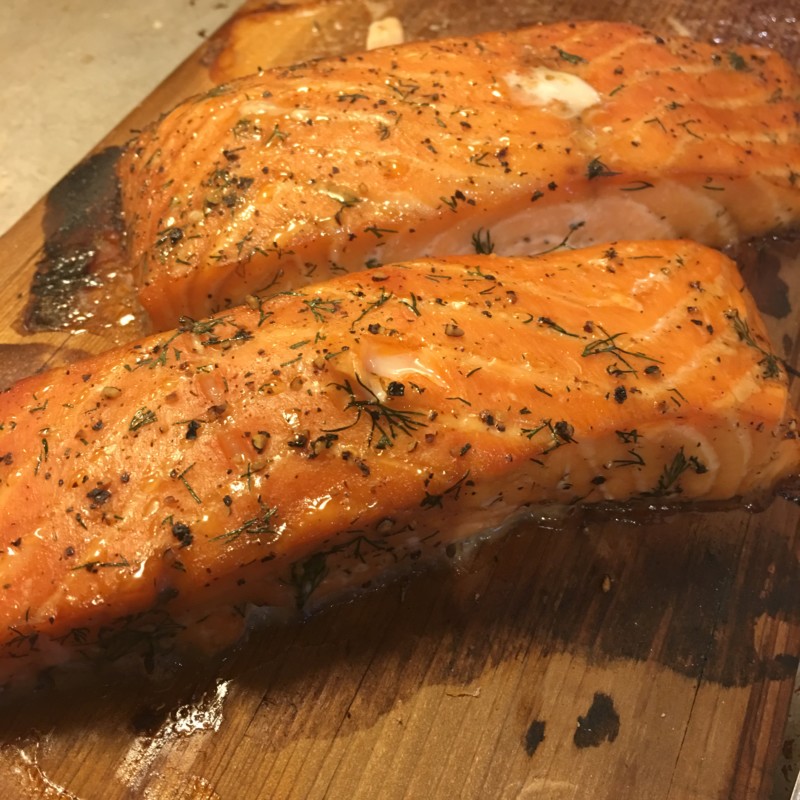 Cedar-Planked Salmon
2017-04-29 22:48:56
The best salmon ever. Period.
Ingredients
1 (2-pound) center-cut, skinless salmon fillet, about 1 1/2 inches thick
2 tablespoons packed brown sugar
1 1/2 teaspoons kosher salt
1 tablespoon chopped fresh dill
1 teaspoon pepper
1 (16 by 7-inch) cedar plank
1 teaspoon vegetable oil
Instructions
1. Cut salmon crosswise into 4 equal fillets. Combine sugar, salt, dill, and pepper in bowl. Pat salmon dry with paper towels. Sprinkle salmon all over with sugar mixture, place on plate, and refrigerate, uncovered, for at least 1 hour or up to 24 hours. One hour before grilling, soak cedar plank in water for 1 hour (or according to manufacturer's directions).
2A. FOR A CHARCOAL GRILL: Open bottom vent completely. Light large chimney starter filled with charcoal briquettes (6 quarts). When top coals are partially covered with ash, pour evenly over grill. Set cooking grate in place. Place cedar plank in center of grill. Cover and open lid vent completely. Heat grill until plank is lightly smoking and crackling (it should not ignite), about 5 minutes.
2B. FOR A GAS GRILL: Place cedar plank in center of grill. Turn all burners to medium-low, cover, and heat grill until plank is smoking and crackling (it should not ignite), about 15 minutes. Leave all burners on medium-low. Adjust burners as needed to maintain grill temperature between 300 and 325 degrees.
3. Brush skinned side of salmon fillets with oil, then place skinned side down on plank. Cover grill and cook until center of salmon is translucent when checked with tip of paring knife and registers 125 degrees (for medium-rare), 12 to 15 minutes. Using tongs, transfer plank with salmon to baking sheet, tent with aluminum foil, and let rest for 5 minutes.
WHY THIS RECIPE WORKS
Soaking the cedar plank for 1 hour prevents it from catching fire too soon, and preheating it for 5 minutes starts the smoking process. Seasoning the fish with a simple "cure" of brown sugar, kosher salt, fresh dill, and pepper while the cedar plank soaks allows the flavors to penetrate the salmon. Using skinless salmon fillets allows the delicate cedar flavor to permeate the salmon, without overpowering it.
Adapted from Cook's Country
Crafty Cori Strikes Again http://craftycori.com/