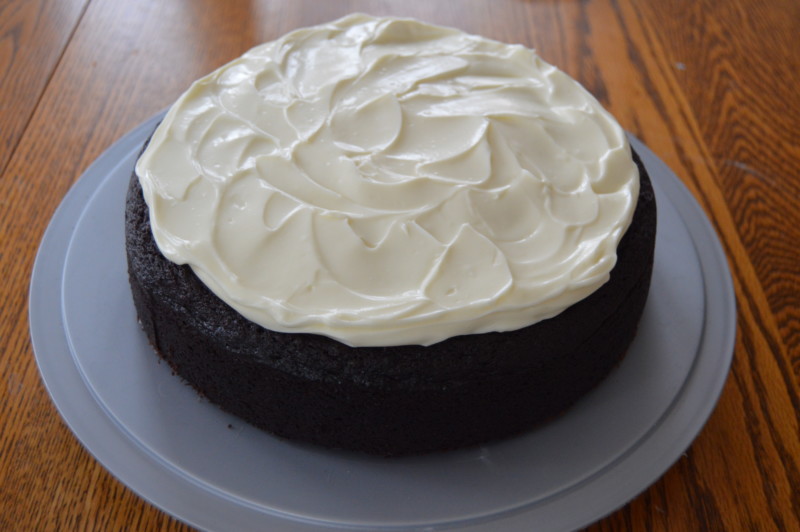 Just in time for St. Paddy's Day, I present to you, Chocolate Guinness Cake. The easiest chocolate cake you will ever make, and as an added bonus, it is delicious too!
As I may have mentioned before, we have a standing Family Dinner every Sunday night, where we take turns who provides the main course, sides, and dessert. This week was an early St. Patrick's Day dinner, we were having Reubens, and I was in charge of dessert. Not that I had to fit a theme, but I didn't have any recipes lined up in my "to make" list, so I tried looking for an Irish dessert to go with our corned beef. I didn't have any luck. Best I can tell, traditionally the Irish have an after dinner drink rather than sweets. But I did find lots of recipes that put that after dinner drink into the sweets. Authentic it is not, but it sounded delicious nonetheless.
There are many variations on Chocolate Guinness Cake out there, but after perusing several of them, the consensus seemed to be that Nigella Lawson had THE recipe, so that is what I decided to go with. The recipe is available from Nigella's blog, and from the New York Times, and they are identical except for one calls for an entire stick of butter more than the other. The comments on both recipes say they are delicious, but I decided to go with the source and used the quantities from the blog. Plus, more butter is more better, right?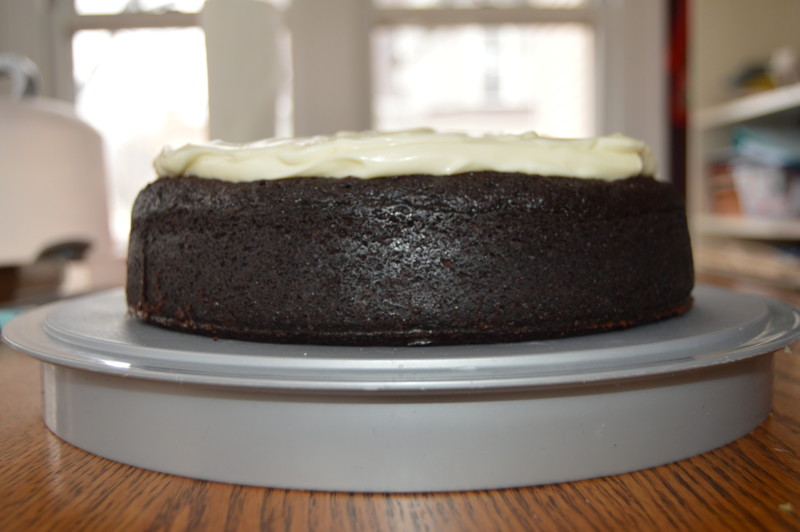 Did I mention the cake is easy to make? Seriously, the entire thing is mixed together in a pot on the stove. Then dumped into a pan and baked for 45 minutes. The frosting is only 3 ingredients, and it is made in a single layer. It couldn't be any simpler. It's supposed to look like a pint of Guinness with a frothy head on it. How adorable is that?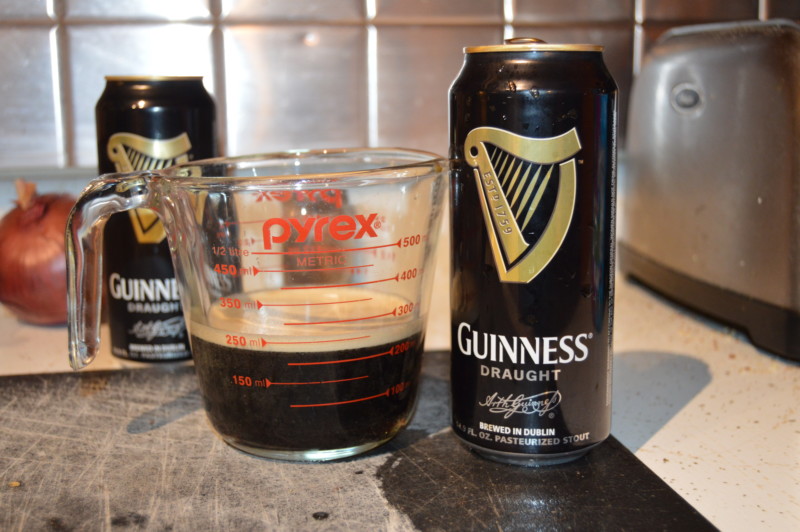 For you Guinness connoisseurs out there, you probably know that Guinness comes in Draft and Extra Stout. According to Nigella, it doesn't matter which you choose for this recipe. If you have favorite, go with it. The recipe only takes a cup and you can drink the rest. I sent the hubby to the store and this is what he came back with. I bet other sorts of stout would also make a delicious cake. Or maybe even a porter. I plan to experiment in the future.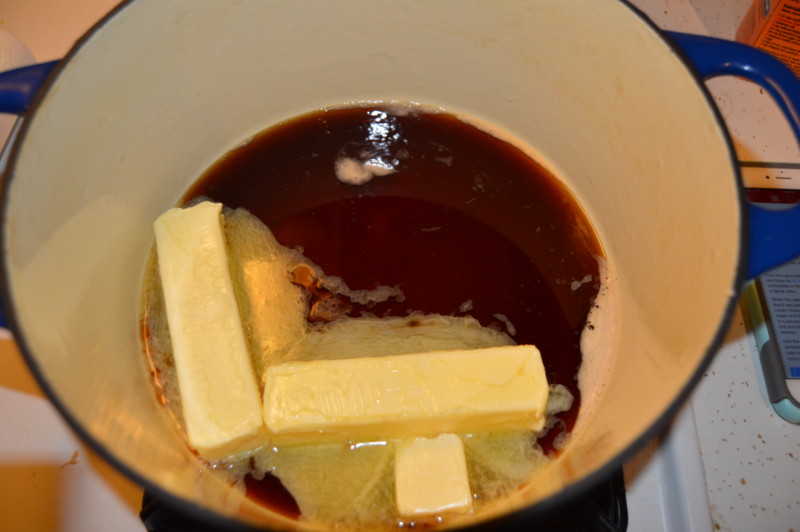 As mentioned, the whole recipe is made in one pot. Butter and beer on medium low until the butter melts. Then turn off the heat and add the cocoa and sugar, then add the egg, sour cream, and vanilla, and then finally add the flour and baking soda. Whisk until smooth. That's it.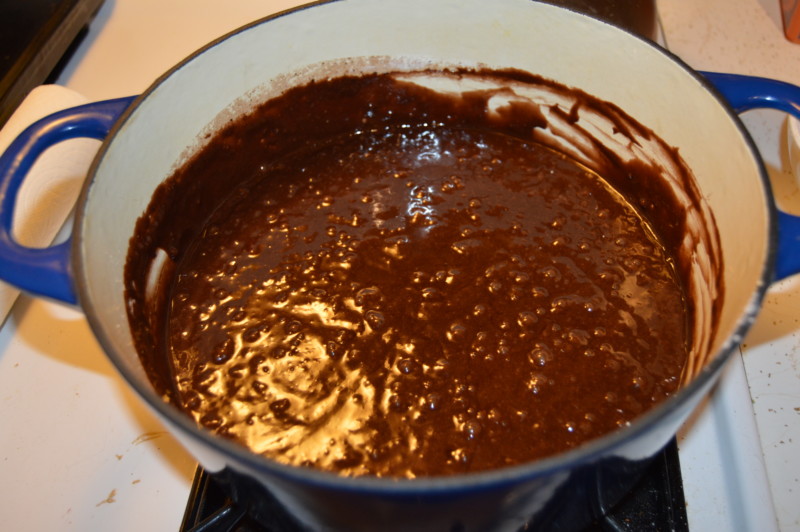 Pour the batter into a greased and lined springform pan. Bake at 325 for 45 minutes.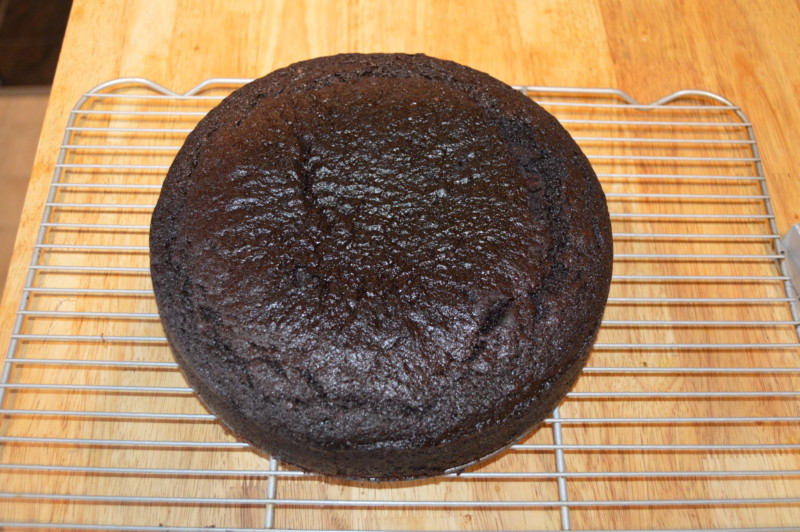 At this point I was pretty sure I had burnt the cake. The recipe actually said to bake for 45 minutes to an hour, until the cake add risen and was firm. My oven temp is not right and all my recipes take longer than they call for. I checked this at 45 minutes expecting that it would need the full hour if not more. Now, it is very dark, so you can't judge doness by color, but the top was cracked and appeared dry and crusty. A toothpick came out perfectly clean. I was sure it was overdone. But it was late, I made the cake the night before and didn't plan to frost it until morning. So I left it to cool and went to bed, fully expecting that I'd be making a 2nd cake when I woke up.
But I was pleasantly surprised when it appeared to moisten itself overnight. In the morning what had appeared dry and crumbly didn't look so bad. I did a tiny taste test from a spot that would be covered by frosting and it didn't taste burnt at all. So I decided to go with it. I was just serving it to family after all, if it was terrible we'd all have a good laugh.
So on to the frosting. It is just cream cheese, powdered sugar, and cream. That's it. It doesn't even call for vanilla. I triple checked. Mix the powdered sugar and room temp cream cheese in a food processor. Then add the whipping cream and blend until it's smooth. If it is too runny you can add a bit of sugar to thicken it up, but I didn't need to.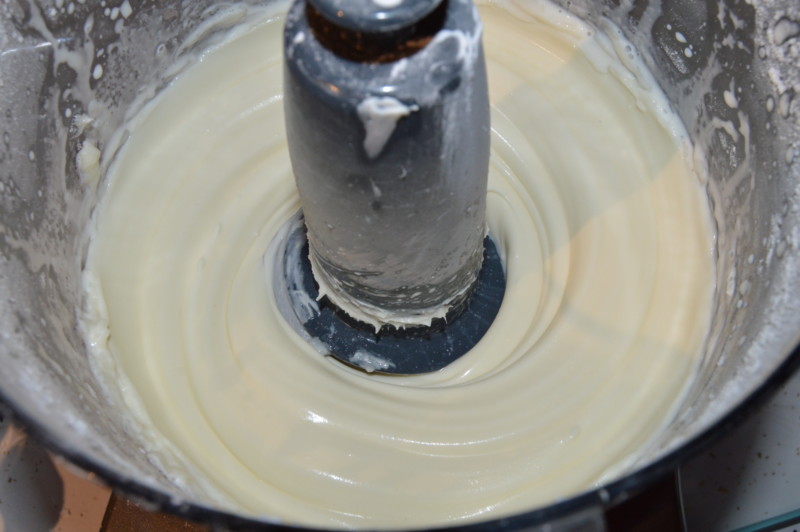 Then just slather the cream cheesy deliciousness on top of the cake and your done!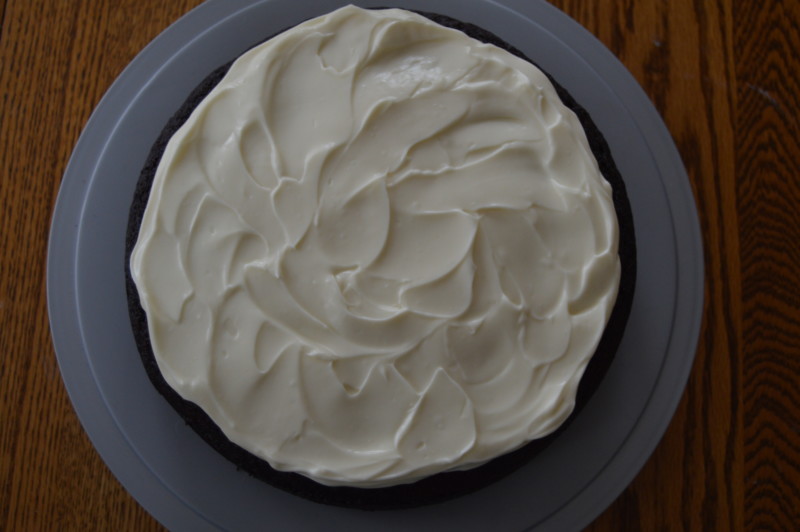 The cake is dense and moist with a deep chocolate flavor. The beer doesn't make it taste beery or boozy at all, but adds a distinct maltiness. It is probably one of the better chocolate cakes I've had. And the frosting and smooth and creamy with just the right tang to balance the cake. And none of it is too sweet. It's just the perfect cake. Really.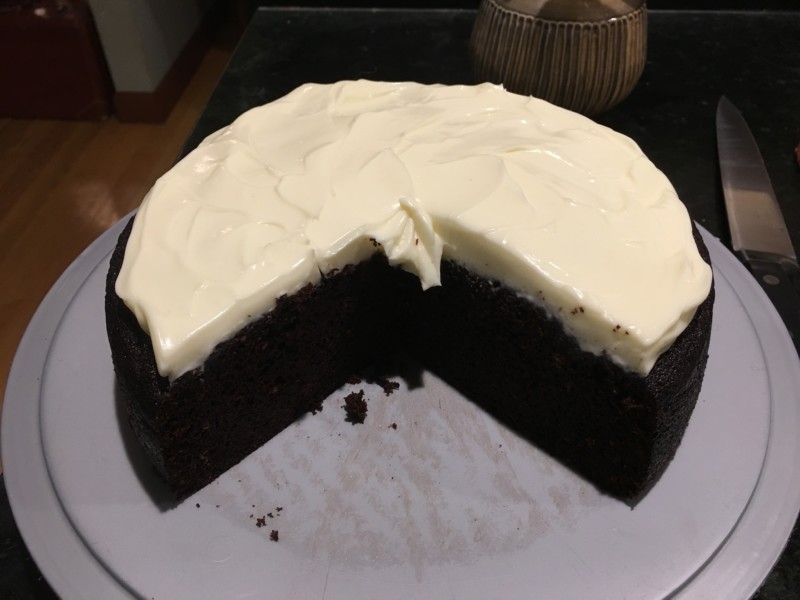 I couldn't help but eat two pieces… and my kids leftovers… and then for breakfast the next day… and now I'm thinking about when I might make another one. You need this cake in your life.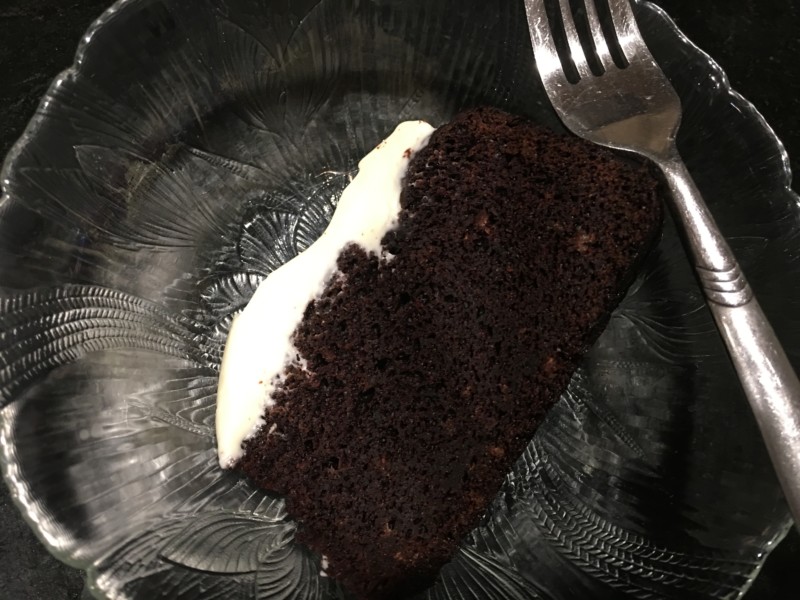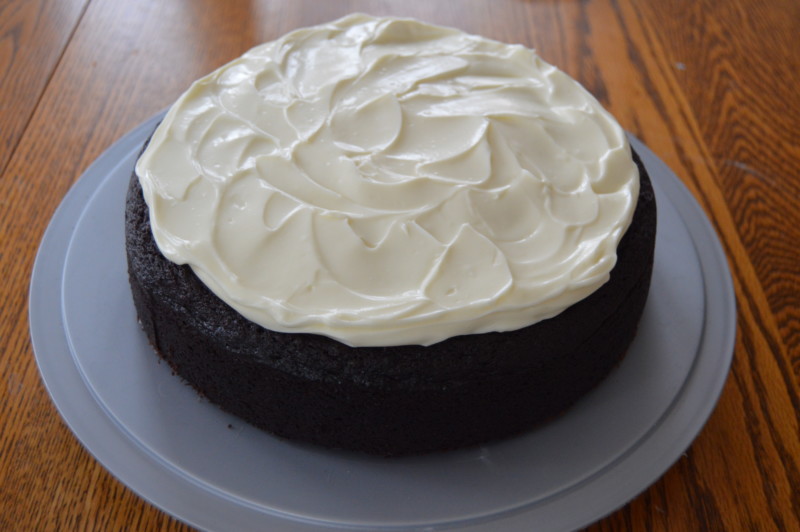 Chocolate Guinness Cake
2017-03-14 23:35:50
Dense, moist, chocolatey cake that couldn't be easier to make. Festive for St. Paddy's Day or delicious any day.
Ingredients
FOR THE CAKE
1 cup guinness
17 tablespoons unsalted butter
¾ cup unsweetened cocoa
2 cups superfine sugar
⅔ cup sour cream
2 large eggs
1 tablespoon vanilla extract
2 cups all-purpose flour
2½ teaspoons baking soda
FOR THE TOPPING
8 ounces cream cheese
1¼ cups confectioners' sugar
½ cup heavy cream (or whipping cream)
Instructions
Preheat the oven to gas mark 4/180°C/350ºF, and butter and line a 23cm / 9 inch springform tin.
Pour the Guinness into a large wide saucepan, add the butter - in spoons or slices - and heat until the butter's melted, at which time you should whisk in the cocoa and sugar. Beat the sour cream with the eggs and vanilla and then pour into the brown, buttery, beery pan and finally whisk in the flour and bicarb.
Pour the cake batter into the greased and lined tin and bake for 45 minutes to an hour. Leave to cool completely in the tin on a cooling rack, as it is quite a damp cake.
When the cake's cold, sit it on a flat platter or cake stand and get on with the icing. Lightly whip the cream cheese until smooth, sieve over the confectioners' sugar and then beat them both together. Or do this in a processor, putting the unsieved confectioners' sugar in first and blitz to remove lumps before adding the cheese.
Add the cream and beat again until it makes a spreadable consistency. Ice the top of the black cake so that it resembles the frothy top of the famous pint.
Crafty Cori Strikes Again http://craftycori.com/