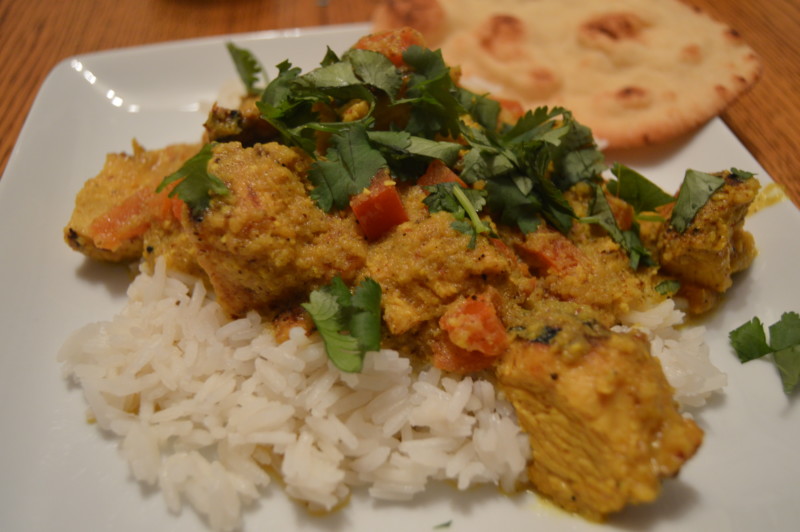 I recently went out for Indian food for the first time ever. I know, it seems really sad that someone can go 35 years without experiencing this sort of deliciousness, but as I've explained before, I live in the sticks and the only ethnic food you can get here is Mexican and Chinese. Anyway, having no idea what I liked, I ordered the Chicken Khorma because it was described as "Cubes of chicken cooked in mildly spiced cream sauce with fresh cilantro". They had me at cilantro. And it was delicious. I brought home leftovers and Ryan thought it was delicious. So it was decided we needed to figure out a way to make it at home.
So I search the internet for a recipe that sounded like what I had eaten but contained ingredients that I could actually find. I settled on this recipe from The Wanderlust Kitchen. Nothing on the ingredients list was difficult to find, or it least it shouldn't have been. I did end up having to drive half an hour to find garam masala, but it should be at any reasonable grocery store, if not, I learned later that it is a spice mix and I probably could have found the individual spices. Oh well, I have some now.
The first time I made this it took about 3 hours start to finish. So it isn't something you should start at 5 pm if you want to eat before 7. It did go faster the second time, mostly because I planned ahead and had the chicken pre-marinated. Also, it makes a lot of food. When I made it for our family of 4, we had left overs for a week. I made it again for a family dinner of 6 adults and 5 children and we still had plenty.
As I mentioned, the recipe starts by marinating chicken breasts. Just rub them down with a mix of garam masala, curry powder, salt, pepper and a bit of oil. Let it sit in the fridge for at least 2 hours or overnight. The 2nd time we made this, we marinated the chicken right away in the morning so it would be ready for dinner. I have to admit it was more flavorful and tender than when I did the minimum 2 hours.
The sauce starts by pureeing onions and garlic in a blender until it is a smooth, stinky onion smoothy. Not exactly appetizing, but it turns out in the end, trust me.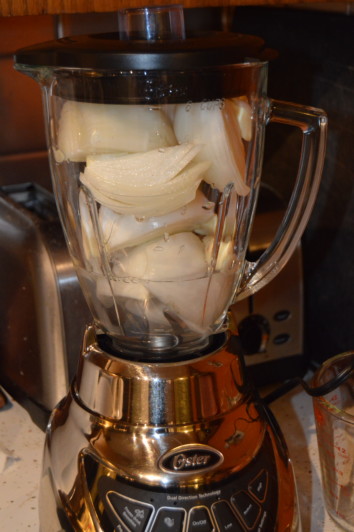 Then heat some oil in a large sauce pan or dutch oven, then dump in the onion garlic slurry and cook it until it starts to darken.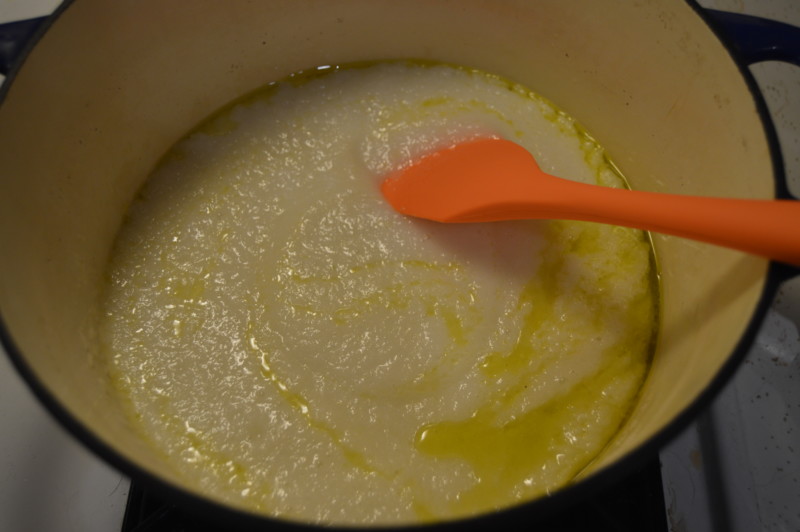 Then you basically dump all the rest of the ingredients into the pot. It is super helpful to have all the spices premeasured and the veggies prepped before you start. I've recently discovered that mise en place makes it so much easier to cook things correctly. Things don't start burning while I'm frantically trying to measure ingredients I forgot.
By all the rest of the ingredients, I mean all the spices, diced tomatoes, grated ginger root, ground almonds, coconut milk, yogurt, brown sugar and chili pepper.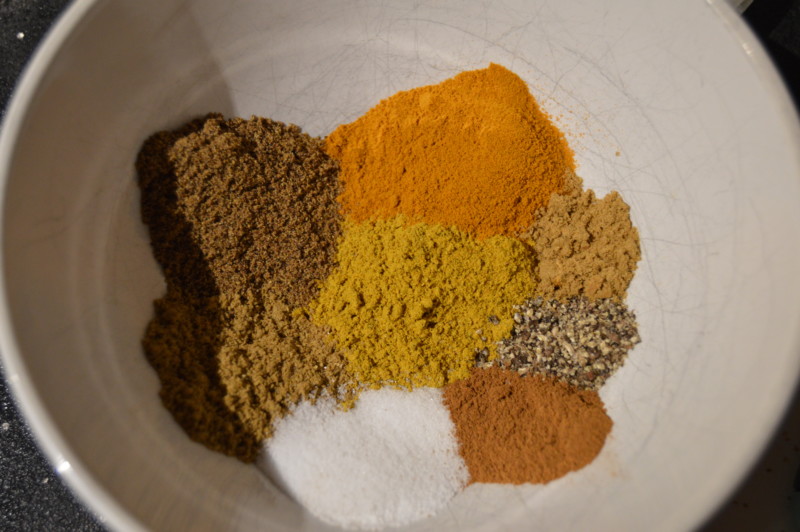 Isn't it pretty, this includes curry powder, garam masala, turmeric, cumin, cinnamon, cardamom, salt, pepper, and freshly grated nutmeg.
I hadn't ever bought whole nutmeg before. It looks like little nuts that I grated on a microplane. The flavor was much more pronounced than the pre-ground stuff I usually use.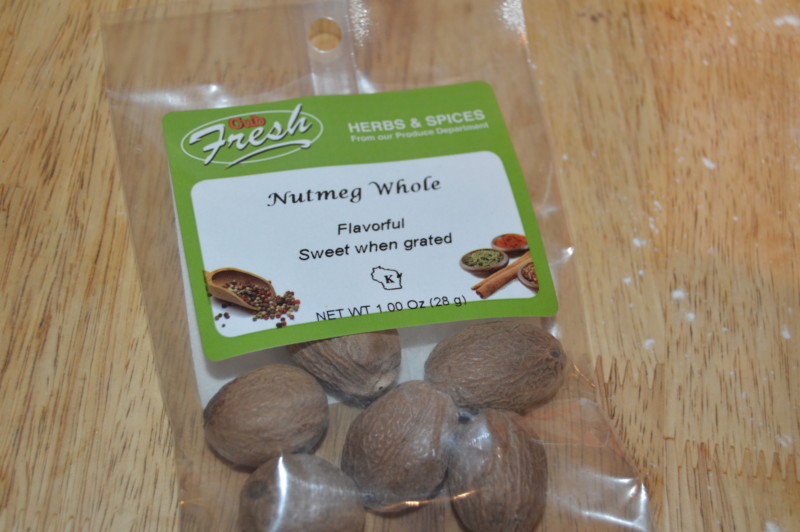 Raw ground almonds was something I thought I might have trouble finding, and I was prepared to buy slivered almonds and grind them myself in the food processor, but I stumbled upon this Almond Flour and the only ingredient was raw ground almonds. Score. Now if it was only this easy to find spices.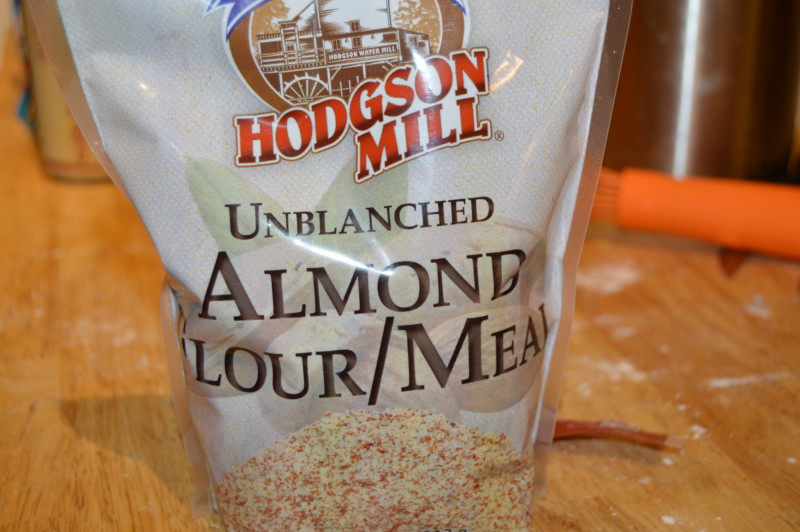 Anyway, once all the ingredients go into the pot, the make this beautiful yellow sauce that smells heavenly. Simmer this for 30 minutes.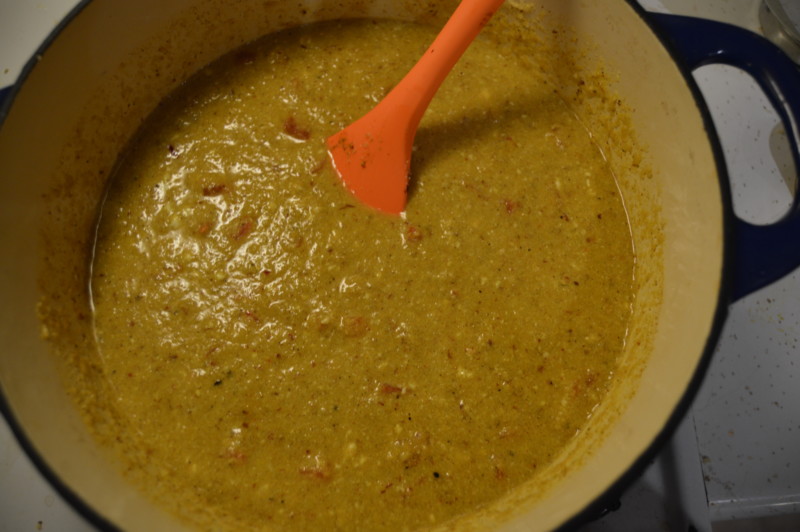 While the sauce simmers, grill your marinated chicken. The first time I did this, it was the middle of winter so I was grilling inside on a cast iron griddle/grill pan. I filled my entire house with smoke and had to open the windows and run a fan to try to clear it. I don't recommend this unless you have a fancy outside venting hood over your stove. I do not. For the second go, Ryan grilled the chicken outside. I recommend that if you can do it.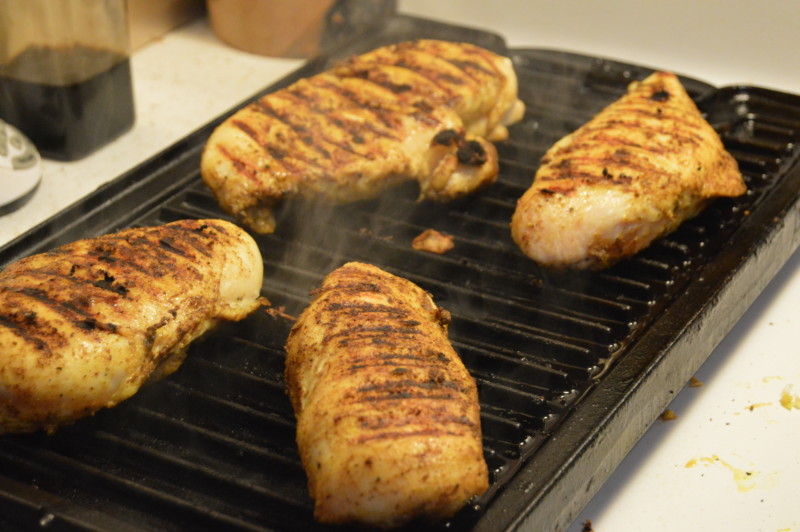 Once the chicken is cooked through and the sauce has been simmering for 30 minutes, cube the chicken up and mix it into the sauce. Simmer for an additional 15 minutes.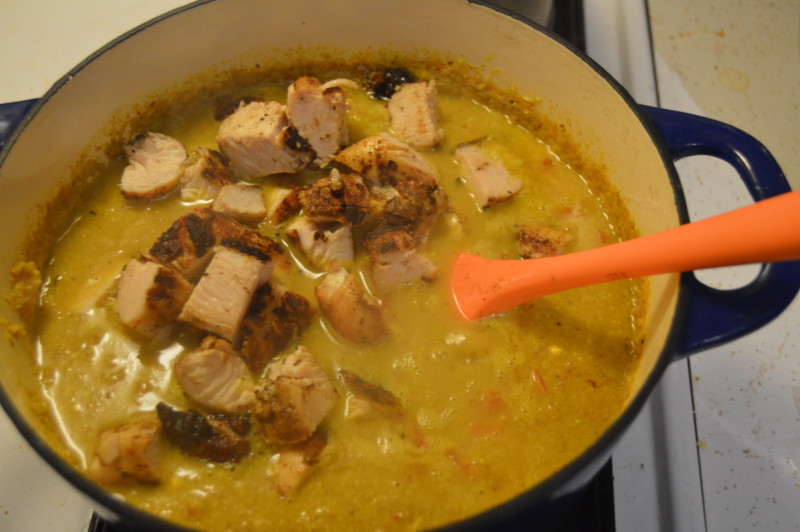 Then serve over rice and or with a side of naan. Garnish with some fresh cilantro leaves.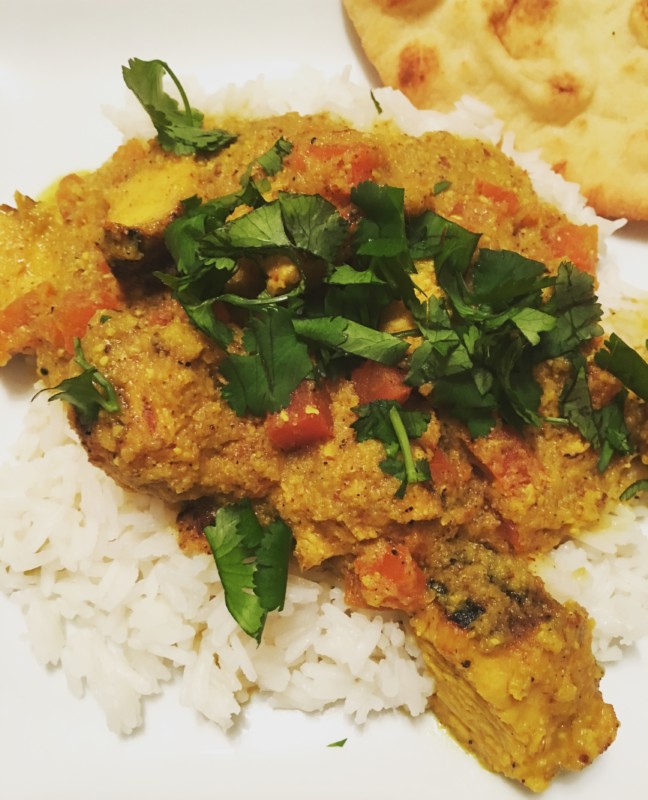 It really is delicious and tasted remarkably close to the what I had at the restaurant. And not difficult to make, just a little time consuming measuring spices and chopping veg. Ryan liked it enough to eat it every day for a week and then make it again for his family a few weeks later. The chicken is flavorful and juicy. The sauce is spicy but not insane. You could always add more chili or curry to spice it up if you want. I served it with naan I bought at Costco, which was adequate, but my mother-in-law made naan from scratch and it was amazing. I'm going to have to get the recipe and when I do, I'll share it with you, because it takes this dish to a whole 'nother level. Suffice it to say, this is scheduled to be on regular rotation at our house.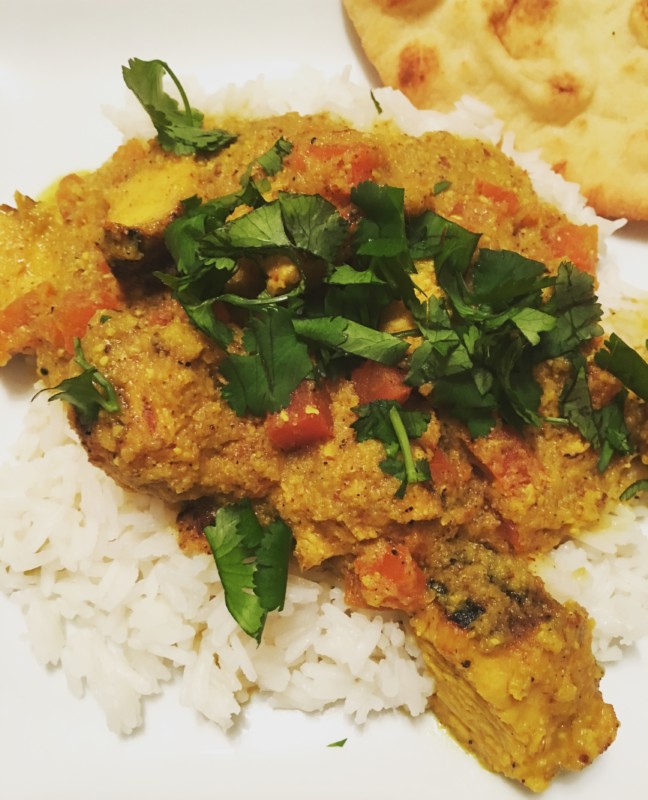 Chicken Khorma
2017-03-24 00:08:53
Easy make at home version of a delicious spicy, creamy Indian chicken dish.
For the Chicken Marinade
3 pounds boneless skinless chicken breasts
2 teaspoons extra virgin olive oil
2 teaspoons garam masala
2 teaspoons curry powder
1/2 teaspoon salt
1/2 teaspoon freshly ground black pepper
For the Sauce
2 white onions, peeled and cut into quarters
6 cloves garlic, peeled
4 teaspoons curry powder
2 teaspoons turmeric
2 teaspoons garam masala
1 teaspoon ground coriander seed
1 teaspoon salt
1 teaspoon black pepper
1/2 teaspoon cinnamon
1/2 teaspoon cumin
1/4 teaspoon ground cardamom
1/8 teaspoon freshly grated nutmeg
3 tablespoons extra virgin olive oil
3 large tomatoes, diced small
1 tablespoon freshly grated ginger root
1/2 cup ground raw almonds
1 cup unsweetened canned coconut milk
1 1/2 cups plain low-fat yogurt
1/2 a small red chili, de-seeded and minced (dried or fresh)
1 tablespoon brown sugar (packed)
fresh cilantro leaves for garnish
Instructions
Drizzle the chicken with the oil and sprinkle on the garam masala, curry powder, salt and pepper. Massage into the meat and cover, leaving to marinate for at least 2 hours or overnight.
Heat a grill pan over medium-high heat. Grill the chicken for 5-6 minutes per side, until cooked through.
Meanwhile, make the sauce: place the onions, garlic, and 1 cup of water in the bowl of a blender. Puree until smooth.
In a large saucepan heat 3 tablespoons of olive oil over medium heat. Once the oil is shimmering, add the pureed onion mixture and cook for a 2-3 minutes, stirring constantly, until it begins to darken in color.
Add the tomatoes, ginger, ground almonds, coconut milk, yogurt, red chili, spices, and brown sugar. Stir well.
Turn the heat down to low and simmer 30 minutes. Cut the chicken into bite-sized pieces and add to the pan; simmer for an additional 15 minutes. Serve with steamed basmati rice and/or naan. Garnish with fresh cilantro leaves.
Adapted from The Wanderlust Kitchen
Crafty Cori Strikes Again http://craftycori.com/