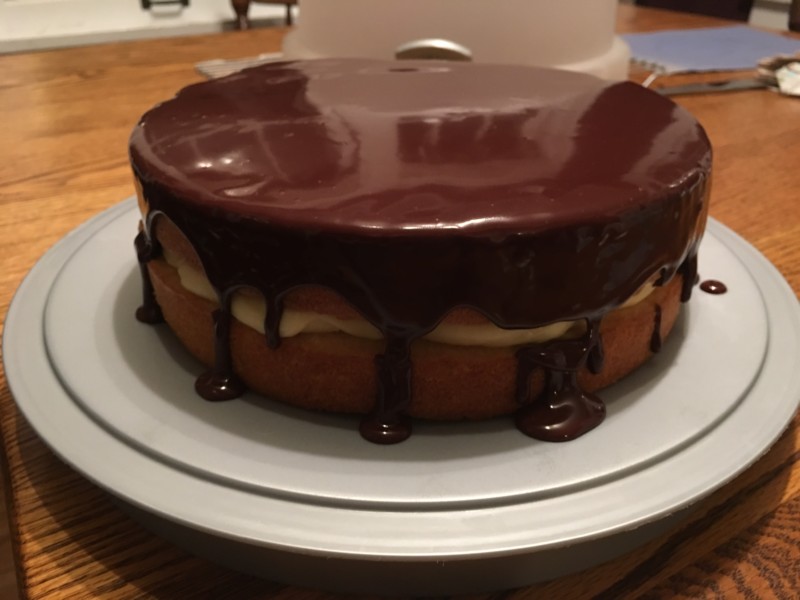 Isn't it pretty? This cake was my Valentine's Day dinner contribution this year…. Well… not this exact cake. The Valentine's Day cake didn't actually turn out. It was still delicious though, delicious enough to deserve a second try, one where I got the pastry cream right. And oh how right it is. And by right, I mean good. Worth eating.
So the obvious question that needs answering, "Why on earth is this Boston Cream Pie when it is, in fact, a cake?" According to Wikipedia, way back when, cakes and pies were both cooked in the same sort of pan and the words could be used interchangeably. Weird. I'm having trouble imagining a pie cooked in a cake pan. Anyway, I digress…
For Valentine's Day, Ryan and I have always made a fancy, home-cooked meal. When we started this tradition, neither of us did much cooking, so anything more complicated than hot dogs or grilled cheese sandwiches seemed fancy. Now, with us trying new recipes weekly, it is getting harder to find something that seems special. But pastry cream is something that I had never tried making, and who doesn't love a cake filled with cream and covered with chocolate.
The recipe is once again from the good folks at Cook's Illustrated. Huge surprise, huh? Well, when trying something new, I know their recipes will work, and why they work, and they rarely fail me. But sometimes I fail them.
The cake is made in 3 stages, the pastry cream takes about half an hour, and then needs to set up for a couple hours or overnight, then the cakes need to be baked and cooled completely before you assemble the cake and make the glaze. The completed cake then also needs to chill before you cut into it. So if you are making the cake for dinner, start right away in the morning. Or better yet, plan ahead and make the pastry cream the night before.
So let's start with the pastry cream. Begin by simmering some half and half on the stove.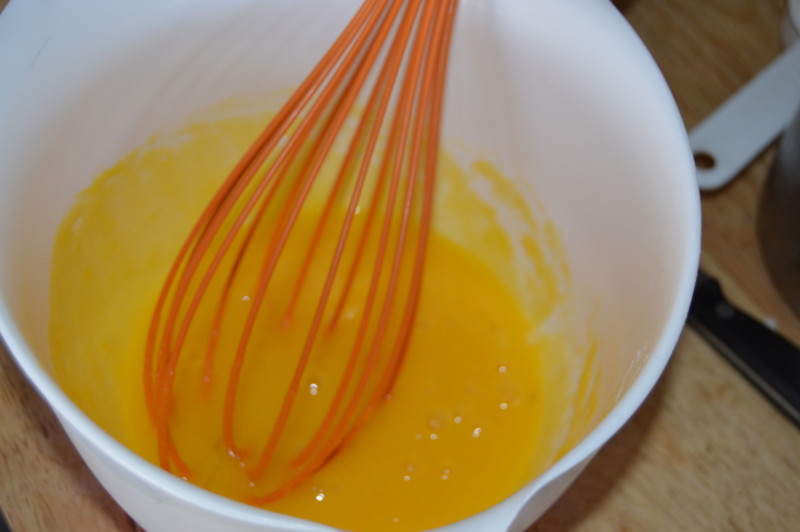 Meanwhile, whisk egg yolks, sugar, and salt in a medium bowl. Add flour and whisk it in as well. When the half and half comes to a simmer, add some to the egg mixture to temper it, then add all the egg mixture back to the pot on the stove, whisking the whole time.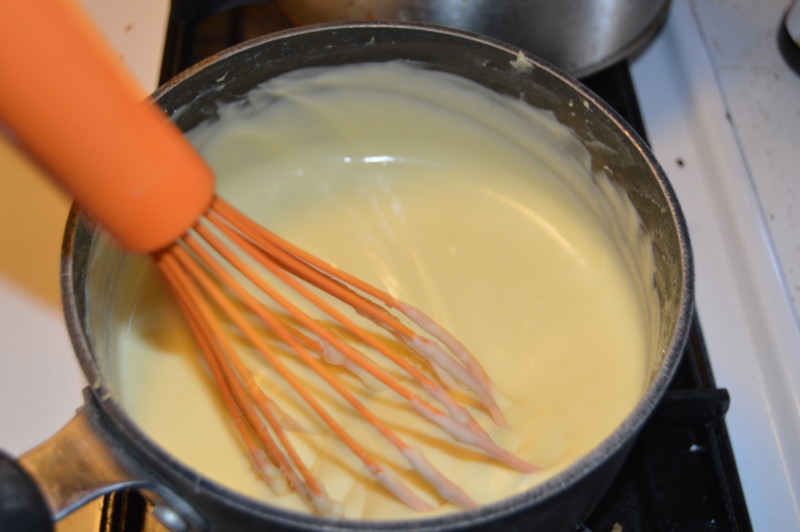 Now whisk, and whisk some more, and when your arm feels like it is going to fall all from whisking, whisk for 2 minutes after that. In all honesty, this gets whisked on the stove for about 15 minutes. When you first add the eggs, whisk on medium heat until slightly thickened, about two minutes. Then reduce the heat to medium low and whisk for 8 more minutes. This is where your arm falls off. Then turn the heat back up and whisk vigorously until bubbles start breaking on the service. now you can turn off the heat, but you aren't done whisking. add butter and vanilla and whisk until the butter melts. Now you can stop whisking. Arm okay?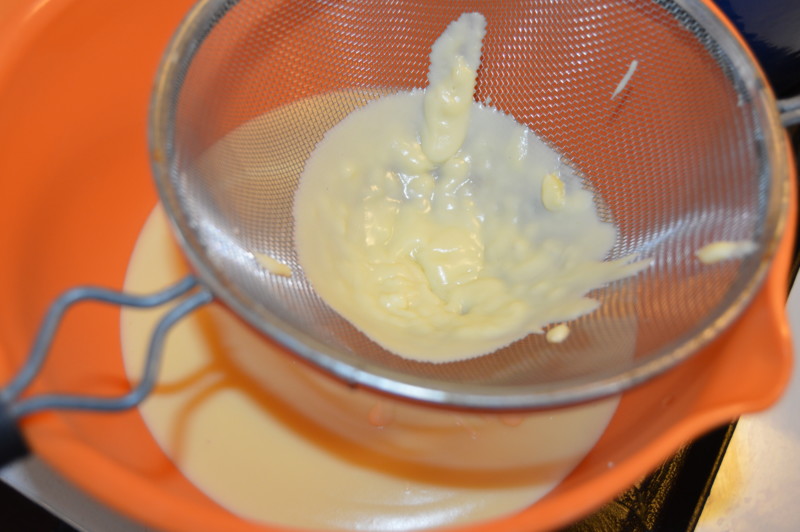 Now strain the cream through a fine mesh strainer into a bowl. Press greased parchment paper on the surface to keep a skin from forming and keep in the fridge until set, at least 2 hours but up to 24 hours.
Now for the cake. Whisk the dry ingredients together and set aside. Then heat milk and butter on the stove until the butter melts. Turn off the heat, add the vanilla and cover to keep warm.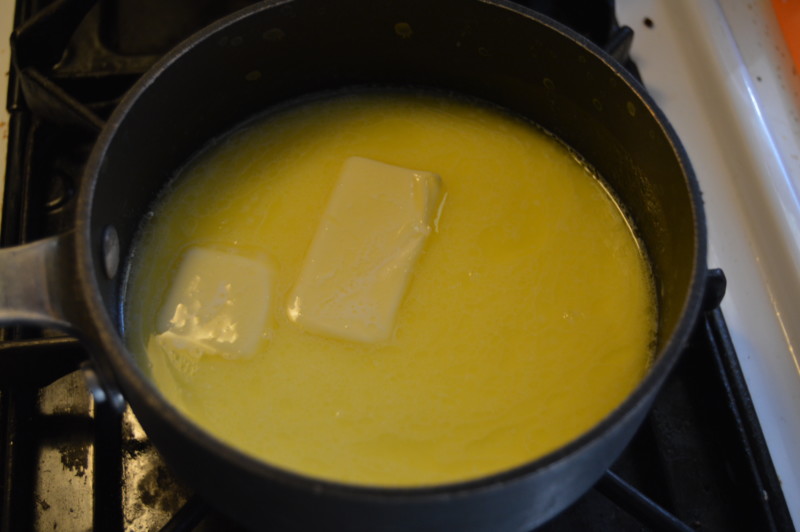 Then, with a stand mixer, whisk eggs and sugar for 5 minutes. They should be light and airy.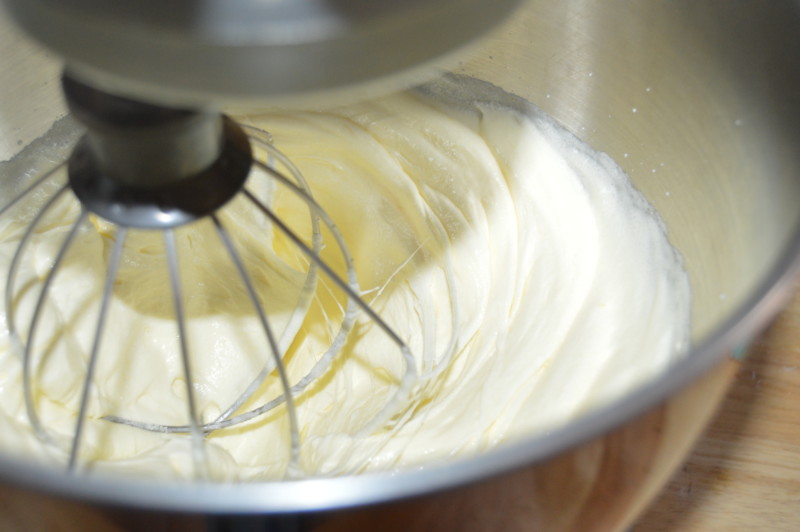 Then remove the bowl from the mixer and whisk the milk mixture into the eggs by hand. Then whisk in the dry ingredients. Now your batter is done. Pour into two 9-inch cake pans that have been greased and lined with parchment. The batter is very thin, but that's okay. Bake at 325 for 20 minutes or until lightly browned and a toothpick comes out clean.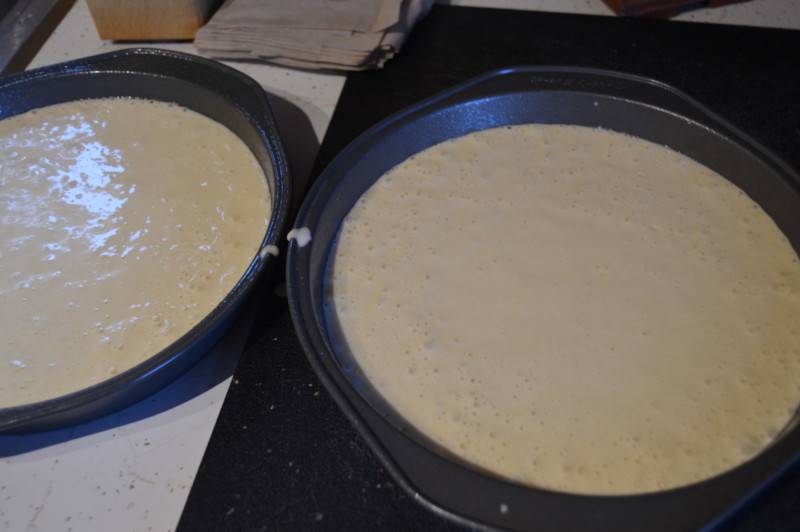 Cool in the pan on a wire rack until completely cool. About 2 hours.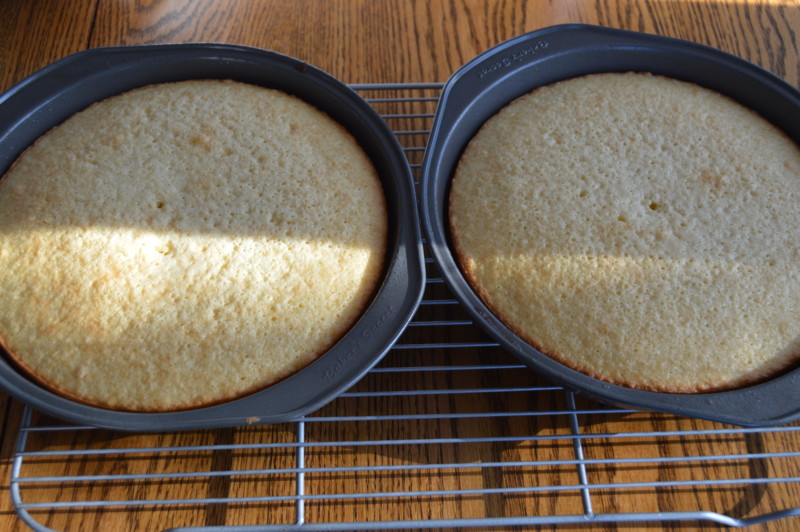 Now it's time to assemble the cake! This is when it all went south on my on attempt number one. Turn out the cakes and set one in the middle of your cake plate. Whisk the pastry cream a bit, then scoop it on top of the cake and use an offset spatula to spread it to the edges of the cake.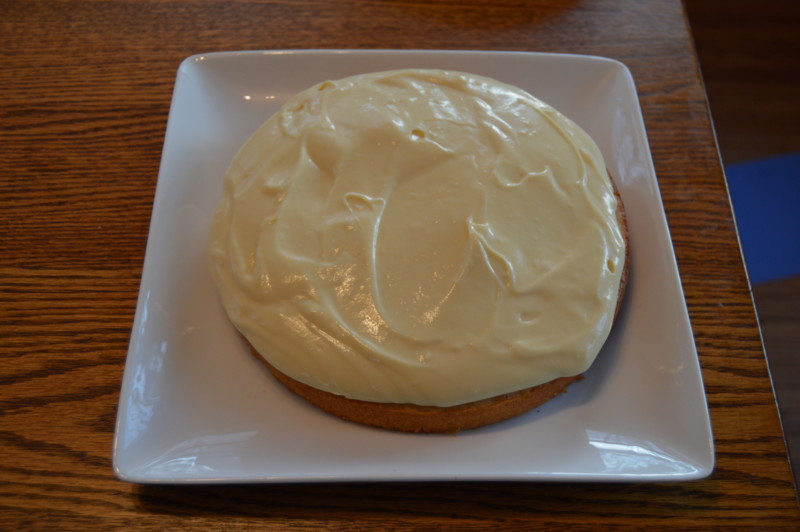 Then set the top cake on top, upside down so the nice flat side is on top.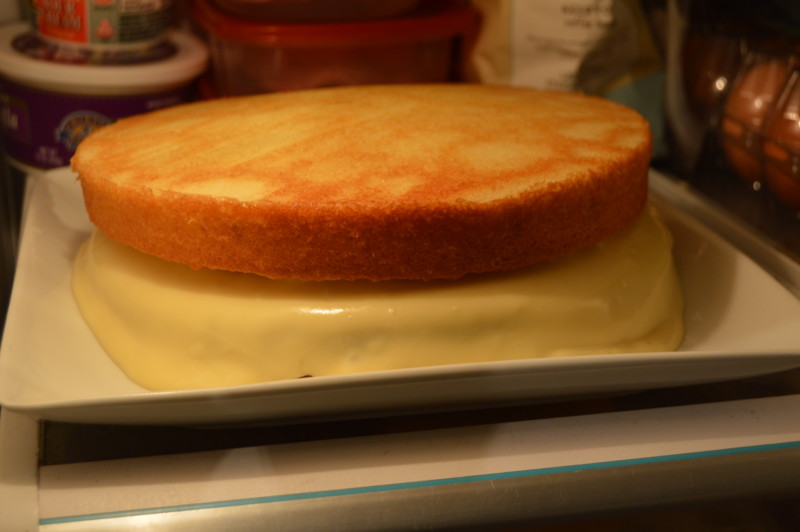 And all my cream ran out of my cake. Obviously my pastry cream wasn't thick enough, but I didn't realize it at the time, because I'd never made it before. My stove is very old and under powered, I don't think cooking for 8 minutes on low on my stove is the same thing as 8 minutes on low heat in the test kitchen. I've now adjusted all recipes half a temp up. It says low, I do medium low. It say medium, I do medium high. On the next attempt, my cream was obviously thicker as I whisked it on the stove, set up even thicker in the fridge, and stayed put once I spread it on my cake. But don't worry about this cake, I wasn't letting all of this deliciousness go to waste. Sure it didn't look pretty, but it tasted fine. I persisted.
Let the cake chill in the fridge while you make the glaze. The glaze is easy enough it is hard to screw up. Heat cream with corn syrup on the stove until just simmering. The corn syrup gives the glaze a nice glossy finish. Then turn off the heat and add the chocolate. Whisk until the chocolate melts and everything is smooth.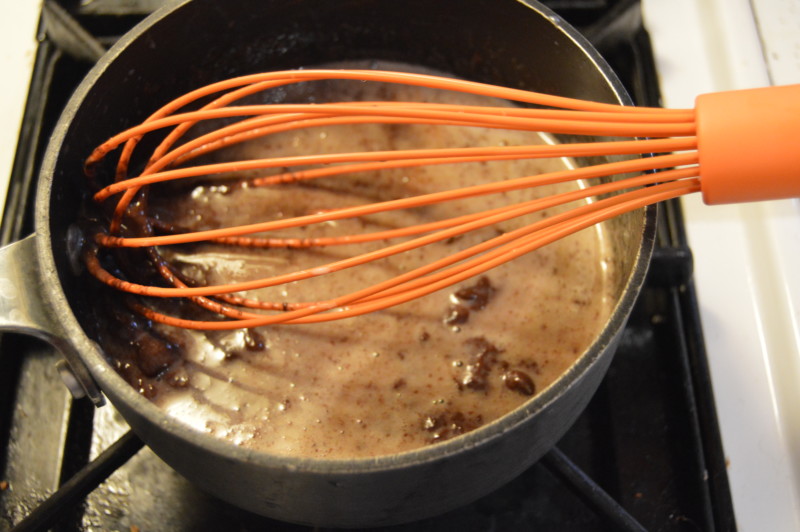 Let the glaze cool an thicken for about 5 minutes, Whisking every so often.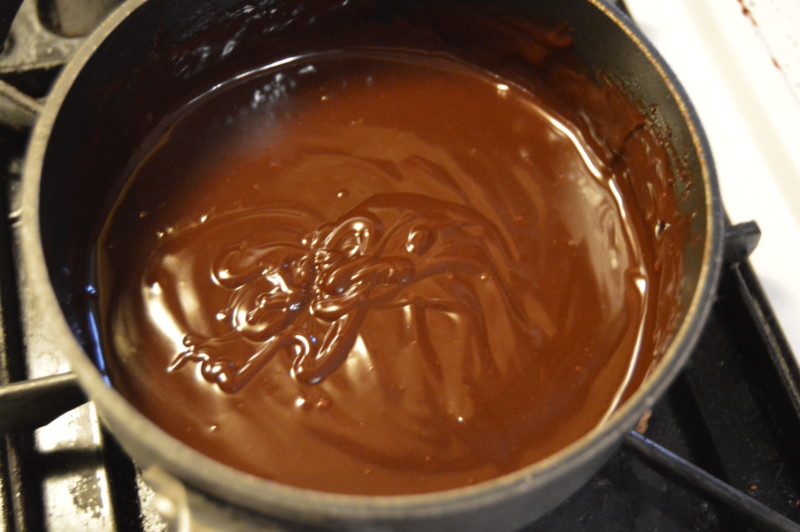 Now it's time to finish the cake. Poor the chocolate glaze over the top and using an offset spatula and spread it to the edge and let it drip over the sides.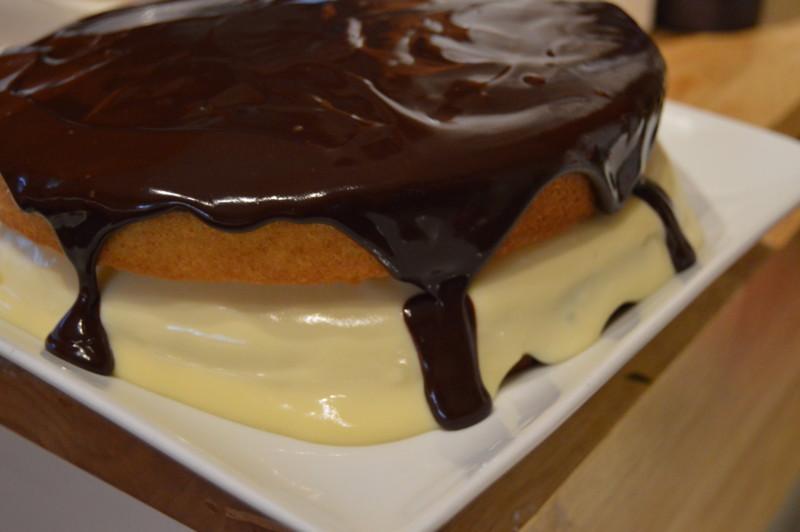 Return the cake to the fridge for at least 3 hours before serving. Make sure the cake is still chilled when you cut it, that will allow you to get nice slices without squeezing all the cream out. (If your cream is still in the cake. Ha!)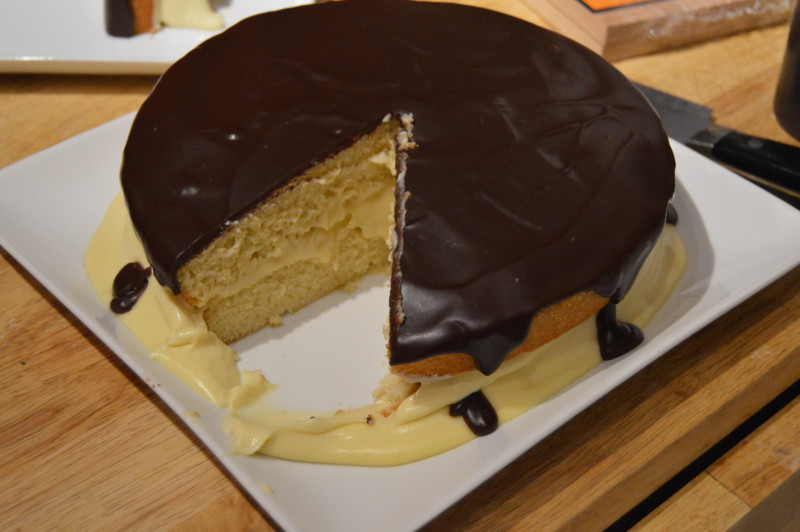 Like I said, it wasn't the prettiest, but it still tasted darned good. I may have eaten a quarter of the cake for dinner a couple days later. I may have had a tummy ache. It may have been worth it. So worth it, that the next day I made another one, this time for Sunday Dinner with Ryan's family. This time I cooked the pastry cream at a bit higher temperature, and this time it looked as good as it tasted.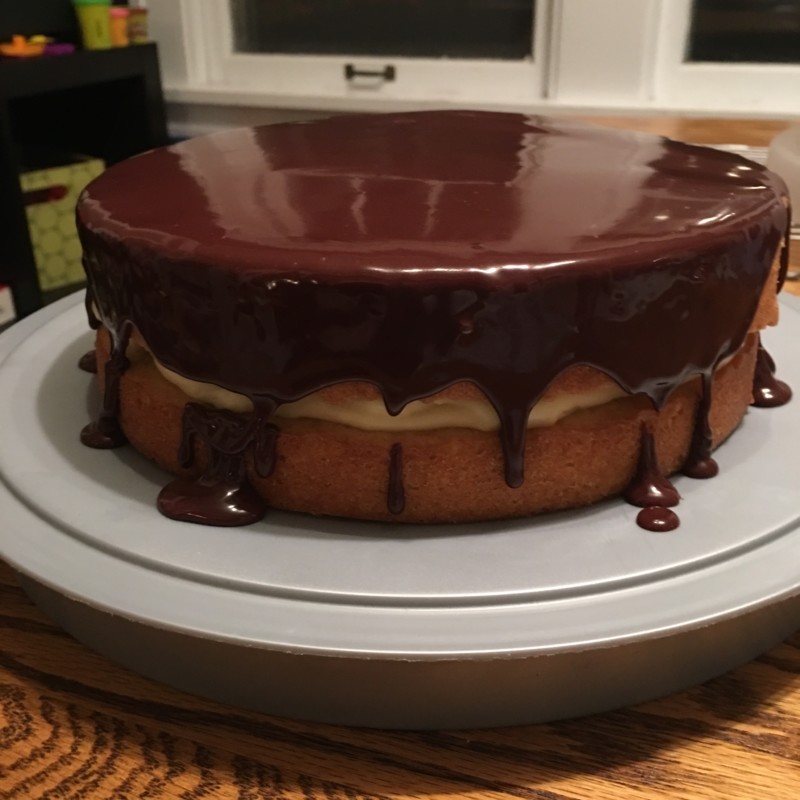 Boston Cream Perfection!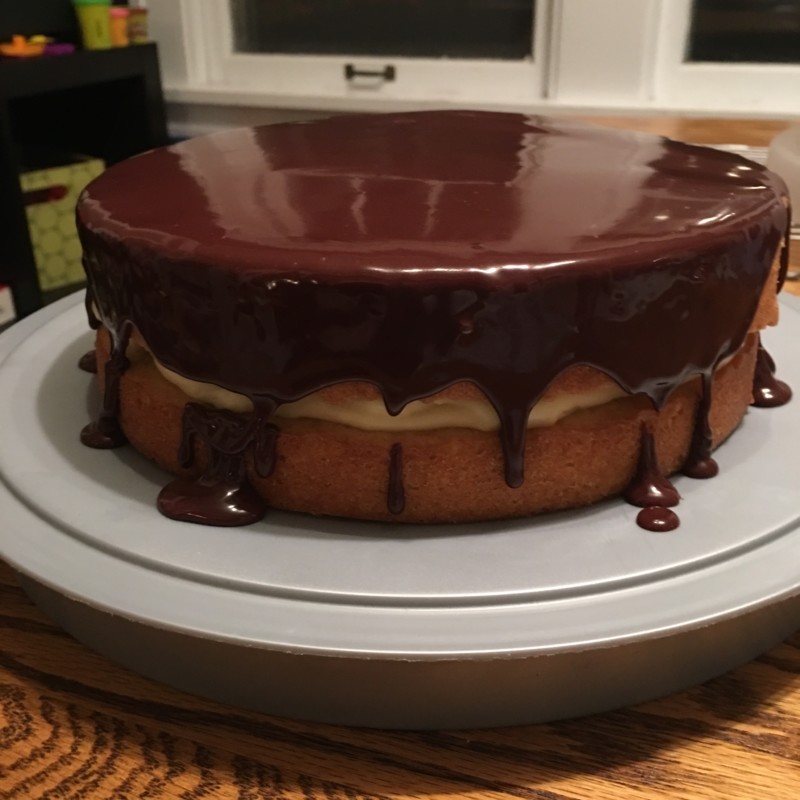 Boston Cream Pie
2017-03-16 23:14:47
A wicked good chocolate glazed, custard filled, cake!
PASTRY CREAM
2 cups half-and-half
6 large egg yolks
½ cup (3 ½ ounces) sugar
pinch table salt
¼ cup unbleached all-purpose flour
4 tablespoons cold unsalted butter, cut into four pieces
1½ teaspoons vanilla extract
CAKE
1½ cups (7 ½ ounces) unbleached all-purpose flour
1½ teaspoons baking powder
¾ teaspoon table salt
¾ cup whole milk
6 tablespoons (¾ stick) unsalted butter
1½ teaspoons vanilla extract
3 large eggs
1½ cups (10 ½ ounces) sugar
GLAZE
½ cup heavy cream
2 tablespoons light corn syrup
4 ounces bittersweet chocolate, chopped fine
Instructions
Chill the assembled cake for at least 3 hours to make it easy to cut and serve.
1. For the Pastry Cream: Heat half-and-half in medium saucepan over medium heat until just simmering. Meanwhile, whisk yolks, sugar, and salt in medium bowl until smooth. Add flour to yolk mixture and whisk until incorporated. Remove half-and-half from heat and, whisking constantly, slowly add ½ cup to yolk mixture to temper. Whisking constantly, return tempered yolk mixture to half-and-half in saucepan.
2. Return saucepan to medium heat and cook, whisking constantly, until mixture thickens slightly, about 1 minute. Reduce heat to medium-low and continue to simmer, whisking constantly, 8 minutes.
3. Increase heat to medium and cook, whisking vigorously, until bubbles burst on surface, 1 to 2 minutes. Remove saucepan from heat; whisk in butter and vanilla until butter is melted and incorporated. Strain pastry cream through fine-mesh strainer set over medium bowl. Press lightly greased parchment paper directly on surface and refrigerate until set, at least 2 hours and up to 24 hours.
4. For the Cake: Adjust oven rack to middle position and heat oven to 325 degrees. Lightly grease two 9-inch round cake pans with nonstick cooking spray and line with parchment. Whisk flour, baking powder, and salt together in medium bowl. Heat milk and butter in small saucepan over low heat until butter is melted. Remove from heat, add vanilla, and cover to keep warm.
5. In stand mixer fitted with whisk attachment, whip eggs and sugar at high speed until light and airy, about 5 minutes. Remove mixer bowl from stand. Add hot milk mixture and whisk by hand until incorporated. Add dry ingredients and whisk until incorporated.
6. Working quickly, divide batter evenly between prepared pans. Bake until tops are light brown and toothpick inserted in center of cakes comes out clean, 20 to 22 minutes.
7. Transfer cakes to wire rack and cool completely in pan, about 2 hours. Run small plastic knife around edge of pans, then invert cakes onto wire rack. Carefully remove parchment, then reinvert cakes.
8. To Assemble: Place one cake round on large plate. Whisk pastry cream briefly, then spoon onto center of cake. Using offset spatula, spread evenly to cake edge. Place second layer on pastry cream, bottom side up, making sure layers line up properly. Press lightly on top of cake to level. Refrigerate cake while preparing glaze.
9. For the Glaze: Bring cream and corn syrup to simmer in small saucepan over medium heat. Remove from heat and add chocolate. Whisk gently until smooth, 30 seconds. Let stand, whisking occasionally, until thickened slightly, about 5 minutes.
10. Pour glaze onto center of cake. Use offset spatula to spread glaze to edge of cake, letting excess drip decoratively down sides. Chill finished cake 3 hours before slicing. Cake may be made up to 24 hours before serving.
Adapted from Cook's Illustrated
Crafty Cori Strikes Again http://craftycori.com/