Tomato Soup and Grilled Cheese Sandwiches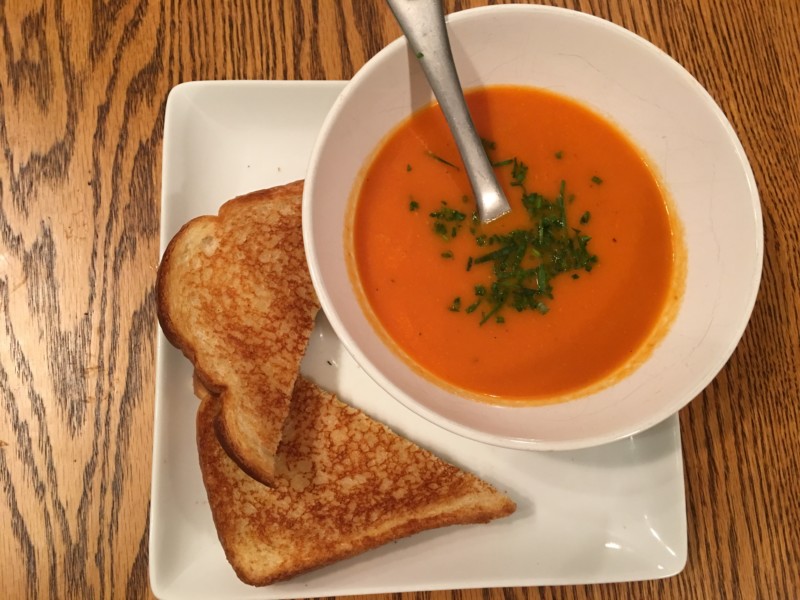 I have never tried to make homemade tomato soup before. Why, when you can just open a can of Campbell's and be done with it? Why, because that terrible stuff in a can can't hold a candle to homemade, and it isn't hard. Not as easy as opening a can, but simple enough for a quick, homemade, weeknight dinner.
Last Monday was a nasty day in Minnesota. We can deal with feet of snow, but freezing rain is a different beast. And 30 degrees and raining is somehow worse than 20 and snowing. both are cold, but snow doesn't make you wet.
And right on cue, Cook's Country decided to feature this recipe in their Facebook feed. Like they could read my mind. What is better when it is cold and terrible outside than homemade soup to make you warm and cozy on the inside. As soon as I saw the post, I knew this soup was happening for dinner.
And it really is simple. When people say homemade soup to me, I always envision a day long adventure of stewing and simmering and straining. None of that is necessary here. The whole soup was done in 30 minutes.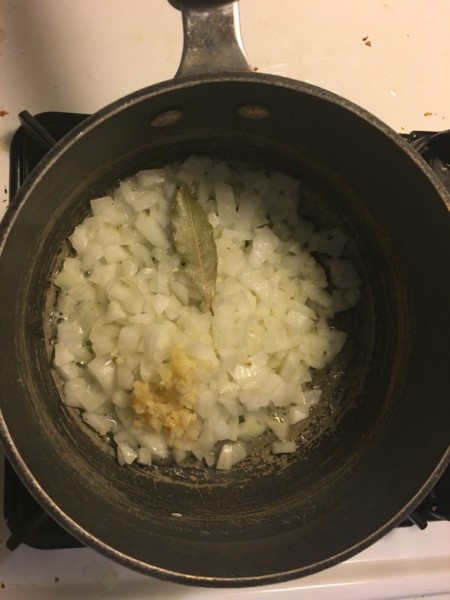 Step 1 is to melt some butter in a pot, then saute some onion and garlic until softened. There is a bay leaf, salt, pepper and a pinch of red pepper flakes thrown in for seasoning.
Then, add a can of whole tomatoes, some chicken broth, a bit of sugar, and half a slice of bread, torn into pieces. The bread is to thicken the soup. Cook's chose bread over cream because they said cream detracted from the tomato flavor. I took their word for it. This cooks down for about 5 minutes, until the bread falls apart.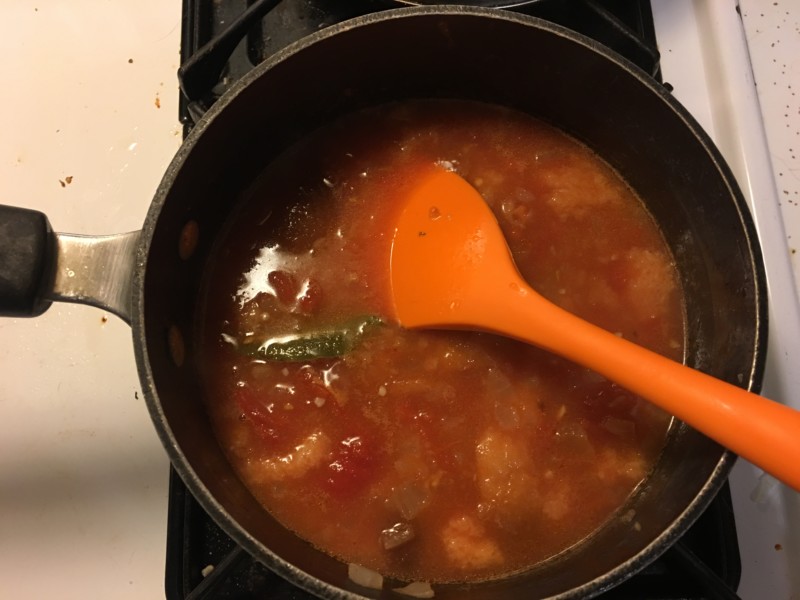 Then, make sure you pick out the bay leaf, then poor the soup into a blender and blend for a couple minutes until the soup is smooth, then return it to the pot. Alternatively, you could use an immersion blender and potentially make less of a mess than I did. Season the soup with salt and pepper to taste. The soup is now done. I left it on the stove and heated it back up once my sandwiches were ready. Ladle soup into a bowl and garnish with minced chives.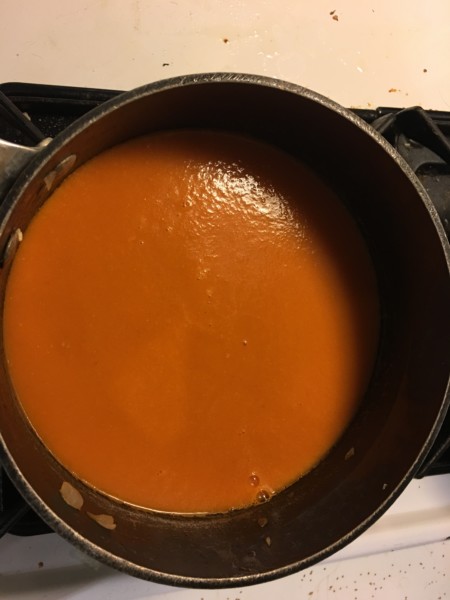 Now, few people need instructions for making a grilled cheese sandwich, but Cook's had a couple interesting suggestions. First, they surprisingly used American cheese, which I assumed they would pooh-pooh. But nothing melts quit like American cheese. At least they recommend good American cheese, deli style, not anything that came individually wrapped in plastic.
Secondly, rather than spread softened butter on the bread, it calls for melting the butter and brushing it on to the sandwich. This seemed silly, but honestly, it made for a crispy, evenly browned grilled toast.
And lastly, they grilled the sandwiches in a skillet with the lid on. This traps the heat and helps make sure the cheese melts. I didn't actually use a skillet, I used a cast iron griddle, but I covered my sandwich with the lid to a skillet and it worked like a charm.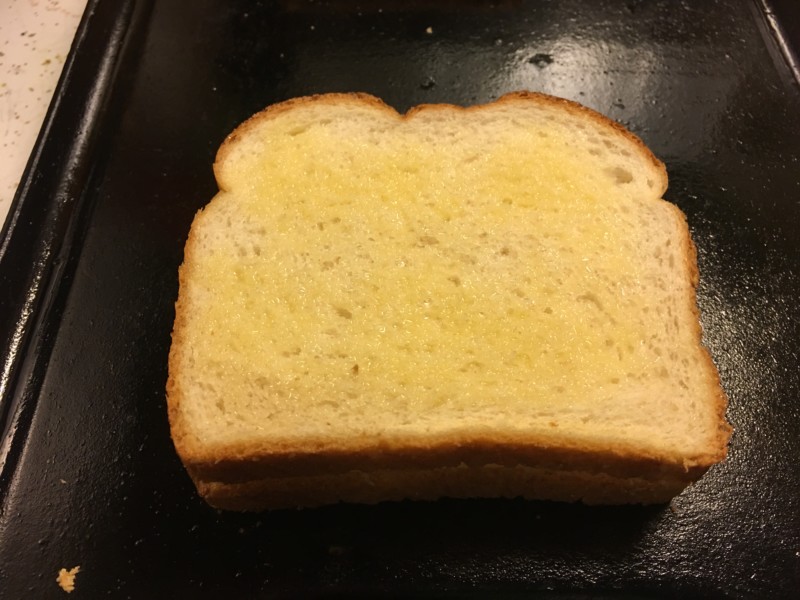 So, the big test here, was this soup good enough to justify the extra work, or is a can of tomato soup just too convenient to bother with homemade? And the answer, I will never make soup out of a can again. Normally I consider this meal to be grilled cheese with tomato soup. The sandwich is the star and the soup is a side dish, really just dip for the grilled cheese. Sometimes I don't even eat it after my sandwich is gone. With this recipe, the soup is the star. It is delicious, flavorful, creamy, just fabulous really. The sandwich was nice, but I went back for more soup. The recipe is supposedly soup for two, but it was plenty for our whole family, granted the littles didn't each much. But I do think it would be easy to double the recipe, I'd just have to blend it in batches because I don't have a very big blender. Regardless, these beats canned soup hands down, and it was the perfect meal for a cold, January day.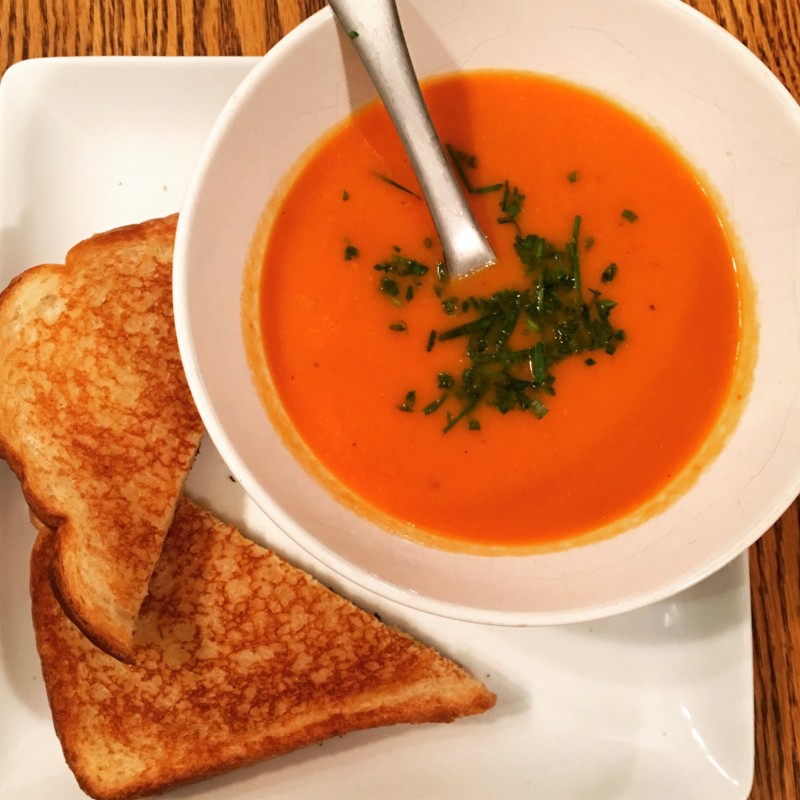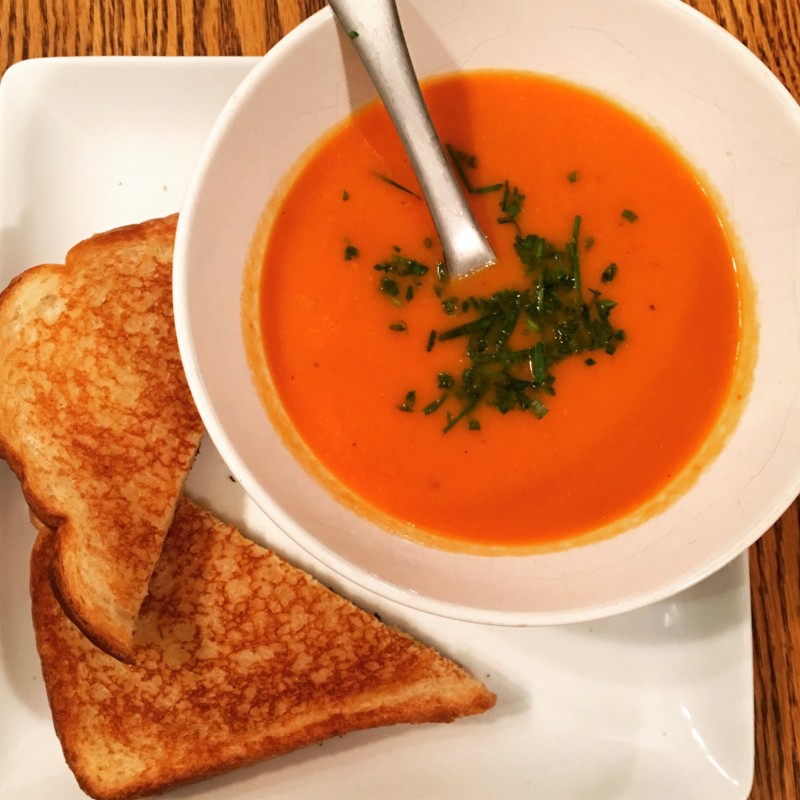 Tomato Soup and Grilled Cheese
2017-01-22 23:35:16
You'll never bother with canned tomato soup again
Ingredients
4 1/2 slices hearty white sandwich bread
1 tablespoon unsalted butter, plus 2 tablespoons melted
3/4 cup chopped onion
1 garlic clove, minced
1 bay leaf
Salt and pepper
Pinch red pepper flakes (optional)
1 (14.5-ounce) can whole peeled tomatoes
1 cup chicken broth
1 1/2 teaspoons packed light brown sugar
4 slices deli American cheese (4 ounces)
1 tablespoon minced fresh chives
Instructions
1. Tear 1/2 slice bread into 1-inch pieces; set aside. Melt 1 tablespoon butter in medium saucepan over medium-low heat. Add onion, garlic, bay leaf, 1/4 teaspoon salt, and pepper flakes, if using. Cover and cook until onion is softened, 3 to 5 minutes, stirring occasionally.
2. Add tomatoes and their juice, broth, sugar, and bread pieces to saucepan, breaking up tomatoes with wooden spoon. Cook, uncovered, until bread pieces break down, about 5 minutes, stirring occasionally. Remove from heat; discard bay leaf.
3A. FOR A BLENDER: Transfer soup to blender jar and process until smooth and creamy, about 2 minutes. Return soup to saucepan and season with salt and pepper to taste.
3B. FOR AN IMMERSION BLENDER: Place blender directly in saucepan so blades are submerged (you may need to tilt saucepan slightly) and blend until smooth and creamy, about 3 minutes, scraping down sides of saucepan as needed. Season with salt and pepper to taste.
4. Using remaining 4 slices bread, make 2 sandwiches with 2 cheese slices each. Preheat 12-inch skillet over medium-low heat for 3 minutes. Brush 1 side of sandwiches with half of melted butter. Place sandwiches buttered side down in skillet. Brush tops of sandwiches with remaining melted butter. Cover and cook until sandwich bottoms are golden brown, 4 to 8 minutes, moving sandwiches as needed for even browning.
5. Using metal spatula, flip sandwiches and continue to cook, covered, until golden brown on second side and cheese is melted, about 3 minutes.
6. Bring soup to simmer over medium heat. Ladle into bowls, sprinkle with chives, and serve with sandwiches.
Notes
Recipe makes plenty for two and could easily be doubled.
Adapted from Cook's Country
Crafty Cori Strikes Again http://craftycori.com/