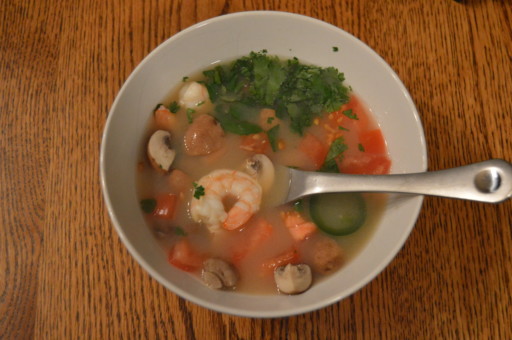 Happy New Year!
I was organizing my photos yesterday and realized that I have taken photos for more unposted eventual blog posts waiting to go than I made actual posts in the last 2 years. So one of my several New Year's resolutions is going to be to work through my pile of shame and get posts up. I may even write up several at a go and schedule them into the future…. well, that's awfully ambitious. Let's just hope this was sticks better than my annual plan to eat right and start exercising.
Anywho, to start off, here is the recipe for Spicy Thai Soup. I promised on facebook last week that I was going to have it up on the blog soon. I hope within one week counts.
I would really like Thai to be my favorite ethnic cuisine, but in order for that to be true, I'd have to eat more ethnic foods, and like I've mentioned before, it's hard to come by out here in the sticks. But whenever I catch wind of a recipe for something Asian, especially Thai, it automatically gets added to my "must make" list. Which is long and I'll probably never get through it, not unlike my list of future blog posts…. but I digress.
That brings me to last Monday, the day after Christmas, and at least in my house, the last day of a 4 day binge fest. I can only eat so many cookies, candies and appetizers that come in crock pots, before I start craving good food. Fresh food. Food that hasn't been cooked to death and left to warm for hours. And this soup recipe I had stumbled upon a couple weeks ago fit the bill. Basically because it had fresh cilantro. Cilantro automatically make things taste fresh to me. The fresh veggies and shrimp that cook just long enough to turn pink didn't hurt either. And you can't go wrong with warm, spicy soup, at the end of December in Minnesota.
The soup is actually very easy. Chopping up the veggies and aromatics for the broth took most the time. Other than that, it is just waiting for things to boil and simmer. Once I started "making dinner" I had it on the table within the hour. If I wasn't so lousy with a knife, it could in theory be ready faster than that. Actual cook time is only about half an hour.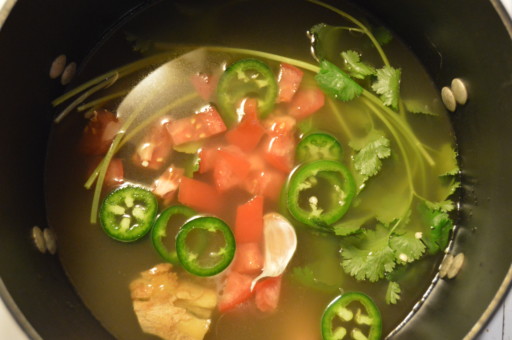 So you smash some garlic and fresh ginger, slice some jalapenos, dice some tomatoes, and throw it in a pot of chicken broth with some fish sauce, sugar and cilantro stems. It calls for stems with the roots on, but I've never seen it sold that way. You can also add a stock of lemongrass to make this more authentic and full flavored, but once again, since I live where the best grocery store is a Wal=mart, I had to do without. Bring the soup to a boil and then let it simmer for 20 minutes, couldn't be easier.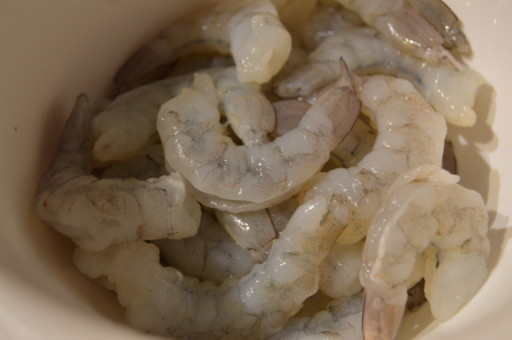 While the soup simmered I shelled my ship and removed the tails. Its probably more traditional to leave the tails on, but I wanted to be able to eat my soup without worrying about them.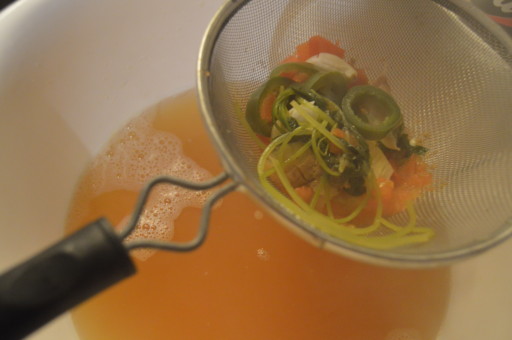 Next you run the soup through a fine mesh strainer to remove the solids, then pour the broth back into the pot and return it to a simmer.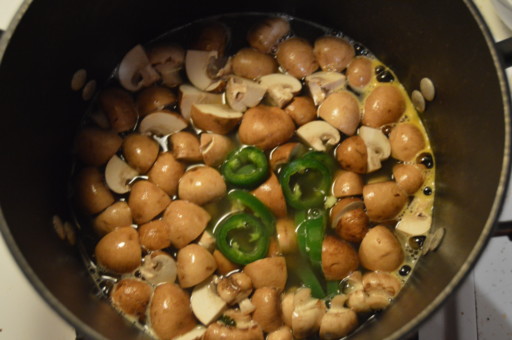 Add some more peppers and mushrooms and cook for 2 minutes. Add the shrimp and cook for 1 minute longer, just until the shrimpies pinken up.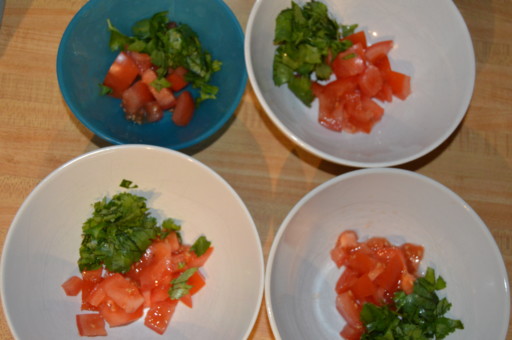 Divy up additional tomatoes and some chopped cilantro between your bowls and when the soup is ready, move it from the heat, add some lime juice, then ladle it into the bowls.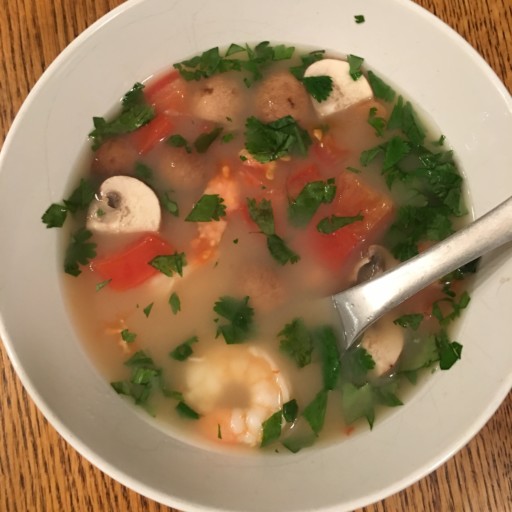 I'm pretty sure this recipe is trying to mimic Tom Yum, but with ingredients that are easy to find in an American Supermarket. I have no idea if it succeeds, since I've never had Tom Yum before. What I can tell you is that it was tasty. The broth was fresh and bright and the shrimp was cooked through without being overdone and chewy. And it was spicy. The recipe recommended leaving the seeds in the jalapenos, but since I was attempting to feed this to small children I seeded them, figuring I could always add hot sauce if it needed to be spicier. It didn't. It still left a good burn. I don't think I could have eaten it if I had actually left the seeds in. Even Ryan thought it was spicy enough as it was, and he has killed all his taste buds with copious amounts of sriracha.
So I have plenty of recipes I want to try out, but I think this one will make it around again. It is the perfect light, weeknight supper, or it could be a great starter to a larger meal.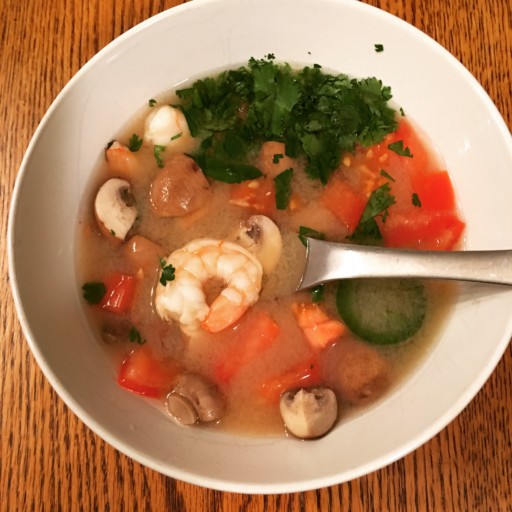 Spicy Thai Shrimp Soup
2017-01-01 23:40:05
A spicy Thai-style soup using easy to find ingredients.
Ingredients
5 ¼ cups canned low-sodium chicken broth
1 piece fresh ginger, (1/2-inch), cut in half and smashed
2 large cloves garlic, lightly crushed with skins on
2 tablespoons fish sauce
4 - 6 cilantro, stems, including roots, plus 1/4 cup roughly chopped fresh cilantro leaves
1 teaspoon sugar
2 medium jalapeño chiles, stemmed and sliced crosswise into 1/4-inch rings
2 medium tomatoes, cored and chopped coarse
½ pound cremini mushroom, oyster, or button mushrooms, wiped clean and quartered (or cut into sixths if large)
½ pound medium shrimp, (about 41 to 50 per pound), peeled
3 tablespoons juice, from 2 limes
Instructions
Bring the broth, ginger, garlic, fish sauce, cilantro stems, sugar, half of the sliced chiles, and one-quarter of the chopped tomatoes to a boil in a large saucepan over medium-high heat. Reduce the heat to low and simmer for 20 minutes. Strain the broth through a fine-mesh strainer into a large bowl, pushing on the solids to extract as much liquid as possible.
Return the broth to the pan and bring it to a simmer over medium-high heat. Add the mushrooms and the remaining chiles and cook for 2 minutes. Add the shrimp and cook for 1 minute longer. Remove the soup from the heat and add the lime juice. Evenly portion the remaining chopped tomato and the chopped cilantro among individual bowls and ladle the soup over top. Serve immediately.
Adapted from America's Test Kitchen
Crafty Cori Strikes Again http://craftycori.com/