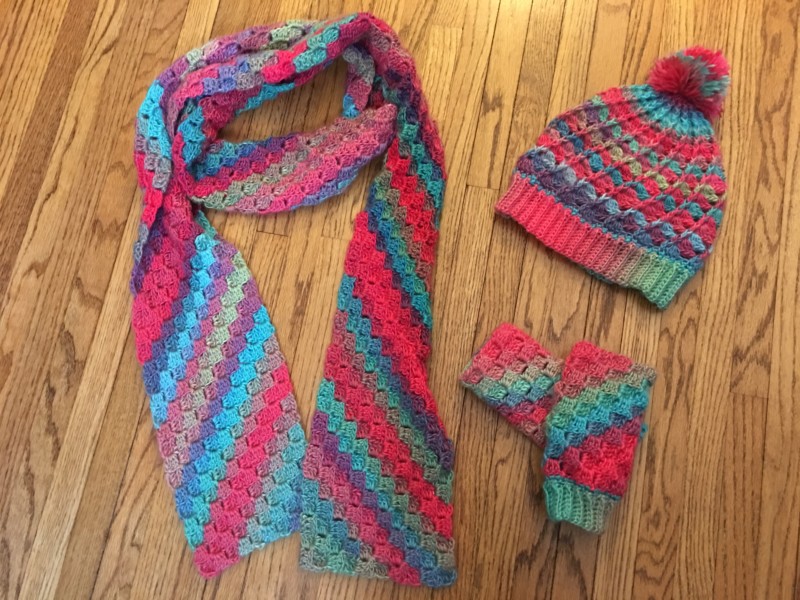 What better way to deal with the cold, dark of a Minnesota winter than with a bright, tropical-colored scarf? And once you have a warm, cozy scarf, you will surely need a matching hat, and then you might as well throw a set of fingerless mitts in for good measure…

I bought a new winter coat, and my existing hat and scarf just didn't quite match. What is a girl to do? Drop everything she had planned for the weekend and stitch up a new winter accessory set because the forecast calls for highs below zero next week? Yes, obviously that is the answer. And that is exactly what I did.
My new coat is grey, and dark grey, with mint colored accents. As soon as I realized the scarf I crocheted last year (and still haven't gotten up on the blog, eek!) was a little too blue of a teal color to match mint, I knew exactly what yarn I wanted to use. Red Heart Boutique Unforgettable in Parrot. It is quite lovely, self striping, in a tropical rainbow that goes from an almost neon coral to the perfect shade of mint. And I also knew the stitch I wanted to use, corner to corner, because it would make diagonal stripes with the yarn, and it is just fun!
Problem 1, no where near me (read Wal-Mart or a tiny Joann) wanted to sell me my yarn. Joann's didn't carry Unforgettable at all at my store and Wal-Mart carried every colorway except for the Parrot, the color I needed. So a trip to the Cities was in order, where I stopped at 2 Michael's and a Joann's and still couldn't find 2 skeins in the same dye lot. Oh well, they were close enough.
Now, to make the full set, you will need exactly 3 skeins of Unforgettable (2 for the scarf, and 1 for the hat and mitts) and an I hook. If you are unfamiliar with corner to corner (c2c) there are tons of tutorials out on the googly webs. I happened to use this one from Craftsy.
Scarf
I'd love to write up a pattern for this, but it isn't really much of a pattern. I used an I hook and did c2c until it was 10 squares wide and then just kept going until it was long enough. This happened to take 2 skeins when I expected it to take 1 for the scarf. I still wanted a matching hat. So there was a second trip (3 hours round trip) for more yarn. I was determined to finish this in one weekend! In the end, the scarf is roughly 6 feet long. More than long enough wrap around my neck twice. If I just have it behind my neck with no wrapping, it hangs past my knees on both sides.
I just let the yarn do what it wanted to do. One of the things I love about this yarn is that the color changes don't appear to form any repeating pattern. Just when I think I've figured it out, the next stripe is a different color than I expected. This inconsistency also helps hide the fact that my yarn wasn't from the same dye lot. I don't know how you would tell, each skein had sections that were very vivid, almost neon, and then some sections with the same colors, only much more diluted, almost pastel. Sometimes pink would blend into purple, sometimes pink somehow went right to green.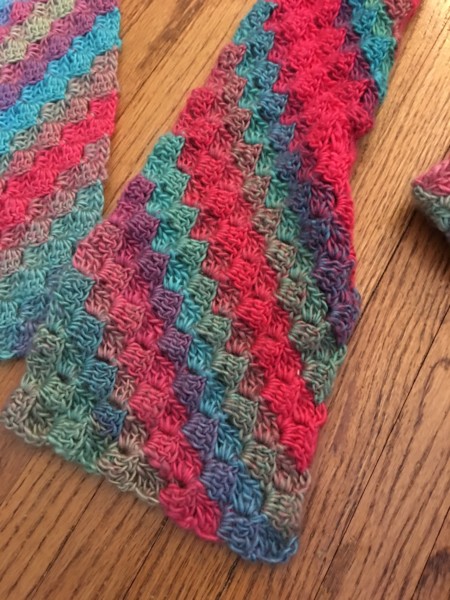 Downsides to the yarn is that the thickness is inconsistent. It is supposedly worsted weight, but there are sections where it is so thin it seems like thread and some places where it is bulky. You never notice in the finished piece though. It also, being roving type yarn, its fibers tangle into itself, making frogging nearly impossible. So try not to pull out too many stitches, you'll go mad.
I thought about putting a border around the scarf, as the edges aren't the neatest, and I started to single crochet around, but I didn't like it. So once I achieved my desired length (or used up my entire 2nd skein as the case may be) I weaved in my ends and called it good.
Hat
For the hat, I used the Divine Hat pattern from Sarah Arnold (free on Ravelry!) I don't think I would have picked the pattern if I had just seen it in the solid colors as shown on the Ravelry page, but I did a google image search of crochet hats using Unforgettable and stumbled upon this from Just Add Glitter and Stir, which was using my exact yarn. I loved the way the twist sorta goes with the diagonal stripes in the scarf, and the groups of 3 double crochet are similar to the blocks. So I feel it coordinates without being exactly the same, and it was fun to play with a different pattern for the yarn to stripe in.
I did make a couple changes. First, either my gauge was off or my head is just big, but I did add an extra row. Then I used a different ribbing than the pattern called for. I did a round of single crochet, then used the ribbing from this hat from Crochet in Color. I liked how in this yarn, it created vertical gradient to contrast the horizontal striping of the hat. Lastly, I added a pompom to the top, because it just looked like it needed a pompom to me, and I had just enough yarn left to make one after I finished my fingerless mitts.
Fingerless Mitts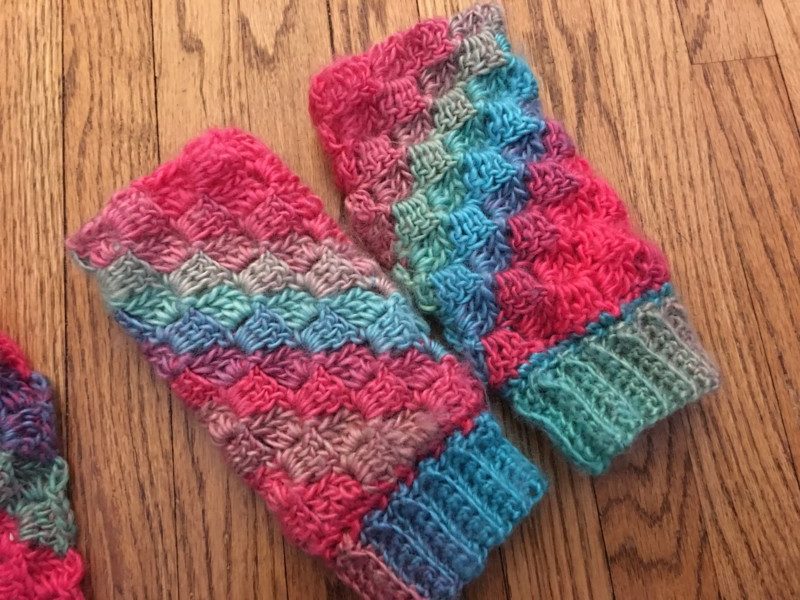 I tried to figure out a way to make mitts with the same stitch as the hat, but I just couldn't get it to look how I wanted. So I decided to make the mitts match the scarf instead. I normally make quick fingerless gloves like this by crocheting in the round to make a tube. That wasn't possible with c2c, so I actually made these as flat rectangles and then stitched them together to make a tube. It worked better than I expected, it might be my go to method from now on.
So these are done c2c just like the scarf. I made them 10 squares by 11 squares and stitched up the 10 square side, leaving a 1 square gap for my thumb 3 squares from the top. My hands a pretty small, but it would be easy to make a custom fit by making the rectangles one row wider or taller.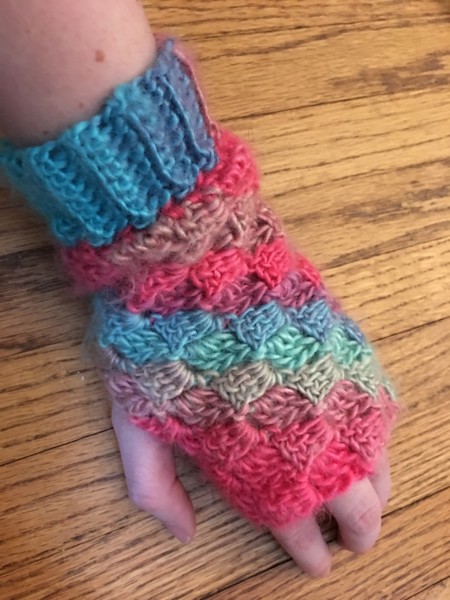 I used the same ribbing as I did in the hat to make the cuff at the wrist. This is the first time I've added a cuff like this to fingerless mitts, and it is an addition I will continue to add in the future. It keeps the end of mitt neatly tucked into my coat sleeve. I also like how it ties the mitts to the hat even though I used the main stitch from the scarf. It is also entirely a coincidence the the colors on my two mitts match up so well. Crazy.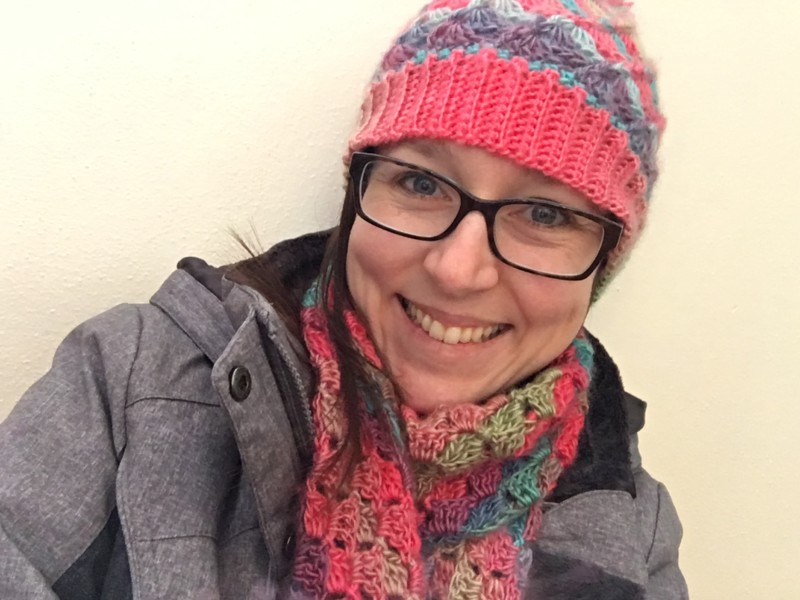 So here's a pic of me all bundled up. I had a terrible time trying to take a selfie where you could see the pompom or the mitts that didn't have me a strange and unnatural pose, so sorry you can't see much of it. The set is actually very warm for how lacy parts of it are. Of course fingerless mitts don't protect your hands like real mittens would, but I like having my figures free to use my keys or my phone, and they are definitely warmer than going without.
I've gotten several compliments and I love the bright cheery colors. A great way to stay warm a a bone chilling winter day. And although this isn't a formal pattern, I am happy to answer any questions if you'd like to make a set of your own. Leave a comment here or catch me on facebook.