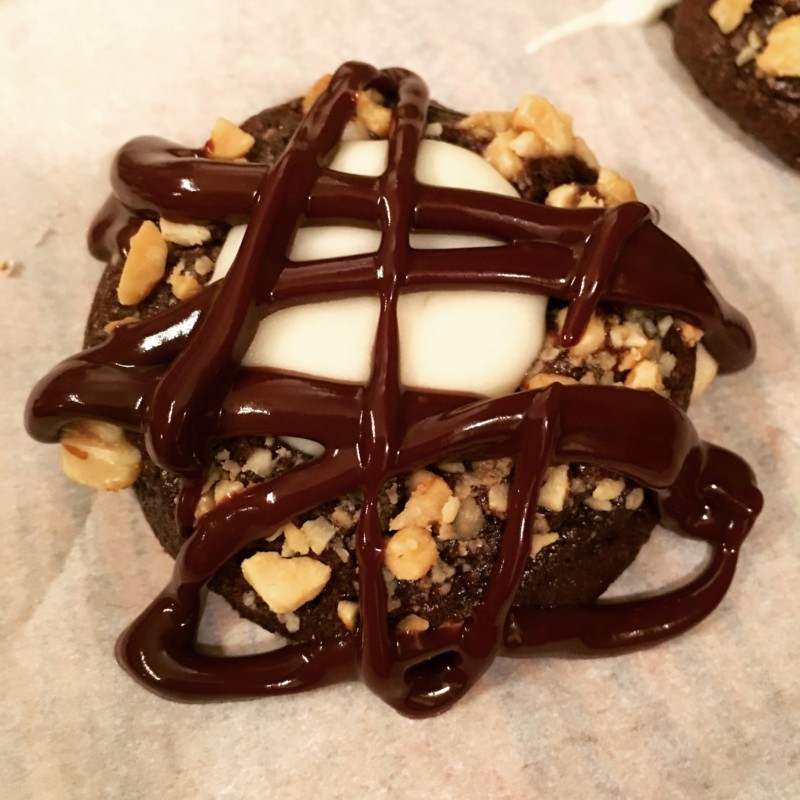 Each year I anxiously await the announcement of the Star Tribune's Holiday Cookie Contest winners. They announce a winning cooking and several runners up, and each year I pick one to try as one of my new recipes for the year. And each year I am disappointed when the winning cookie doesn't live up to the hype (Cinnamon Roll cookies anyone?). This year I decided to try the winner, Nut Goodie Thumbprints…
Nut Goodie Bars are a bit of a Minnesota institution, but if you are unawares, they are chocolate, peanut, and maple. An interesting flavor combination to say the least, but generally a tasty one. And they are pretty. Who wouldn't want to give them a try?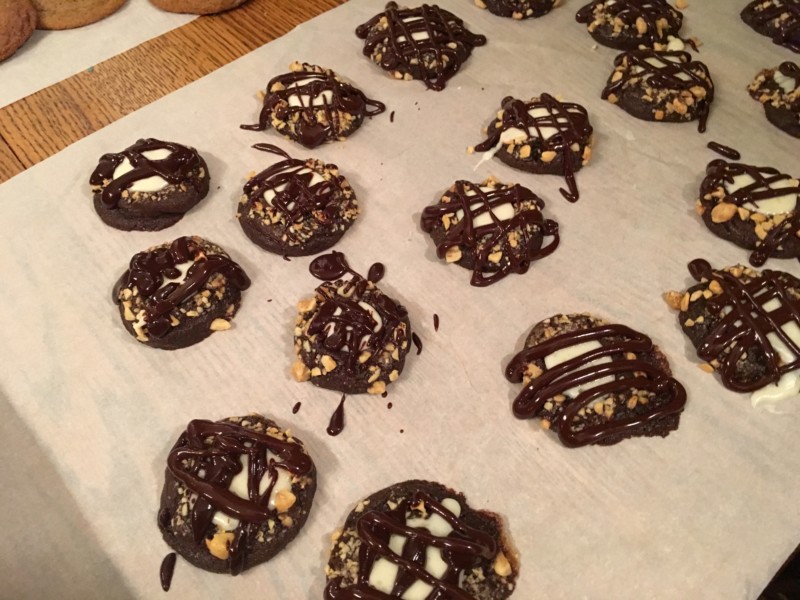 The cookies themselves are not hard to make. Make dough, roll into balls, roll balls in peanuts, make "thumbprint" with a spoon, bake, remake thumbprint, fill, cool, drizzle with chocolate. Easy enough. And they don't taste bad either. The problem is that they don't stand out enough to make the memorable.
The chocolate cookie is soft and rich, and packed full of chocolate flavor. As is the ganache on top. That makes it really hard to notice the maple filling, even though by itself it is intensely mapley. Once again, it's not that they aren't good, it's that they aren't amazing. And I wanted these to be amazing.
I also had a bit of a problem with the cookies spreading out too much when they baked. Then it said to fill the cookies while they were still warm, that my filling ended up running, and finally the ganache on top was far too thick to drizzle off a fork like suggested. I tried thinning it with more cream, but I didn't want to chance it not setting up, so I ended up piping it on with a plastic baggie. Also, the recipe was supposed to make 2 dozen cookies, but I only got 19.
I'll see how they go over on Christmas, but I doubt I will be making these again. Which is sad, because they had so much potential.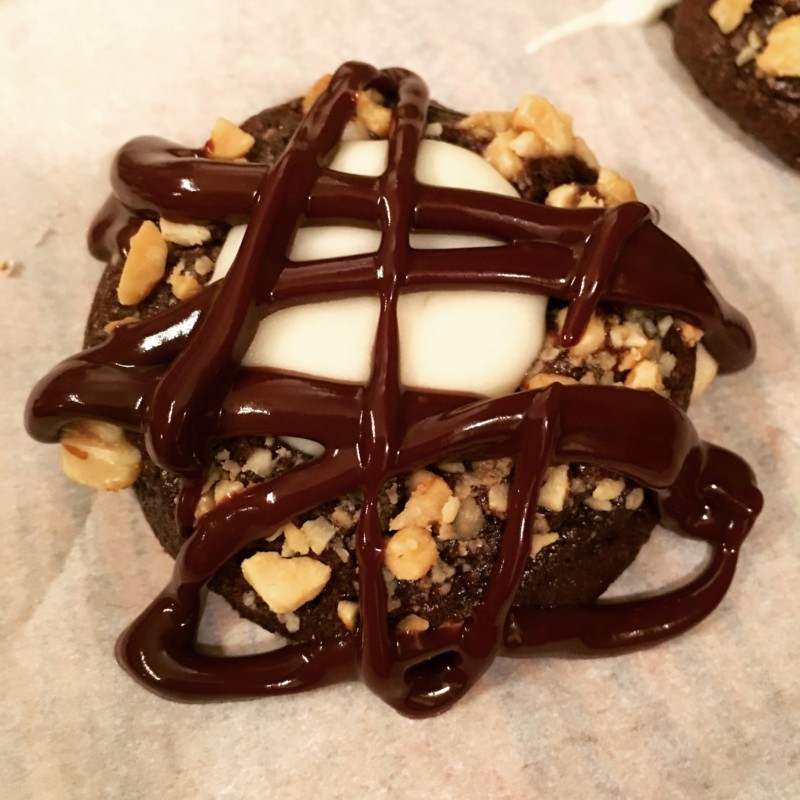 Nut Goodie Thumbprints
2016-12-22 01:01:23
Chocolate, Peanuts, and Maple. What's not to love?
For cookies
1 cup flour
1/3 cup unsweetened cocoa powder
1/4 teaspoon salt
1/2 cup (1 stick) unsalted butter, at room temperature
2/3 cup packed light brown sugar
1 egg, separated
2 tablespoons whole milk
2 teaspoons vanilla extract
3/4 cup chopped roasted and salted peanuts
For filling
2 tablespoons unsalted butter, at room temperature
2 tablespoons sweetened condensed milk
1 teaspoon maple extract
1/2 teaspoon vanilla extract
1 1/2 teaspoons whole milk
1 cup powdered sugar
For ganache
1/2 cup semisweet chocolate chips
2 tablespoons heavy cream
To prepare cookies
In a medium bowl, whisk together flour, cocoa powder and salt, and reserve.
In a bowl of a mixer on medium-high speed, beat together butter and brown sugar until light and fluffy, about 2 minutes. Add egg yolk, 2 tablespoons milk and vanilla extract, and beat until thoroughly combined. Reduce speed to low, gradually add flour mixture and mix just until combined. Form dough into a disk, wrap in plastic wrap and refrigerate at least 30 minutes.
When ready to bake, preheat oven to 350 degrees and line baking sheets with parchment paper.
Shape dough into 1-inch balls. Dip the top half of each ball into remaining egg white and then into peanuts. Place dough, peanuts-side up, 2 inches apart on prepared baking sheets. Using the back of a spoon or your thumb, press an indentation into the center of the top of each cookie. Bake until cookies are set but still soft, about 10 to 12 minutes. Remove from oven and carefully remake the same slight indentation into the top of each cookie. Cool for 5 minutes before transferring cookies to a wire rack to cool.
To prepare filling
In a bowl of an electric mixer on medium speed, combine butter, condensed milk, maple extract, vanilla extract, 1 1/2 teaspoons whole milk and powdered sugar, and beat until uniform and creamy. While cookies are still slightly warm, spoon filling into indentation in cookies, then allow them to cool completely.
To prepare ganache
Combine chocolate and cream in a microwave-safe bowl (or in a double-boiler over gently simmering water). Cook mixture, stirring occasionally, until fully melted. Stir until smooth. Use the tines of a fork to drizzle chocolate over cooled cookies. Allow ganache to set before serving.
Notes
Yields about 2 dozen cookies.
Crafty Cori Strikes Again http://craftycori.com/