Foolproof Holiday Cookies
Cut out are my least favorite Christmas Cookie. I am complete incapable of rolling out dough, and for all my trouble, they usually taste like cardboard. I didn't make them until I had kids, but since the littles love to decorate with sprinkles, I've started trying a new recipe every year, hoping to find a cut out cookie worth eating. My search is over. These are actually tasty. I think the key is tons of butter. And maybe the cream cheese helps too.
I'm not sure exactly how these differ from the cut out cookies I've made in the past. They aren't difficult to make, the ingredients don't seem out of the ordinary, but boy do they taste better than any I've tried before.
My only trouble making them was rolling out the dough. The recipe calls for chilling the dough before rolling it, but that made it hard and a rock and impossible to roll. Once I was rerolling left over dough, later in the game, I got lazy and quit chilling it. Rolled out like a dream. I won't chill it next time, or at least not nearly as long.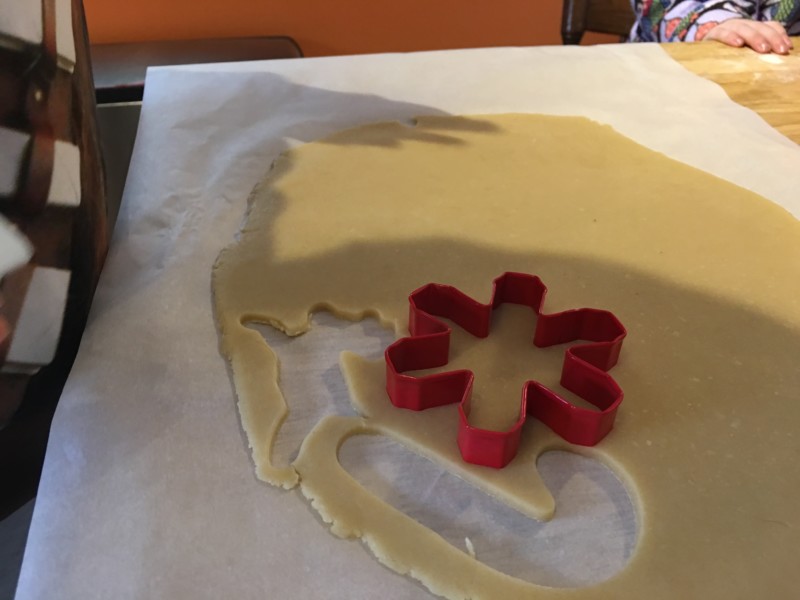 The recipe also mentions that you should only reroll the scraps once. I am sure this is to avoid overworking the dough so the cookies stay tender. But I wasn't going to throw dough away. I kept gathering the scraps and re-rolling the dough until I didn't have enough left to cut a single cookie. At least 4 or 5 times. I couldn't tell the difference between the last cookie and the first. They were both flaky and buttery and delicious.
The glaze is also super easy, just milk, powdered sugar, and cream cheese. And it tastes better than any more complicated glaze I have tried. I used all the milk and it was just the right consistency. Easy to spread, but not drippy, dried fast enough, but the kids still had plenty of time to get sprinkles on them before it set up.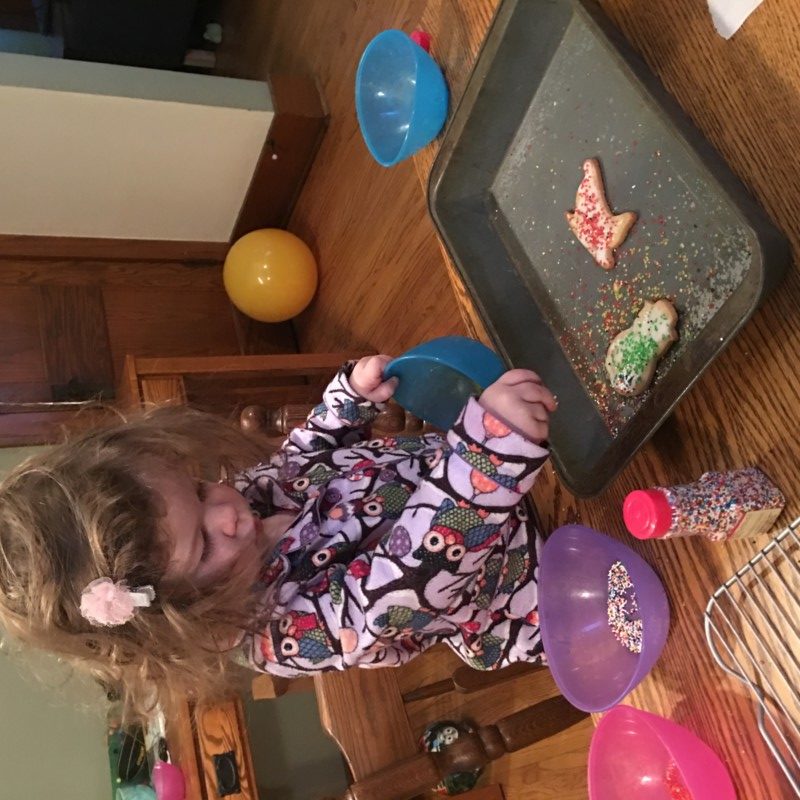 Cut outs will never be my favorite, and I still think they are a pain in the tookus, but at least these ones are genuinely tasty.
Foolproof Holiday Cookies
2016-12-23 01:27:28
A cut out cookie recipe that keeps its shape and actually tastes good enough to eat.
Ingredients
Butter Cookie Dough
2 ½ cups unbleached all-purpose flour, (12 1/2 ounces)
¾ cup superfine sugar, (5 1/2 ounces) (see note)
¼ teaspoon table salt
16 tablespoons unsalted butter, (2 sticks), cut into sixteen 1/2-inch pieces, at cool room temperature (about 65 degrees)
2 teaspoons vanilla extract
2 tablespoons cream cheese, at room temperature
Glaze
1 tablespoon cream cheese, at room temperature
3 tablespoons milk
1 ½ cups confectioners' sugar, (6 ounces)
Instructions
NOTE FROM THE TEST KITCHEN If you cannot find superfine sugar, you can obtain a close approximation by processing regular granulated sugar in a food processor for about 20 seconds. If desired, the cookies can be finished with sprinkles or other decorations immediately after glazing.
1. FOR THE COOKIES: In bowl of standing mixer fitted with flat beater, mix flour, sugar, and salt on low speed until combined, about 5 seconds. With mixer running on low, add butter 1 piece at a time; continue to mix until mixture looks crumbly and slightly wet, about 1 minute longer. Add vanilla and cream cheese and mix on low until dough just begins to form large clumps, about 30 seconds.
2. Remove bowl from mixer; knead dough by hand in bowl for 2 to 3 turns to form large cohesive mass. Turn out dough onto countertop; divide in half, pat into two 4-inch disks, wrap each in plastic, and refrigerate until they begin to firm up, 20 to 30 minutes. (Can be refrigerated up to 3 days or frozen up to 2 weeks; defrost in refrigerator before using.)
3. Adjust oven rack to middle position; heat oven to 375 degrees. Roll out 1 dough disk to even 1/8-inch thickness between 2 large sheets parchment paper; slide rolled dough on parchment onto baking sheet and chill until firm, about 10 minutes. Meanwhile, repeat with second disk.
4. Working with first portion of rolled dough, cut into desired shapes using cookie cutter(s) and place shapes on parchment-lined baking sheet, spacing them about 1 1/2 inches apart. Bake until light golden brown, about 10 minutes, rotating baking sheet halfway through baking time. Repeat with second portion of rolled dough. (Dough scraps can be patted together, chilled, and re-rolled once.) Cool cookies on wire rack to room temperature.
5. FOR THE GLAZE: Whisk cream cheese and 2 tablespoons milk in medium bowl until combined and no lumps remain. Whisk in confectioners' sugar until smooth, adding remaining milk as needed until glaze is thin enough to spread easily. Drizzle or spread scant teaspoon glaze with back of spoon onto each cooled cookie, as desired.
Notes
Makes approximately 36 cookies.
Adapted from America's Test Kitchen
Crafty Cori Strikes Again http://craftycori.com/