Blueberry Zucchini Cake with Lemon Buttercream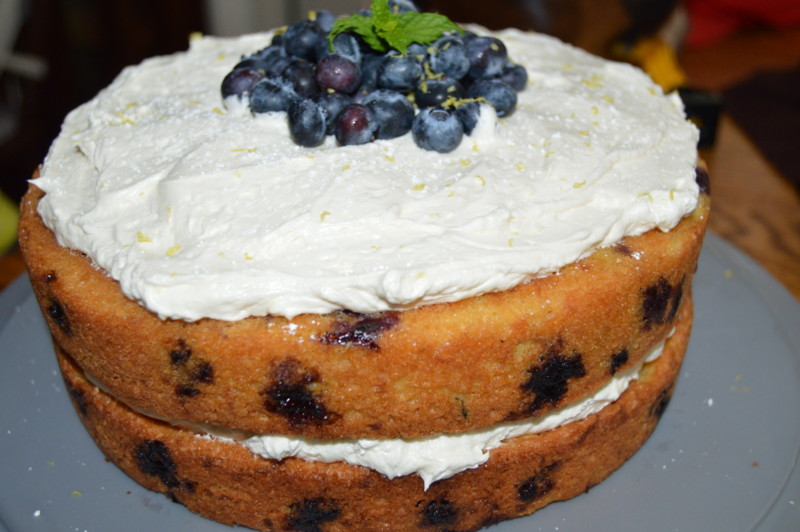 This cake is my new obsession. I am in love with it. I've made it twice in just over a week and I am trying to find an excuse to make it again. It is that good. I dream about it. Seriously.
I saw this recipe from I Am Baker show up in my Facebook feed a few weeks ago, and decided to bookmark it because I was growing zucchini in my garden and am always looking for a new use for it. Then my sister suggested we go berry picking and so I found myself with a couple pounds of fresh blueberries. At the same time, I suddenly had not one, but two giant zukes ready for the picking. Obviously, it was cake time.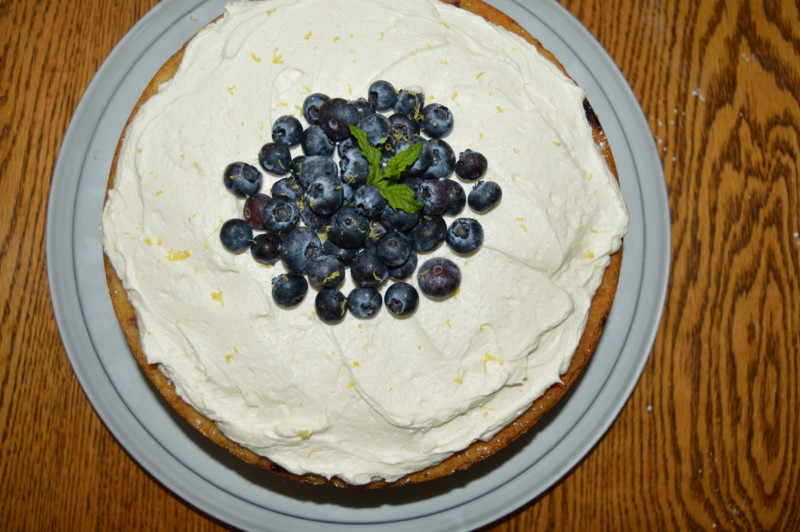 And it is so good. Imagine the best blueberry muffins, only with frosting, only better than that because it's cake. You don't actually taste the zucchini but it leave the cake so moist and tender and fabulous. I could go on, but I won't (well, not much at least) . Visit the I Am Baker blog and read about it there. She writes it up better than I could and takes much better photos. Mine do not really do it justice.
What I will say, is although the cake looks fancy, it is really easy to make. The hardest part is shredding zucchini, and if you have a food processor that is a snap. In fact, I shredded my two giant zukes, and now I have enough frozen shredded zucchini to have cake all winter. So much delicious cake.
I didn't make any changes to the recipe, other than for the sake of laziness. I didn't dry my shredded zucchini in a towel, I just let it sit in a colander until I needed it. My cake was moist, but not too wet. I also should have leveled the two cakes before I layered them, but once again, lazy, so I just had lots of frosting to even it out. Also, it calls for 8 inch round cake pans, I only had 9 inch pans, so I used them and they worked just fine. I did had to cook my cakes for closer to 45 minutes before a toothpick came out clean.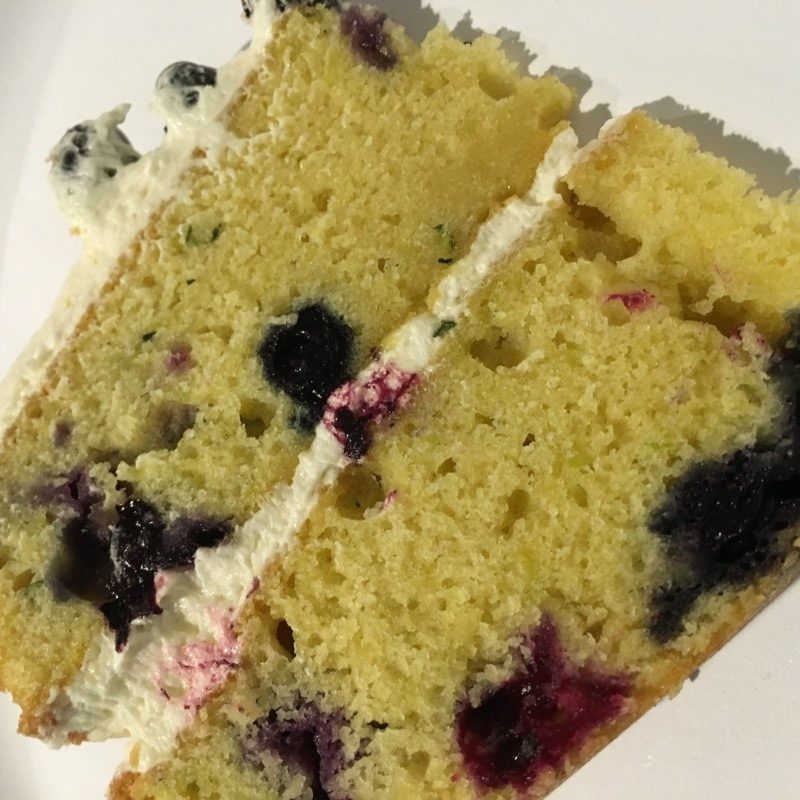 And don't be tempted to skip the frosting, it just might be the best part. I'm not usually a huge fan of buttercream, as it can be so cloyingly sweet. But the lemon makes it just a tad tart and it pairs so well with the blueberries. I really just can't say enough about how great this cake is.
And it looks so pretty. It gets lots of oooh and aahs. People will assume it was much more work than it is. And it gets rave reviews as well. This is my new go to cake. I might just try cupcakes with it next. And the left overs make for a fantastic breakfast. Trust me.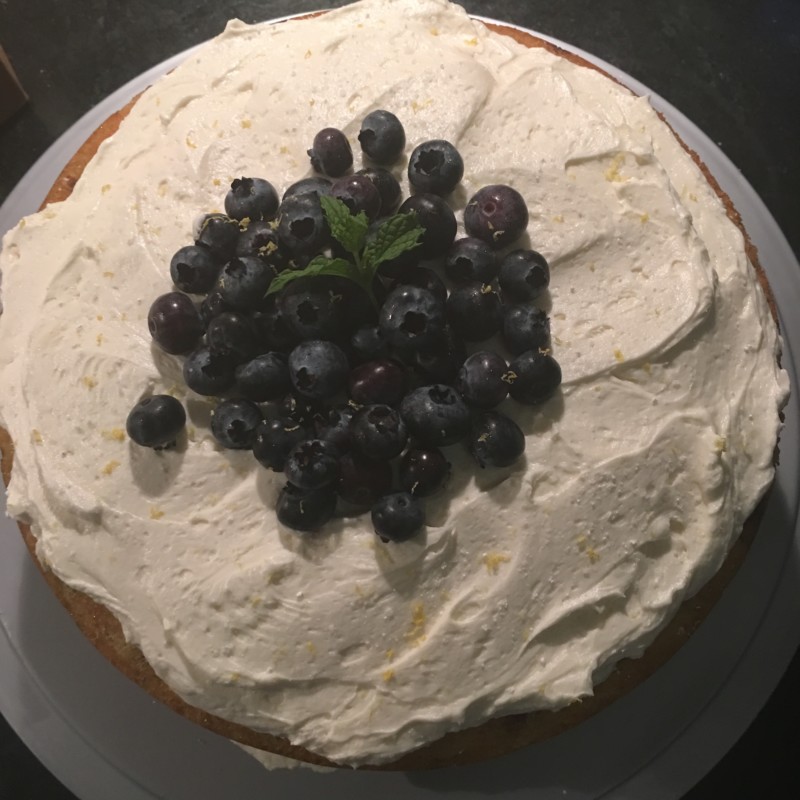 Blueberry Zucchini Cake with Lemon Buttercream
2016-08-01 22:54:01
Deliciously moist cake is topped with a slightly tart lemon buttercream. Best use of zucchini you'll find.
Ingredients
3 eggs, lightly beaten
1 cup vegetable oil
3 teaspoons vanilla extract
2 1/4 cups white sugar
2 cups finely shredded and drained zucchini
3 cups all-purpose flour
1 teaspoon salt
1 teaspoon baking powder
1/4 teaspoon baking soda
1 pint fresh blueberries (you can reserve a few for garnish if so desired)
Lemon Buttercream
1 cup butter, room temperature
3 1/2 cups confectioners\' sugar
1 lemon, juice and zest of (about 2 tablespoons)
1 teaspoon vanilla extract
1/8 teaspoon salt
Instructions
Preheat oven to 350 degrees F. Prepare two 8-inch round cake pans.
Grate a large zucchini (or two small zucchini) and place in a clean dish towel. Squeeze until most of the liquid comes out. You will want to have 2 total cups of shredded zucchini after it has been drained. Set aside.
In a large bowl and using a hand mixer, beat together the eggs, oil, vanilla, and sugar. Fold in the zucchini.
Slowly add in the flour, salt, baking powder, and baking soda. Gently fold in the blueberries. Divide batter evenly between prepared cake pans.
Bake 35-40 minutes in the preheated oven, or until a knife inserted in the center of a cake comes out clean. Cool 20 minutes in pans, then turn out onto wire racks to cool completely.
Lemon Buttercream
Combine butter, sugar and salt and beat till well combined.
Add lemon juice and vanilla and continue to beat for another 3 to 5 minute or until creamy.
Fold in zest
Adapted from I Am Baker
Crafty Cori Strikes Again http://craftycori.com/