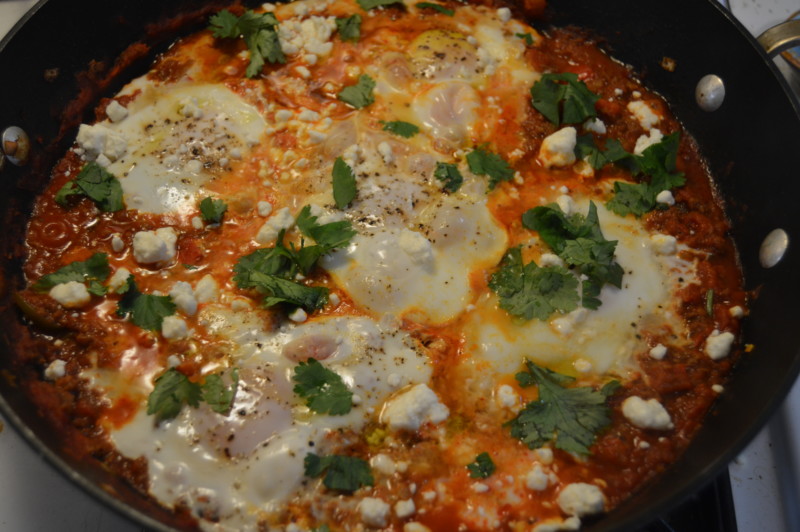 Shakshuka is a dish I didn't know existed until last week. I saw a post on Reddit, read the comments section, watched a couple videos, and knew this was going in my belly as soon as I procured the ingredients and had the hour to make it. Which ended up being Sunday brunch this weekend.
So what is Shakshuka? Well, it is eggs poached in a spicy tomato/pepper sauce and it originates from North Africa. It was like the Reddit post was an advertisement just for me. A new ethnic food to try, with flavors I'm not familiar with combined with poached eggs, feta cheese, and cilantro. Sign me up!
I watched a couple different recipe videos before settling on this one from Chef John to be my basis, but I didn't follow it exactly. I really like his unique narration style, and he won me over with the line "You are responsible for making your shakshuka off the hooka." Cracks me up.
Anyway, from reading comments, I saw people suggest adding sausage. If I wanted Ryan on board with trying my new foods, adding sausage is always helpful, so I did make this with chorizo. Ryan and both agreed that it didn't add anything to the dish, so we will leave it out in the future.
The recipe is actually super simple. The whole thing cooks in one pan on the stove top. It took me about an hour to cook from start to finish, including prepping veggies and several steps where you stir occasionally while it cooks for several minutes. Hey, if I can cook it anyone can.
It starts with sauteing onions in a pan with some olive oil. Once the onions are soft, add red bell pepper and a jalapeno, then saute those for a few minutes until they are soft.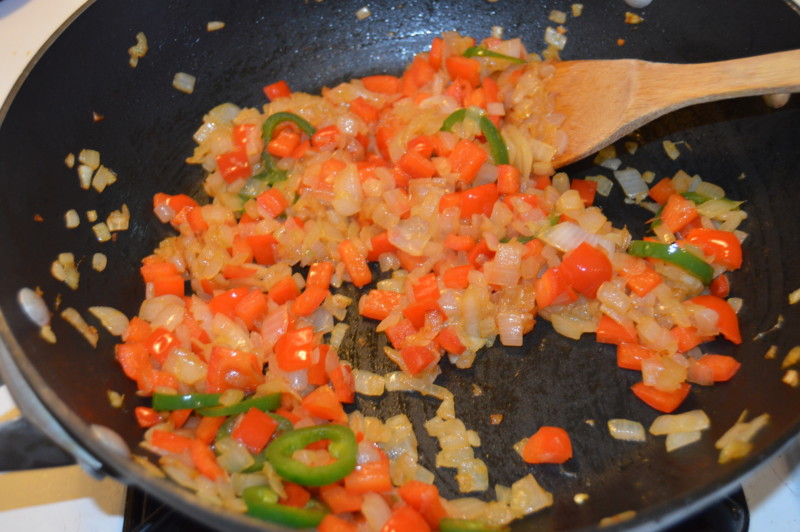 Then add the spices and cook a few minutes more for the spices to bloom. Turmeric was the only one I didn't already have, it also calls for cumin, paprika, black pepper and cayenne. Delicious and spicy.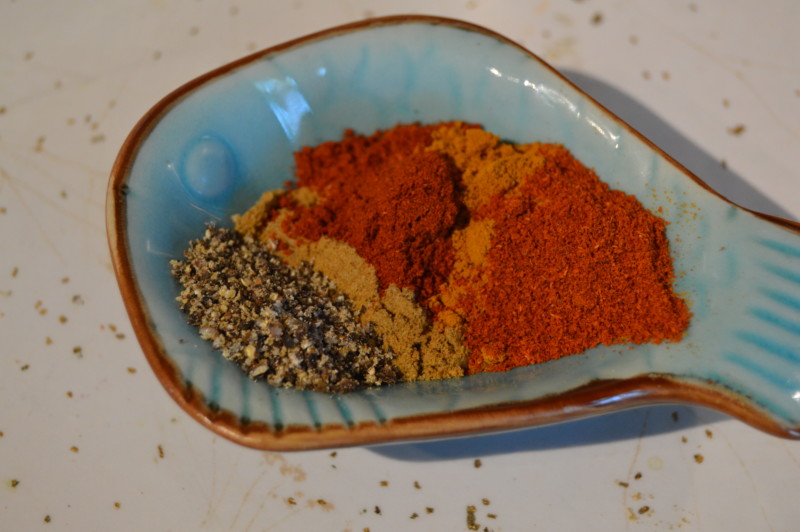 Once the spices have a chance to meld, you add a can of crushed tomatoes. Then let it simmer for 15 minutes or so.
At this point I added a chub of chorizo that I had already browned up before I started the onions. Like I said, I won't add the sausage in the future. It wasn't in the original recipe anyway.
The next step is to poach the eggs. They poach right in the tomato sauce. I used a spoon to make wells in the sauce, then cracked an egg into each well.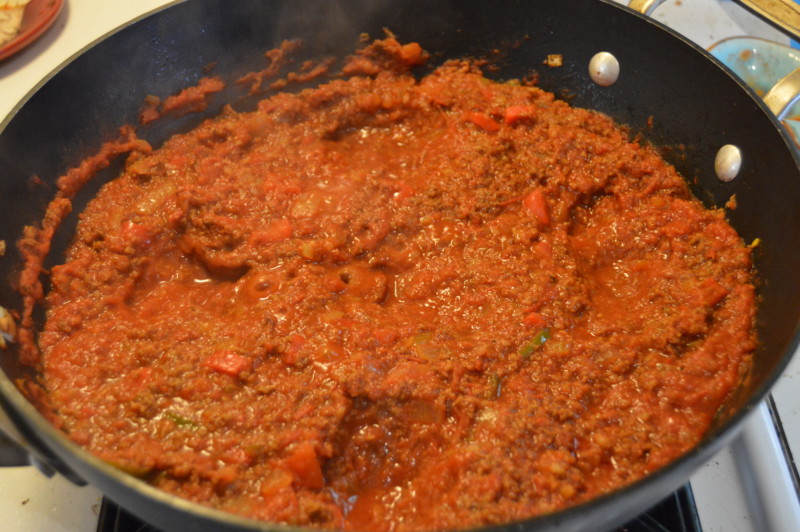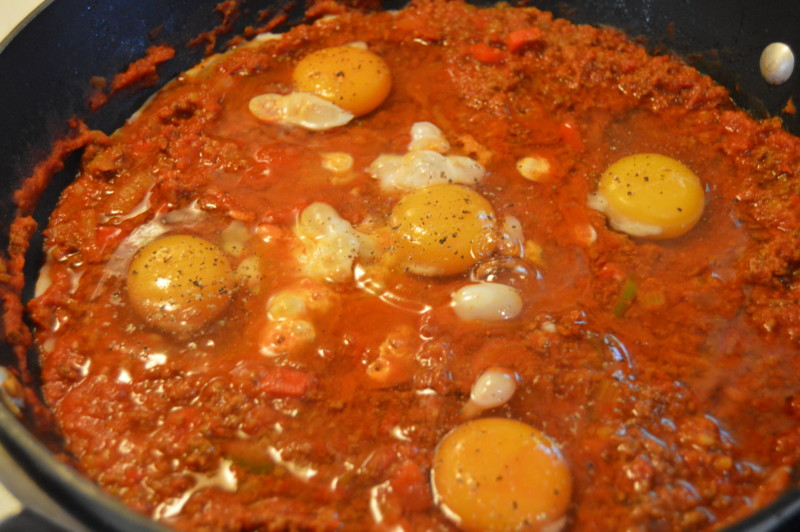 The whites didn't all fit in the holes I made and ran over. Totally doesn't matter. To make it less likely to break a yolk, I cracked the eggs into a small bowl first, then poured them onto the sauce.
Then cover the pan and let it continue to simmer until the eggs reach your desired doneness. I like very soft poached eggs with runny yolks to dip bread in, so I erred on the side of undercooked. And to be honest my whites were not quite as set as I would have preferred, but such is life.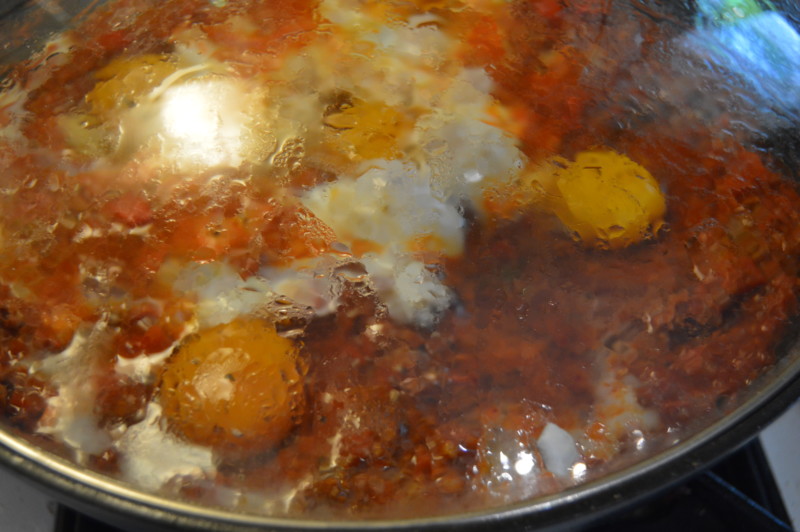 Once your eggs are cooked to your liking, remove the lid and top the shakshuka with feta cheese crumbles and chopped cilantro leaves. It is my understanding that you can also use goat cheese, which would be fabulous, but I already had feta on hand. You can use flat leaf parsley instead of cilantro if you prefer, as well.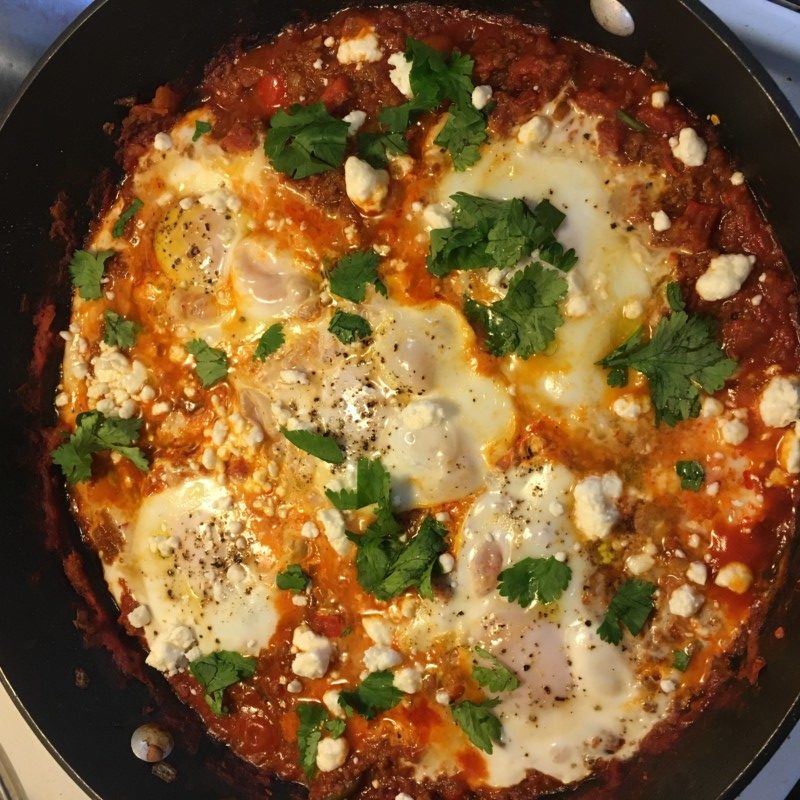 So now it is time to plate it up. I put some of the sauce in a bowl, topped it with the eggs, and served it with good crusty toast. At this point the sauce was still blazing hot, so let it cool for a minute or two before you dig in. Normally my food gets cold while I'm busy taking pictures of it, but not this time. It will also help your undercooked eggs set up a bit more.
I used Torta rolls from Costco as my toast, because they are my go to rolls and they worked prefectly here. Nice sturdy toast to dip in the eggs and sop up some spicy tomato goodness. But it isn't too spicy. The jalapenos cook long enough that they give a nice, relatively mild burn to the sauce, but they aren't spicy when you eat them.
I should have used a bigger bowl to better fit two eggs. This isn't the prettiest plated dish, but it sure is tasty. Seriously, it's so good. You should totally make some. Mmmm….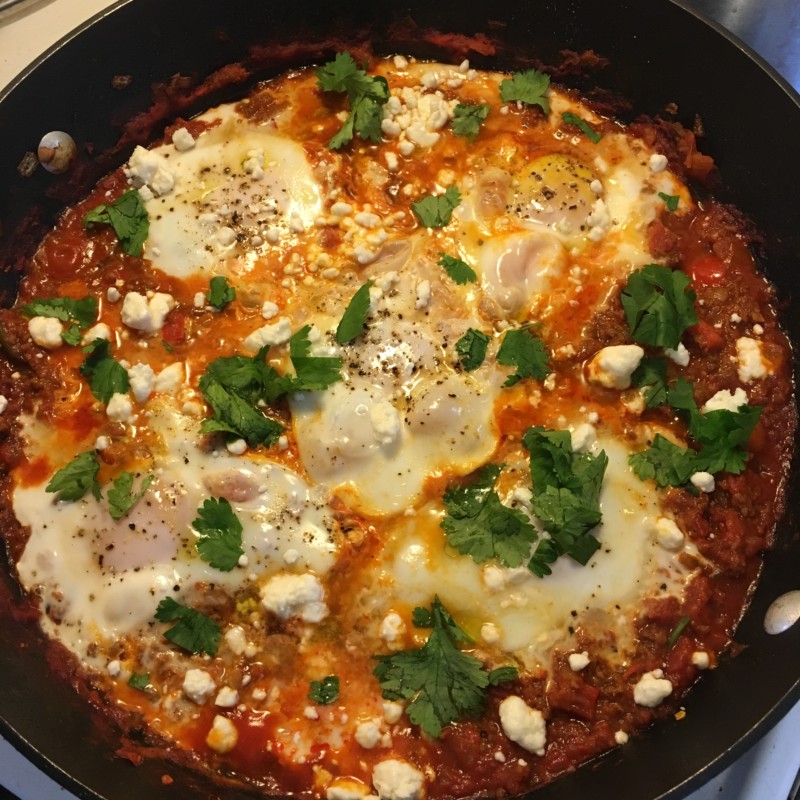 Shakshuka
2016-05-24 23:48:17
Eggs poached in spicy tomato/pepper sauce. A delicious dish from North Africa.
Ingredients
2 tbsp olive oil
1 large onion, diced
1 teaspoon salt, plus more to taste
1 cup diced red bell peppers
1 jalapeno pepper, seeded and sliced
1 teaspoon cumin
1/2 teaspoon paprika
1/2 teaspoon turmeric
1/2 teaspoon freshly ground black pepper
1/4 teaspoon cayenne
28-oz can crushed tomatoes
6 large eggs (or as many as you can fit in you pan)
crumbled feta cheese and fresh cilantro to finish
Instructions
Heat olive oil in a heavy skillet over medium high heat. Add onion and salt and saute until onion is soft and starting brown, about 10 minutes. Add red pepper and jalapeno and continue cooking until the peppers start to soften, about 5 minutes more. Add the cumin, paprika, turmeric, black pepper and cayenne. Mix into onion and pepper mixture and cook a 1 - 2 minutes more until spices are well combined and fragrant.
Add the crushed tomatoes and simmer over medium heat, stirring occasionally for 15 minutes. If sauce becomes too thick and paste like, you can add a small amount of water. After 15 minutes, taste the sauce and add salt to taste.
Make wells or depressions in the sauce using the back of a spoon, one well for each egg. Add a cracked egg to each well and season with the eggs with salt and pepper. Cover the pan and simmer while the eggs poach until they are cooked to your liking. About 15 minutes. Keep in mind that eggs will continue to cook in the hot liquid while you top and plate them.
Uncover and top with crumbled feta and cilantro. Serve eggs over sauce with toast for dipping.
Adapted from Chef John from Food Wishes
Crafty Cori Strikes Again http://craftycori.com/