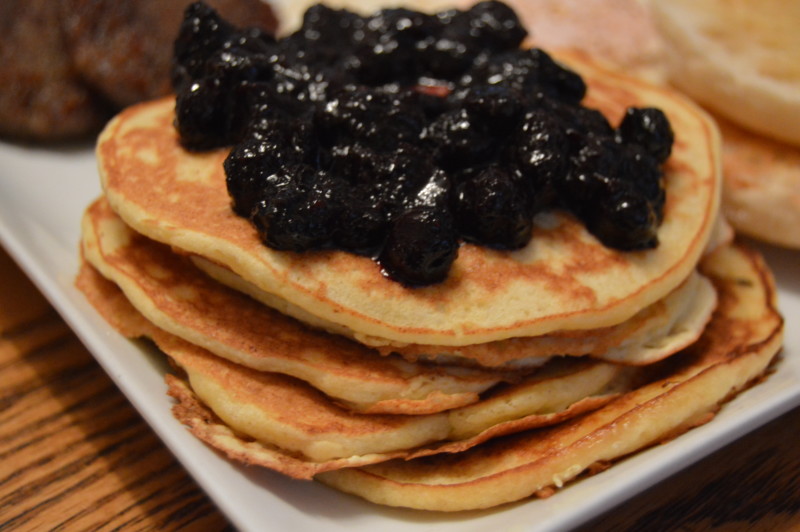 The North Shore of Lake Superior is one of my favorite spots for a weekend getaway. Or a week getaway for that matter. And my favorite breakfast spot in Duluth used to be Hell's Kitchen. An interesting restaurant with a goth theme. Black painted walls, chandeliers made out of knives hanging over your head, and the most fabulous breakfast menu. Their Lemon Ricotta Hotcakes were the sort of deliciousness that dreams are made of. So rich and fluffy and… did I mention delicious? Hell's Kitchen in Duluth closed several years ago now. Sure they have a location in Minneapolis, but somehow Duluth, though 3 times further away, was more convenient for me. So I've been missing these hotcakes for years. Until I stumbled upon this recipe on America's Test Kitchen.
Now really, what could make pancakes better than filling them with creamy ricotta cheese? Nothing that I can think of, but I really do love this recipe. You might think all that extra fat would make the pancakes heavy or soggy, but that isn't the case. The secret is whipped egg whites, which lighten the batter, so you can have the richness of the cheese with the fluffiness of a more traditional pancake.
So I will admit that these are slightly more complicated than your average pancake. You need to zest and juice a lemon, and separate the eggs. Then there is the actual whipping. But all in all it is not terribly complicated, and totally worth the extra couple minutes in prep.
The recipe starts out like most, whisk the flour, baking soda and salt together. Then make a well and add the wet ingredients, in this case, egg yolk, ricotta cheese, milk, lemon zest and juice, vanilla, and melted butter.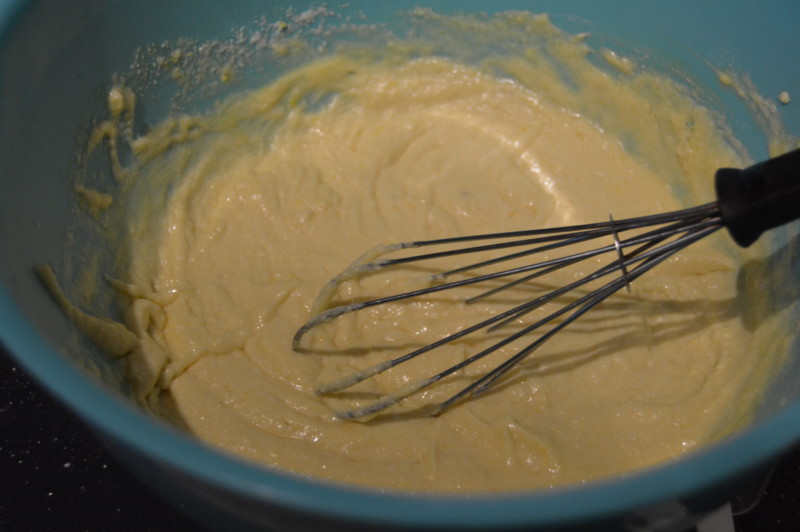 Then you whip the egg whites until foamy, add the sugar, and whip until soft peaks form. Then gently fold the whites into the rest of the batter. I'll admit that I overwhipped the eggs pictured and they were closer to stiff peaks. I can't say it mattered in the end.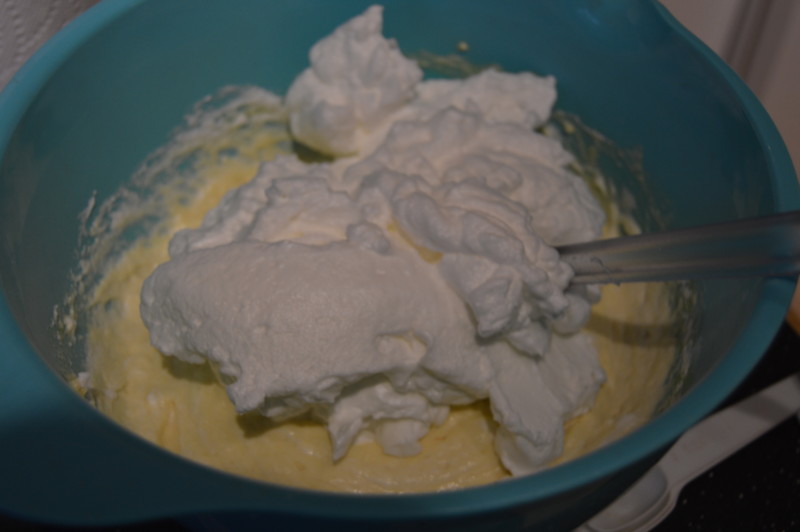 Now we just need to fry them up. I first tried using a cast iron griddle on the stove to cook these, but the heat was too uneven and they were turning out browner than I wanted. I switched to a electric griddle and had much better luck. Grease the griddle, then form the cakes using a 1/4 cup measuring cup. Since this batter is thicker than standard pancakes, they don't spread out on their own. I used the bottom of the measuring cup to gently spread the batter into a 4 inch round.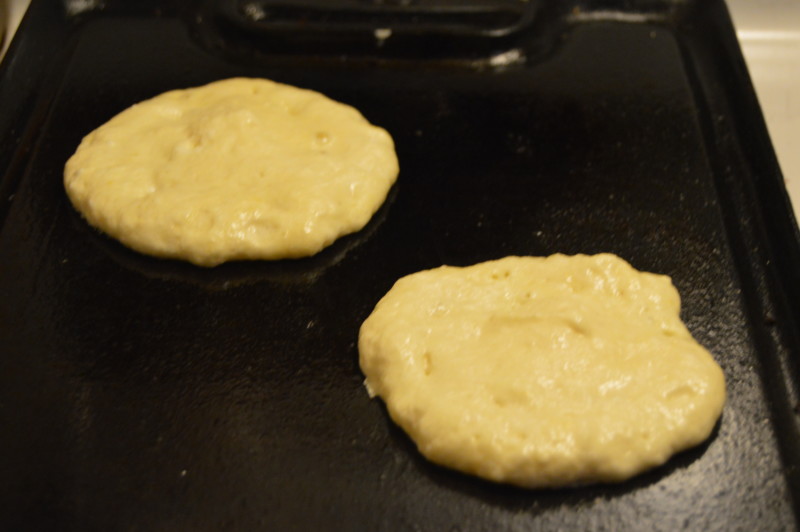 Cook on the first side until the cake is golden brown and the edges are set. If they are not done enough you'll know, as they'll be difficult to flip. Then flip and cook the second side. Move the cooked pancakes to a wire rack on baking sheet placed in a 200 degree oven to keep warm until the rest of the cakes are done. Regrease the pan between batches.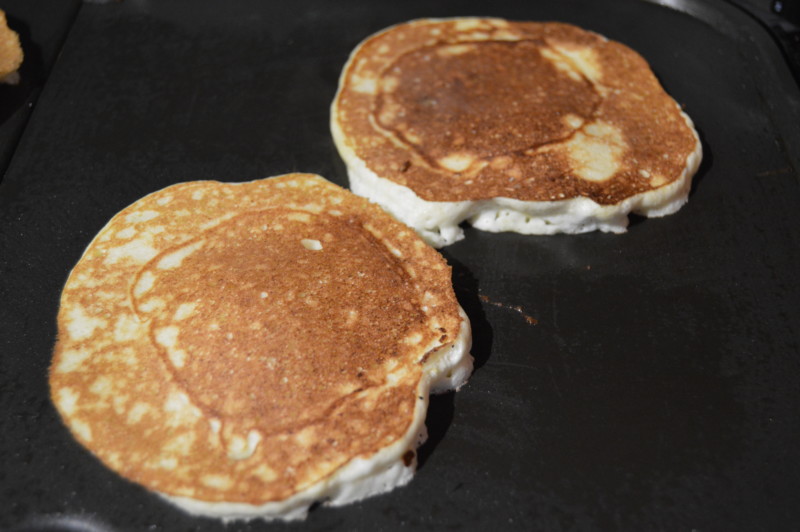 I am sure these would be fantastic with maple syrup, but at Hell's Kitchen they were served with berries. I made a quick berry topping with frozen blueberries. I added a bit of sugar and heated them until they released their juices and thickened up a bit.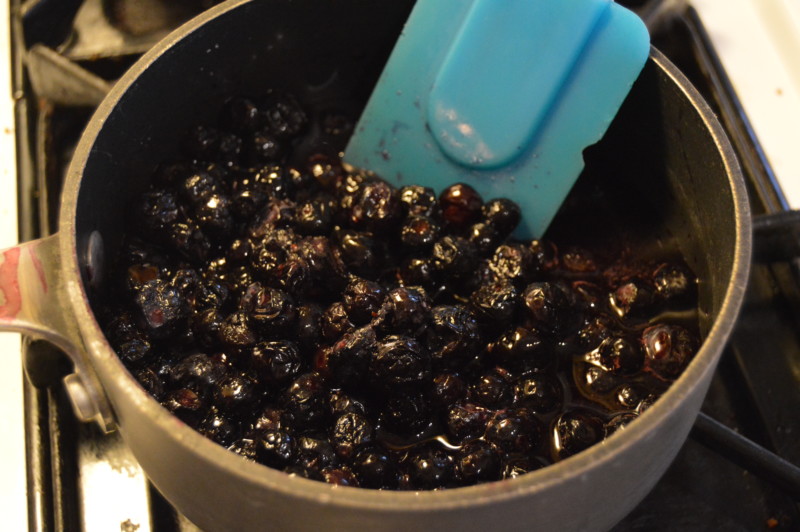 And then I ate them. Lots of them. In a big ol' stack. So good. Just as good if not better than what I remember at Hell's Kitchen. Rich, creamy, fluffy, flavorful. I don't know if I can go back to regular pancakes again. I've made this recipe twice now, and the 2nd time was even better than the first. Partly because I started with the correct pan, but I think mainly because the first time I could only find part-skim ricotta. The 2nd time I had the full fat stuff, which I highly recommend.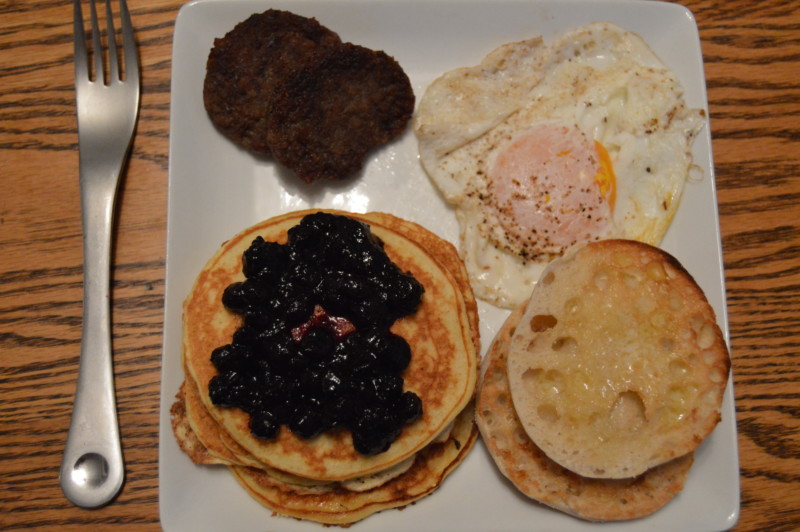 As you can see here, I made eggs and sausage and toast to go with them. Totally unnecessary, just eat more hotcakes. You won't regret it. The recipe makes at least 16 pancakes. We've yet to have leftovers. They are too good to go uneaten.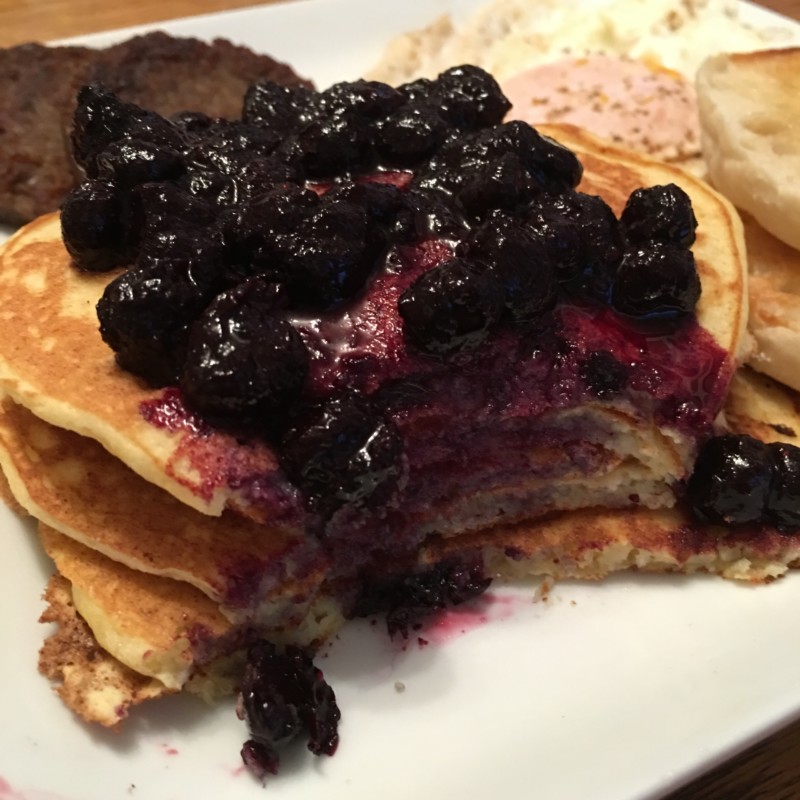 Lemon Ricotta Hotcakes
2016-05-26 23:41:02
So much better than your old pancakes
Ingredients
2/3 cups (3 1/3 ounces) all-purpose flour
1/2 teaspoon baking soda
1/2 teaspoon salt
8 ounces (1 cup) whole-milk ricotta cheese
2 large egg yolks
4 large egg whites
1/3 cup whole milk
1 teaspoon grated lemon zest plus 4 teaspoons juice
1/2 teaspoon vanilla extract
2 tablespoons unsalted butter, melted
1/4 cup (1 3/4 ounces) sugar
1 – 2 teaspoons vegetable oil or cooking spray
Instructions
Adjust oven rack to middle position and heat oven to 200 degrees. Spray wire rack set in rimmed baking sheet with vegetable oil spray and place in oven. Whisk flour, baking soda, and salt together in medium bowl and make well in center. Add ricotta, egg yolks, milk, lemon zest and juice, and vanilla and whisk until just combined. Gently stir in melted butter.
Using stand mixer fitted with whisk, whip egg whites on medium-low speed until foamy, about 1 minute. Increase speed to medium-high and whip whites to soft, billowy mounds, about 1 minute. Gradually add sugar and whip until glossy, soft peaks form, 1 to 2 minutes. Transfer one-third of whipped egg whites to batter and whisk gently until mixture is lightened. Using rubber spatula, gently fold remaining egg whites into batter.
Heat 1 teaspoon oil in 12-inch nonstick skillet over medium heat until shimmering. Using paper towels, wipe out oil, leaving thin film on bottom and sides of pan. Using ¼-cup measure or 2-ounce ladle, portion batter into pan in 3 places, leaving 2 inches between portions. Gently spread each portion into 4-inch round. Cook until edges are set and first side is deep golden brown, 2 to 3 minutes. Using thin, wide spatula, flip pancakes and continue to cook until second side is golden brown, 2 to 3 minutes longer. Serve pancakes immediately or transfer to prepared wire rack in preheated oven. Repeat with remaining batter, using remaining oil as needed.
Adapted from America's Test Kitchen by way of Hurry Before It Wilts
Crafty Cori Strikes Again http://craftycori.com/