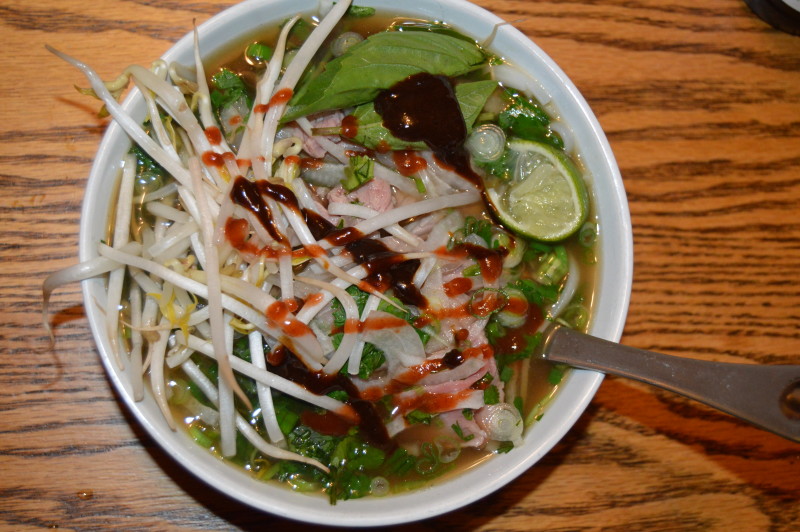 Full disclosure: I had never had pho before making this recipe and still haven't had it anywhere else. I have no idea if this is authentic or if it tasted "right". What I can tell you is that it was delicious, and that is all that matters, to me at least.
What I can tell you about pho I learned mostly on wikipedia. It is a Vietnamese noodle soup, containing rice noodles, a flavorful broth with herbs and spices, chicken or beef, served with additonal fresh herbs and various condiments such as sriracha or hoisn sauce. Also, it is not pronounced 'Foe', but rather Fuh, as in, "this soup is pho-king awesome." Yep, now I never forget how to pronounce it. I had first read of pho on Reddit, with many posters commenting on how delicious it is. Then I saw this recipe on America's Test Kitchen, and decided I needed to make it. I started craving it, as much as you can crave something you've never eaten. I randomly announced to Ryan that I was going to make it for dinner the next night, and went in search of the ingredients. Nothing was hard to find in a decent grocery store, there just isn't a decent grocery store in Red WIng. If you are in the Twin Cities area, I found what I needed at Lunds, but I bet Cub would have had it, too.
You start the broth by boiling hamburger. Not the most appetizing, but the idea was to add a deep beef flavor without the need for bones, oxtail, or other more traditional methods of making beef broth.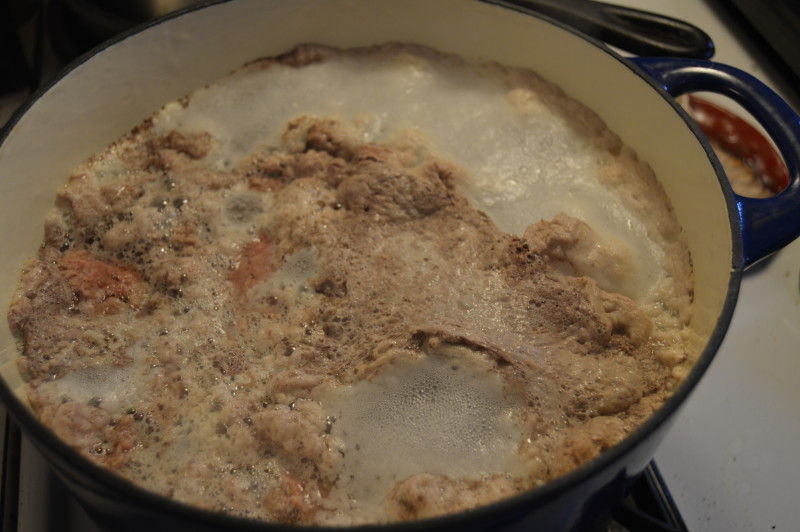 Once the hamburger is cooked through, it is drained and returned to the pot, then you add water, beef broth, fish sauce, onions, fresh ginger, star anise, cinnamon sticks, cloves, peppercorns, sugar and salt. Let it simmer for 45 minutes. I used a mandolin to slice the ginger, and it was super easy. I don't know why it took me so long to buy one. The recipe called for 6 star anise pods and it still isn't clear to me if they meant the whole star, or the points. The internet didn't really help me because no one else used the term pod with star anise. I searched other recipes and decided on whole stars. It was a little strongly anise flavored. Next time, I'll probably use 3 or 4 stars instead. I don't think 6 points would have been enough.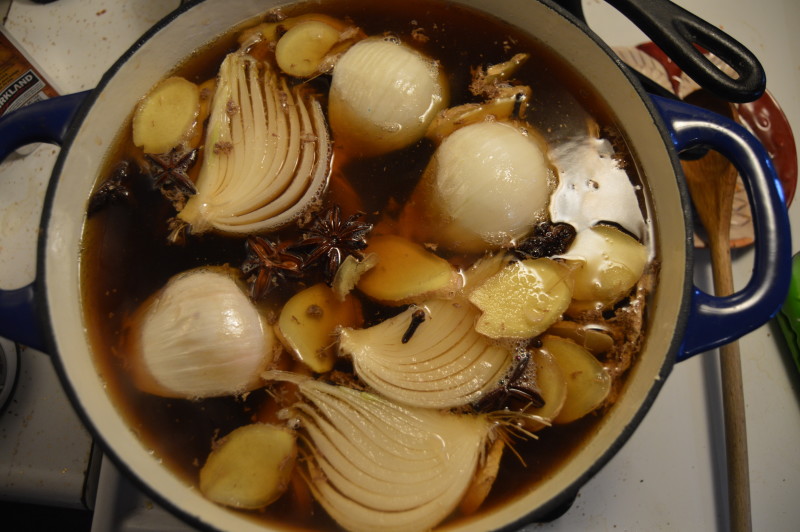 While the broth simmered, I prepped the rest of my veggies. Onions, scallions, cilantro, basil, limes, bean sprouts.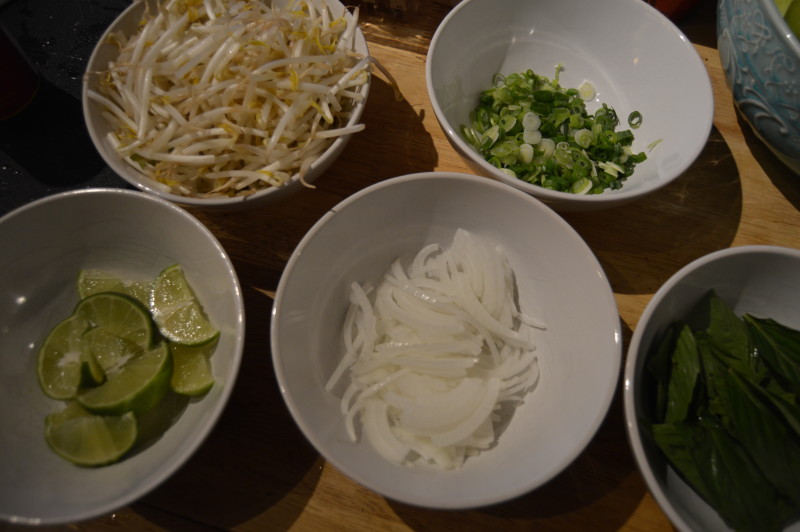 I also put the steak in the freezer until firm, then sliced it really thin. You don't actually cook the steak for this recipe. You put it in the bowl raw, and the hot broth cooks it.
When the broth is done simmering, it needs to be strained through a colander to remove the solids, then strained again through a fine mesh strainer and cheese cloth. I didn't have any cheese cloth, so I actually used a cheapo cloth diaper that we use for spit up. It was freshly laundered and had never come into contact with anything worse than slightly digested milk. It worked perfectly and the broth was silky smooth.
So now, the broth is on low to stay warm and the meat and toppings are in the fridge. This could all be done ahead of time until you are ready to eat. You need 20 minutes from this point to serve the soup.
Next, we need to prepare the noodles. They soak in hot tap water for about 15 minutes until pliable. While they are soaking, bring water to a boil to cook the noodles. They only take about a minute to cook, then drain and divide them among individual bowls.
Now turn up the heat on the broth and bring it to a boil. While it is heating, shingle slices of steak over the noodles in each bowl, then top with onions, scallions, and cilantro.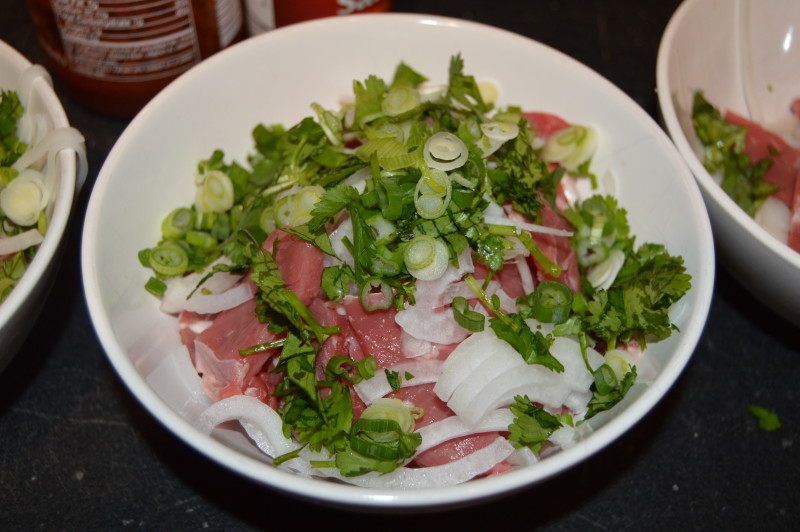 Then ladle boiling broth over the meat, and top with basil, bean sprouts, a squeeze of lime, sriracha, hoisin, and fish sauce as desired.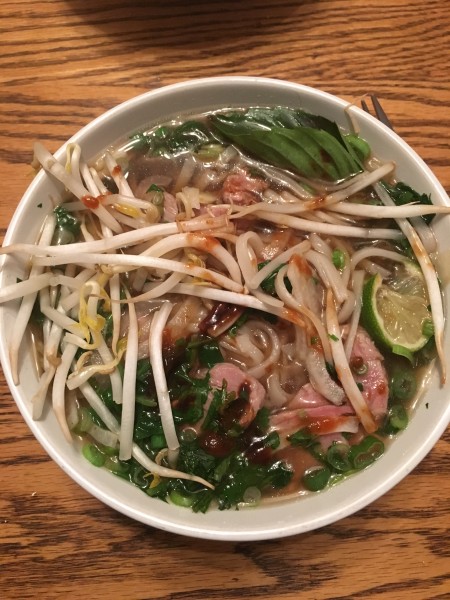 Then eat it. It is so tasty and warm. I was afraid with all those strong spices, it would taste overpoweringly of licorice, but I didn't find it to be true. The broth is very flavorful but the flavors are balanced. I found I liked the sprouts, scallions, lime, basil and sriracha, but felt the hoisin and fish sauce distracted from the broths flavor.
This made more than enough for the 3 of us who where eating. I only cooked half the noodles, so we could eat leftovers later in the week. With the broth already made, it was a very easy weeknight meal, just to heat up the broth, cook the noodles and slice the steak and veg.
Like I said, I have no idea if what I made is what pho is supposed to taste like, but I liked it a lot and will definitely make it again.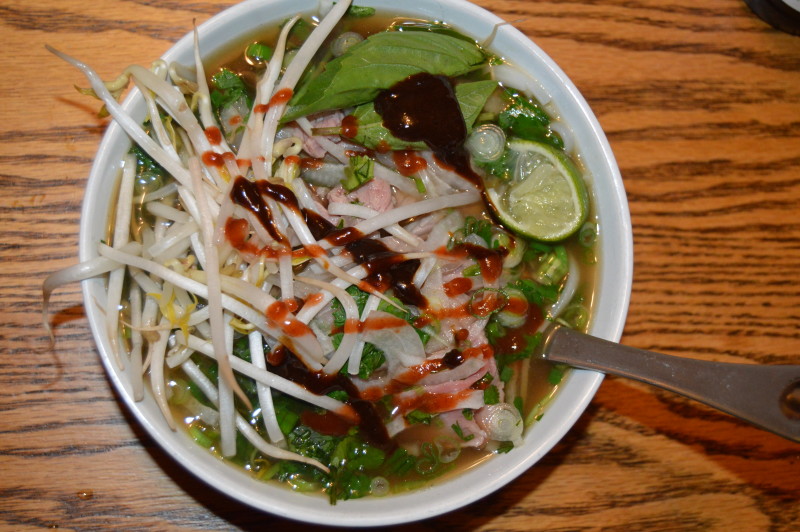 Vietnamese Beef Pho
2016-03-26 17:04:12
A flavorful Vietnamese style noodle soup.
Ingredients
1 pound 85 percent lean ground beef
2 onions, quartered through root end
12 cups low-sodium beef broth
¼ cup fish sauce, plus extra for seasoning
1 (4-inch) piece ginger, sliced into thin rounds
1 cinnamon stick
2 tablespoons sugar, plus extra for seasoning
6 star anise pods
6 whole cloves
Salt
1 teaspoon black peppercorns
1 (1-pound) boneless strip steak, trimmed and halved
14-16 ounces (⅛-inch-wide) rice noodles
⅓ cup chopped fresh cilantro
3 scallions, sliced thin (optional)
bean sprouts
Sprigs fresh Thai or Italian basil
Lime wedges
hoisin sauce
Sriracha sauce
Instructions
1. Break ground beef into rough 1-inch chunks and drop in Dutch oven. Add water to cover by 1 inch. Bring mixture to boil over high heat. Boil for 2 minutes, stirring once or twice. Drain ground beef in colander and rinse well under running water. Wash out pot and return ground beef to pot.
2. Place 6 onion quarters in pot with ground beef. Slice remaining 2 onion quarters as thin as possible and set aside for garnish. Add broth, 2 cups water, fish sauce, ginger, cinnamon, sugar, star anise, cloves, 2 teaspoons salt, and peppercorns to pot and bring to boil over high heat. Reduce heat to medium-low and simmer, partially covered, for 45 minutes.
3. Pour broth through colander set in large bowl. Discard solids. Strain broth through fine-mesh strainer lined with triple thickness of cheesecloth; add water as needed to equal 11 cups. Return broth to pot and season with extra sugar and salt (broth should taste overseasoned). Cover and keep warm over low heat.
4. While broth simmers, place steak on large plate and freeze until very firm, 35 to 45 minutes. Once firm, cut against grain into 1/8-inch-thick slices. Return steak to plate and refrigerate until needed.
5. Place noodles in large container and cover with hot tap water. Soak until noodles are pliable, 10 to 15 minutes; drain noodles. Meanwhile, bring 4 quarts water to boil in large pot. Add drained noodles and cook until almost tender, 30 to 60 seconds. Drain immediately and divide noodles among individual bowls.
6. Bring broth to rolling boil over high heat. Divide steak among individual bowls, shingling slices on top of noodles. Pile reserved onion slices on top of steak slices and sprinkle with cilantro and scallions, if using. Ladle hot broth into each bowl. Serve immediately, passing bean sprouts, basil sprigs, lime wedges, hoisin, Sriracha, and extra fish sauce separately.
Adapted from America's Test Kitchen
Adapted from America's Test Kitchen
Crafty Cori Strikes Again http://craftycori.com/