Stripey Giraffe Amigurumi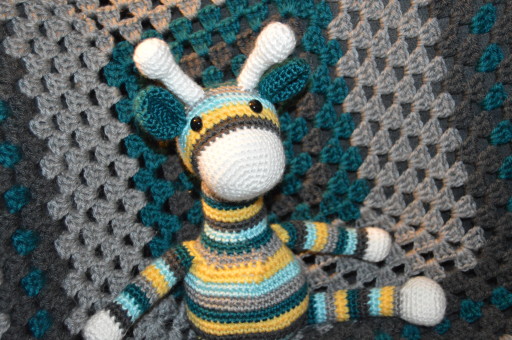 One of my new favorite patterns for quick gift for a little one is this Stripey Giraffe from Emma at I Love Buttons. I have made 4 of them now, each one cuter than the last. They are a great way to use up left over yarn from other projects. I personally think the more colors, the more fun.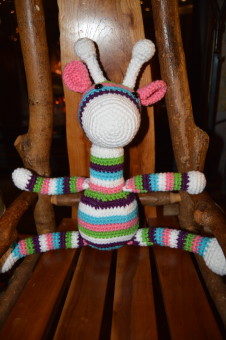 I made 3 of these as Christmas gifts for my nieces and Liam and then made another in January as a shower gift for my very good friend who gave birth to a baby boy in March. (As you can see, I am still behind on my posting). The pattern is worked in continuous rounds in single crochet, so it is simple to work up if you've done any other amigurumi and are familiar with using a stitch marker and making regular increases and decreases. I followed the pattern as written, except I used a larger hook. It calls for a 3mm hook with worsted weight yarn. Just thinking about it makes my fingers hurt, so I went up to an F hook. My giraffe might be just a bit bigger than the original, but it is the perfect size for snuggling. If I had to wager a guess, I'd say they are about 18 inches tall standing up. I'd measure, but Liam is asleep with his upstairs. I also used 9 mm safety eyes rather than sewing on the eyes and I skipped the mouth because I couldn't manage to make it look right.
Liam loves his Raffie the Giraffie, as I've named it. I loved making them and coming up with new color combinations. Liam's was just made out of a bunch of left over yarn in my stash, where the others were made to coordinate with blankets. The possibilities are truly endless and I doubt I've made my last giraffe.