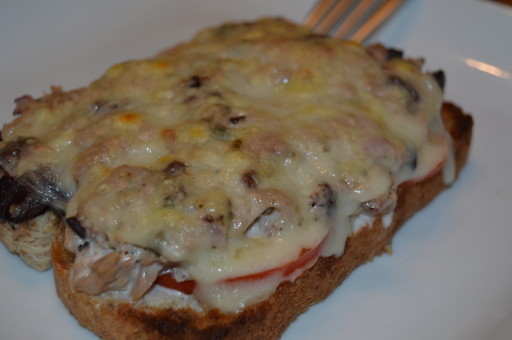 Ryan hates tuna fish. He's wrong. Tuna is delicious. But I don't eat it very often, because I rarely am making myself dinner. But every now and then Ryan will be off somewhere leaving me to fend for myself. And this is one of my go to meals. It is not your average tuna fish sandwich. It is so much better.
The recipe is originally from Emeril Lagasse and I got it from the food network's website. I had a can of tuna and wanted something more than tuna and mayo on bread. This definitely fit the bill. The addition of kalamata olives, red onion, and capers takes this tuna melt to the next level. Kicks it up a notch, if you will. The original called for provolone cheese, but I never have any on hand so I used swiss instead. Still totally delicious.
You start just by mixing all the ingredients in bowl with a bit of mayo.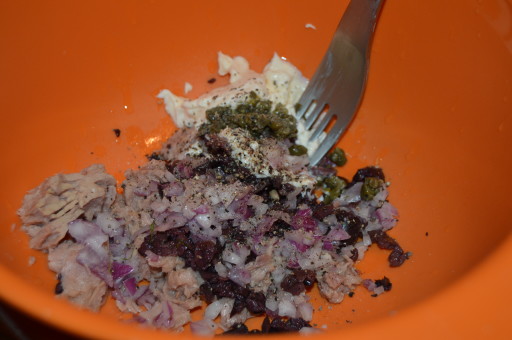 Then you assemble the sandwich. Bread, mayo, slice of tomato, tuna mixture, cheese. Easy peasy.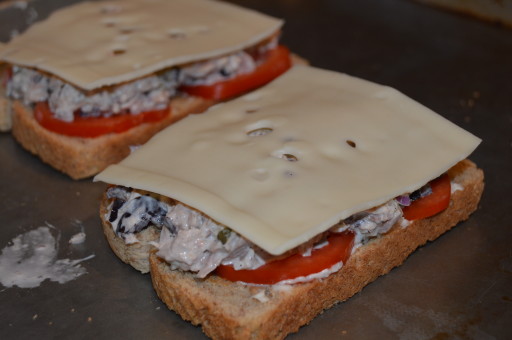 Then throw that baby under the broiler until the cheese gets hot and bubbly.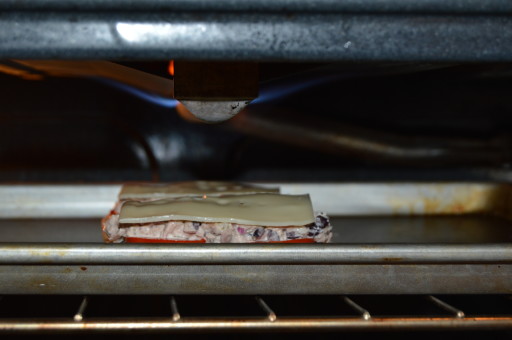 Then, BAM, delicous deliciousness.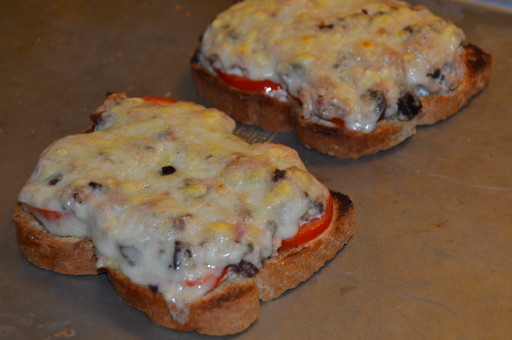 Seriously, I can not go on enough about how much I love this tuna melt. You should go make one. They are super simple, take all of 5 minutes, and couldn't be more delicious. Unless of course you are wrong, like Ryan, and don't like tuna.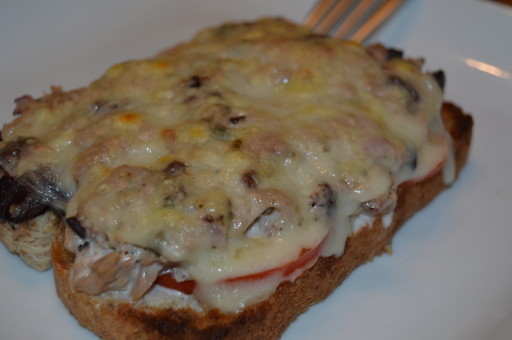 Kicked Up Tuna Melt
2015-05-24 00:00:40
The additional of olives and capers takes this tuna melt up a notch
Ingredients
1 (6-ounce) cans solid white tuna packed in water, drained
2 tablespoons kalamata or other brine-cured black olives, pitted and minced
1 tablespoon mayonnaise, plus more for spreading
1 tablespoon finely chopped red onion
1 teaspoon capers, drained
1 teaspoon freshly ground black pepper
1 1/2 teaspoon fresh lemon juice
1/ teaspoon salt
2 slices bread
2 tomato slices
2 slices swiss or provolone cheese
Instructions
Preheat the broiler and position the oven rack about 6 inches from the broiler.
Combine the tuna, olives, mayonnaise, red onion, capers, black pepper, lemon juice, and salt in a medium bowl. Stir until well mixed.
Arrange the bread slices on a work surface. Lightly spread each slice of bread with additional mayonnaise and top with 2 tomato slices each. Divide the tuna salad evenly among the 4 bread slices over the tomatoes. Top the tuna salad with slices of provolone.
Place sandwiches on a sheet tray and place under broiler. Cook until cheese is golden and bubbly, about 5 minutes.
Notes
Makes 2 open face tuna melts
Crafty Cori Strikes Again http://craftycori.com/