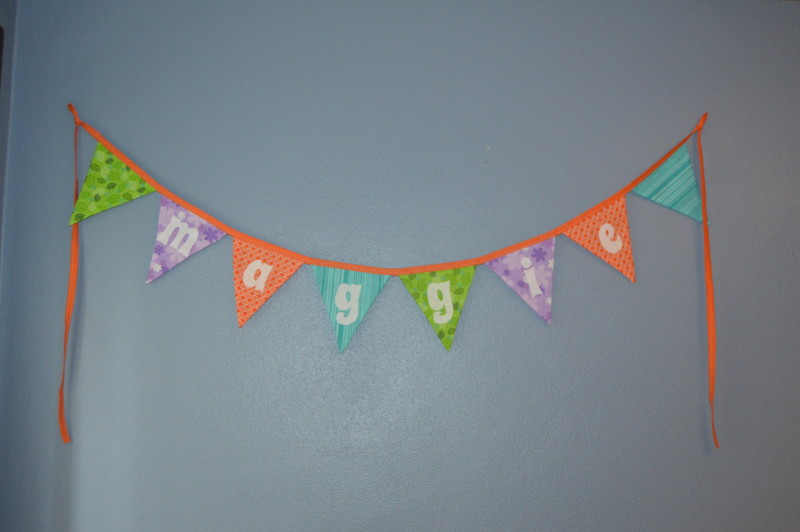 Since Liam and his new baby sister will have to share a room for the foreseeable future, I wanted to make sure each had a place to call their own. So I decided to make a banner with their name on it to hang over their bed/crib. This was much more important to me than it is to a 2 year old and a yet to be born baby. But I went into nesting mode and spent my Mother's Day making these banners.
I searched Pinterest for hours trying to find a tutorial that would tell me how to make the bunting and how to get letters on it. In the end I just combined bits and pieces of about 50 different links to come up with a plan. And it is surprising easy and can be done with the most rudimentary of sewing skills. (Which is good, because that is all I have.)
My first step was to find fabric. I bought Fabric Quarters in 4 patterns that I liked and would coordinate with the colors already in the nursery. I bought a 5th quarter in white for the letters. It actually has little white star on white background, but no one will ever be able to tell. I was originally going to do colored letters as well, but decided that white would be easiest to read. The fabric quarters were $2.50 a piece and were the perfect size for the number of flags I was making. It might have been cheaper to buy a 1/4 yard of by the yard fabric, and I would have had more choices, but not having to wait in line for an hour at the cutting counter at JoAnn was worth the extra buck or 2.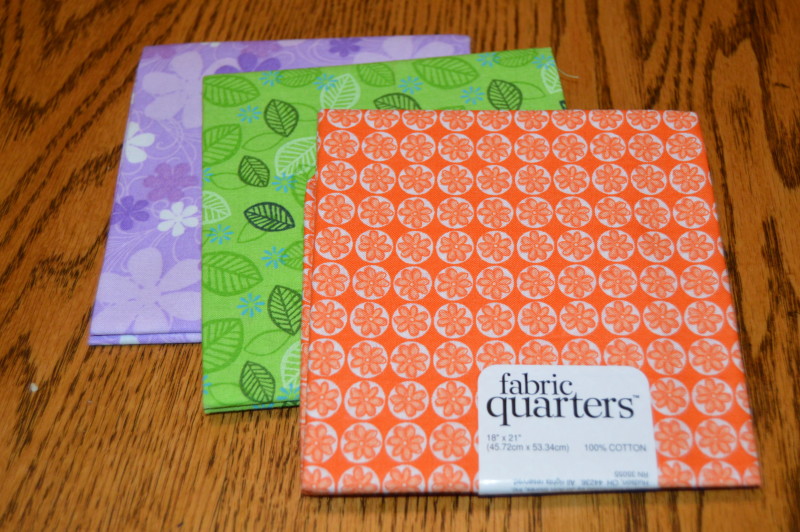 Liam's room is painted blue, accented in teal, orange and green and has a woodland creatures theme. I thought these colors and patterns fit right in. I added purple to "girly" it up for Maggie and tie in the colors in African Flower Blanket I crocheted for her.
So, to make the flags for the bunting, I needed to cut out triangles, two for each flag, and sew them together. That was easy enough to figure out. What size to make them was harder. I couldn't find what seemed to be a standard size between all the blog posts I found on Pinterest. I finally cut various sized triangles out of paper and strung them up with scotch tape on my living room wall, trying to decide what looked best. I finally decided on finished flags that were 6 inches across the top and 6 inches tall, making the sides of each triangle closer to 7 inches. I cut out a template that was 1 inch bigger in each direction to allow for a seam allowance and then traced it onto the backside of the fabric, remembering to cut out two triangles for each flag I wanted of that color.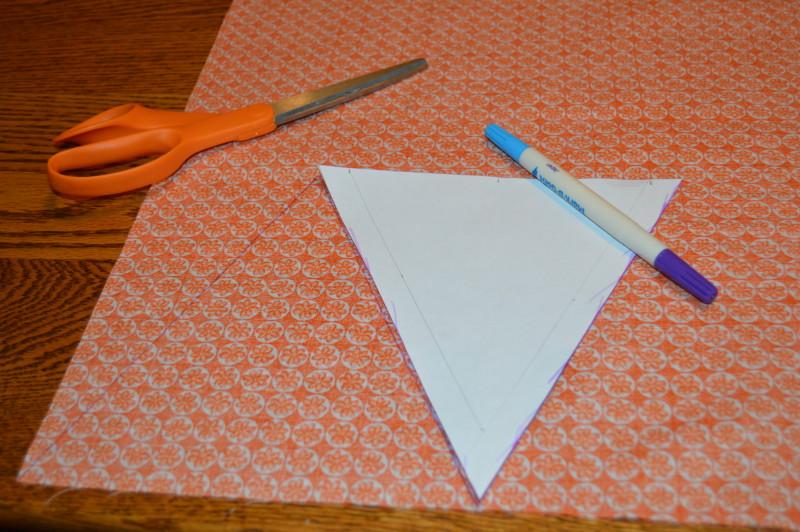 Once I had all the triangles cut out, I sewed them together, right sides facing, along the two longer edges, leaving the top open.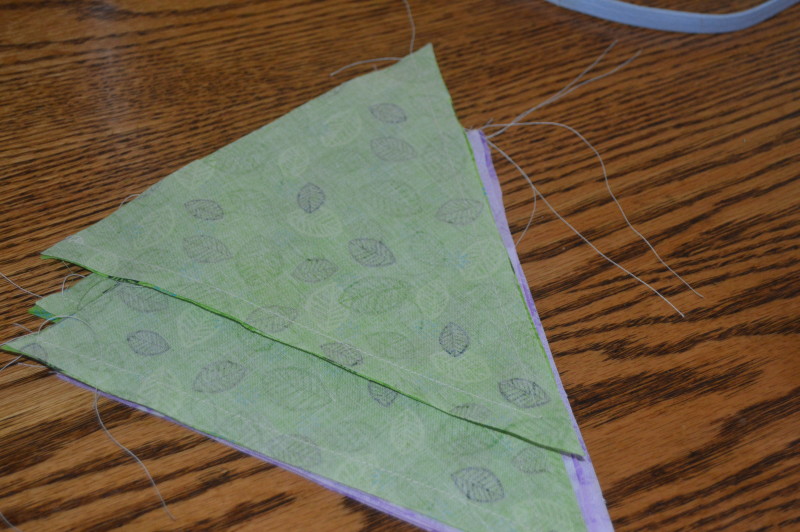 Next, I cut off the tip of the triangle, so it wouldn't get all bunched up, then turned the triangles right side out. I used the tip of a bamboo kebab skewer to get the point all the way out.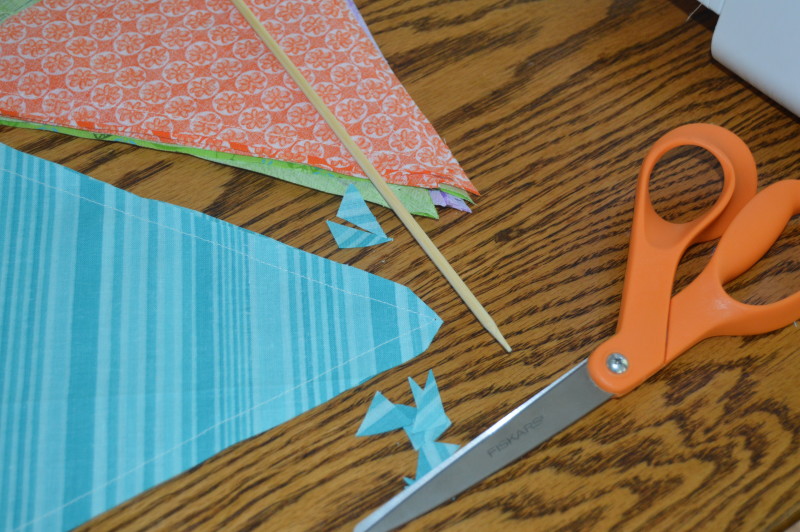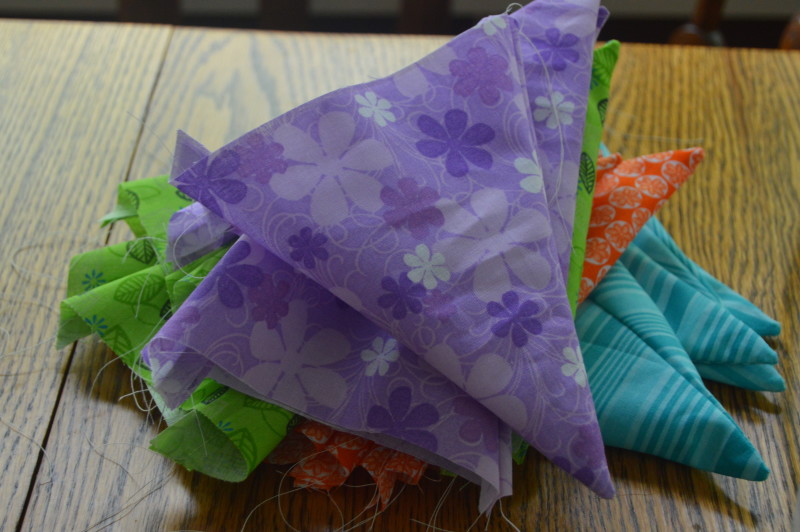 What I was left with was closer to cones than flags, so I ironed the triangles flat. Then there were little bits of fabric that stuck out the top of the flags. I just trimmed that right off.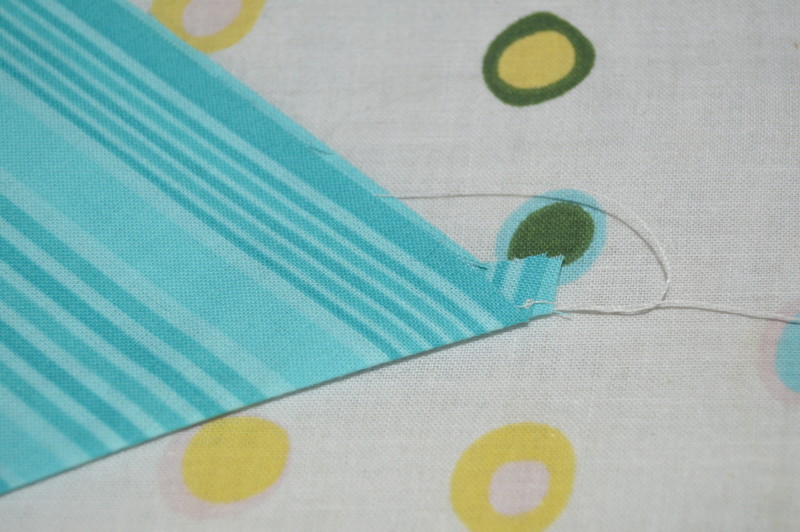 So now i had all the flags for my banners, the next problem to solve was how to get letters on them. that is when I discovered double sided adhesive webbing. Now I can applique al the things. Seriously, this stuff is fun.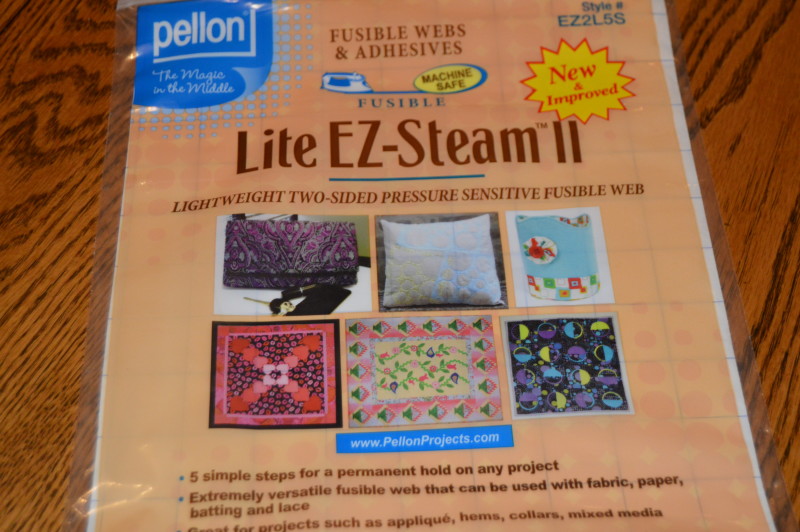 I found a font I liked and printed out the letters I needed to spell the kids names. The one I picked was in Google Docs, called Spicy Rice, which I thought was fitting since I've been craving spicy Chinese food this whole pregnancy. I decided I liked all lower case best. It took me a couple tries to get the right size to fit my flags and it will vary depending on the font, but these ended up being 250 point. The directions on the webbing said to trace letters reversed onto the grid side of the webbing. To do that I ended up first tracing the letters with a Sharpie marker just through the backside of the paper so they were reversed. I felt like I should have been able to print the reversed, but couldn't figure out how. Anyway, once I had reversed letters, tracing on to the webbing was easy.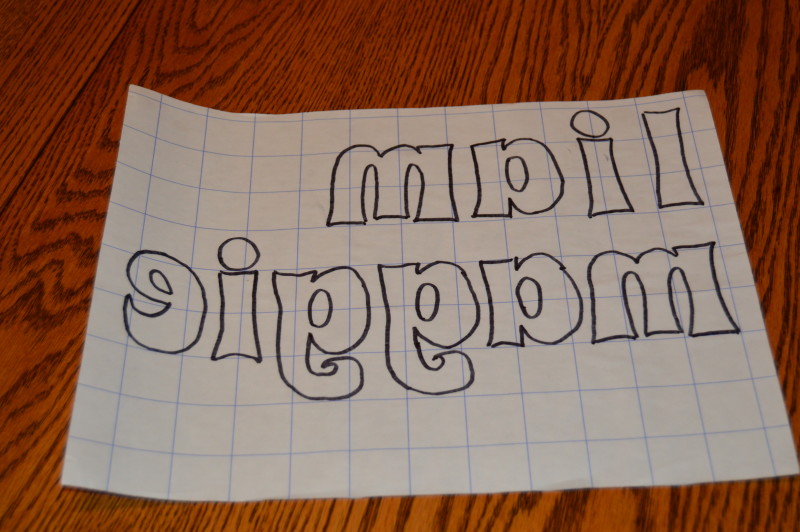 At this point I trimmed off the excess webbing, then peeled off the backing. This makes the sheet sticky, but movable so you get it aligned correctly on your fabric.
And we are still not ironing. The directions say you can if you want to, but it is sticky enough to cut out without. I didn't have any trouble, even with the centers of letters where I had to fold the letters to cut.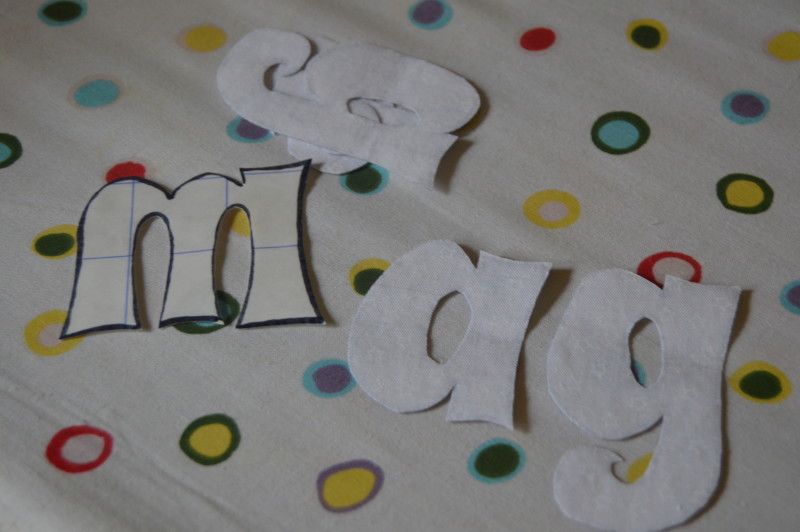 Next, peel off the gridded backing and stick to the fabric. the appliques are still movable so you can get them in the perfect spot.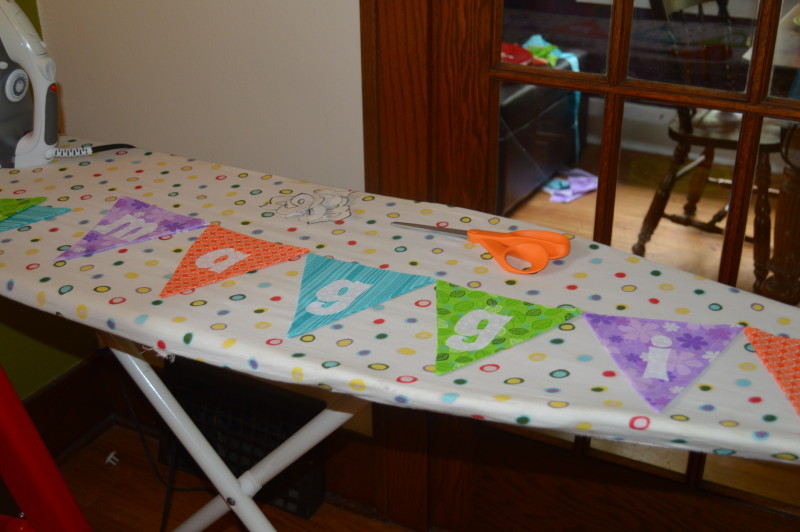 Then you can finally iron them on. Once ironed the are permanently stuck, no need to sew, which was good news for me. I have no idea how I would have sewn around the font I picked. If you did want to sew around the letters as decoration, I would apply the letters to the triangles before you sew the flags together.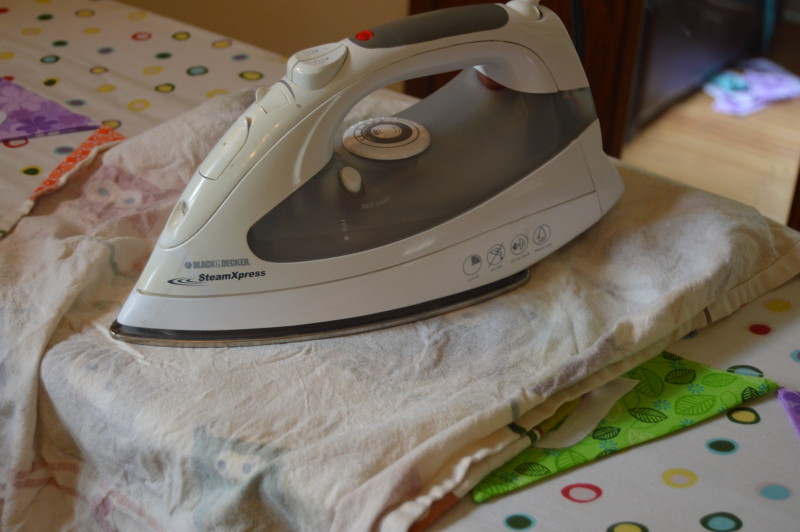 The appliques were really fun to make and I have plenty of left over webbing. I'm thinking of all sorts of things I can make iron on appliques for.
Anyway, the last step in this adventure was to string the flags together. I was having trouble deciding how to do this, and when I stumbled on the answer it seemed so gloriously simple. Bias tape. I don't sew much, ans don't quilt, so I'd never had a use for bias tape before. It is really just a very long skinny piece of fabric folded in half the long way twice as to make a nice edge. you can make your own, but for a couple bucks you can by nine feet of it in almost any color.
So all I did was tuck the top of the flags into the bias tape, make sure the flags were evenly spaced and pinned them in place. I used 1 9-foot length for each banner, centering the name. This left plenty of extra on each side to use to hang the banner.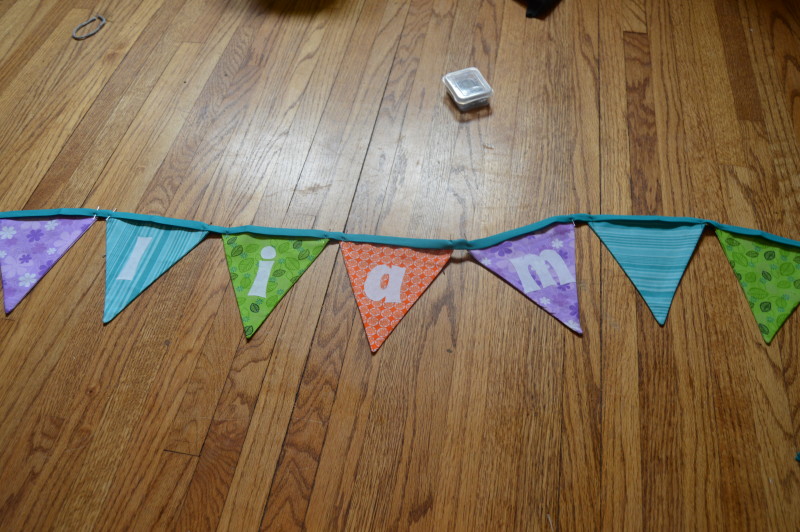 Then it was just one long seam sewn all the way down the bias tape.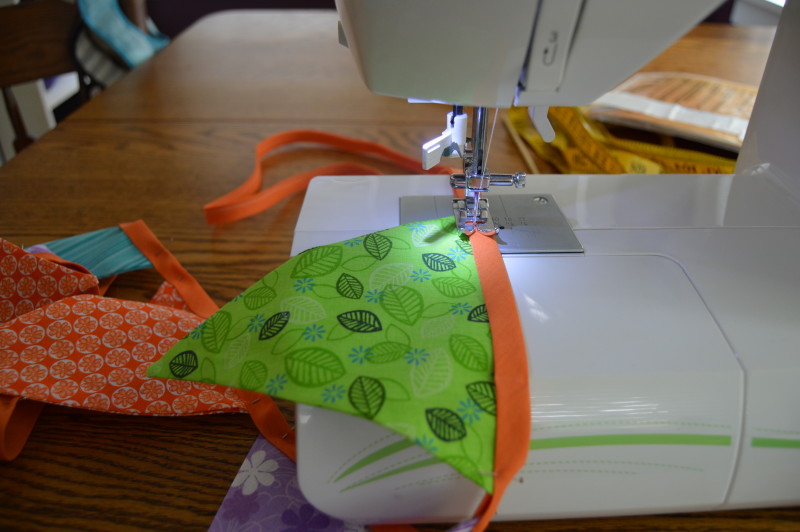 And that's it. It's ready to hang on the wall. I just put a small nail at each end, once I decided how much drape it should have, then knotted a loop to hang on the nail. I love the way they turned out and think the bunting was the perfect finishing touch to the nursery.