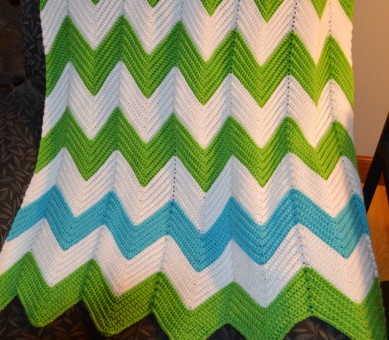 I am still working on catching up on old posts. So here are the blankets I made for my nieces for Christmas. Cutest story ever. I was working on the Sock Monkey Blanket for my new baby niece at my in-laws house last spring. My then 3 year old niece came up to me and said, "Auntie Cori, are you making me a new lovey?" So sweet, it broke my heart to have to tell her no, I was making a blanket for a new baby. I didn't start crocheting until my eldest two nieces were past the baby blanket stage, so while I had made them plenty of crocheted things, like bugs in fruit, I hadn't made her a blanket, and obviously after this conversation, that had to change.
So I promised that I would make her a blanket, but warned her it might take a while, like until Christmas. Which I'm sure seemed like forever away from May for a 3 year old. She probably forgot all about it by Christmas, but that's okay. I made a promise. Her favorite color is green and asked about a secondary color she said blue. So I needed a pattern that I could make in green and blue, that wasn't too babyish since she'd be 4 by the time she got it, but was still suitable for a little girl. Enter this Chevron Blanket Pattern from All Things Bright and Beautiful. I looked at lots of patterns for different chevron blankets, and this one was my favorite. I liked the ridged texture and the idea of making one stripe a contrasting color. I liked it so much, I made two, one for my 6 year old niece as well.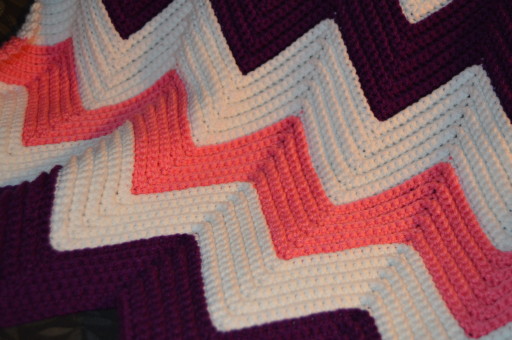 The entire blanket is single crochet, so while it is super easy, it is time consuming. The ridged texture is made by crocheting in the back loops only and the chevron pattern is made by simple increases and decreases. The trick to the whole thing is is getting the right count on your starting chain, and the first row. I highly recommend stitch markers at each increase/decrease. Then it was as simple as moving the marker up a row and you don't need to count stitches. Just mindlessly single crochet.
Unfortunately I wasn't smart enough to measure the blankets before I gave them away, or if I did, I didn't write it down. I do know that I did 10 rows to a stripe and the finished blanket was 13 stripes. This made a nice size throw that a 4 or 6 year old could curl up in and it would work as a throw or lap blanket for an adult.
I used Red Heart Super Saver for these blankets. Not normally my favorite yarn, but these were larger blankets than I make for babies and since it is all single crochet used up quite a bit of yarn, and I wanted to keep them in my Christmas budget. I can tell you that once I washed them, they were really soft and cuddly. I believe 1 skein of super saver would get me almost 3 stripes on this blanket. So I needed part of one of the accent color, but I had to use part of a 2nd skein of the main color and white per blanket.
Other than being time consuming, I'd definitely use this pattern again. I was thinking that for a boy, white and navy with a bright green or orange stripe would be fun. Or perhaps white and grey with pink, aqua, or yellow would be great in a smaller size for a nursery. You could also very the widths of the stripes to get a different affect. Really the possibilities are endless.