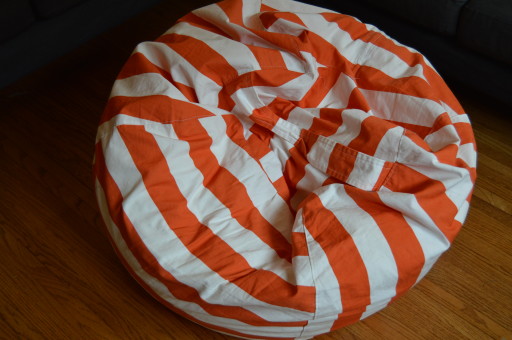 I decided last summer that Liam needed a bean bag chair for his birthday. I envision him sitting in the corner, in his bean bag chair, reading Dr. Seuss. Now, a reasonable person might go to Target or Wal-Mart and buy a perfectly acceptable bean bag chair for about 25 bucks and call it a day. I, however, am rarely reasonable. So let me introduce you to the world's most expensive bean bag chair.
Since my sewing skills leave something to be desired, I had no idea how to tackle this without some sort of pattern. I scoured the internet in search of a pattern or tutorial on sewing a bean bag chair. I decided this Rollie Pollie pattern from Made was the best one out there. The pattern is $8 and worth every penny. You get a PDF with patterns for two different size Rollie Pollies, step-by-step instructions for each step including photos, as well as recommendations for where to get fabric and filling. I have no complaints about the quality of the pattern. Everything was exceptionally easy to follow. I highly recommend it. I made the large rollie pollie. It is a bit big for my tiny little man, but big enough that Ryan uses it while playing video games. Ideally he'd have a bigger one, but it totally works for a 2 year old and a 6 foot adult male.
The pattern actually makes two shells, an inner and outer. The outer has a zipper so you can easily take it off and wash it while the inner one holds all the filling. Next time I'd put a zipper on the inside, too, making it easier to add filling if need be.
The pattern recommended fabric from Ikea, and I totally second that if you have an Ikea in your area. They don't sell fabric online. But they had a wide range of different patterned fabric, all a heavy cotton twill, and all for reasonable prices. I believe the orange and white stripe I picked was 6.99 a yard. I also bought the inner fabric there, in plain white and I think that was only 5 something a yard. I needed 3 yards of each color, so I ended up spending about $45 on fabric. Yes, more expensive than buying a bean bag chair at Wal-Mart, but I could pick the exact color and pattern I wanted.
Armed with the pattern, my fabric, and my sewing machine, I set forth to sew my bean bag. You start by printing out the PDF pattern, taping it together, and cutting it out. I actually found this quite fun. Then trace it onto the fabric. I was nervous that if I laid out the pattern wrong, I wouldn't have enough fabric but I had more than enough with plenty of wiggle room. The pattern makes 4 panels and I decided to run the stripes horizontal on two and vertical on the others. Fun fun.
Sewing wasn't difficult either. I started with the inner bag, leaving a gap for filling. Then I made the outer bag. I hadn't decided on filling yet, that is why I didn't fill it immediately, more on that later. The outer bag is the trickier, you need to sew a zipper and it required top stitching all the seams. The part I was worried about was top stitching once it was all put together. That ended up being a non-issue. The zipper is what threw me. The instructions seemed clear, sew the seam, pin the zipper in place, sew the zipper, then rip out the seam. I just couldn't do it. I looked up a bunch of "how to sew a zipper" tutorials, and finally came up with a solution that worked for me.
I can't find the link now, months later, go figure, but the key to my zipper success was this. Rather than pinning the zipper in place and sewing it on from the wrong side of the fabric, I taped the zipper in place on the back of the fabric with scotch tape. Then I flipped it over and top stitched around the zipper from the right side. Then peeled off the tape and opened the seam. I'm not sure why it was so much easier for to sew from the right side than the wrong, but it was. Using tape made it so I didn't have to worry about hitting pins, and the zipper foot of the sewing machine easily guided itself against the edge of the zipper, even though I couldn't see it through the fabric.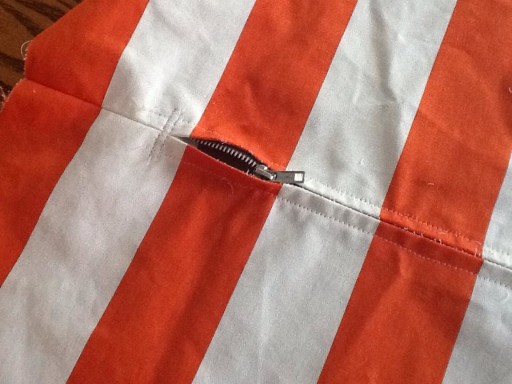 Sewing the rest of the bean bag together was a cinch. I hit my next snag with the filling. The pattern recommends using Cluster Stuff poly filling because it is super soft. The Rollie-Pollie then ends up being more like a giant pillow than a bean bag chair. That is all well and good, except it would take 10-12 bags of Cluster Stuff to fill the it. The price at Wal-Mart was $5 a bag, so we are talking at least $50 in fill. With the $45 in fabric, this was quickly becoming a $100 bean bag chair. Did I mention you can buy one at Wal-Mart for under $20, and you don't have to assemble it? Turns out even if I wanted to, I couldn't buy more than 2 bags at one Wal-Mart. I hadn't left enough time in my schedule to order online, and I wasn't willing to run to 5 different Wal-Marts. I checked Hobby Lobby, which did have 10 bags in stock, but they wanted $8.99 a bag. No effing way. Even I have my limits.
My second pick for filling was going to be memory foam. I bought this wonderful pillow at Costco that is filled with shredded memory foam. It forms right to your head, and best part you could get 2 for $9. Even if it took several pillows worth of filling, I was no worse off then the Cluster Stuff and it would be a really comfy, mold to your bottom chair. 2 weeks before Liam's birthday I stopped to look at the pillows but couldn't decide if I needed to buy 4 or 6 to fill the bean bag. I wasn't finished sewing it yet, so I decided to finish it up so I had a better idea of the finished size and stop back the next week. The next week came, Costco no longer carries the pillows. I checked 3 different Costcos. They are gone.
Plan C was to order bean bag filling online from Amazon. You can get a lot of it for pretty cheap, unless you want it shipped. It's light, but bulky. Cost twice as much to ship it than it did to buy it. That was before you factored in the fact that I needed it shipped 2 day. I didn't have Amazon Prime yet. Buying it to get bean bag filling wasn't making this bean bag any cheaper.
So my final solution? I had Ryan buy styrofoam insulation at Menards. They sell 5 cubic feet of loose polystrene for 8 bucks. Ryan bought two and I really only needed one. I'm sure there is some reason why styrofoam bean bag filling is better than the insulation, but really, it's all styrofoam. And there are two layers of fabric between it and the user of the bean bag. It was a little smelly at first, but that soon wore off, and I can't say that there wouldn't have been any "plastic" smell with the bean bag filling anyway. This was cheap and easy and could be purchased within a 5 minute drive of my home. Perfect.
Except for that I filled the bean bag up with so much filling, I couldn't fit the inside bean bag into the outer shell. To be fair, I was warned. The pattern said for ease of use, to buy a 30 inch zipper, but a 20 inch zipper would work if that was all you could find. The biggest zipper I could find at my local Joann was 24 inches, but if 20 inches would work in a pinch, 24 would be fine, right? Wrong! It would probably have worked if I had stuffed it with poly filling, which is nice and squishy. But I used styrofoam balls, which have very little give. I ended up trying so hard I ripped out the zipper and had to hand sew it back together. I also ended up having to rip out where I'd sewn the inner bean bag shut, take out a bunch of filling and then sew it up again. Hence my decision that all future bean bags have zippers in the inner part as well. Once the bean bag was used for a while, the stuffing did compact and I am now able to take the outer cover off to wash it and get it back on without much fuss, but now that its a little flat, I'd like an easier option to refill it.
But in the end that is minor. Liam loves his bean bag chair and gets made if anyone else sits in it. That doesn't stop Ryan from using it for a gaming chair, or the cat from using it as a cat bed. I love that the outside can be taken off and thrown in the wash, which needs to happen due to all the cat hair. And in the end it only cost $60 all in, which was worth it to expand my sewing skills, and to make a custom bean bag to coordinate with Liam's room. Much better value than the ugly vinyl ones at Wal-Mart. Yes. Definitely…