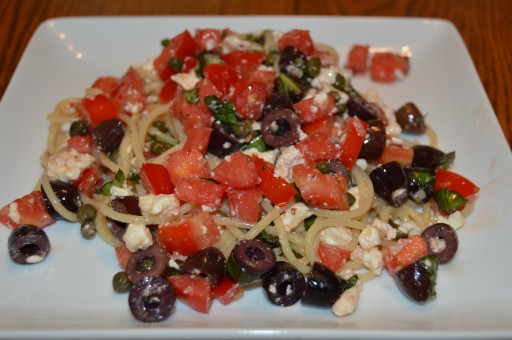 This delicious and fresh pasta dish is perfect for a late summer evening. I am always looking for recipes that use veggies and herbs from my garden, and this one uses tomatoes and basil, two plants I love to grow, but have trouble eating all of my bountiful harvest. It is super easy to make, taking only about as long as it takes to boil noodles, so it is a perfect weeknight meal. And it isn't heavy like traditional spaghetti and marinara, which I feel is much more of a winter food. This dish has a light, fresh, brightness that is perfect for summer.
And did I mention it was easy? The only cooking is sauteing some garlic and boiling noodles. Cooking even I can handle. You start by cutting up the tomatoes and combining them in a bowl with kalamata olives, capers, basil, crumbled feta cheese and a little salt and pepper.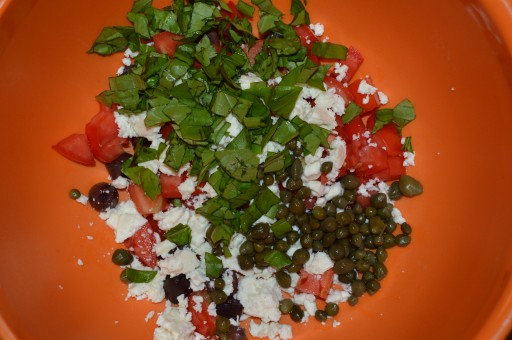 Then start some spaghetti bowling.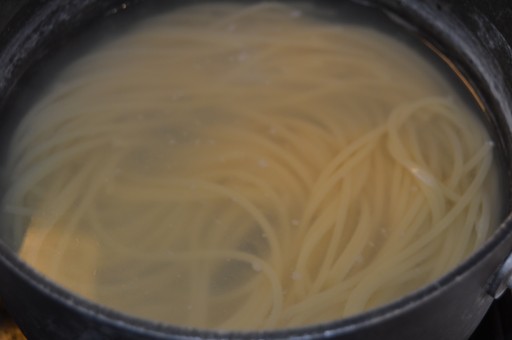 And while the pasta cooks, heat some oil in a frying pan and saute some minced garlic.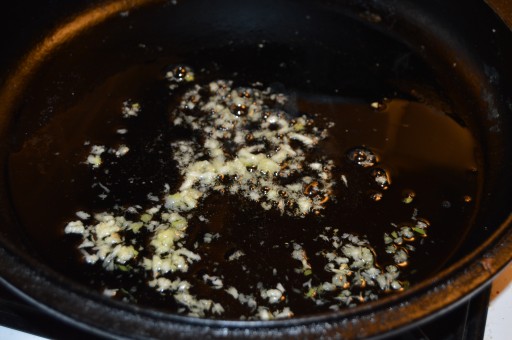 When the pasta is tender, drain it, and add it and the garlic oil to the veggies and toss. That's it. Delicious and nutritious pasta and it only took 15 minutes. Enjoy!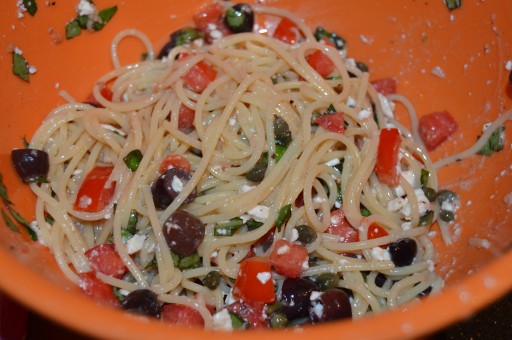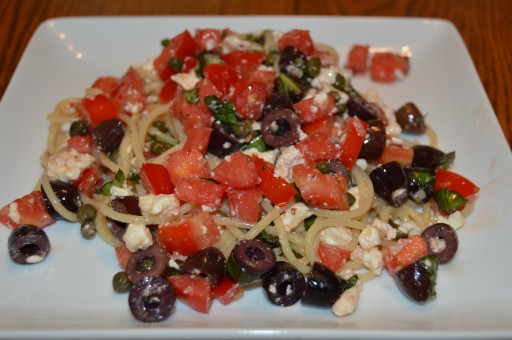 Summer Spaghetti
2014-08-27 21:17:34
Fresh and light pasta using fresh tomatoes and basil. Perfect for a quick summer supper.
Ingredients
1 1/2 pounds tomatoes (about 3), seeded and cut into 1/2-inch pieces
1/2 cup Kalamata olives, pitted
1/4 pound feta cheese, crumbled
3 tablespoons drained capers
1/4 cup chopped fresh basil
1/4 teaspoon salt
1/4 teaspoon fresh-ground black pepper
3/4 pound spaghetti
6 tablespoons olive oil
3 cloves garlic, minced
Instructions
In a large bowl, combine the tomatoes, olives, feta, capers, basil, salt, and pepper.
In a large pot of boiling, salted water, cook the spaghetti until just done, about 12 minutes. Drain.
Meanwhile, in a medium frying pan, heat the olive oil over moderately low heat. Add the garlic and cook, stirring, for 1 minute. Add the cooked pasta and the garlic oil to the tomato mixture and toss.
Adapted from Food and Wine
Crafty Cori Strikes Again http://craftycori.com/