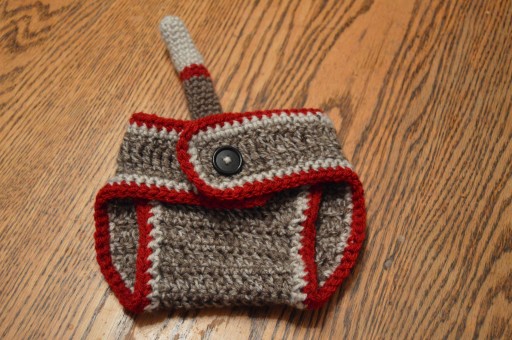 My sister was the recipient of the Sock Monkey Hat and Blanket I posted a few weeks back. I gave it to her as a Mother's Day present for the baby girl she is expecting in October. The other day she sends me an email with a photo and says "I think JuJuBea's sock monkey set is missing something…" The photo is of a newborn baby wearing a sock monkey hat and matching diaper cover complete with a tail. I had to agree, JuJuBea did not have monkey tail and I would have to remedy that.
I had never crocheted a diaper cover before so I took to the googly webs to get some ideas on how to start. I found this fabulous pattern from Crochet a Flower. It was exactly what I was looking for. I made the pattern just as written, except that I single crocheted around the outside twice, first in linen, then in red. This makes the finished cover slightly larger than the original pattern, but I am am confident that it won't cause any major problems.
The ingenious part of this pattern is that the top section with the tabs is done in triple crochet. This essentially makes the entire thing button holes so the size is completely adjustable. Seriously ingenious. This should fit a baby anywhere from newborn to several months old just by moving where you button it.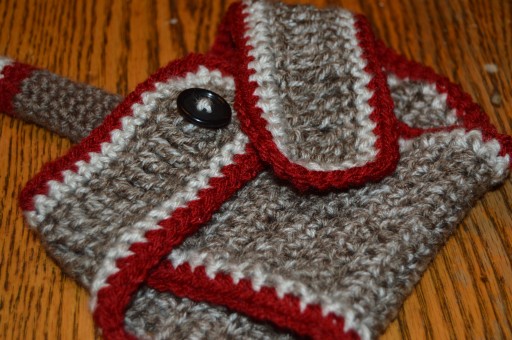 Now the original pattern did not include a monkey tail, go figure. And JuJuBea needs a tail, so I made one up. It's pretty simple.
With H hook and Linen colored yarn, worked in continuous rounds.
Rnd 1: Sc 6 in a magic ring (6 sc)
Rnd 2: [Sc in next st. Sc inc in next st]. Repeat around (9 sc)
Rnd 3 – 10: Sc around (9 sc)
Rnd 11 & 12: Change to red, sc around (9 sc)
Rnd 13 – 32: Change to taupe, sc around (9 sc).
Fasten off, sew closed and attach to back of diaper cover.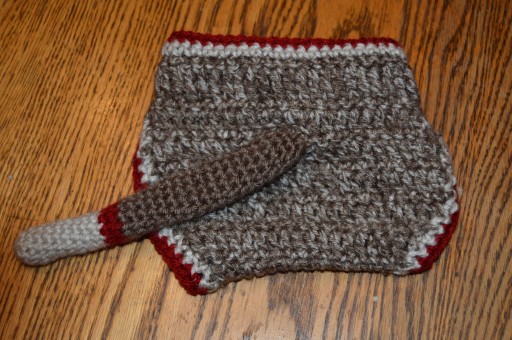 So I crocheted the sock monkey set and diaper cover in Vanna's Choice taupe mist yarn. I didn't have enough let to do the entire tail and I didn't want to go by more for such a little amount. So I made the tail in taupe, which is the base color of taupe mist. This isn't ideal, but I think it works okay. If JuJuBea complains, I'll pick up some more taupe mist yarn and redo the tail.
Unfortunately I no longer have the original set, so I couldn't take a picture of all 3 pieces together. But here is the blanket and hat again just to refresh your memory.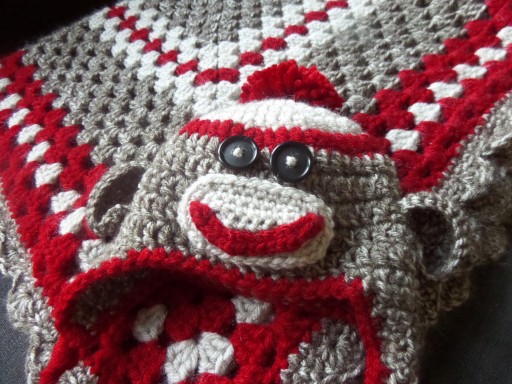 I think the diaper cover really completes the set and it will look absolutely adorable on my future niece's little tushy. I'll have post a picture once she gets to wear it. Stay tuned come the end of October.