Fresh Squeezed Strawberry Lemonade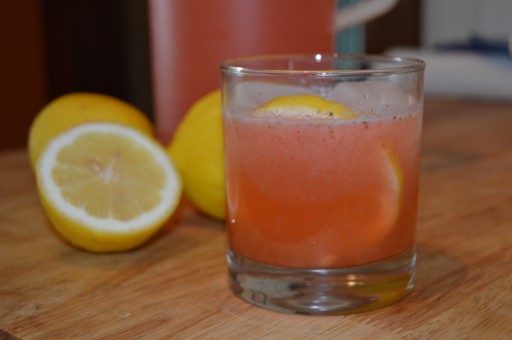 What tastes better on a hot day than an ice cold glass of fresh squeezed lemonade? Strawberry lemonade! This recipe is super easy, and it's the best lemonade you've ever tasted. You won't make anything from a powder ever again.
Perfect lemonade starts with simple syrup. That way you make sure you never have gritty lemonade from undissolved granulated sugar. To make the simple syrup, bring equal parts water and sugar to a boil until all the sugar is dissolved.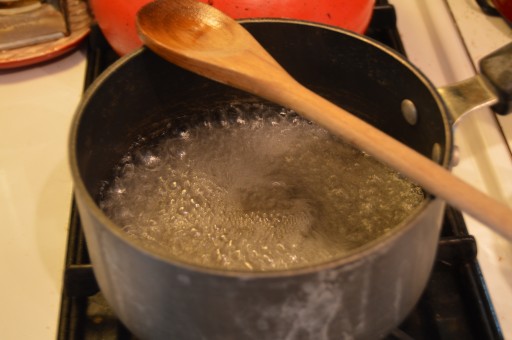 I pour my syrup into a glass measuring cup and put it in the freezer while I squeeze the lemons. I don't want to freeze it, but I do want it close to room temperature before adding it to the lemon juice. I don't want to cook my lemonade.
I usually make 2 quarts of lemonade and it takes 1 cup of lemon juice, which is somewhere between 6 and 8 lemons depending on how juicy they end up being. I love my antique Juice-O-Mat, which does an excellent job of extracting juice, which just a bit of elbow grease.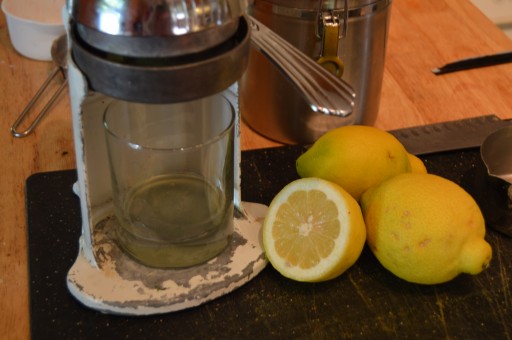 Next, I puree some strawberries. I have used either a mini food processor or a blender and either works fine. I push the puree through a fine mesh strainer to try to limit the number of seeds in my lemonade.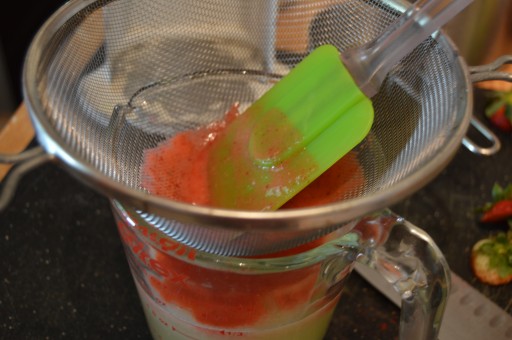 By now my simple syrup is normally cool enough to mix up the lemonade. I put the lemon juice, strawberry puree and simple syrup in a pitcher, then add cold water until I have 2 quarts. You can add more or less water to taste. I like my lemonade a bit tart and not too watery. I usually serve the lemonade over ice, so I try to make it just a tad stronger than I would normally want it, so once the ice melts a bit, it's perfect.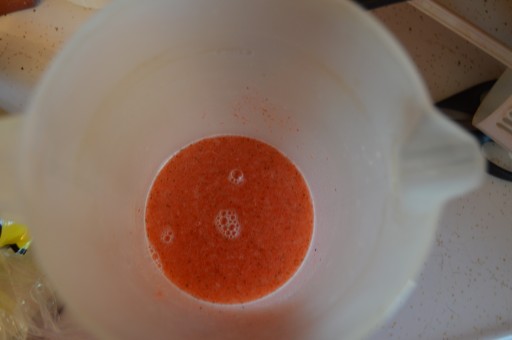 Make sure it is mixed up thoroughly and you are ready go to. Serve over ice with a lemon slice to garnish and enjoy. Like I said at the beginning, this is the perfect way to quench your thirst on a hot summer day. Sweet, tart, cold, refreshing.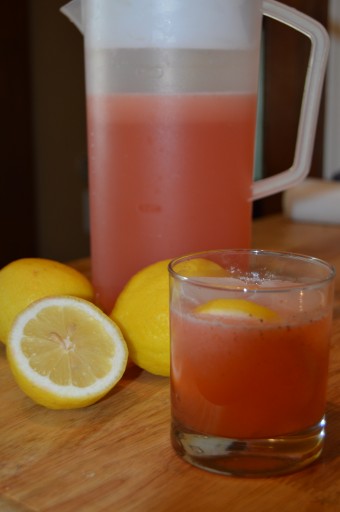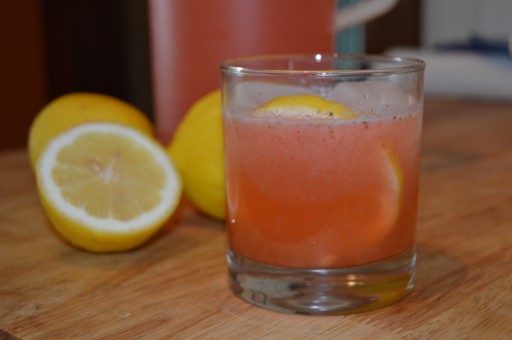 Fresh Squeezed Strawberry Lemonade
2014-07-08 21:31:45
Super refreshing fresh squeezed strawberry lemon deliciousness.
Ingredients
1 cup water
1 cup sugar
1 cup fresh squeezed lemon juice (approximately 8 lemons)
1/2 cup strawberries, hulled and quartered
additional water to taste
Instructions
Make simple syrup. Combine 1 cup water and 1 cup sugar in a saucepan. Bring to a boil and stir until sugar dissolves complete. Remove from heat and cool to room temperature.
Juice lemons. Puree strawberries in a blender. Press strawberry puree through a fine mesh strainer to remove seeds.
Combine simple syrup, lemon juice and strawberry puree in a 2 quart pitcher. Add water to dilute to 2 quarts or to taste.
Serve over ice and garnish with lemon slices.
Crafty Cori Strikes Again http://craftycori.com/