Strawberry Rhubarb Crisp with Pistachio Crust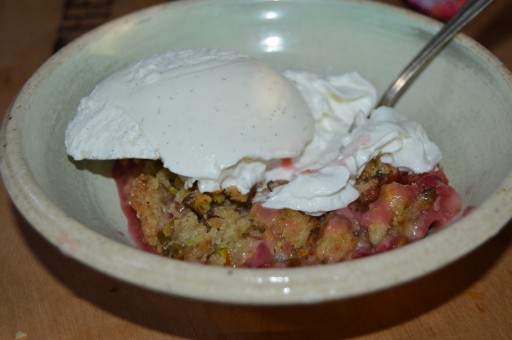 Crisp is hard to photograph. It tastes delicious but always looks like a pile of goop. Mmm…. goop. This is my favorite crisp and I had to make it before rhubarb season comes to an end. The original recipe came from Epicurious and called for blueberries, which are good, but I prefer it with strawberries. What really makes this crisp is the topping, which is made with pistachios which give it a wonderful nutty crunch. So good!

Not surprisingly, this recipe starts with rhubarb. One of the reasons I like crisp so much, is that it is really hard to mess it up. Too much fruit, too much topping, is there really such a thing? The recipe calls for 1 pound of rhubarb. I have no idea how much that is, I just picked some and cut it up. It ended up being 6 cups. Probably 3 times as much as I actually needed. Oh well, I through it all in. Now, I like rhubarb and I want my rhubarb desserts to taste like they have rhubarb in them. I've tried so many "rhubarb" recipes that call for so much other fruit and sugar it seems like they are trying to cover up the fact there is rhubarb in the recipe. What's the point? I made this crisp with a 3:1 ratio of rhubarb to strawberries. There was no mistaking you were eating rhubarb. In the recipe below I give a range for amounts of fruit. If you don't love rhubarb as much as I do, pick the low end of rhubarb and the high side for the berries.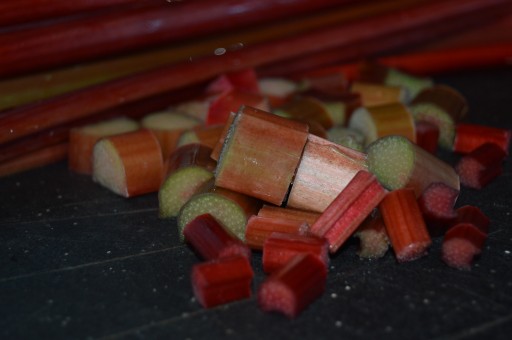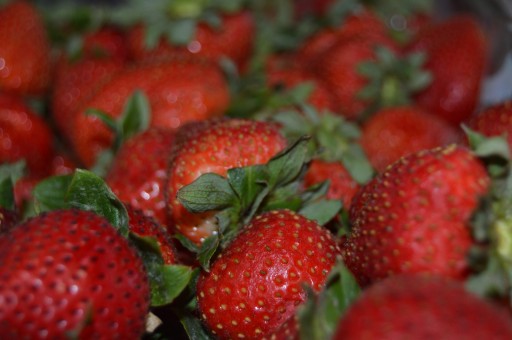 To the cut up fruit, I added sugar and flour. The sugar to sweeten it (and to be honest I could have used a bit more, this crisp was tart!) and flour to help thicken it up. Once all the fruit cooks it gives up a lot of water and you do not want soggy crisp. Toss the fruit to coat and transfer the mixture to baking pan. I usually use a 13 x 9 pyrex dish for this crisp, but someone (Ryan) melted my lid, so this went in a metal cake pan.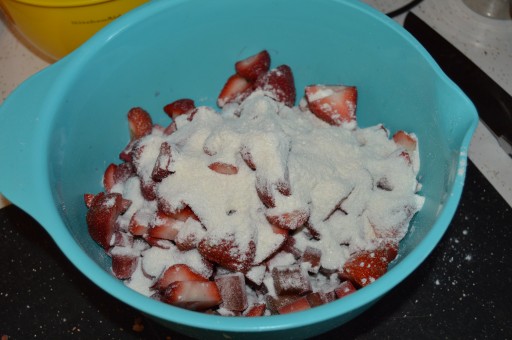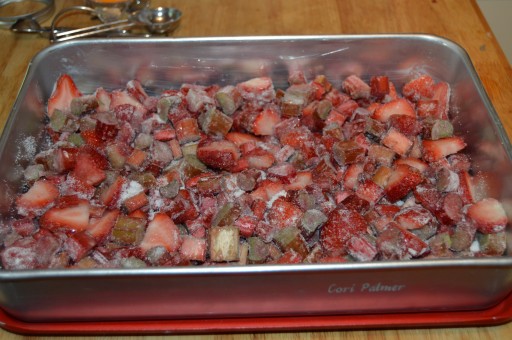 Now for the topping. If you can find shelled pistachios for a reasonable price, by all means buy them. I just got a 1.5 pound bag at Costco for $17. That may seems crazy expensive, but keep in mind you get a lot more nuts in a pound if you aren't paying for the shells. And your fingers will thank you. At the time I made the crisp, all I had were pistachios in the shell and it took me close to half an hour to shell a cup worth, and by the end of it my poor fingers were sore.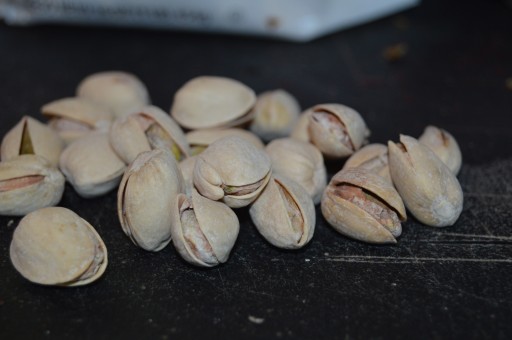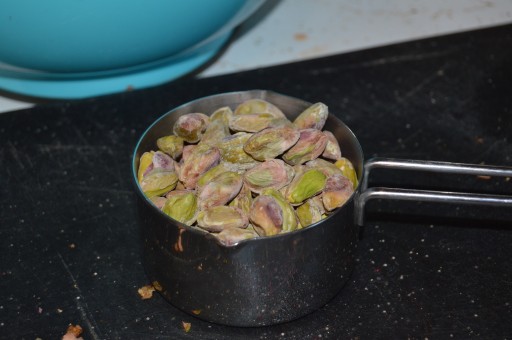 The original recipe called for finally chopped nuts and I used to chop them in the food processor. However, after several goes at this recipe, I decided I wanted bigger nuts that would be crunchier in the finished dish, so I coarsely chopped these with a kitchen knife. To be honest, it was almost as easy as the food processor and then I didn't have to clean the food processor when I was finished.
To make the rest of the topping, cube up a stick and a half of cold butter, add sugar, brown sugar and flour and blend it by hand until it resembles clumpy sand. Then mix in the chopped nuts.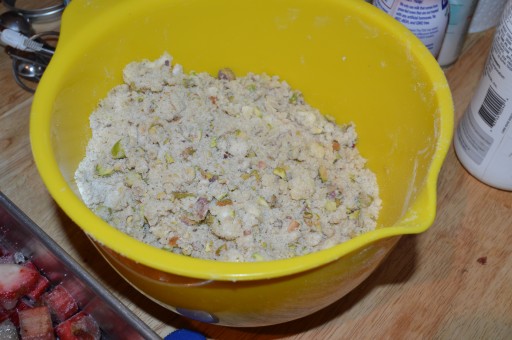 Then take handfuls of topping and squeeze it so it holds together, then crumble it into chunks over the fruit.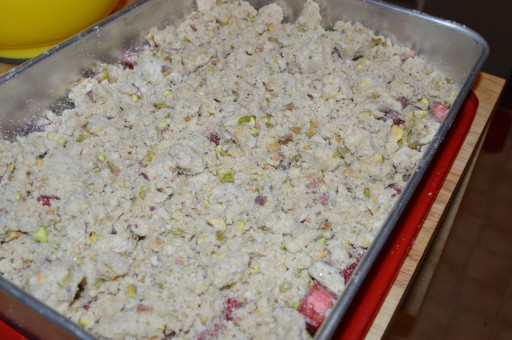 Bake at 375 for 50 minutes or until the crust is nice and brown. Let it cool a bit so the juices coagulate a little before cutting into it. I like to serve it warm with vanilla ice cream. Or I like to eat it cold right out of the pan. Either way it is super tasty. If you don't finish it all in one sitting, I recommend storing the left overs in the refrigerator. The fruit has a tendency to mold when I forget it on my counter for more than a day.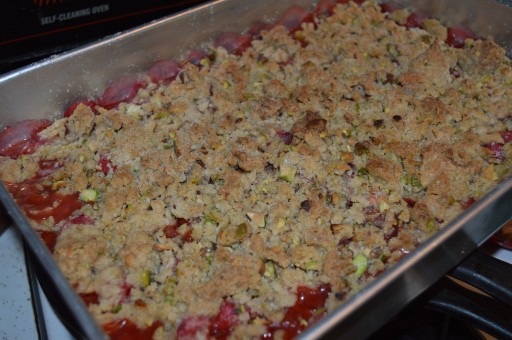 So that's it. Super simple. This is why I don't bake pie. Crisp is just as tasty and a fraction of the work. The pistachios really add something special to the crisp. I always get rave reviews, even from people who claim not to love rhubarb. It's that good!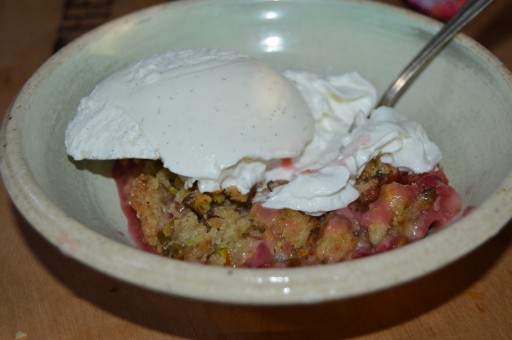 Strawberry Rhubarb Crisp with Pistachio Crust
2014-06-29 22:26:13
The pistachios add a delicious crunchy twist to this rhubarb crisp.
Ingredients
1/2 cup granulated sugar
3 tablespoons all-purpose flour
4 - 6 cups 1/2 inch slices rhubarb
2-3 cups strawberries, sliced
For topping
1 cup shelled natural pistachios
1 cup unbleached all-purpose flour
3/4 cup granulated sugar
1/2 cup packed brown sugar
12 tablespoons cold unsalted butter
Instructions
Preheat oven to 375°F. and butter a 13 x 9 inch baking dish.
In a bowl stir together sugar and flour. Add rhubarb and strawberries to sugar mixture, tossing well, and spread mixture in baking dish.
Make topping
Chop pistachios. In a bowl whisk together flour and sugars. Cut butter into 1/2-inch cubes and with your fingers or a pastry blender blend into flour mixture until mixture resembles coarse meal. Add pistachios and toss well.
Squeeze a handful of topping together and coarsely crumble in chunks over filling. Squeeze and evenly crumble remaining topping over filling in same manner. Bake crisp until filling is bubbling and topping is crisp and golden, about 50 minutes.
Adapted from Epicurious
Crafty Cori Strikes Again http://craftycori.com/