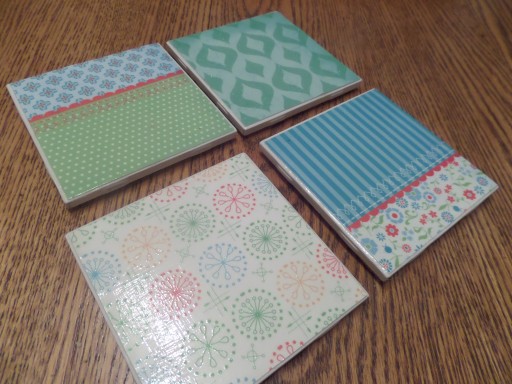 I am pretty sure this tutorial is the first thing I ever pinned to Pinterest. I have a bizarre love of coasters. I want to buy them, crochet them, make them. You name it. I did crochet some a few months back, and they turned out cute enough for simple crocheted circles. But as it turns out, Liam thinks they are toys so they are always on the floor, and once they touch the floor they are covered in fur. So I decided crocheted coasters are just not for us. Then I got a bug up my butt a couple weekends ago that I was finally going to make these. And so I did.
They are very simple to make. All you need are square ceramic tiles, mod podge, scrapbook paper, clear spray enamel, and felt or cork for the back. I found the tiles at Menards for 11 cents a piece, the spray enamel was $3 also at Menards. I found a roll of cork backing at Joann for $5, but felt is only 39 cents a sheet. The most expensive part of the whole thing was the mod podge which was $7. Since I've only made 4 so far, I probably could have bought coasters for less, but now that I have all the basics supplies, I can make many more for only 11 cents a piece.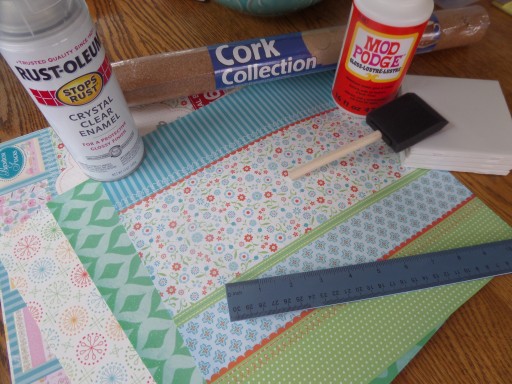 So the first step is to cut your scrapbook paper to size. My tiles were 4.25 inches square, and you want the paper to be slightly smaller than the tile, so I cut my paper to 4 inches.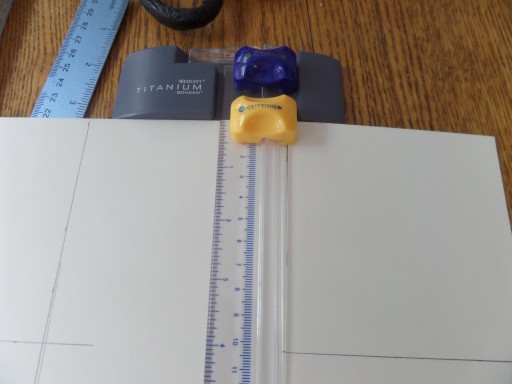 Next, you coat each tile in a thin, even layer of mod podge, then quickly center the paper square on the tile and smooth out any wrinkles.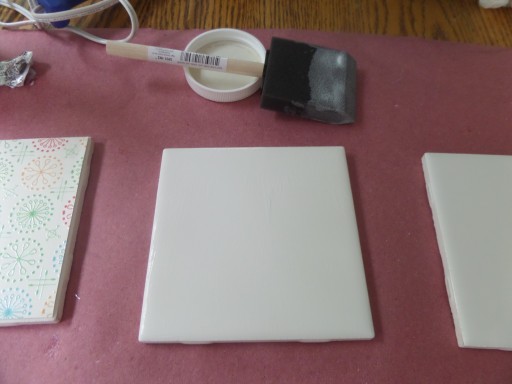 When the mod podge is dry, paint another layer on top. Let it dry and add another coat of mod podge. You will want to do 3 or 4 coats of mod podge, making sure it dries completely between each layer and that you smooth out any bubbles or wrinkles as they occur. The original tutorial said to let it dry 15 minutes between coats. I did half an hour, and I still should have waited longer. Next time I will use a hair dryer to guarantee it is as dry as possible before doing another coat.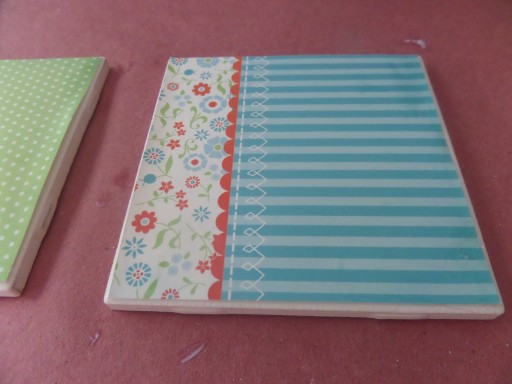 When the last layer of mod podge is dry, you will want to spray the tiles with clear enamel. I used Rustoleum and it worked very well. I took my tiles out to the drive way and sprayed them with a nice even layer. I waited for it to dry, just a few minutes according to the can, then I did a 2nd coat of enamel. The mod podge gives it a nice hard coating, but the enamel is harder, and what makes the coasters water proof for all your sweaty glasses you'll be setting on it.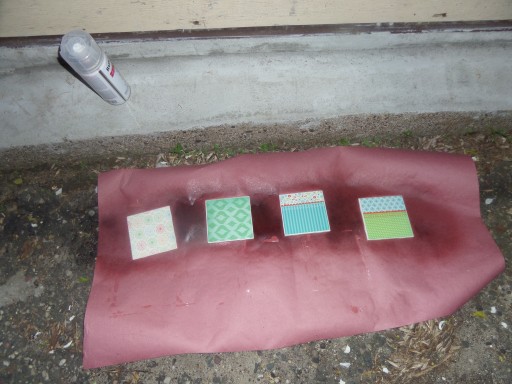 When the enamel was dry to the touch, I brought the tiles back in so I could put a back on them. I thought the cork added a more professional touch, but felt would work just as well. Basically you don't want the back of the tile to scratch whatever surface you are trying to protect from your beverage. I cut my cork into 4 inch squares and then glued it to the back. I did one with hot glue, then realized I didn't have any more glue sticks so I did the rest with spray adhesive, which I think worked better anyway.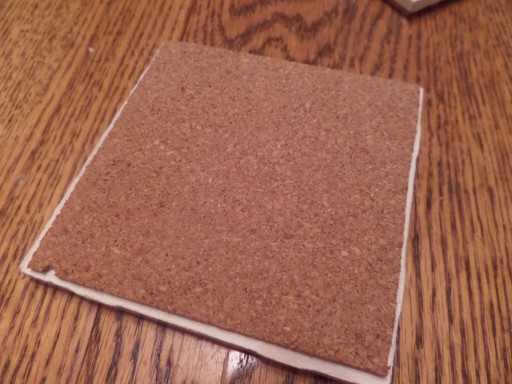 And that is it. Once the glue dries on your backing, flip them over and start serving the drinks.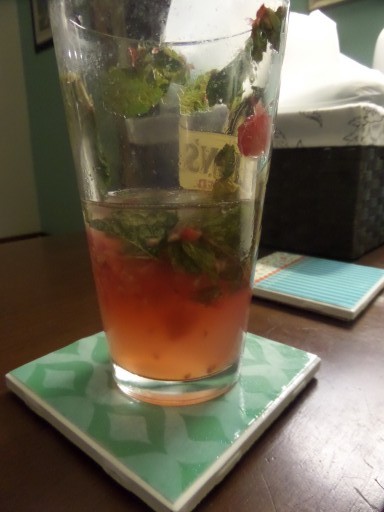 Now, since this was my first foray into decoupage or working with mod podge, I did learn a few things that I will do differently next time. I was very concerned about using thin layers of mod podge, but my first layer was too thin, I think. I had problems getting the corners of the paper to stick to the tiles. Also, my first layer didn't get any wrinkles, but my 2nd layer did, and by then it was too stiff to smooth them out. I think it all comes back to needed a bit more mod podge at the beginning. As I already mentioned, I needed to let them dry even longer between coats. They do not feel tacky, but sometimes the coaster sticks to the glass when you pick it up, and you can "dent" the coaster with the edge of a glass or your fingernail. From what I can tell, this is all caused the mod podge not being completely dry before the next layer was put on.
All in all I would consider this project a success. The minor issues I had do not keep me from enjoying the finished coasters, and it was a fun project that I plan to do again. I think these coasters would make a lovely hostess gift or housewarming present. People who know me personally shouldn't be surprised if they get them for Christmas or their birthday. Just think of all the different paper out there, or you could do it with fabric as well. So many options!