Pulled Pork Tacos with Corn & Black Bean Salad and Lime Mayo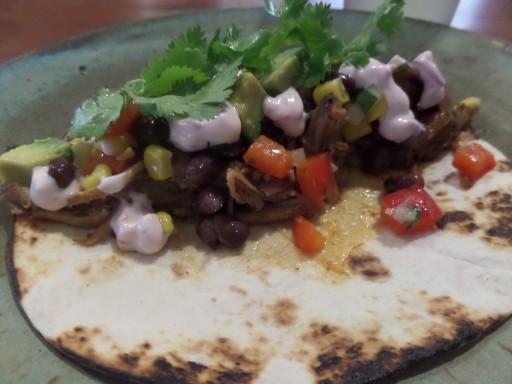 I know what you must be thinking, is this lady seriously posting another taco recipe? Yes, yes I am. And this one is my favorite yet. These tacos are my new obsession. I could eat them every day. Seriously, they are that good.
I got the recipe from my mother-in-law. She served these a few weeks back and after one bite I knew I needed the recipe. And the recipe makes enough tacos to feed a small army, so it's a little too much food to be in my regular meal rotation. I guess I just need to keep coming up with reasons to have people over for dinner. And the left overs are just as good if not better than the first go. This might be the perfect food.
And did I mention that it is super easy? The pork is made in a slow cooker. After a quick spice rub and a little browning, it is just left in the crock pot on low all day. I am not a crock potter. In fact this is the first time I'd actually used mine to cook food rather than just keep something warm at a pot luck. I had my doubts, but the meat came out perfect with no work from me past 10 am. The corn and bean salad is almost as easy. I used frozen corn and canned beans, so the hardest part of the whole thing was chopping onions. And the salad can be made in advance, it gives it time to marinade in the lime dressing. It's actually better the longer it sits. If you wanted to make this a weeknight meal, you could marinate the pork, and make the salad and mayo the night before. Take 10 minutes in the morning to brown the roast and get it in the crock pot, and you'd have a fabulous meal ready when you got home from work.
So let's get started with the recipe shall we?
It starts with a spice rub and a boneless pork shoulder roast. Mix up the spices (chili powder, brown sugar, salt, cumin, cayenne, oregano, onion powder, garlic powder, cinnamon and cloves). Pat the roast dry with paper towels, then rub the spice mix all over the roast. It will only take a fraction of the total mix, maybe half of it. Keep the rest, we will add it to the crock pot while the roast cooks. Let the roast marinate in the rub for at least one hour or overnight.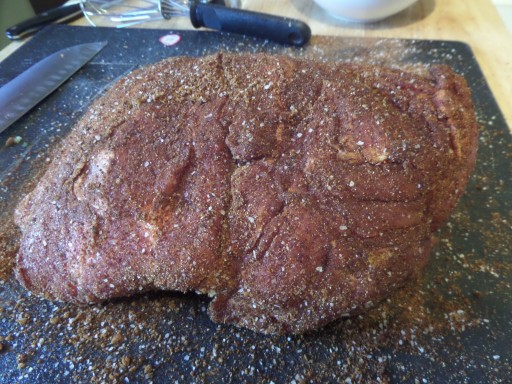 Once the meat has marinated, brown it on all sides in a frying pan with a bit of vegetable oil. A burning hot, 3 1/2 pound hunk of meat is a bit unwieldy when trying to flip or brown the ends. I found tongs and a spatula did the trick. It only took a couple minutes per side to get a nice crust.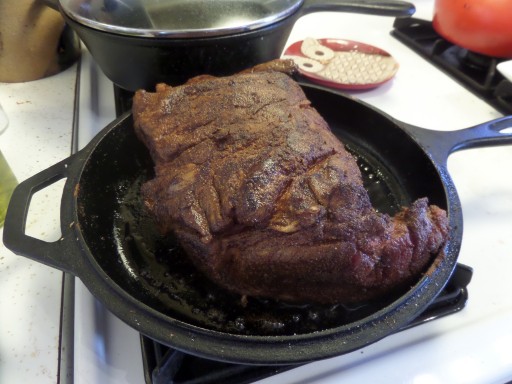 Then place the roast in the crock pot. Pour the remaining spice mixture on top. Cover, and turn to low. Let the meat cook for 6 to 10 hours. It should reach an internal temperature of at least 145 degrees and it should be fall apart tender. I let mine cook 8 hours and it was wonderful. I was a little nervous at first, with all that dry spice rub sitting on top, but after a couple hours, the fat started to render and it became a delicious sauce that the pork continued to cook in. So good.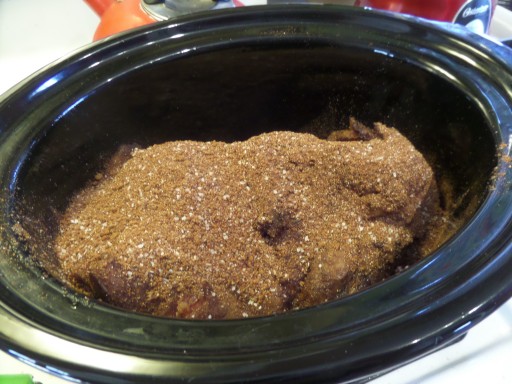 While the pork cooks, you will have plenty of time to mix up the salad. It is called a salad and has a dressing on it, but it really used more like a salsa. I ate the leftovers with tortilla chips. Fabulous. It starts with black beans, corn, diced red peppers, garlic and shallots. Then you add cayenne, salt, sugar, olive oil and lime juice to make a dressing and finally finish with chopped cilantro. The original recipe called for adding avocado, but it turns brown so quickly and I didn't want it to make the salad mushy, so I left it out of the salad and served it on the side for the tacos.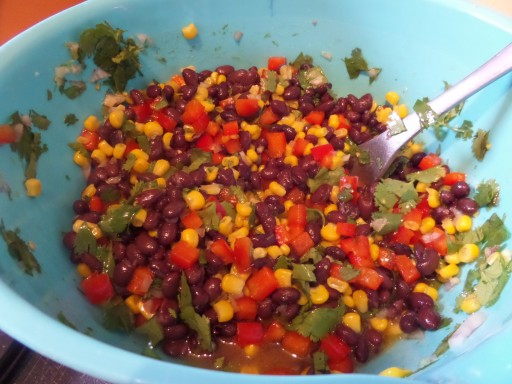 The last key to this meal is the lime mayo. It sounded weird to me at first, to add mayo to a taco, but it ends up working just like sour cream would. The mayo is mixed with lime juice and zest, garlic and chopped red onion. After mine sat for a while the onion turned the whole mixture pink, so it ended up looking like the jello marshmallow salad my grandma makes, but it tasted fantastic and it really makes the tacos.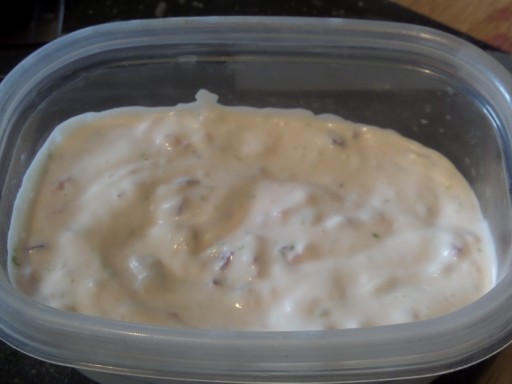 So now you still have several hours to wait until the pork is ready. Once it is finally done, remove the roast from the crock pot and move it to a cutting board. Cut it into large chunks, then use two forks to shred the meat into bit size pieces. Then return the shredded pork to the crock pot and coat it in the delicious juices and to keep warm while dinner is served.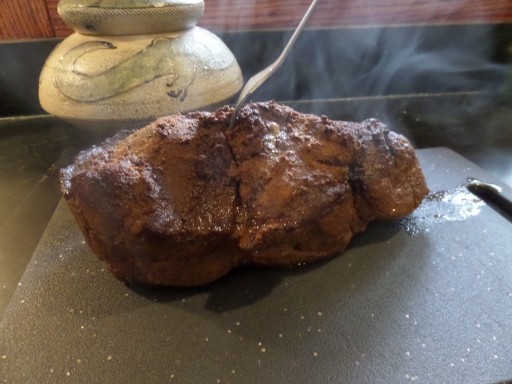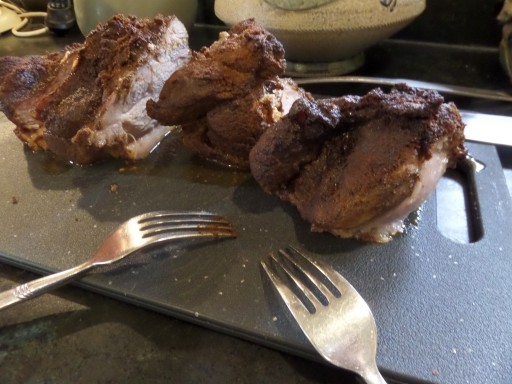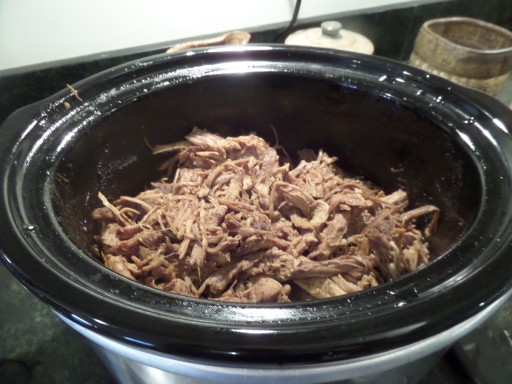 Those with a keen eye will notice these last pictures are not in my kitchen. After I had already started making the tacos, we decided to share, so I brought the whole meal to my in-laws house and served it up there. Even being unplugged for half an hour, the pork was still done by 6 pm when I started at 10 am. I'm sure it could have been even more tender if it cooked a bit longer, but we were hungry.
Serve the tacos on tortillas. As I mention in every taco post, I like to brown my tortilla on the burner of a gas stove. It gives a more complex, sweet, nutty flavor. You really ought to try it. Top the shredded pork with a generous amount of corn and bean salad, some avocado and a dollop of the lime mayo. Enjoy what may be the best taco ever. And then have 2 more of them. And then have one for lunch tomorrow. Seriously, we served 6 people and still had enough left over for 2 more meals. And I was still sad when it was gone. The pork is melt in your mouth tender and has just the right amount of spices. The cinnamon and clove make it special, not your average taco seasoning, but not overpowering. The salad is the perfect accompaniment and the lime mayo adds a zesty kick. Add bit of avocado for creaminess and I am not joking, this could seriously be the worlds best food.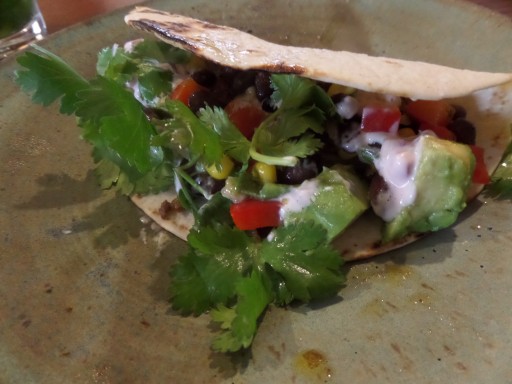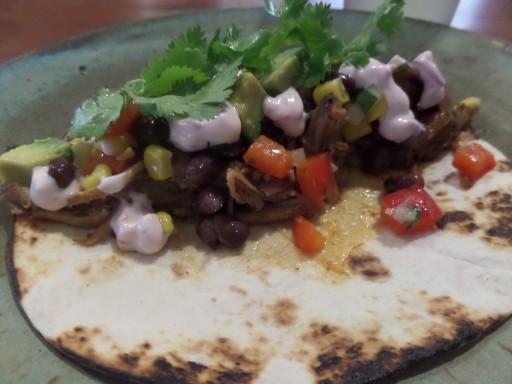 Pulled Pork Tacos with Corn & Black Bean Salad and Lime Mayo
2014-05-24 00:18:40
Slow cooker pulled pork is paired with a corn and black bean salad and lime and garlic mayo to create what may be the worlds best taco.
For the Pork
4 Tbsp chili powder
1 Tbsp kosher salt
1 Tbsp brown sugar
2 teaspoons ground cumin
1 teaspoon cayenne
1 teaspoon ground oregano
1 teaspoon onion powder
1 teaspoon garlic powder
1/4 teaspoon cinnamon
Scant pinch of ground cloves
3 1/2 pound boneless pork shoulder roast
2 Tbsp vegetable oil
For the Salad
2 (15 ounce) cans black beans, rinsed and drained
2 cups cooked corn, fresh or frozen
2 red bell peppers, diced
2 medium cloves garlic, minced
2 tablespoons minced shallot
2 teaspoons salt
1/4 teaspoon cayenne pepper
2 tablespoons sugar
1/2 cup plus extra virgin olive oil
1 teaspoon zest and 6 tablespoons juice
1/2 cup chopped fresh cilantro leaves
For the Mayo
½ cup mayonnaise
¼ cup finely chopped red onion
¼ teaspoon zested lime peel
1 tablespoon lime juice
1 clove garlic, minced
For the Tacos
tortillas
chopped avocado
cilantro leaves
Prepare Pork
1. Whisk together the rub ingredients in a small bowl.
2. Pat the roast dry with paper towels. Rub the spice mix into the roast all over, reserving any leftover spice mix for later. Marinate in the rub at least one hour or overnight.
3. Heat vegetable oil in a frying pan on medium high heat. Place the roast in the pan and brown on all sides.
4. Place the roast in a slow cooker, and add any reserved spice rub. Cook on the low setting for 6 to 10 hours, until the pork is fall apart tender.
Prepare Salad
5. Combine all ingredients in a large bowl and mix well. Cover and chill at least 30 minutes and up to over night.
Prepare Lime Mayo
6. In a small bowl stir together ingredients. Cover and store in refrigerator until ready to serve or for up to 1 week.
Prepare Tacos
7. When pork is done, remove the roast from the slow cooker and place on a cutting board. Cut into large chunks. Then use two forks to pull the meat apart into bite sized shreds. Return the shreds to the slow cooker and toss to coat with the juice from the roast.
8. Serve with tortillas. Top shredded pork with salad, mayo, chopped avocado and cilantro.
9. Enjoy
Notes
Serves 8
To make into a weeknight meal, roast can be marinated and the salad and mayo made the night before. In the morning, brown roast and place in crock pot set on low. Everything will be ready to go by dinner.
Adapted from from several Pinterest pins
Adapted from from several Pinterest pins
Crafty Cori Strikes Again http://craftycori.com/