It's been a crazy couple weeks
I try to make at least one post a week, and I have been failing miserable lately, so for that I apologize. I have a backlog of project I want to get up on the blog, so I promise there will be posts this weekend. After a crazy month, we've purposely planned a low key Memorial Day weekend to get caught up on things around the house. And for me, that includes a bit of blogging.
So what have we been doing? Well for starters, I got a new job. Same company just a different position. And a new desk in a new office. It's been a fun couple weeks, settling in and learning new things. I think I'm going to really like it.
And then Ryan bought a sailboat. No, we don't know how to sail, nor can you really pull a boat behind our Honda Fit. Nor do we have room to store a boat on our 0.1 acre city lot, but is any of that really important? Ryan caught the sailing bug on a little catamaran we could borrow from the resort when we were in Mexico 3 years ago. Then last summer he had a chance to sail around Gull Lake in northern Minnesota and I knew from that point that a sailboat was in our future, it was just a matter of when. And apparently when is now. It's a 1983 Daysailor he found on Craigslist and right now it's living at his parents' house. (Who have 5 acres and car with a trailer hitch.) Ryan's spend the past couple weeks lovingly washing and waxing the boat, fixing a couple minor things, and acquiring accouterments. He is hopeful he can get it out for it's maiden voyage this weekend.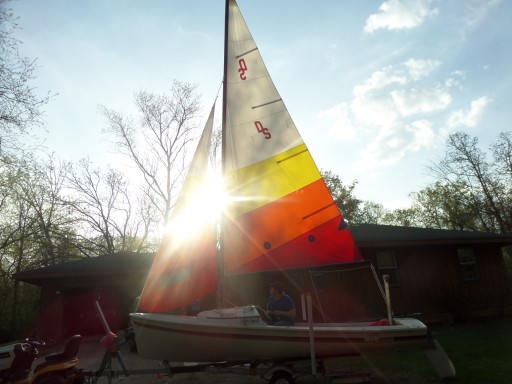 At least he has a super cute first mate!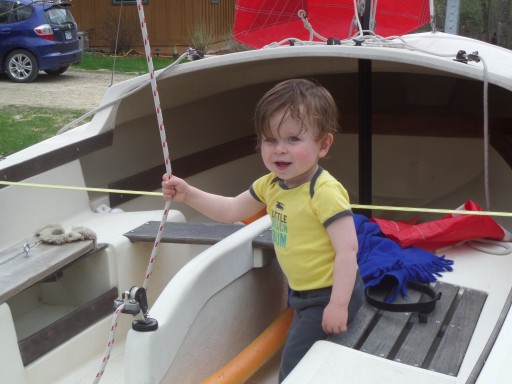 We also took a trip to Duluth to hike along the North Shore of Lake Superior. We go with my family the same weekend every year and most years it is freezing cold and raining. We actually got excellent weather this year and a good time was had by all. Especially this little guy.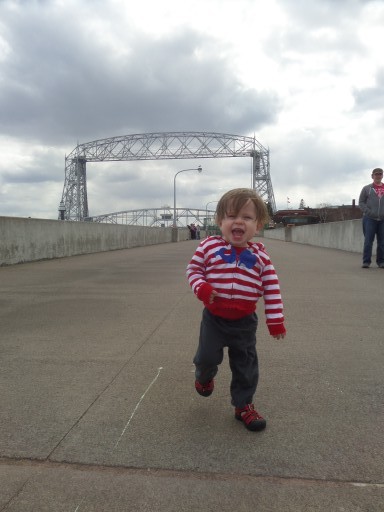 This week I finally got a chance to get out and plant my garden. It was too dark last night to take pictures when I was done, but I plan on keeping everyone updated with it's progress. I planted 3 different kinds of tomatoes, jalapeno pepper, cucumber, zucchini, mint, basil, and parsley. I had previously planted onions, lettuce, cilantro, and pea pods that are just starting to come up. And my rhubarb is already super happy. Hopefully it will all work out and this fall I'll have tasty new recipes with my bountiful harvest.
Ryan is also supposed to build me a new window box this weekend so I can get some annuals planted as well. I bought different plants this year than last year, so let's see how long it takes me to kill them this time. Basically the only flowers I've been successful within the past is marigolds. You just can't kill them.
In the meantime, I have a fabulous Crockpot Pulled Pork recipe that made fantastic tacos that I need to post, as well as patterns for 2 different baby blankets with matching hats that I finally was able to deliver, so now the posts can go up. This weekend I plan to attempt canning some rhubarb jam, trying a new dinner recipe, and maybe making popsicles. So stay tuned!