Homemade Oatmeal Creme Pies
I used to think I loved Little Debbies. I definitely remember loving Little Debbies. But any time I've had one recently, they just don't taste as good as I remember. I remember them being delicious, and now they definitely taste way to0 sweet, sort of flavorless, and artificial. But luckily for me there is still a way to relive my childhood fondness for the treats, I can make my own. I saw this recipe for Homemade Little Debbie Oatmeal Creme Pies from Sally's Baking Addiction pinned on Pinterest last weekend and knew I would be baking them. Ryan didn't understand why I would focus on a Little Debbie treat that wasn't chocolate, but I have always loved Oatmeal Creme Pies. And these, are way better than the original.
The recipe starts with a full pound of butter. That's right, four whole sticks. Two and a half sticks for the cookies and another stick and a half for the creme filling. Mmmm… butter. So obviously, these cookies are health food, I mean, they are made out of oatmeal, right? The butter needs to be at room temperature, so take it out of the fridge well before you want to start baking.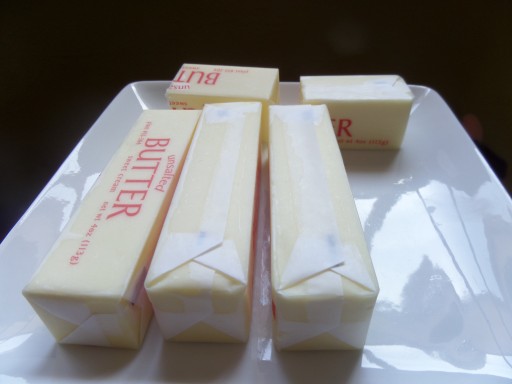 The cookies themselves are pretty basic, but they are delicious. I'd eat them on their own. On top of all that butter, they also call for molasses, cinnamon and cloves. They are warm, buttery, soft, chewy, and spicy. All things I can get behind. The recipe calls for dark brown sugar, which I never have on hand, so I just added an extra drizzle of molasses. Brown sugar is just white sugar with molasses added back in, dark brown has more molasses, so I guess I am just making DIY dark brown sugar.
I also made DIY Quick Oats. I had old fashioned rolled oats on hand and wasn't into buying special oatmeal just for this recipe. I just pulsed my old fashioned oats in the food processor for 5 or 6 pulses to break up the oats into smaller pieces. I probably used 3.5 cups of old fashioned oats to get to 3 cups of my "quick oats".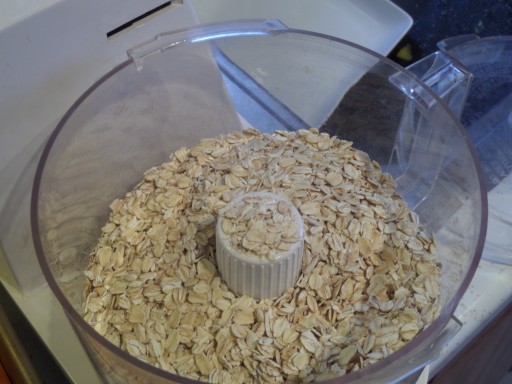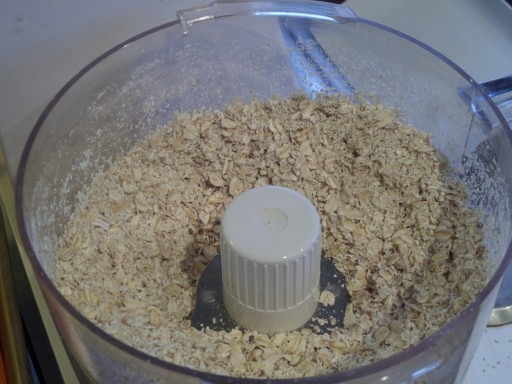 Anyway, you start by creaming the butter and sugar, then add the egg, vanilla, and molasses, then add the premixed dry ingredients and mix it all together. The dough is thick, but I didn't have any problem using my stand mixer to mix it.
Then form the dough into 3 tablespoon balls and place on a baking sheet lined with parchment paper. I recently bough some silpat liners, and they worked awesome for this. The cookies are good sized, so they need room to spread. I fit between 6 and 8 per baking sheet. I have half sheet sized pans.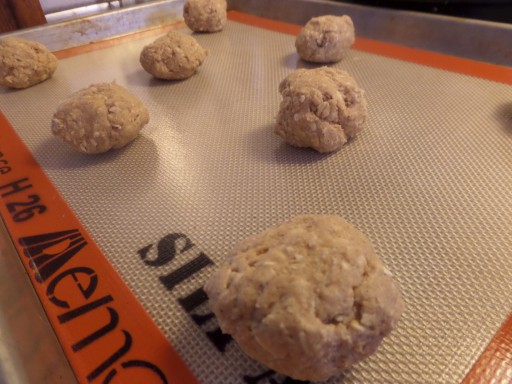 Then bake the cookies for 10 minutes. They will flatten and be just brown on the edges. The centers will still be soft, but that is okay. The recipe is trying to mimic the softness of the Little Debbie version and does a good job. Personally, I would prefer the cookies just a bit browner so they had some chew on the edges, maybe 11 minutes. I also only did one pan at a time, because my oven does not cook evenly if I try to bake two pans of cookies at once, so it took me 40 some odd minutes to bake all 4 sheets worth of cookies. Once they are all baked, they need to cool completely before you can fill them.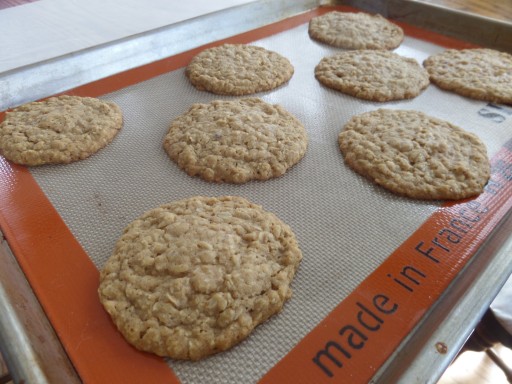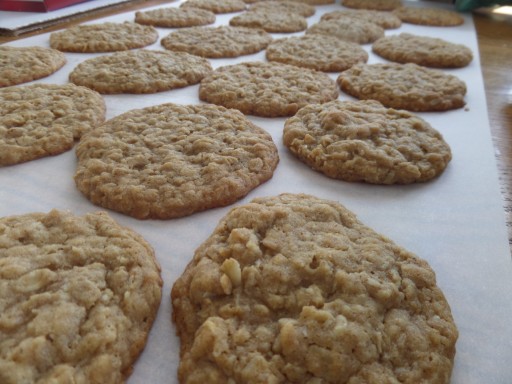 Once the cookies are cool, it's time to whip up the creme filling. I am going to be honest, I hate frosting. I generally scrape it off cake and throw it away. So I was a little nervous about this filling. It purposely forgoes the artificial type ingredients, like marshmallow fluff or corn syrup, for old fashioned butter and sugar. Its not that I like highly processed ingredients, but I do like smooth creamy filling, and I find butter cream frosting to be too sweet and gritty. I was pleasantly surprised by this filling. It isn't as smooth as cool whip or marshmallow fluff, but it isn't gritty and it's quite delicious.
So back to the mixer, we need to beat the butter until creamy, then add the powdered sugar. Then add heavy cream and vanilla and mix on high until fluffy. I tasted it at this point and thought it was too sweet, not vanilla-y enough, and too gritty, so I added a pinch of salt, another splash of vanilla and more cream. I kept doing this until I liked how it tasted, but I didn't want to add so much cream that it wouldn't hold together.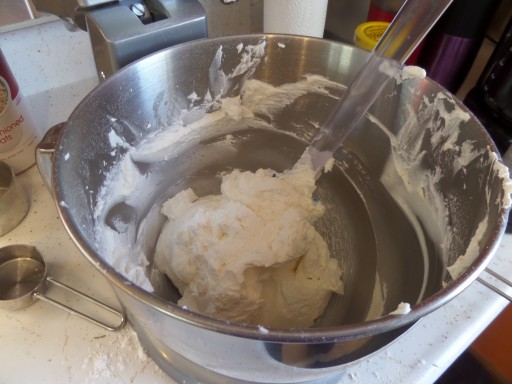 Now it is time to make cookie sandwiches. Using an offset spatula, spread the filling on the bottom of one cookie. Then place another cooking on top, making a delicious oatmeal creme pie. My cookies weren't all quite the same size, so I did my best to find matching pairs. And part of the glory of making your own cookies, is that you can control the amount of filling you use. You love frosting and want it to ooze out the sides when you bite into it, fill it up. If you are more like me, you can tone it down a bit. I used a fair amount of filling, still enough to ooze out a bit without going too overboard, and I had enough left over to do several more cookies. There was no way I could have used all the filling on the 13 sandwiches I had cookies for.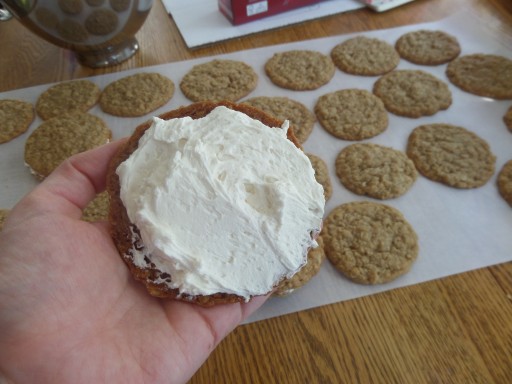 So there you have it, homemade oatmeal creme pies. The cookies are soft and buttery with plenty of oattiness, the filling is creamy and delicious, yet with none of the artificial ingredients or taste that come with the original from Little Debbie. The only problem with these cookies is that I can't eat a whole one. It's just a little too big, too much butter, too much sugar. It's more than I want as a snack. So I'm forced to share with Ryan and Liam. Talk about first world problems.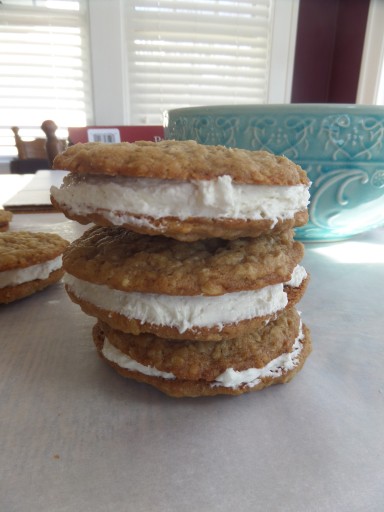 Homemade Oatmeal Cream Pies
2014-05-07 16:42:27
Just like Little Debbie's, only better!
COOKIES
1 and 1/4 cups unsalted butter (2.5 sticks), softened to room temperature
1 cup dark brown sugar
1/2 cup granulated sugar
1 large egg
2 teaspoons vanilla extract
1 Tablespoon dark molasses
1 and 1/2 cups all-purpose flour
1 teaspoon baking soda
1/2 teaspoon salt
3/4 teaspoon ground cinnamon
1/4 teaspoon ground cloves
3 cups uncooked quick-cooking oats (NOT whole-rolled oats)
CREME FILLING
3/4 cup (1.5 sticks) unsalted butter, softened to room temperature
3 cups powdered sugar
3 Tablespoons heavy cream
1 and 1/2 teaspoons vanilla extract
pinch of salt, as needed
Instructions
Preheat oven to 375 degrees. Line a large cookie sheet with parchment paper or silicone baking mat. Set aside.
With a stand or handheld mixer, cream the butter and sugars together at medium speed until light and creamy. Add egg, vanilla, and molasses, scraping down the sides as needed. Set aside.
In a medium-sized bowl, combine the flour, baking soda, salt, cinnamon, and cloves. Whisk it all around. Add the quick oats and combine.
With the mixer running on low, slowly add the dry ingredients to wet ingredients. The dough will be quite thick and you may have to mix it all by hand after a few seconds in the mixer. Drop dough with a large cookie scoop, or make sure each ball of dough is 3 Tablespoons in measurement. Cookies will spread in the oven, so drop each ball of dough 2 inches apart.
Bake for 10 minutes, until cookies are lightly golden around the edges. Allow cookies to cool on cookie sheet for 3 minutes before transferring to a wire rack to cool completely.
For the filling: With a stand or handheld mixer, beat butter for about 1 minute until creamy. Add the powdered sugar and mix on medium speed for 1-2 minutes. Pour in heavy cream and vanilla extract. Mix on high for 3-4 minutes until fluffy. Taste and add a pinch or two of salt, as needed. If filling is way too thick, add a couple more teaspoons of heavy cream. Spread 1.5 Tablespoons of cream filling on the bottom side of half of cookies; top with remaining cookies, right side up.
Cookies stay fresh and soft (with creme filling) at room temperature for 2 days in an airtight container. After that, store in the refrigerator to keep the creme center fresh. These are best eaten within 2 days.
Notes
Makes 13 to 15 sandwiches.
Adapted from Sally's Baking Addiction
Crafty Cori Strikes Again http://craftycori.com/