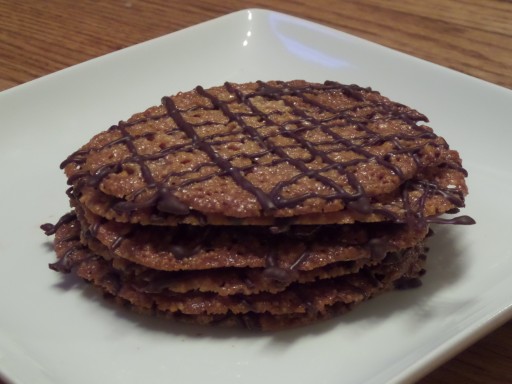 I had never heard of Florentine Lace Cookies until I saw this recipe on an episode of America's Test Kitchen a few weeks back. I can't really explain why, these are not my usual type of cookie, but I was intrigued enough to saved the episode on my TiVo. When I saw a similar recipe posted on Pinterest last week, I decided it was time to give them a try, and I am so glad I did. They are really good and so different than any other cookie I normally make.
When I think of cookies, I usually think of big, soft, chewy cookies. Normally full of chocolate chips, but I can get behind peanut butter or oatmeal raisin cookies too. These are the complete opposite. They are light and delicate, thin and crisp. They don't have any eggs, hardly any flour, and rather than make a batter, you boil sugar and butter on the stove, candy-making style. I usually pull cookies out of the oven while they are still a bit underdone, while these you leave in until what I they are what I would normally consider burned. So these are totally out of my cookie comfort zone, but that's what makes it fun to try new recipes, right?
The recipe starts with processing almonds in a food processor until they resemble coarse sand. Easy, right?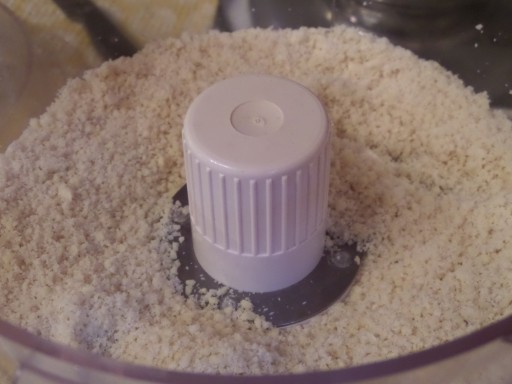 The next step is a little trickier, as it seems more like candy making than cookie baking. In a sauce pan, you boil cream, butter and sugar and keep cooking until it gets thick, starts to brown, and doesn't fill in immediately when a spatula is dragged across the bottom of the pan.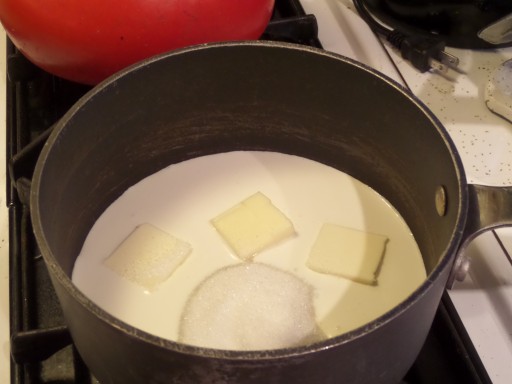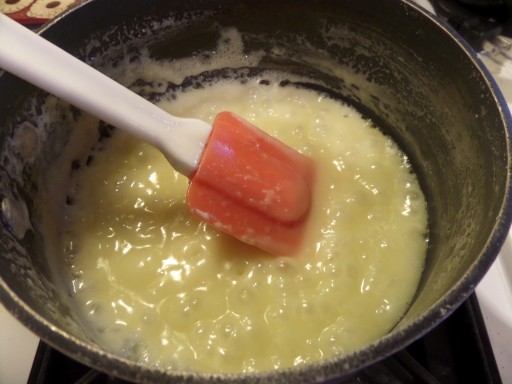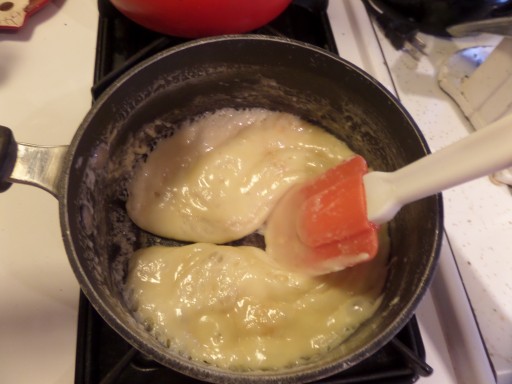 The lighting above my stove doesn't show it well, but this was getting brown around the edges.
So that's the hard part, getting the cream mixture to the right consistency without burning it. Then you remove it from the heat and add the rest of the ingredients, the almonds, flour, orange marmalade, orange zest, vanilla extract and salt. Stir it until combined. Very unconventional dough.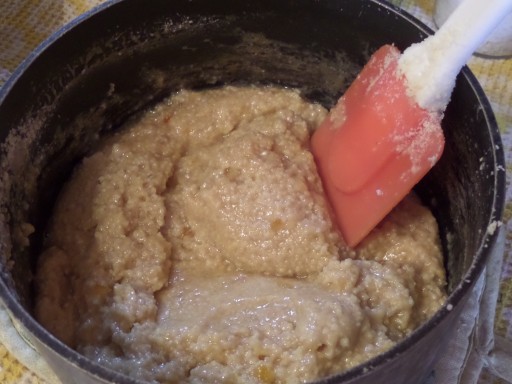 Then drop even tablespoons of dough onto a parchment lined cookie sheet. Keep in mind that these will spread, so keep them several inches away. I put 6 on a sheet.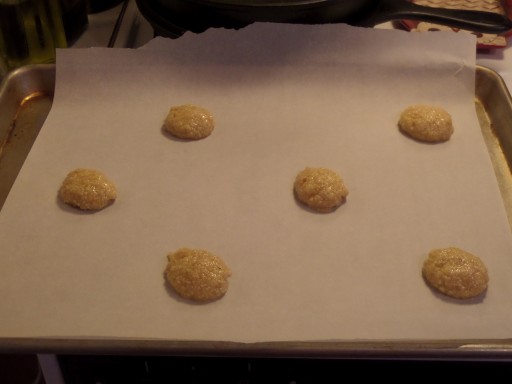 Once the dough is cool enough to touch, pat the dough into 2 1/4 inch rounds. It helps if you wet your fingertips.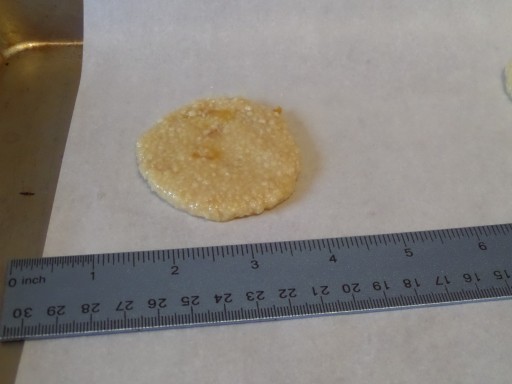 Now bake them until they are crispy and evenly browned. It was hard for me to leave them in the oven this long, but trust me, you want them brown.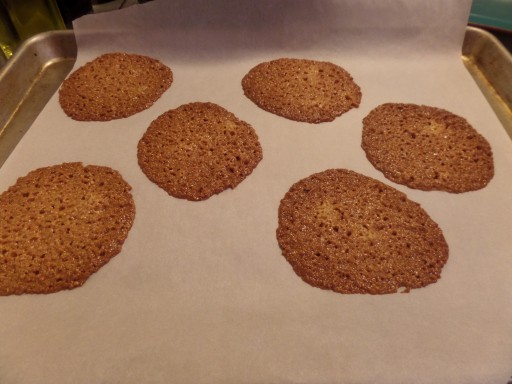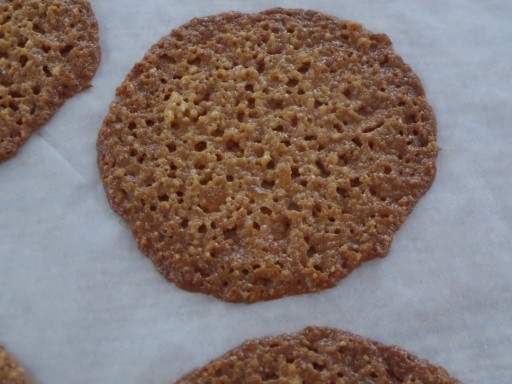 Let them cool completely. You can see why they are called lace cookies, they really do look like lace. Here's me trying to take a picture of the sun shining through the cookie. I'm not a good photographer.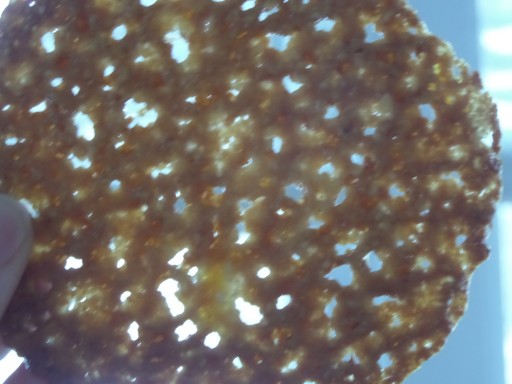 Once they are completely cool, melt chocolate and drizzle over the cookies. I used a Ziploc baggie and pipped it on.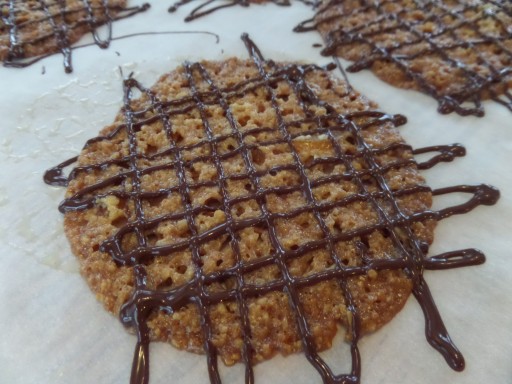 Then all you need to do is wait for the chocolate to harden, and you can speed that up if you have room for the cookies in your fridge. I didn't, so it took about half an hour or so on my kitchen table. Then eat them up. They are delicious. Crispy, caramelly, goodness, with a subtle, not overpowering orange flavor (I was a little worried, I loathe marmalade). The little bit of chocolate is the perfect accent to the other flavors. Seriously, they are wonderful, even if they are thick and soft and chewy. They are addicting. It's hard for me not to eat one each time I walk through the kitchen, and even harder to convince myself I don't need a second one.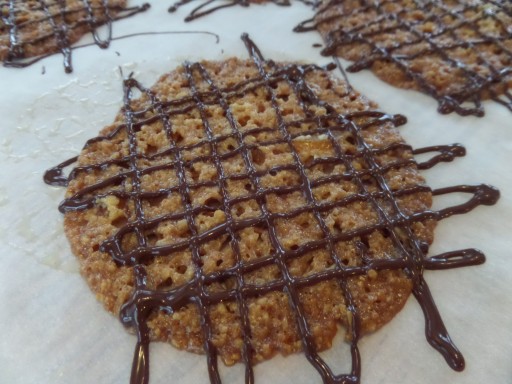 Florentine Lace Cookies
2014-04-01 16:55:53
Delicate, crisp, lacy almond cookies with a deep caramel flavor, a hint of orange and a touch of chocolate.
Ingredients
2 cups slivered almonds
3/4 cup heavy cream
4 tablespoons unsalted butter, cut into 4 pieces
1/2 cup (3 1/2 ounces) sugar
1/4 cup orange marmalade
3 tablespoons all-purpose flour
1 teaspoon vanilla extract
1/4 teaspoon grated orange zest
1/4 teaspoon salt
4 ounces bittersweet chocolate, chopped fine
Instructions
Adjust oven racks to upper-middle and lower-middle positions and heat oven to 350 degrees. Line 2 baking sheets with parchment paper. Process almonds in food processor until they resemble coarse sand, about 30 seconds.
Bring cream, butter, and sugar to boil in medium saucepan over medium-high heat. Cook, stirring frequently, until mixture begins to thicken, 5 to 6 minutes. Continue to cook, stirring constantly, until mixture begins to brown at edges and is thick enough to leave trail that doesn't immediately fill in when spatula is scraped along pan bottom, 1 to 2 minutes longer (it's OK if some darker speckles appear in mixture). Remove pan from heat and stir in almonds, marmalade, flour, vanilla, orange zest, and salt until combined.
Drop 6 level tablespoons dough at least 3½ inches apart on each prepared sheet. When cool enough to handle, use damp fingers to press each portion into 2 1/2-inch circle.
Bake until deep brown from edge to edge, 15 to 17 minutes, switching and rotating sheets halfway through baking. Transfer cookies, still on parchment, to wire racks and let cool. Let baking sheets cool for 10 minutes, line with fresh parchment, and repeat portioning and baking remaining dough.
Microwave 3 ounces chocolate in bowl at 50 percent power, stirring frequently, until about two-thirds melted, 1 to 2 minutes. Remove bowl from microwave, add remaining 1 ounce chocolate, and stir until melted, returning to microwave for no more than 5 seconds at a time to complete melting if necessary. Transfer chocolate to small zipper-lock bag and snip off corner, making hole no larger than 1/16 inch.
Transfer cooled cookies directly to wire racks. Pipe zigzag of chocolate over each cookie, distributing chocolate evenly among all cookies. Refrigerate until chocolate is set, about 30 minutes, before serving. (Cookies can be stored at cool room temperature for up to 4 days.)
Notes
Makes 24 cookies.
Adapted from America's Test Kitchen
Adapted from America's Test Kitchen
Crafty Cori Strikes Again http://craftycori.com/