Strawberry French Toast Roll-ups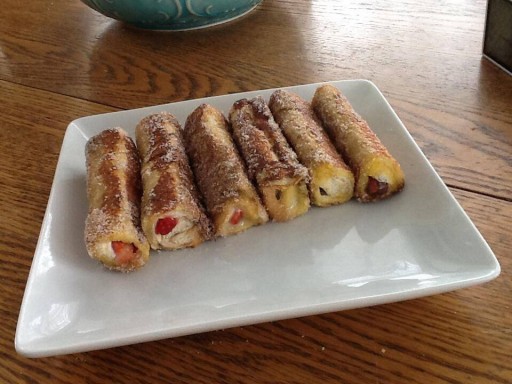 I saw these French Toast Roll-ups on my Pinterest feed last week and they looked so yummy, I just had to have them for breakfast on Saturday. I even made Ryan get up extra early to procure the ingredients I was missing. They are a little more work than basic French toast, but much more delicious. They go down a little too easy. "Ooh that was good, I think I'll have another…" And then you realize you just ate half a loaf of bread and probably an entire day's allowance of sugar. Oh well, it was totally worth it.
The recipe starts with several slices of white sandwich bread. I don't usually keep white bread in the house, we eat wheat, but trust me, you'll want white bread here. Ryan bought the jumbo loaf which was a good idea. You cut the crust off the slices and if the slices were any smaller, the roll-ups would have ended up too small. You need room for filling.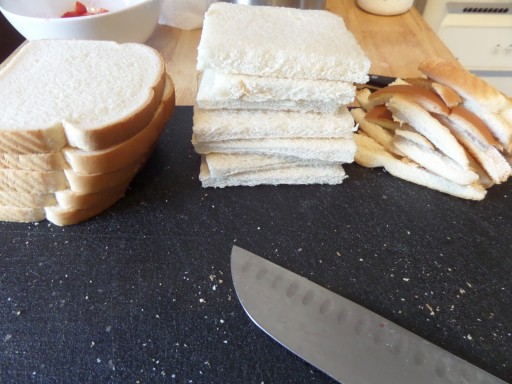 Once you cut the crust off, flatten each slice with a rolling pin. This makes them easier to roll up and a little bigger. More room for filling.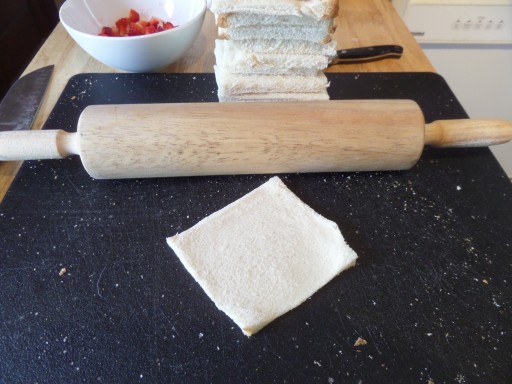 Now you need to decide what to use as filling. We used strawberries for all of of them, but made some with nutella, some peanut butter, and some with cream cheese. Just smear a bit of your topping on one end of the bread, add some strawberry pieces, and roll it up. Apparently I completely neglected to take a picture after rolling, but you get the idea.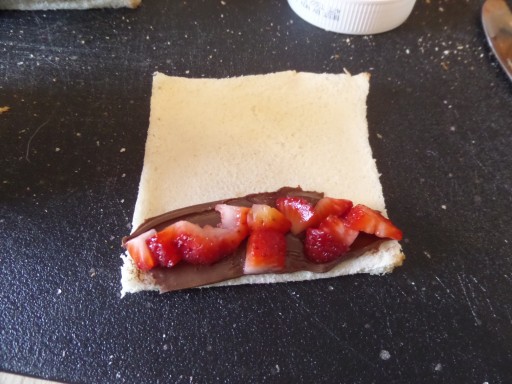 Once you have all your rolls, you dip them in a standard french toast mixture. My recipe for french toast is eggs, a splash of milk, a bit of vanilla and a healthy pinch of sugar. I made 12 roll-ups and used 3 eggs. Whisk it up and you are ready to go.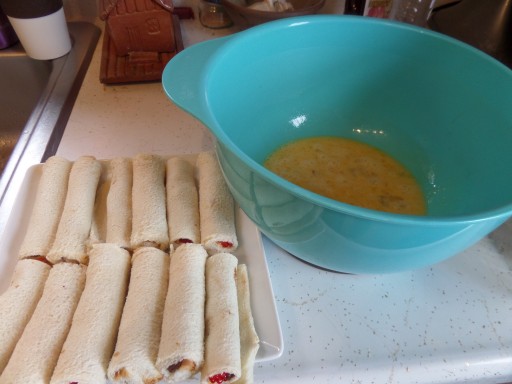 Dip each roll in the egg mixture, then place seem side down in a well greased frying pan. I did mine in two batches of 6 since that is how many I could squeeze into my pan. Cook the rolls until they are toasted on all sides. It sounds easy enough but this was the hardest part for me. Turns out round things don't have "sides". I did have better luck using a tongs than I did with a spatula and in the end I just did my best. Most ended up being cooked on 4 sides, but I had a couple that were triangles instead. They all tasted delicious. And don't be afraid to add more butter to the pan if they start to stick.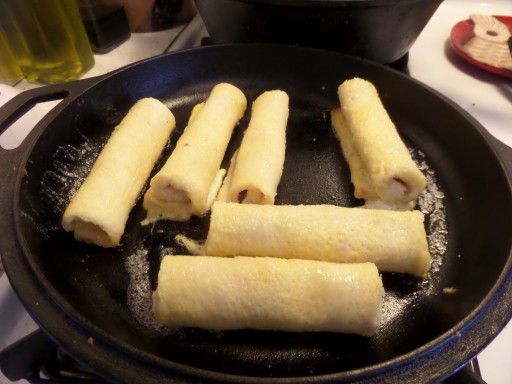 When done, immediately move the rolls to a shallow dish with cinnamon sugar and roll them around to coat.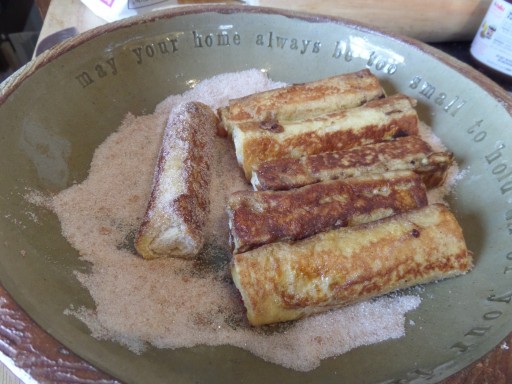 Now they are ready to enjoy. The original recipe suggested maple syrup for dipping, but to be honest, they are already really sweet, I don't know how you could put syrup on them. My favorite were the strawberry and cream cheese, mostly because the cheese cut some of the sweetness. Ryan preferred the Nutella, which were really good, but very sweet and very rich. But the were all delicious and the 3 of us had no problem polishing off all 12. Quite quickly actually.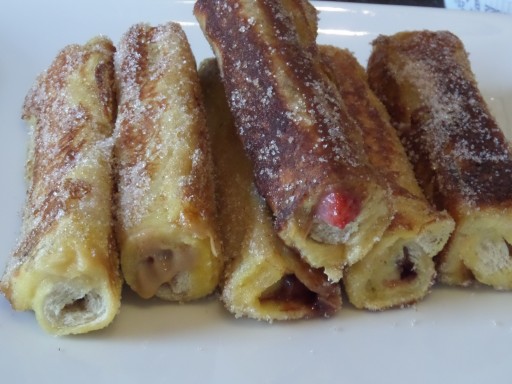 Strawberry French Toast Roll-ups
2014-03-21 16:56:20
Ingredients
12 slices white sandwich bread
softened cream cheese, Nutella, or other choice of filling
diced strawberries
3 eggs
1/4 cup milk
1 tsp vanilla extract
1/3 cup + 1/2 tablespoon granulated sugar
1 heaping teaspoon ground cinnamon
butter, for greasing the pan
Instructions
Cut the crust from each slice of bread and flatten it out with a rolling pin.
Place about 1-2 teaspoons of your chosen filling 1 inch from one end of the bread in a strip. Top with strawberry pieces. Roll the bread up tightly and repeat with the remaining pieces of bread.
In a shallow bowl whisk the eggs, milk, vanilla, and 1/2 tablespoon of sugar until well combined.
In a separate shallow bowl mix the remaining sugar with the cinnamon.
Heat a skillet set over medium heat and melt a tablespoon of butter.
Dip each bread roll in the egg mixture coating well and then place them in the pan seam side down. Cook in batches until golden brown, turning them to cook and brown on all sides, about 2 minutes per side. Add butter to the pan as needed.
Add cooked rolls immediately from the pan to the cinnamon sugar and roll until completely covered in sugar. Serve.
Adapted from The Girl Who Ate Everything
Crafty Cori Strikes Again http://craftycori.com/