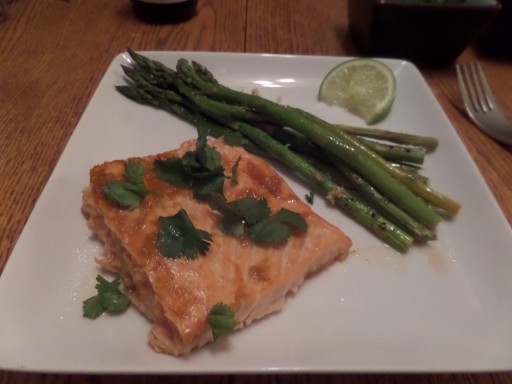 This recipe is a keeper. It is oh so yummy, quick enough to be a weeknight meal, and so easy even I could make it. I recently proclaimed that our family should start eating fish at least once a week. You know, for the omega-3s. And I happen to love fish, but we rarely cook it. Ryan was fine with my new fish eating plan, except he wanted me to cook it. Challenge accepted. I half think he thought I would fail and give up on the fish plan, but instead we found a delicious new recipe that is going into the regular rotation.
I focused my search for fish recipes on salmon because we had a salmon fillet in the freezer for months and Ryan told me I couldn't buy more fish until we ate that. Well, turns out it was too freezer burned to eat, so we had to buy more anyway, but by then I had settled on a recipe.
We have made salmon recipes in the past, but none of them warranted a second attempt. Either the salmon is dry (probably the cooking technique) or the whole thing was way too sweet (definitely the recipe's fault). I'm not sure why so many recipes call for sugary glazes on salmon. I like the taste of the fish, I want something that complements the flavor, not masks it under piles of sugar. That is where this recipe really shines. The tart lime juice and spicy sriracha cut the sweetness of maple syrup. The end result is neither too sweet nor too spicy, but well balanced and a perfect accompaniment to the fish. And the salmon was moist, almost creamy, not at all dry. I think I was trying too hard before, turns out all I needed to do was put the fish in the oven for the recommended time, then take it out. It is really that simple.
So the recipe starts with a glaze made of maple syrup, lime juice and zest, sriracha and salt. Whisk it in a bowl. As easy as it gets.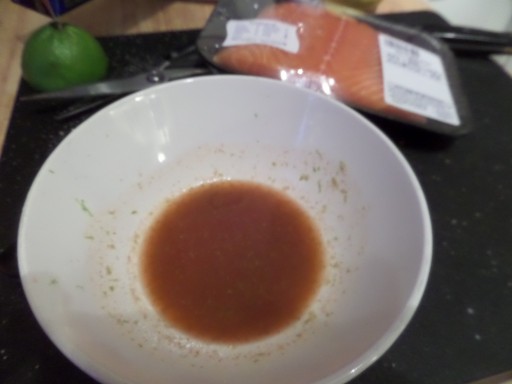 Then line a baking dish with parchment, put the fish in the dish, and pour the glaze over the top. I lined my pan with foil as well just to make clean up easier.
Bake at 425 degrees for 15 minutes. That's it. When your 15 minute timer goes off, take it out of the oven, serve it with a little cilantro and a squeeze of lime. Super easy, super yummy.
I served the salmon with garlic parmesan asparagus. It paired perfectly and the best part was they cook at the same temperature for the same time. Prepare both, stick them both in the oven, 15 minutes later, dinner is done.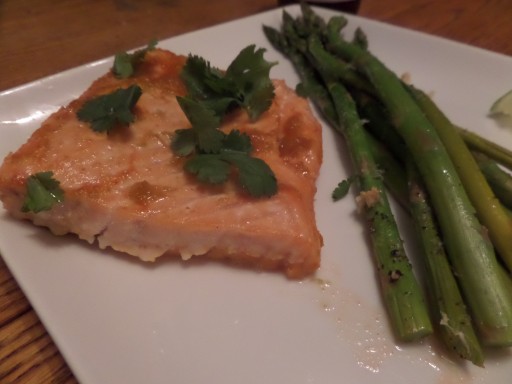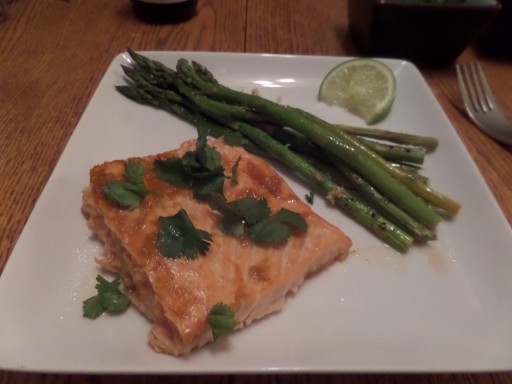 Sriracha Lime Salmon
2014-03-11 13:41:56
Roasted salmon with a sweet & spicy sriracha glaze. Quick and easy enough to be a week night meal.
Ingredients
Juice and zest from 1/2 lime
1 tablespoon maple syrup
1 1/2 teaspoons sriracha sauce
1/2 teaspoon sea salt
1 pound salmon fillet, skin removed
2 tablespoons coarsely chopped cilantro
Instructions
Heat oven to 425 degrees. In a bowl, whisk together juice, zest, syrup, sriracha and salt.
Place salmon in a baking dish lined wiht parchment paper; pour lime-maple mixture over top. Roast salmon until cook through and flaky, 15 minutes.
Sprinkle with cilantro; serve.
Adapted from It's All Delicious, Easy Recipes that Will Make You Look Good and Feel Great
Crafty Cori Strikes Again http://craftycori.com/