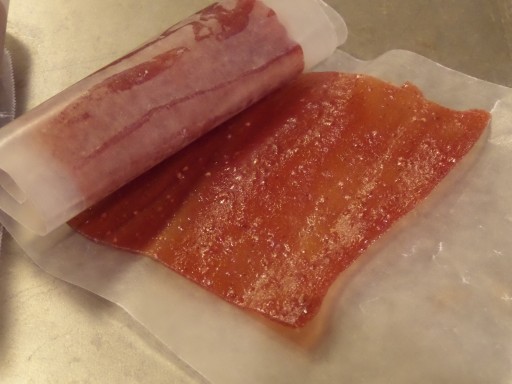 I saw this posted on Pinterest last Friday and for reasons I can't really explain I decided I had to make them over the weekend. I haven't had a fruit roll-up in ages, and I can't say I was missing them either, but something about the simplicity of the recipe, the all natural ingredients and some sort of childhood nostalgia combined and my mission for the weekend was set. Fruit Roll-ups or bust.
The recipe for homemade fruit roll-ups is simple enough. Only 3 ingredients, strawberries, sugar, and lemon juice. You cook the berries down to a jam, spread on a baking sheet and dehydrate in the oven. We already had a trip to Costco planned so I added strawberries to the list. Now I normally can't possibly find a use for two pounds of strawberries before they go bad, but the recipe called for a pound of strawberries, and Liam will put a good dent in the rest of them before the week is out.
So I picked through my berries, leaving the best looking ones for eating and the iffy looking ones for fruit roll-ups. Then I cored the berries and cut them into quarters. Add them to a bowl with the sugar and lemon juice, mash them up a bit and let them sit and marinade for a while. The recipe says 30 minutes, but it was more like an hour before I got back to mine. I don't think it matters. You just want the sugar and lemon juice to help the strawberries release some of their natural juices.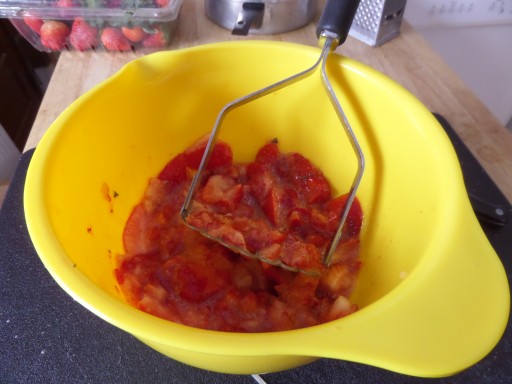 The next step is to puree the strawberries in a blender. It's crazy. I hadn't used my blender in years and now I needed it twice in the same week. Anyway, give the strawberries a good blend until they are smooth. You don't want any chunks of berry.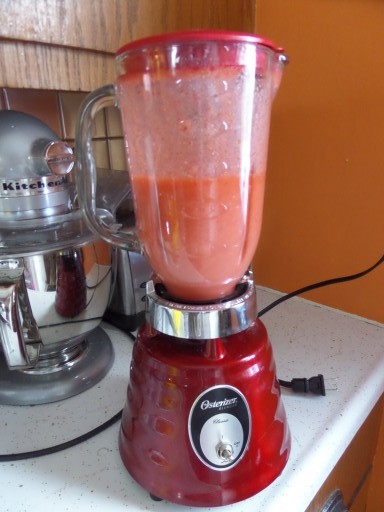 Now we need to cook down the puree until it is thick and jammy. The test is to get it to the point you can scrap the bottom of the pan with a spatula and the liquid doesn't immediately fill back in. This took me longer than the 25 minutes the recipe suggested, probably closer to 40. And it was still thinner than I would call jammy, but I went with it and it turned out fine.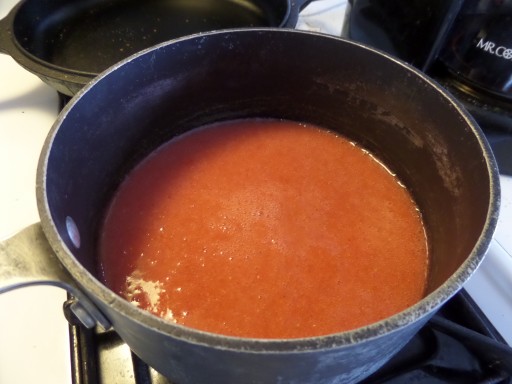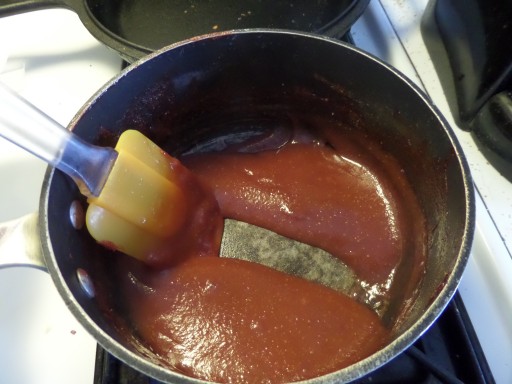 This next part was the only thing I found tricky about the whole recipe. Smoothing out the jam into a nice even layer to make the roll-ups. First line a rimmed baking sheet with parchment, then use an offset spatula or rubber scraper to smooth the berries into a nice, thin, even layer. You don't want it to be so thin you can see through it, or it will dry out and become brittle instead of chewy, too think and it won't dry enough or roll up right. It was stressful. I did the best I could and it turned out okay. I did have a spot on one of the two pans that was a bit thin so it was crunchy. Still delicious mind you, it just wouldn't roll. Also the recipe called for dividing the puree between two baking sheets, which I did, but my baking sheets are big enough that I could have done it on one, and it would have probably been easier.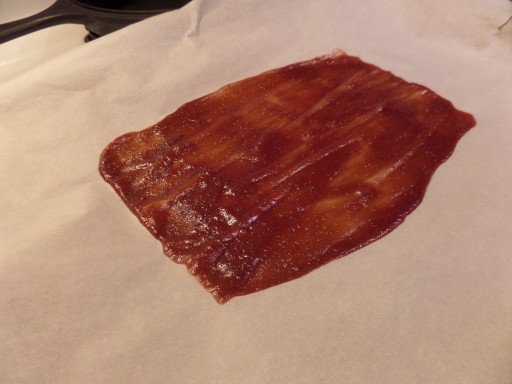 Once you have your thin even layer, put the baking sheets into a very low oven, 170 degrees or so, so several hours. My oven is old and has analog knobs with lines every 25 degrees, far from accurate. It has "warm" then starts at 200 degrees. I just turned it to less than 200 and decided it was good. If you have a new oven with a digital temperature setting, this will probably be easier for you. The recipe even recommends opening and shutting the oven door to lower the temp if you can't set it below 200 degrees.
You want to let the berries bake until they are tacky, but no longer sticky. I tested this every half hour or so and it was pretty easy to tell when they were done. I had a thick spot that kept sticking so my edges ended up slightly over done, but it all worked out fine in the end. Since my oven was probably a bit hot, I took mine out after 3.5 hours, not the 4-6 called for, but it is also very dry during the winter in Minnesota, and they said humidity makes it take longer.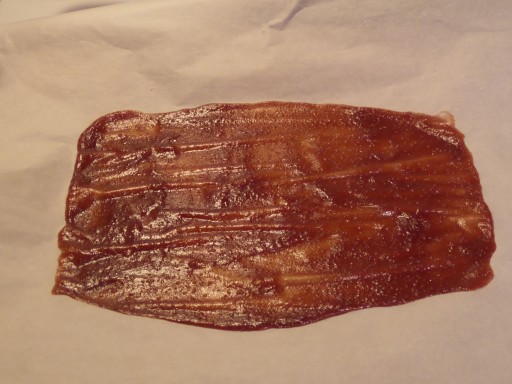 Once it cooled, I used a pizza slicer to cut each rectangle into 3 pieces then peeled them off the parchment. You can cut it into whatever size and shape roll-ups you'd like. Place your roll-ups onto pieces of wax paper cut just a bit bigger than the roll-up and roll them up. It helps if you fold the wax paper over the edge so it doesn't stick to itself when you start to roll.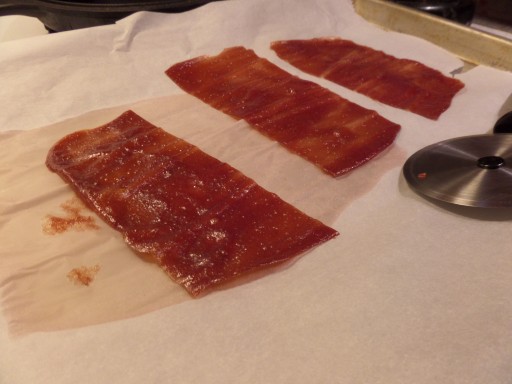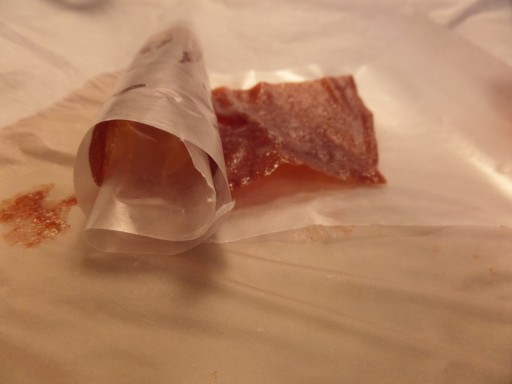 In the end, I only got 6 roll ups out of the pound of strawberries and it took 6 hours start to finish. So this isn't a quick or cheap project. However, it was fun, the roll-ups are super tasty, and I love that I know exactly what is in them. No crazy ingredients here, just berries, sugar, and lemon juice. I actually used less sugar than the recipe originally called for and they are still plenty sweet, and they have great berry flavor. I am already thinking of other fruit combinations I can try, strawberry/blueberry, strawberry/peach, any jammy fruit should work. I might try frozen berries in the future to cut down on the cost. Do you think I could make them out of rhubarb this spring?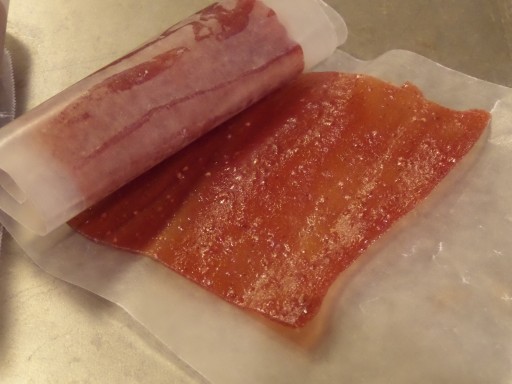 Homemade Strawberry Fruit Roll-ups
2014-03-05 15:48:46
Homemade Fruit Roll-ups using only 3 ingredients.
Ingredients
1 pound strawberries
1/2 cup granulated sugar
1 tablespoon freshly squeezed lemon juice
Instructions
Hull the strawberries and cut in half or quarters, depending on size, and mash roughly with a potato masher in a large bowl. You should have about 2 cups mashed berries. Stir in the sugar and lemon juice and let sit at room temperature for 30 minutes to break down the berries slightly. Stir once or twice while they sit to dissolve the sugar.
Pour the strawberries and their natural syrup into a blender and blend for 1 minute, until a smooth puree forms. Pour into a saucepan and bring to a low boil over medium heat.
Cook for 20 to 25 minutes, stirring often, until the puree thickens. It will consistently thick, almost opaque, and mound slightly rather than fill in immediately, when pushed across bottom of the pan with a spatula.
Preheat the oven to 170°F. Line 2 rimmed baking sheets with parchment paper or Silpat liners.
Divide the cooked fruit between the baking sheet and use an offset or silicone spatula to spread evenly into as thin and wide a rectangle as possible. The jam should be no more than 1/8 inch thick but still as evenly opaque as you can manage; thinner, more translucent spots will harden into brittle.
Heat in the oven for 5 to 6 hours, or until the fruit feels slightly tacky but no longer sticky. The timing will depend on the humidity level; a rainy day makes for a longer set.
Cool completely then slice the roll-ups to the desired size. Transfer to sheets of waxed paper large enough to leave overhang on all sides. Fold the extra waxed paper over the edges before rolling so they won't fuse. Store the Roll-Ups at room temperature in an airtight container for up a week.
Adapted from Serious Eats
Crafty Cori Strikes Again http://craftycori.com/