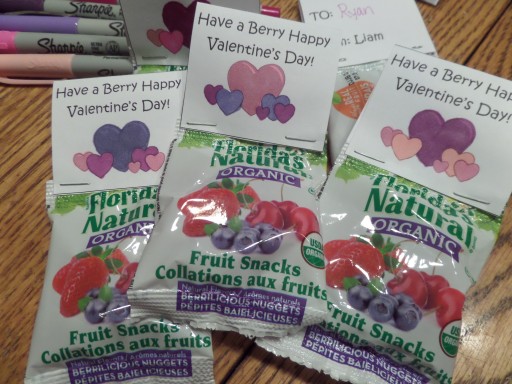 How did half the month of February sneak by already? I'm sorry for the lack of posts, time just gets away from me sometimes and before I know it two weeks have flown past without so much as a WIP Wednesday update. Anyway, I thought I'd take a moment to share some of what I've been up to the past couple weeks.
The picture above is of the Valentine's Ryan and I threw together last night for the kids at Liam's daycare. I wanted something a little more nutritious than candy, so I went with these fruit snacks. They're organic, so they have to be good for your, right? Anyway, I didn't have the time or will to do anything too fancy, so I had Ryan print out little tags to staple to the top and I colored them in with sharpies because we don't have a color printer. I think they turned out cute enough.
And here is a photo of the progress I've been making on my afghan, I haven't really gotten very far.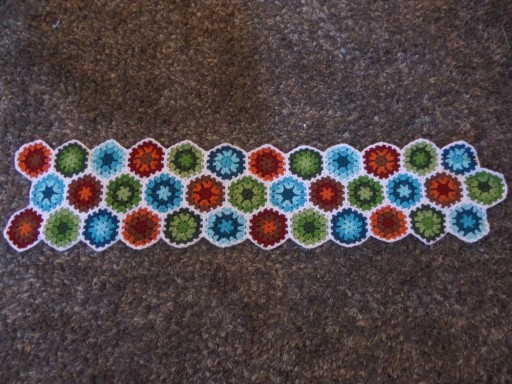 I think this will be the finished width, it's probably five feet across or so. Now I just need to make it longer, Ryan it wants to be able to snuggle up with it and not have his feet stick out, and since he's six foot, it'll need to be at least that long.
And the reason that I haven't been working on the afghan is that I took a break to work on this hat for my uncle.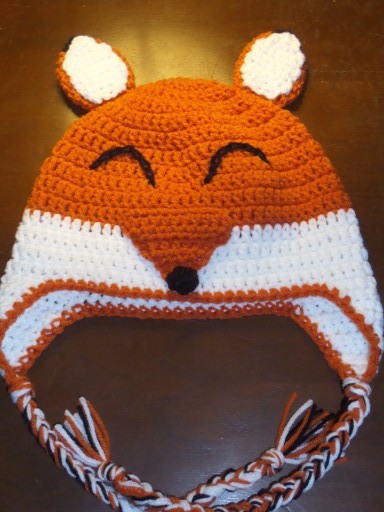 His last name is Fox and when my aunt saw Liam's fox at Christmas she asked what I would charge for an adult size one. She thinks my uncle should wear it while he snowblows; the neighbors would get a kick out of it. Of course I told her she didn't need to pay me, I would be happy to make one. It's all yarn I already had anyway. So I'm a little behind, but there will still be plenty of snowy days left this winter in Minnesota.
Well that's it for now. I hope to get some more posts up this weekend. Ryan and I have a Valentine's tradition of cooking each other dinner (he does main course, I do dessert). We always try new recipes so I'll have to report on how it turned out. I'm not sure what Ryan is making, but I'm attempting creme brulee, wish me luck. And if I get extra ambitious, I'll try to write up the pattern for the adult fox hat before I send it off to my uncle.