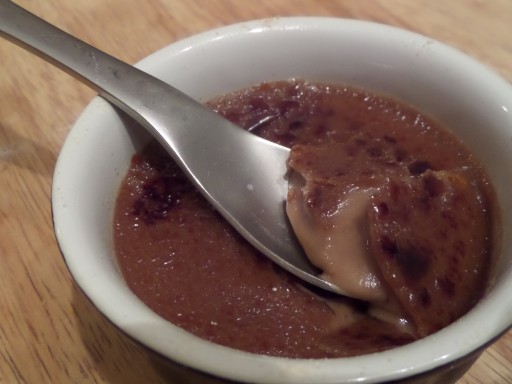 Creme brulee is delicious. Chocolate is delicious. Why wouldn't chocolate creme brulee be delicious? Of course, it would be, and it is. I wish I could take a photo that looks as good as this creme brulee tasted, but alas I'm a better baker than photographer. Creme brulee is something I would order for dessert when out for a fancy dinner, and I guess I always assumed it was difficult to make. Really it could not be easier. I was afraid I might burn the sugar when I was caramelizing the top, but I had no problem, and playing with the torch was fun. This is my new go to recipe for a dessert when I want to impress people with minimal effort.I looked at several chocolate creme brulee recipes before deciding on one from Paula Dean. It had chocolate, cocoa powder, and chocolate liqueur so I was sure it was going to back a chocolate punch. The recipe recommended Godiva Liqueur, but I had Kahlua on hand and decided to use that instead of buying a whole bottle of liquor for one once. I know Kahlua is coffee flavored, not chocolate, but I know many recipes that call for coffee to enhance chocolate flavor, so I decided it would be okay. The resulting creme brulee didn't taste the least bit like coffee. I also used bittersweet instead of unsweetened chocolate, because its what I had. I don't think they ended up too sweet.
To make the creme for the creme brulees, you just heat cream, sugar, the various chocolate ingredients and vanilla in a sauce pan until it just starts to bubble around the edges. Make sure your chocolate is finely chopped, as I had trouble getting all of mine to melt. If it doesn't melt, no big deal, you strain the mixture before you bake it so you'll catch any big chunks. I just wanted and much chocolate as possible.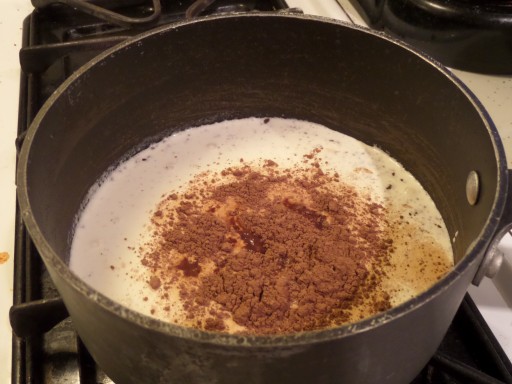 Next you beat the egg yolks, then temper them by adding just a bit of hot cream mixture and stirring it in. The goal is to not cook any of the eggs, we want smooth creamy custard, not chocolate scrambled eggs. Once the eggs are tempered, mix the rest them together, then strain the mixture through a fine mesh strainer to catch any bits of cooked egg or unmelted chocolate. Now that you have a nice, smooth custard, divide it evenly amongst your ramekins. The recipe as written says it serves 6 to 8, so I made a half batch and it perfectly filled my 4 ramekins.
The cremes need to be baked in a water bath, this makes sure the custard cooks gently and evenly. Place the ramekins in a 13 x 9 baking dish and fill with hot water until the water comes halfway up the sides of the ramekins.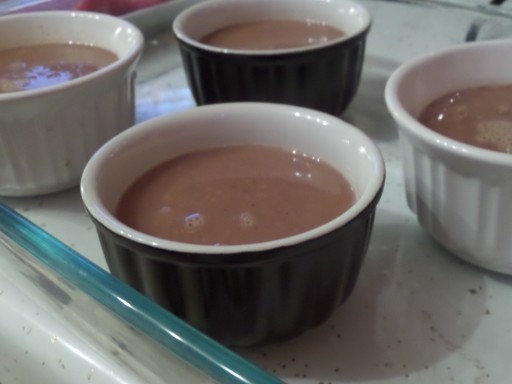 Then carefully move to the oven and bake at 300 degree oven until the custard is just set and it jiggles like jello. It took mine 45 minutes. It still looked like liquid, but if I touched the center it was firm but jiggly.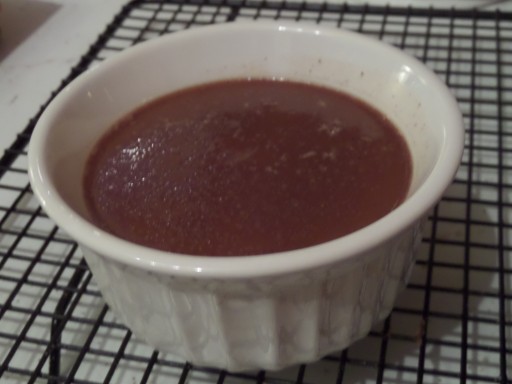 Now the custards need to chill. Place in the fridge for at least 6 hours or overnight. To be honest, I didn't have that long to wait, since I wanted my dessert before midnight and they didn't go into the fridge until 6. We waited until 10 and they were just fine after only 4 hours. I didn't notice a difference when I made up the left overs the next day.
Next comes the fun part. Once the creme is nice and chilled, it's time to brulee. Lots of recipes said this could be done under a broiler, but my broiler can't make toast that isn't on fire and untoasted at the same time, so I decided I needed a torch. I was actually going to settle for buying propane for one of Ryan's torches from the garage, but we found this cute little butane torch at Lowe's for $30 and decided to splurge.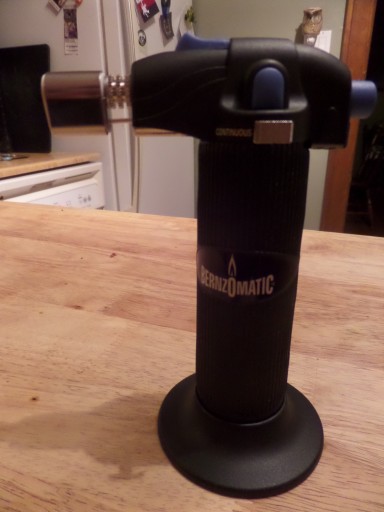 To brulee the tops, sprinkle a spoonful of sugar over the creme, then pass the torch a couple inches above it, letting the sugar melt but being careful not to burn it. It would sort of catch fire on me and I was afraid I burned it, but it was delicious. Just make sure you don't leave the torch in one place too long.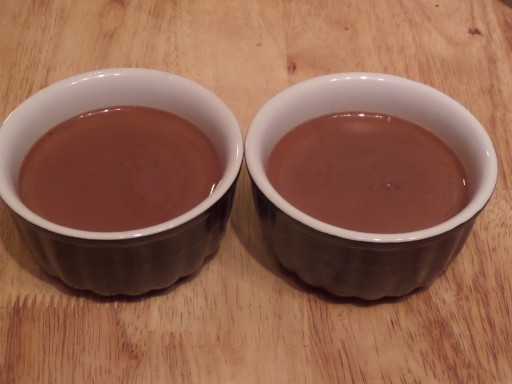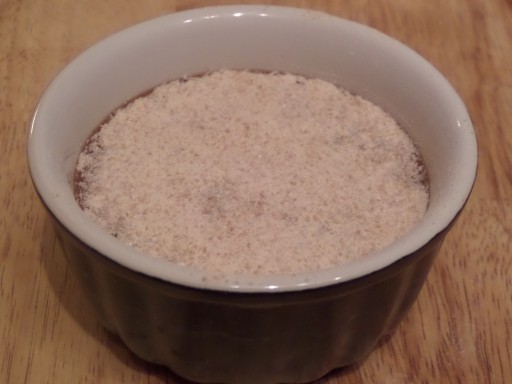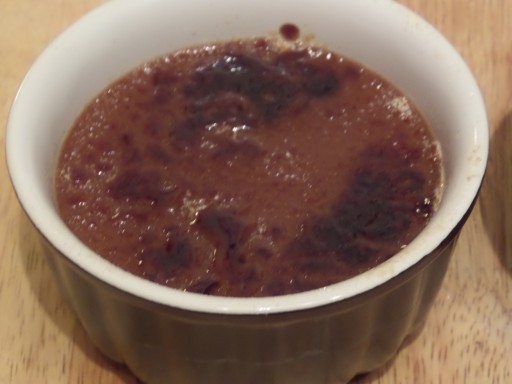 The recipe calls for just regular granulated sugar, but I wanted to be fancy and I found an article about creme brulee that recommended making brulee sugar. I mixed 1/4 granulated sugar with 1/2 cup brown then sprinkled it over a parchment lined rimmed baking sheet. When the cremes were done baking, I turned off the oven and then put the sugar in the oven to dry for an hour. Then I used a coffee grinder (it said to use a food processor, but that was too much work to get out) to make a fine powder. Supposedly the mixture of sugars, dried out and powdered makes better brulee. I don't know if it is true, but it seemed to have worked just fine.
Anyway, once you have caramelized the sugar, let it set for just a minute so the melted sugar can solid back up and give the creme brulee it's nice crust. Then eat it up, it's delicious.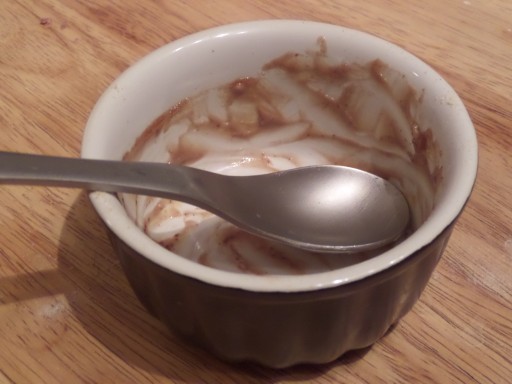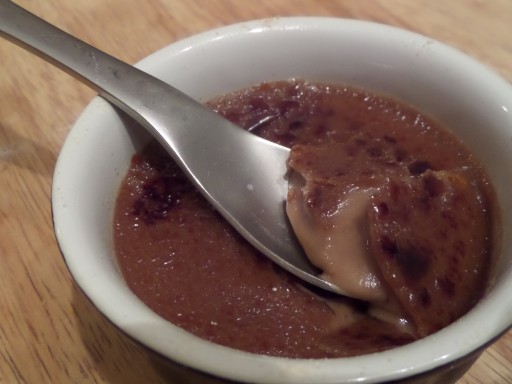 Chocolate Creme Brulee
2014-02-19 16:54:10
Ingredients
1 1/2 cups heavy whipping cream
3/8 cup sugar, plus 2 tablespoons
1/2 (1-ounce) square unsweetened chocolate, chopped
1 1/4 tablespoons chocolate flavored liqueur
1/2 tablespoon plus 1 1/2 teaspoons unsweetened cocoa powder
3/4 teaspoons vanilla extract
4 egg yolks
Instructions
Preheat the oven to 300 degrees F.
In a medium saucepan, combine the cream, 3/4 cup sugar, the chocolate, liqueur, cocoa, and vanilla. Cook over medium-low heat, stirring occasionally, until bubbles form around the edges of the pan. Remove from the heat, and set aside.
In a large bowl, whisk the egg yolks until just combined. Gradually add some of the hot cream mixture into beaten egg yolks, to temper. Whisk the egg mixture into the remaining hot cream mixture, stirring constantly. If lumps form, pour the mixture into a bowl through a fine wire-mesh strainer. Evenly divide the mixture into 6 to 8 flameproof ramekins. Arrange the ramekins in a 13 by 9-inch baking dish, and fill the dish with 1 1/2 inches hot water. Bake until the custard has set and is firm, about 30 to 45 minutes. Let cool on wire racks, then wrap in heavy-duty plastic wrap and chill at least 6 to 8 hours.
Sprinkle each custard evenly with a little of the remaining 2 tablespoons sugar. Broil 5 1/2 inches from heat until sugar melts and becomes a caramel color. Remove the custards from the oven and let stand for 5 minutes to allow the sugar to harden. Sugar may also be browned with a professional culinary torch.
Adapted from Food Network
Crafty Cori Strikes Again http://craftycori.com/